By Nikki
The Caribbean is often used as a sweeping term for a multitude of nations, but you'll find that each island rolls along to its own beat. Meet horticulturalists on Barbados, handle 'jungle M&Ms' (cocoa fruits) on Saint Lucia and taste the distinctive soursop fruit on Grenada.
The trick is: don't limit yourself to one island. With local ferries, short flights and private boats, hopping between islands is simple. Spend a few days seeking out turtles on Grenada, hop to Bequia to wander the streets of Port Elizabeth before catching a small propeller plane to relax on the private Palm Island. Nikki, singles out the experiences that will put you in touch with local life.
A horticultural day out, Barbados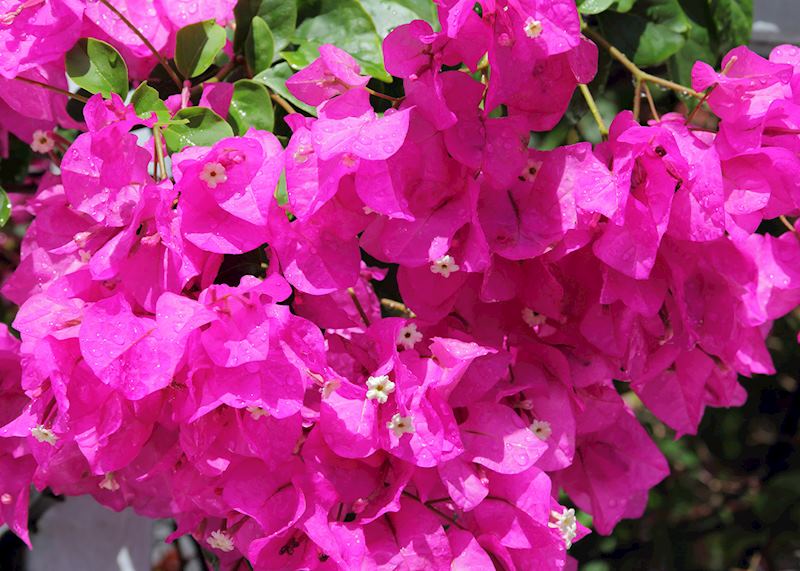 In British hands from colonization in 1627 until independence in 1966, Barbados's rolling hills still have an aura of little England. Grassy plains, edged with shrubs, are interspersed with fields of sugarcane and carefully tended private gardens: since the arrival of sugar cane in 1640, horticulturalists have taken advantage of Barbados' fertile soil.
With many of the gardens open to the public, I devoted a day to sniffing blooms. I'd suggest pre-booking a car and driver when you're planning your trip (the best option is 'Go As You Please', a company which lets you do exactly that) — your specialist can suggest a day's itinerary and ensure you get a good quality driver.
I started in Hunte's Garden, the life's work of elderly Bajan Anthony Hunt. He's created a garden oasis in a huge sinkhole in the hills of Saint Joseph. Anthony greeted me at his plant-nursery-turned-home, which clings to the side of the crater. In addition to answering questions posed by enthusiastic visitors, he looks after the gardens himself and is only now considering closing one day a week. Anthony introduced his plants and collected curios, including a hummingbird nest that has been built in the lampshade on his balcony.
I followed paths that slowly wound down a narrow gully, bougainvillea bushes and fuchsia-leafed coleus brushing my arms as we passed. The plants have been gathered from across the world and many are the sort I've attempted to grow in my own garden — although here they grow vigorously. I saw a flamingo lily almost the size of its namesake.
I could have spent all day in Hunte's Garden but I moved on to Orchid World, which houses more than 1,000 species including the rare schomburgkia (the blooms look like tiny fireworks). Moving closer to the east coast are the Andromeda Gardens, which were curated by botanist Iris Bannochie, who traveled the world looking for unique flora. With flat, wide paths they offer a more accessible experience, and the small café serves a potent rum punch and locally made tartes aux pommes.
Heritage chocolate making, Saint Lucia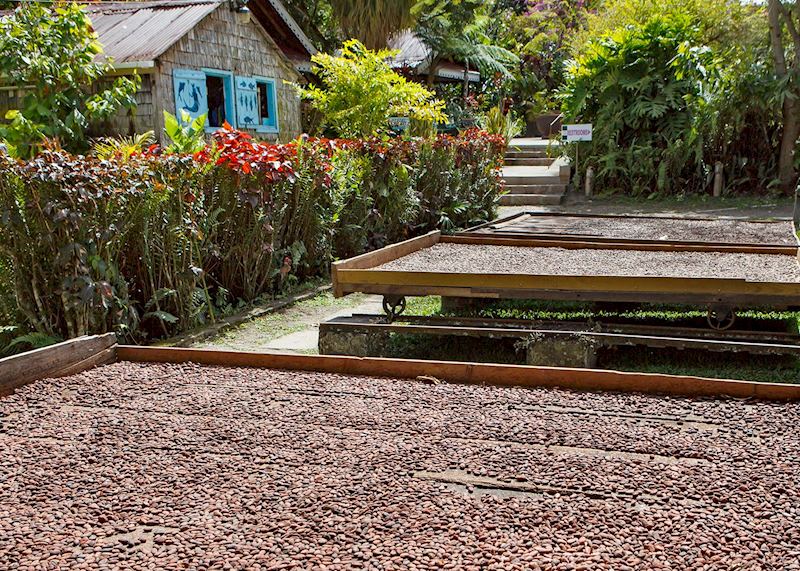 While the rest of the Caribbean focused on sugar, Saint Lucia became one of the prime cocoa producers. I spent a few nights at Fond Doux Plantation and Resort, a 250-year-old colonial French cocoa estate which has a collection of 15 simple cottages scattered around the grounds.
Clinton, a charismatic local who has worked at the resort for years, showed a small group of us around on a complimentary heritage tour. We were handed cocoa fruits, nicknamed locally 'jungle M&Ms', to admire as we wandered through the cocoa groves that surround the estate.
Clinton was eager to show us the traditional chocolate-making process, introducing the 'dance of the cacao' before jumping into a huge iron cauldron and swirling the beans round with his feet: the traditional way to clean the beans. Fond Doux is still a working plantation, although it now uses more modern, hygienic methods to process the chocolate.
The cocoa at Fond Doux goes from bean to bar. They sell a sweet, milky chocolate, but it's their 70 percent dark chocolate that I prefer. This organic, bitter chocolate is the caviar of the confectionary world: weighty in my hand, I could feel the quality. Just a couple of squares and I felt like I'd eaten a whole bar. A small-scale producer, none of the chocolate is exported — you can only get your hands on it with a visit to Saint Lucia.
Freshly ripened fruit, across the Caribbean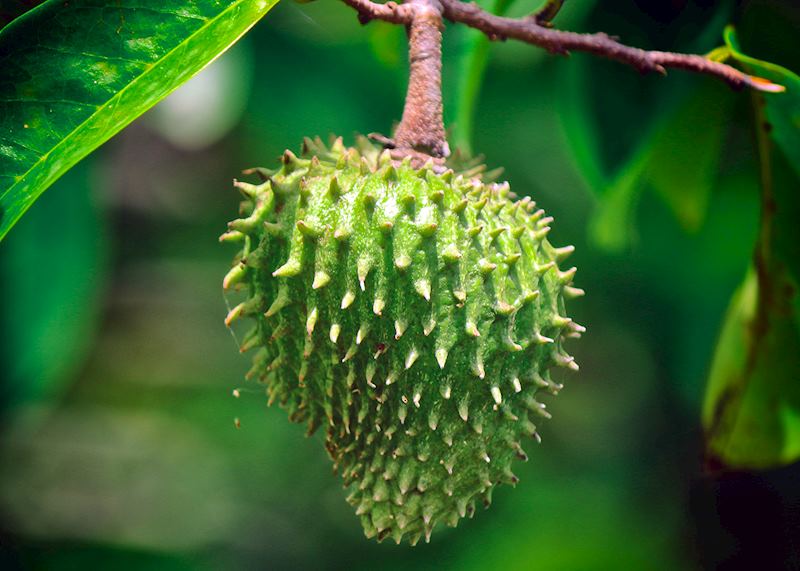 Most travel to the Caribbean from December through to February, but it can be tricky to get the best local flavors, as little ripens during those months. I traveled in late May when it's a little quieter, the weather's still good and the fresh produce is flourishing. At breakfast, plates were piled high with juicy mangoes and plump avocados, but the locals swear by soursop.
Larger than a melon, a soursop is pale green with hard, spiky skin and white flesh. It's found across the Caribbean, dangling from trees along the sides of the road, cut into slices at the local market or at a street-side juice bar. High in vitamin C and B, and a number of antioxidant compounds, it's a popular health-food.
I stayed at Petite Anse in Grenada, a family-owned boutique hotel on the unspoilt north coast of Grenada. The menu focused on organic, fresh produce and I was served a thick, pulpy glass of fresh soursop juice each morning for breakfast. It's difficult to describe the taste — maybe a vague resemblance to sour pineapples — but it certainly woke me up.
Stroll through Port Elizabeth, Bequia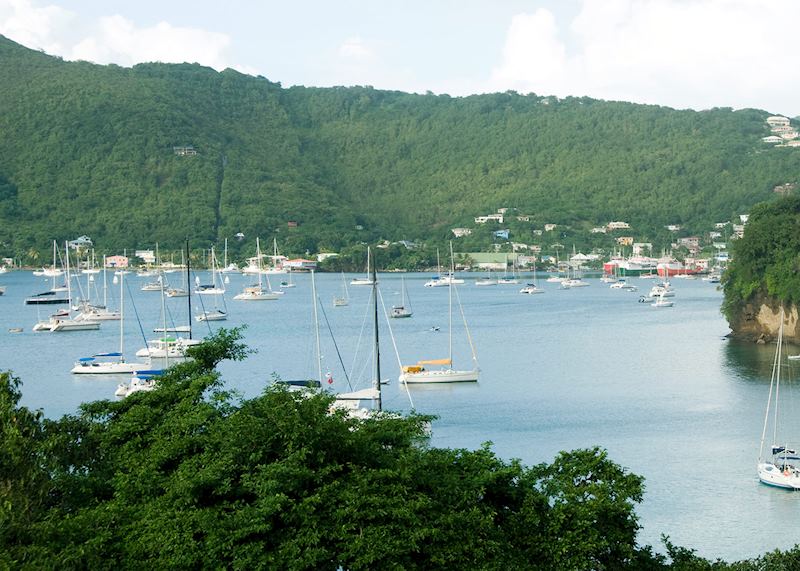 I envisaged the Caribbean's port towns to be shopping havens aimed at cruise day-trippers but, Port Elizabeth is too small for the cruise boats, and still retains a village-like feel.
This is the sort of town where everyone knows everyone else's name and locals greet each other with cheery yelps of acknowledgment. There's a daily vegetable market and lots of tiny cafés lined up along Front Street, which leads toward Saint Mary's Anglican Church. The bay is usually littered with a gleaming white flotilla of sailing boats and yachts.
Ownership of the island passed from the French to the British, but there are few colonial relics: compared to its neighboring islands, its waters were difficult to navigate and resources poor. Traditionally this is a whaling island, and locals are still permitted to hunt using hand-thrown harpoons in open sailboats. Although catches are now rare, Bequians are proud of their heritage — there's a small museum in Port Elizabeth if you want to learn more.
After exploring the town, I wandered along Belmont Walkway, a coastal promenade that leads to Princess Margaret's Beach. Here you'll find a long stretch of flaxen sand, backed by thick groves of cedar and almond trees. Continue to the end of the beach and you'll find Jack's Bar, a Bequian institution that serves up a piquant jerk chicken.
Snorkeling, across the Caribbean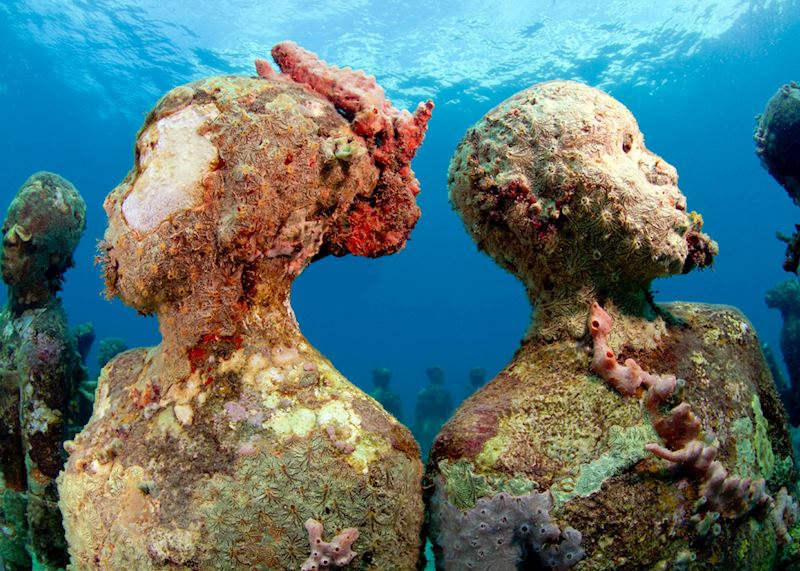 Yes, there are hundreds of creamy-white showpiece beaches in the Caribbean. But I also found an exotic pallet of volcanic black-sand coves, great golden cays and delicate champagne shores. This diversity carries over into the water, where you'll encounter a host of plants tethered to the marine floor, tickled by the fins of many tropical creatures.
Each snorkeling spot has its own charms. The sugar-white sands of Tobago Cays in St Vincent and the Grenadines surround a great horseshoe of coral. Off the coast of Grenada you can peer down at mermaids and pirates at Grenada Underwater Sculpture Park where concrete artworks have been submerged to encourage coral growth.
On Barbados there's been a focus on protecting the surrounding coral, and off the west coast you'll find Folkestone Marine Park. A section of the coast has been ring-fenced off to exclude boats, and fishing is banned. I swam alongside hawksbill turtles and graceful rays as I admired the coral. Bulbous brain coral sat squat against delicate fan coral, tended by stripy sergeant major fish.
Most hotels provide complimentary snorkeling equipment and if you stay at The Sandpiper, an elegant, family-owned hotel, you're within walking distance of the Marine Park.
Take an island-hopping day trip, St Vincent and the Grenadines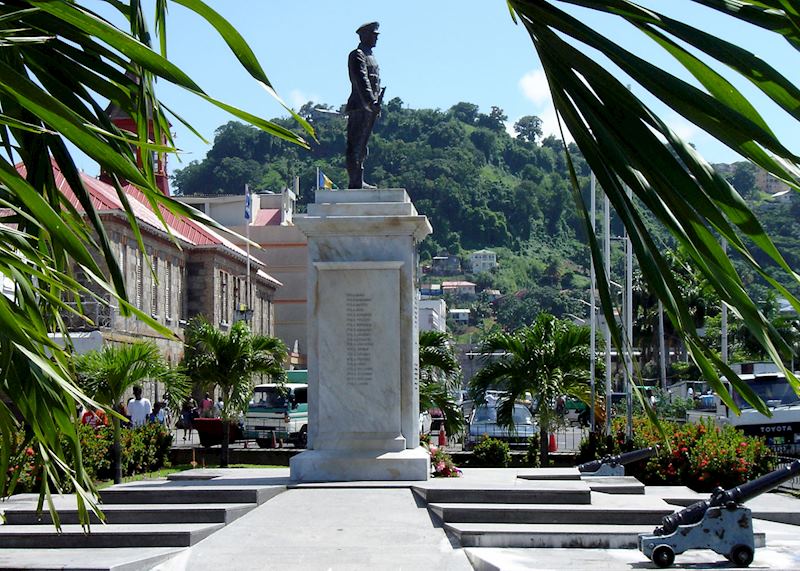 If you'd rather hole up in one place, you can day-trip across to another island by local ferry. Usually departing twice a day, these big, old tanker ferries take local residents to work, school and market. I caught one on a Friday night to find it filled with relaxed locals enjoying beers on the deck (bought from the makeshift shop on board).
I caught the ferry from laid-back Bequia to the larger island of St Vincent. It took about an hour — you're perched on basic wooden benches — to reach the port city of Kingstown. The capital of the St Vincent and the Grenadines archipelago, Kingstown's cobbled streets are thronged with locals. This is where residents shop, go to school and work to a soundtrack of urgent car horns and the call of street vendors.
I wandered among the brightly-painted buildings, and people watching from the open-air balcony of Vee Jay's Café. The produce market — each Friday and Saturday — was alive with vocal hecklers boasting their wares, bowls piles high with mangoes, avocados and malabas (which resemble bright red pears). In the center of town there's an eclectic cluster of religious buildings including Saint Mary's Catholic Cathedral which is topped with a series of arresting Gothic spires.
Meet the local wildlife, across the Caribbean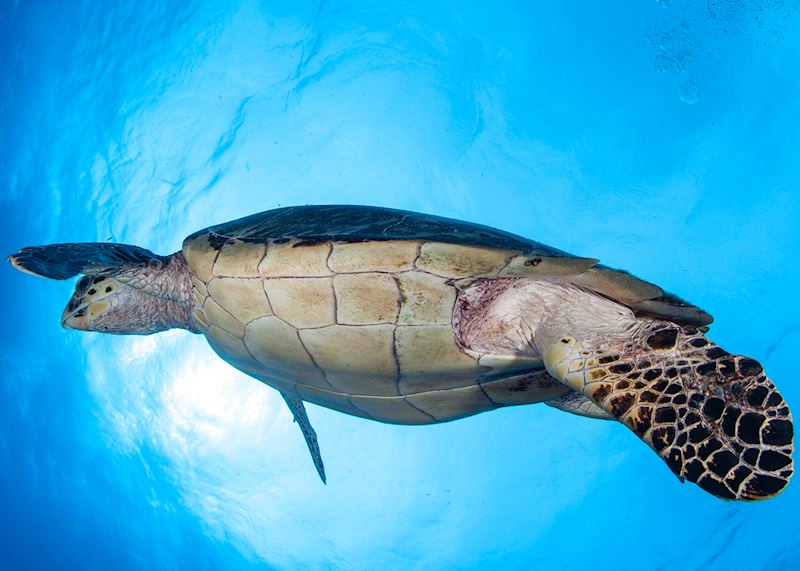 I've worked in travel a long time, and I know that sightings of animals — especially turtles — are rare, unpredictable and often unlikely. That was until I arrived in the Caribbean.
I arrived in prime turtle laying season (from May to August) and couldn't quite believe the amount of turtles I saw. Eating my lobster linguine on a beach-side restaurant in Barbados one evening, I watched a little hawksbill haul herself up onto the beach virtually underneath the restaurant to lay her eggs. You'll see signs across Barbados prompting a call to a ranger once a turtle has been spotted to ensure the hatchlings are protected.
Over on Grenada, I set off for a more deliberate viewing, joining a small group of fellow guests staying at Petite Anse on the north coast. We caught a bus to the very tip of the northern peninsular, where leatherback turtles return each year to lay their eggs.
During nesting season, Levera Beach, the main nesting site, is a prohibited area. On arrival we were given a strict talk by a park ranger: no lights, stay together and wait by the side of the beach until told otherwise. The turtles are easily distracted by lights, so rangers use red-light torches to patrol the beach while we waited quietly by the sidelines. The rangers are volunteers who work throughout the night during the laying season.
You'll need to be prepared for a long wait, although within a couple of hours we were being ushered, single file along the beach as a huge hawksbill hauled herself out from the sea. She spent about an hour digging a ginormous hole before beginning to lay her round white eggs. Unfortunately the turtles often lay their eggs too close to the sea, so a ranger stands behind the turtle to collect her eggs, which will be buried in a safer place — the turtle is happily oblivious.
After the turtle had finished laying she then buried her mound, then, in an attempt to hide where she'd laid them, she spent the next few hours creating fake mounds in the surrounding area. By the time she was finished and began to haul herself back toward the sea, you could see her exhaustion.
Start planning your trip to the Caribbean
Barbados, St Vincent and the Grenadines and Grenada
Start thinking about your experience. These itineraries are simply suggestions for how you could enjoy some of the same experiences as our specialists. They're just for inspiration, because your trip will be created around your particular tastes.
View All Tours in The Caribbean