Our safari specialist Amy reveals how strolling is the new driving, as she leaves the 4x4 far behind to get an up-close look at some of Kenya's wildest parks.
Safari specialist Amy visited three of Kenya's most wildlife-rich areas outside of the busier months that see the much-anticipated Great Migration river crossings. From camel assisted walking safaris to spotting endangered species and facing the Masai Mara without the crowds, she proves that there's never a bad time to embark on a Kenyan safari.
Call of the wild
The gateway to the Laikipia Plateau, one of Kenya's biggest stretches of wilderness, is a grassy airstrip in the market town of Nanyuki. I arrive in a Cessna Caravan, having flown past the individual peaks of Mount Kenya. A handful of people sit on plastic chairs, snacking on samosas and drinking cold Tusker beer as they wait for the small turboprop plane to return them to Nairobi.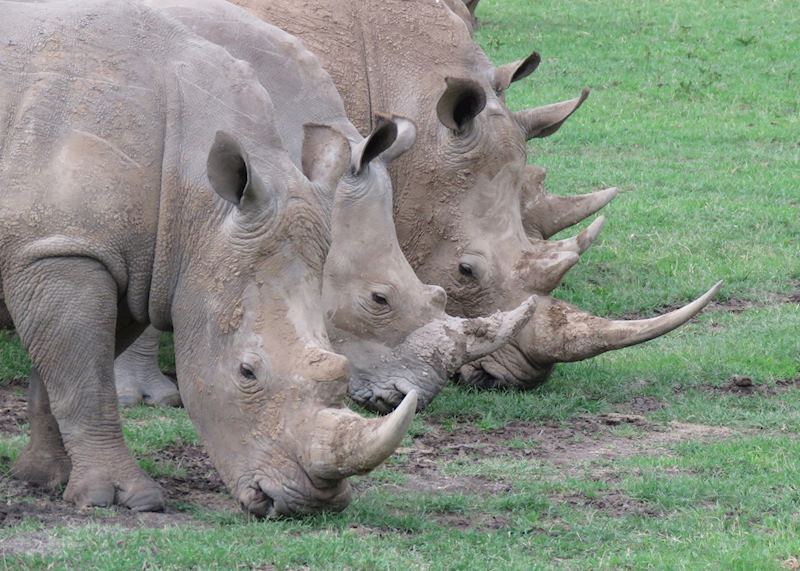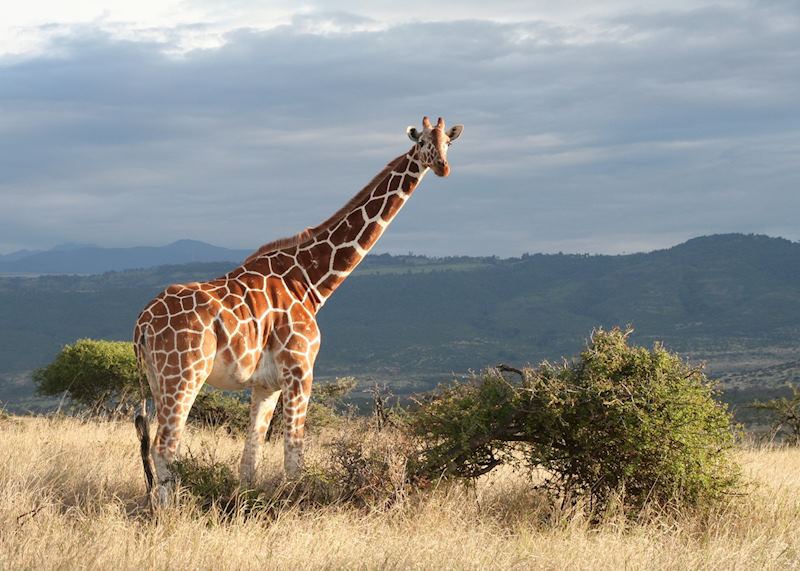 Save for the rusted, life-size sculpture of a rhino nearby, the ramshackle buildings and sleepy atmosphere remind me of the frontier towns of America's Wild West. A man waits by the edge of the airfield, clutching a sign with my name on it. He greets me with a handshake, and with no time wasted, we're on our way north, toward the Lewa Wilderness Conservancy.
We drive down a flat, dusty road, bordered here and there by block-shaped buildings bearing signs for 'The Equator Chalet' and 'Equator Curios'. While the equator passes through the country 6 km (3.7 miles) south of here, it's not as hot as you'd expect.
Laikipia comprises high-altitude rangelands where the air is refreshingly cool. Stretching from Mount Kenya to the Great Rift Valley, this patchwork of huge, privately owned plots is roughly the size of Wales.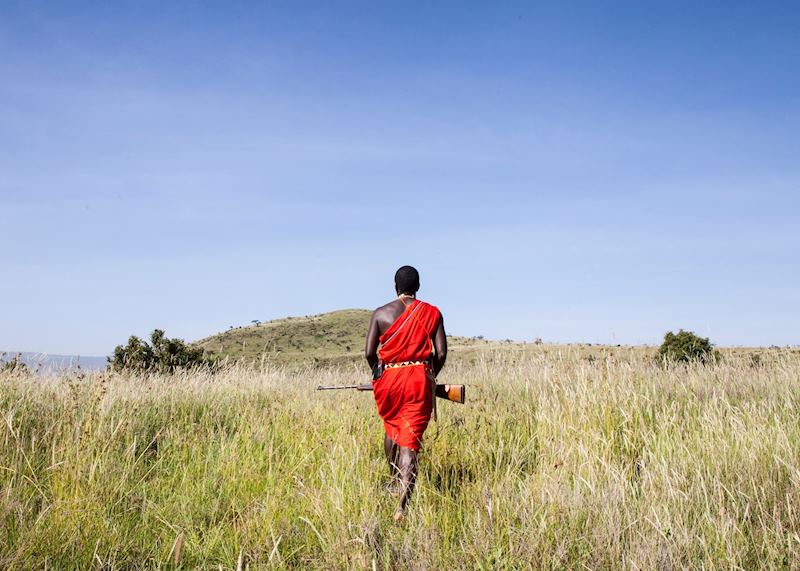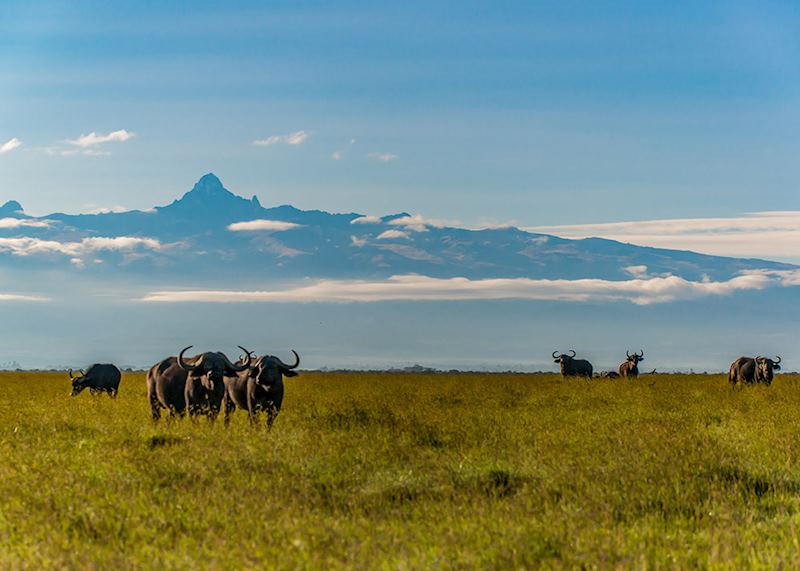 Wildlife has historically used this area as a corridor, but numbers began to dwindle when the land was used for cattle ranching. Luckily, careful land management in recent years has returned it to its roots. It's now a haven for a varied cast of animals, including several endangered species, such as the black rhino and Grévy's zebra.
Safaris here take you beyond just sitting in a vehicle, giving you an opportunity to explore your surroundings on foot. You'll find few other visitors, despite the high density of wildlife.
I soon arrive at Lewa House, a thatched building built of local stone and surrounded by large indigenous trees that provide much-appreciated shade. I'm welcomed with a cold glass of fresh mango juice from Callum and Sophie, who run and live on this farm-turned-safari lodge with their two young children. Sophie's family have been connected with Lewa for five generations; it was her great-grandfather who first began to conserve the land and its wildlife alongside farming.
Staying here, your individual cottage looks out over the seemingly unending plains, with mountain ranges tinged blue in the distance. It soon felt like home to me.
Lewa House is centrally located within the Lewa Wilderness Conservancy, private land that was transformed into a rhino sanctuary in the 1980s. A pioneering model of successful conservation, it now supports a variety of animals. Antelope and giraffes are commonplace, and you might encounter cheetah, leopard, wild dog and buffalo with the help of your experienced guides.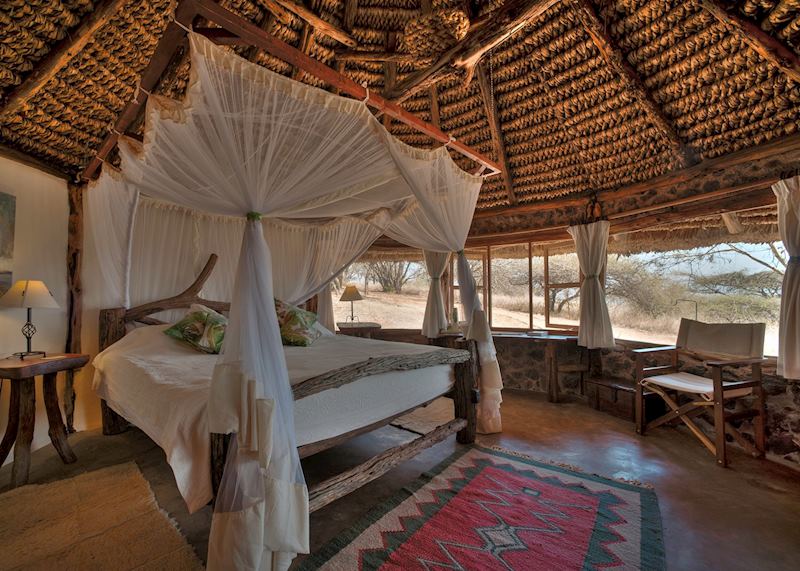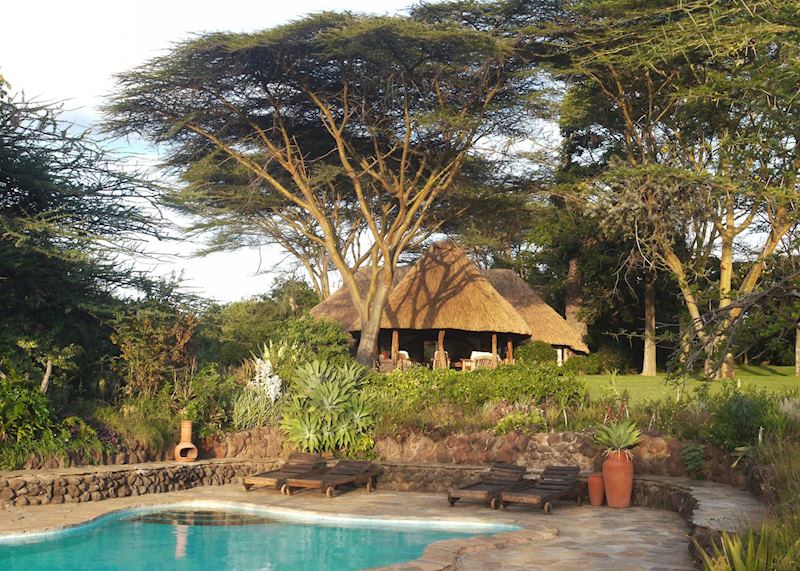 An elephant corridor extends from Mount Kenya through Lewa and out into the open expanses of the Samburu region, and you'll often see herds plodding along the well-trodden route.
The best part about a stay in Lewa is the rejection of a stringent safari schedule — your time is highly flexible. My guide, Joseph, plans each day to my preferences, but makes sure I don't miss anything in his own subtle way. We split our time between game drives and walks through the plains and I relish the nights spent beside the campfire listening to stories about the bush.
I didn't come here to tick animals off my checklist, but I do anyway. We spend hours watching large herds of elephant mingling in the river and observe a leopard slinking off into the tall grass. We successfully track black and white rhino a few times — a rare experience in East Africa.
Hiking with humps
When I wake up on my last morning in Lewa, I'm sad to leave. I say my goodbyes with genuine promises that I'll be back, and Joseph drives me to the gate, where another driver is waiting for me. We cross back through Laikipia County, with Mount Kenya a constant focal point rising from the surrounding ridgelines, and pass through Nanyuki once again before heading west.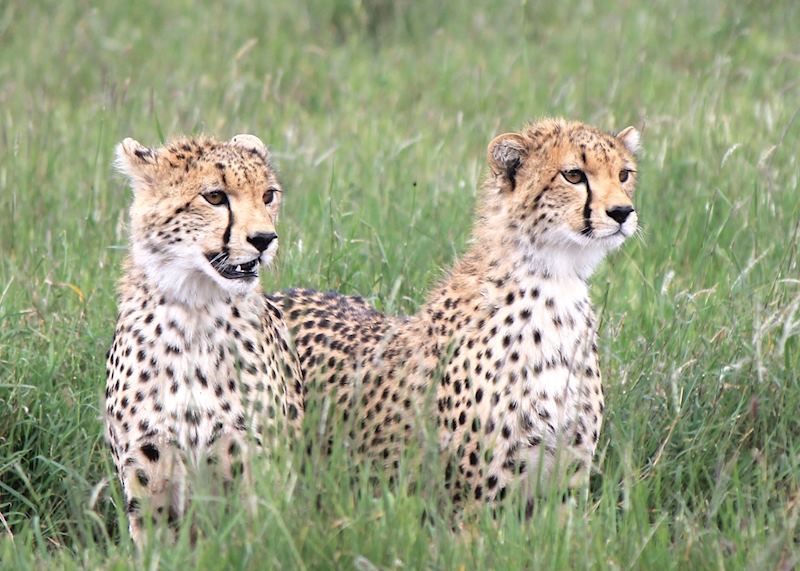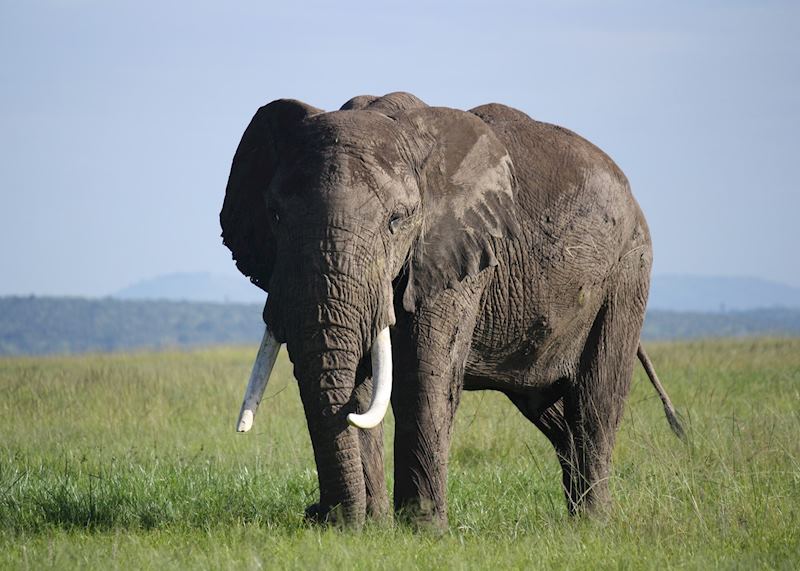 Our destination is Tumaren Ranch, a property that borders Kenya's vast Northern Frontier. It's the starting point for a camel-assisted walking safari, which is owned and run by Kerry Glen and James Christian. The couple purchased the land as a base for their safaris and spent years living on it with their children. Tumaren Camp is now the permanent base camp for their walking safaris.
When on safari here, you stay for the first night in one of six large sleeping tents, each with solar lighting, a shower and furniture strewn with brightly patterned fabrics. Then, you walk each day to different spots in the bush, where staff will have set up camp for the night.
When I arrive, I meet my guide, Gabriel, and we spend the evening on a short walk to get acquainted with our surroundings and each other. As we walk, Gabriel reads me the story of the tracks and signs that animals have left behind. 'A bull elephant walked this way,' he says, pointing toward rocky outcrops in the distance. 'You can see his footprints here. It's a bull because a female would not be alone. Can you see how the footprint is broken here? He kicks sand forward as he walks, so we can tell which way he is going.'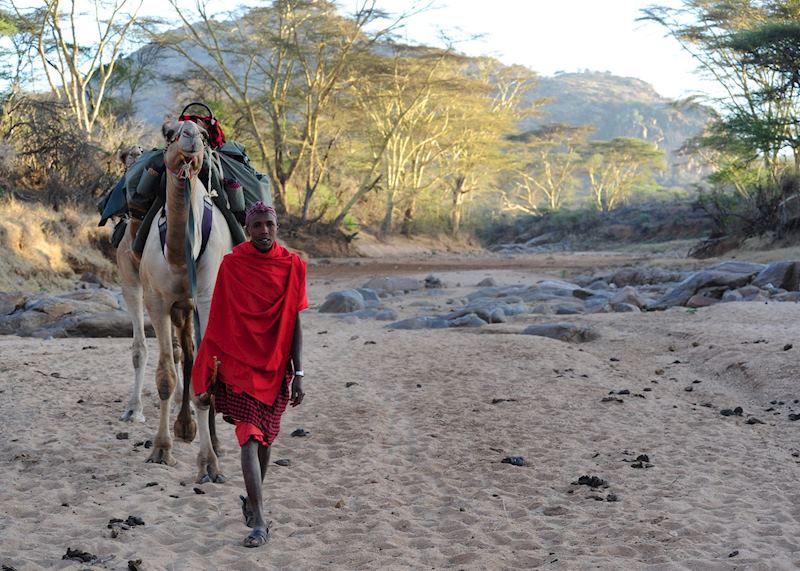 We pass impala and Grant's gazelle, which stand deathly still and alert, assessing us before bolting to a safe distance. It's a world apart from safaris in a vehicle, which generations of animals have become so accustomed to that they barely register your presence. Being on foot is a two-way conversation with the bush — every action has a reaction.
As we walk, Gabriel's eyes are constantly scanning and evaluating our surroundings, but he still keeps up a conversation with ease. Growing up in the bush has taught him a gentleness and respect for the land that's apparent both in his footsteps and his stories.
'There is nothing to be afraid of,' he says. 'The animals are more scared than you are. Nothing here wants to hurt us. We give them the space that makes them comfortable.'
The rest of my time with Karisia is spent like this, exploring the bush with Gabriel and skilled trackers on foot. We walk for a few hours each morning while the rest of the team hurries ahead, all our supplies loaded onto camels, to set up camp for the night ahead.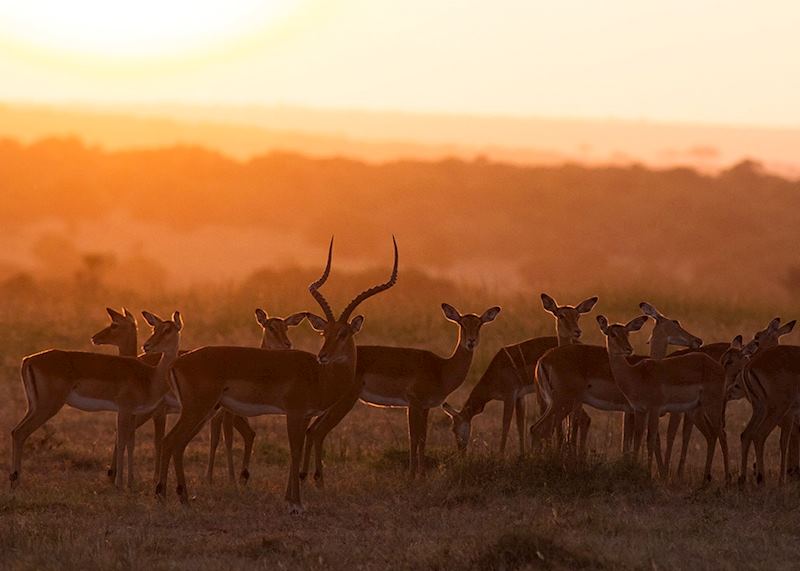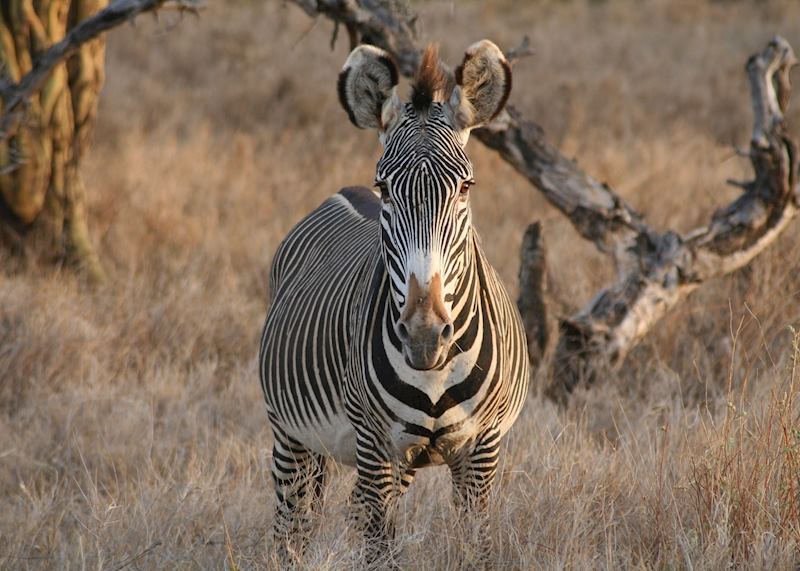 Arriving at each new campsite in time for lunch and a cold drink, I then read my book or chat with the local Samburu and Maasai guides and trackers. In the evening, we walk to a sundowners spot, watching the sun sink into the horizon in an explosion of salmon-pink and fiery orange. We eat dinner under the stars. Wine flows around the campfire and I sleep soundly to a steady chorus of cicadas.
I feel that I could spend weeks out here and barely scratch the surface. Before I know it though, I'm back at the Nanyuki airstrip and flying on to my last stop, one of the private conservancies bordering the Masai Mara. Owned by the Maasai, the land here once saw conflict between humans and wildlife. But, with profits from safari-goers now directly benefiting local communities here, a sustainable future for both humans and wildlife has been achieved.
Staying in a conservancy rather than in the main reserve gives you a more exclusive experience — the only visitors allowed in a private conservancy are those staying at the limited number of camps within its boundaries, so you'll see far fewer people when out on game drives. And the conservancies are unfenced, so animals can move freely across the land.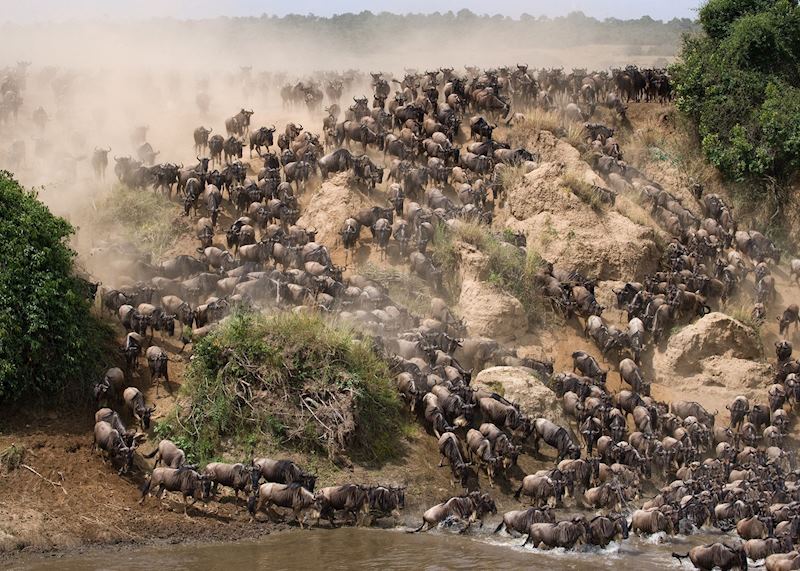 The busiest time to visit the Serengeti-Mara ecosystem is from July to October, when the annual Great Migration of wildebeest and zebra moves up to the Mara River that separates Tanzania and Kenya. These perilous river crossings are undoubtedly a spectacle to witness, but nothing beats the Masai Mara in December for me.
November's short rains have just ended and the grasslands are growing back into a lush, green carpet, plump with nutrients for impala, topi and warthog. With most of the wildebeest gone, the elephant herds return — you can spend time watching them swimming and playing in the Mara River. The rains have washed away the territorial scent markings of the plains game, and impala and Thomson's gazelle chase each other around, reasserting their dominance. Without a constant buffet of wildebeest around, hyena and lion compete for food while leopard stalk smaller prey in solitude and cheetah hunt and eat quickly before the bigger cats catch on. There are often bursts of rain in the afternoon, but this settles the dust and cools off the day.
My time in the Mara is spent on game drives in the main reserve and a bordering conservancy. Even in the vast amount of space we explore over the span of a few days, I see only a handful of other vehicles.
My safari ends with me sipping a gin and tonic on an escarpment, watching the sunset wash the land in a warm glow — a land that has long captured the world's attention.
Read more about safaris in Kenya

Start thinking about your experience. These itineraries are simply suggestions for how you could enjoy some of the same experiences as our specialists. They're just for inspiration, because your trip will be created around your particular tastes.
View All Tours in Kenya