At one time the "Big Five" were at the top of hunters lists as they were considered the most difficult of Africa's big game to shoot while on foot. These were: lion, leopard, rhino, elephant and cape buffalo. Fortunately it's tourists who do most of the shooting today but only with their cameras.
While rampant big-game hunting has been largely consigned to history, unfortunately poaching has taken its place and it's the rhino in particular which has suffered as a result.
Accordingly, the number of places in Africa where you'll have the opportunity to see the Big Five has fallen considerably. However, there are places in Kenya where rhino populations are still strong and so it's still possible with a bit of luck.
In the north of Kenya, most notably Lake Nakuru, Ol Pejeta Conservancy and the Lewa Wilderness Conservancy, rhino can still be seen, allowing you to see all of the Big Five.
These areas are relatively small in comparison to other parks so your chances of seeing these animals are increased, although the leopard always seems to remain elusive and so an element of luck is required to see one.
Finally, Kenya's most famous reserve, the Masai Mara, is also home to the Big Five but due to its sheer size the animals are more spread out and the chances of seeing them all are more limited.
Start planning your trip to see the Big Five

Start thinking about your experience. These itineraries are simply suggestions for how you could enjoy some of the same experiences as our specialists. They're just for inspiration, because your trip will be created around your particular tastes.
View All Tours in Kenya
Places in Kenya to see the Big Five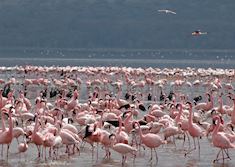 The waters of Lake Nakuru are most famous for its millions of pink flamingos. Together with these, it is possible to see up to 400 species of birds, as well as big game like rhino and lion.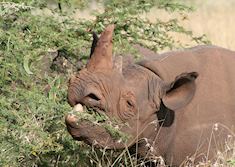 To the north of Mount Kenya, the Lewa Wildlife Conservancy stretches for over 45,000 acres. As a result of poaching, the Lewa Wildlife Conservancy was set up and now the amount of wildlife in the area has grown enormously, including many endangered species.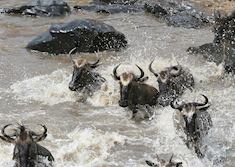 One of Africa's best-known wildlife areas, the Masai Mara National Reserve is home to some of the densest wildlife populations on the planet. From big cats stalking plains game to vast herds of migrating wildebeest, it's a land where animals call the shots.