We all remember stand-out moments from our childhood, whether it was coming face-to-face with wildlife we'd never seen before, the thrill of riding a train for the first time or that feeling of adrenaline and adventure when discovering something new.
You can relive those memories when on your travels. Below, our specialists share places and experiences that take you back to your formative years, from exploring the fairy-tale castles of France to camping in untrammeled wilderness on a Tanzanian safari and zip-lining through Costa Rica's cloud forests.
The ancient city of Petra, Jordan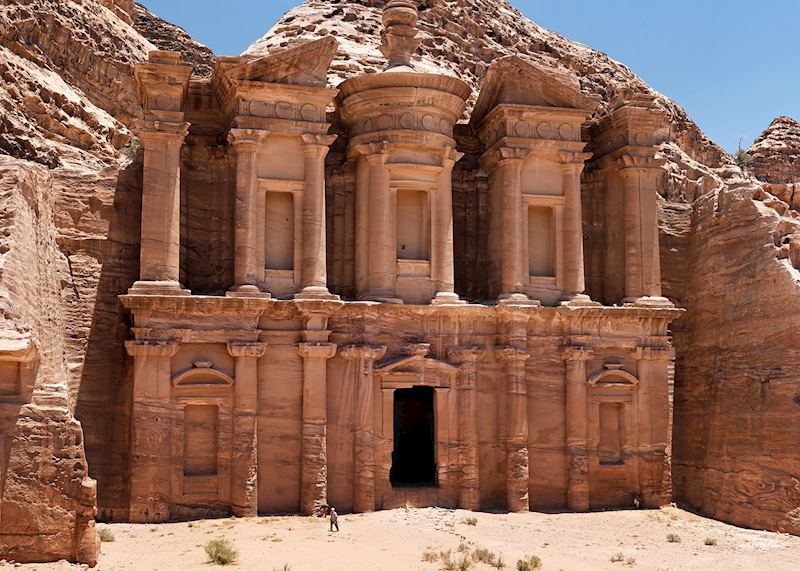 By Jordan specialist Emma
A mysterious city hidden deep in the desert. The haunting ruins of an ancient empire. The gritty crunch of sand and stone beneath your boots as you explore the vast, echoing wadi and imagine the people who once lived here….
A visit to Petra is arguably the closest you can get to living out the action-adventure pulp novels of the 1930s or their latter-day cinematic incarnations. In fact, this capital of the ancient Nabataean kingdom was featured in Indiana Jones and the Last Crusade.
However, the city's popularity means the crowds can impinge on any illusions of being an intrepid explorer. That's why I always suggest you visit Petra for at least two days. On your first, you can take the usual route through the city, entering through the long, narrow Siq in the morning and reveling in the sudden appearance of the Treasury, the city's most-photographed building.
But, on your second day, I suggest you take the back route from Little Petra. Also known as Siq al-Barid, Little Petra is a smaller suburb of its namesake located north of the main site. You can leave from here for a hike through rugged mountains to reach the Monastery.
Sitting high on a plateau, the Monastery resembles the Treasury, but it's much larger, soaring to a jaw-dropping 45 m (150 ft). It's toward the end of the wadi, at the top of a fairly steep set of 800 steps, so most visitors don't reach it until the late afternoon. Taking this back way in, not only will you avoid the stairs, you'll be there early in the morning and have the site largely to yourself.
Bush walks and wilderness camping in Ruaha National Park, Tanzania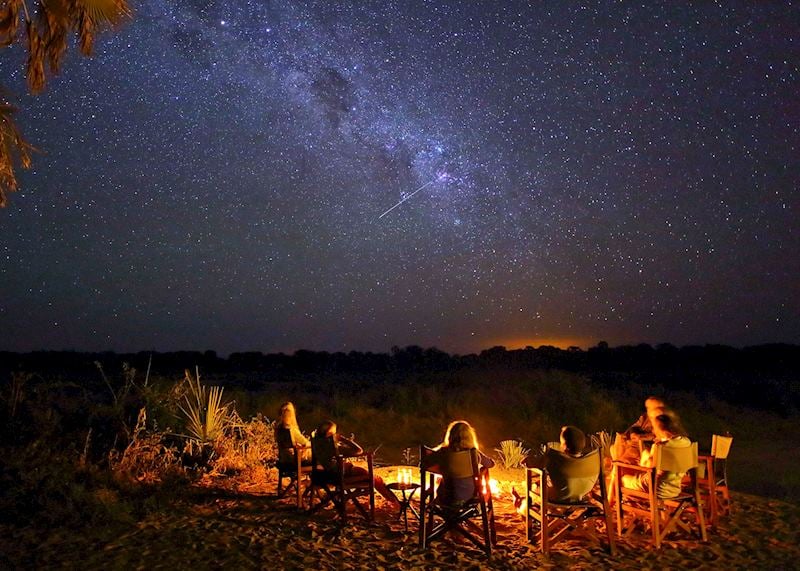 By Shannon from our Africa safari team
As we walked through the bush, Moli, my guide, held up his hand for quiet. We'd arrived at a herd of elephant, about 15 of them, ranging from huge adults to calves sheltering beneath their bellies.
They hadn't seen us — Moli explained that elephant have very poor eyesight, so rely mostly on smell and sound. He'd used a sand-filled sock to determine the wind direction and positioned us so that we remained undetected, but close enough to feel the ground tremor with their movements.
Eventually, one of the adults noticed us and the herd trudged off, innately wary of humans (and rightly so). You never usually get so close to elephant on foot, but Moli's many years of bush-walk experience ensured we were in safe hands.
Not only one of the best guides in Tanzania, Moli — along with his partner, Noelle — runs Kichaka Frontier Camp. With just three tents, it's set in a remote area of Ruaha National Park (so remote, in fact, that it's a four-hour game drive from the nearest airstrip, though you can easily tag it onto a wider Tanzania safari and beach stay).
As well as staying at Kichaka's permanent frontier camp, you can embark on a more rustic multi-day fly-camping experience. By day, you walk, pausing to learn from Moli or one of the other guides about animal tracks, plant life, trees and even human evolution.
Your camp is set up in the middle of the bush — simple dome tents, often beside a riverbed where animals come to drink. Then, after a hearty meal cooked over the fire, it's just you and the Milky Way.
Riding the toy train in Darjeeling, India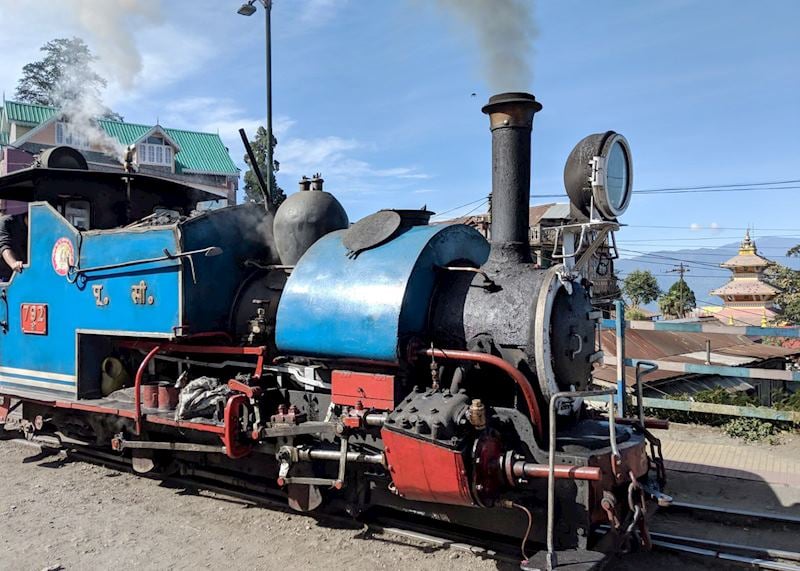 By India specialist Hannah
Pressing my nose against the window, I watch a thick column of steam pass by as the carriage slowly clatters out of the station. The pace doesn't quicken, this is a journey purely for enjoyment.
So much so that half-way along the journey, from the former British-colonial hill station of Darjeeling to the nearby town of Ghoom, the train grinds to a halt. We're not at a station — this is simply a platform built so that everyone can disembark and admire the train, the foothills of the Himalaya rising in the background.
The driver steps out of the cabin of this B-class steam locomotive, standing proudly to attention alongside it. Everyone clamors around, admiring the polished smokebox and chimney, while the driver encourages adults and children alike to stand beside him to pose for photos.
Back on board, the train slowly continues the 40-minute journey to Ghoom as residents and shop owners quickly cover washing and move tables of produce to let the train pass.
This route is part of India's first mountain railway, a UNESCO World Heritage narrow-gauge track that, due to its small size, became affectionately known as a 'toy train.' It no longer runs its original 96-km (60-mile) route in its entirety, but this leisure trip runs daily, often cheered on by its own dedicated society of railway enthusiasts.
From Ghoom, you could ride the train straight back to Darjeeling or stop and explore the town's tiny but artfully decorated monastery. Onward travel could take you further into West Bengal and Sikkim, and to the former capital of India, Calcutta.
Childhood classics in Oxford, UK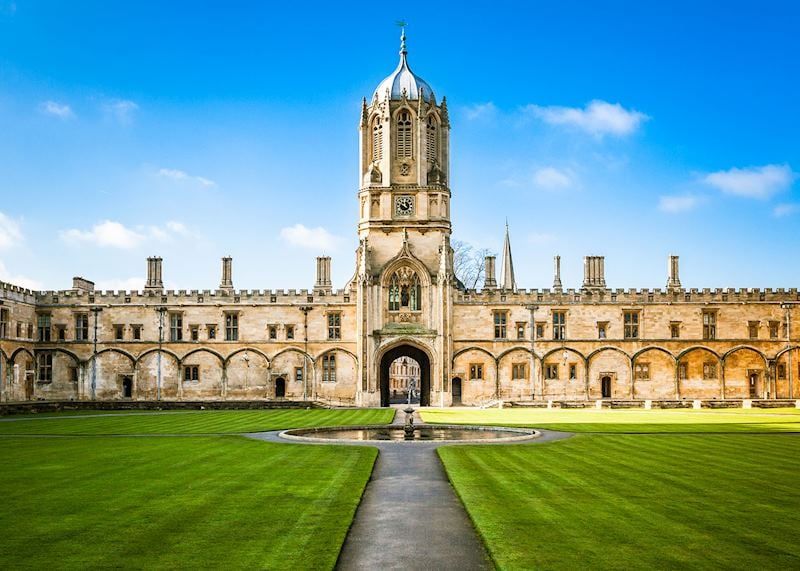 By UK specialist Andea
A historic city that still bustles under a forest of 'dreaming spires', Oxford is a warren of narrow alleys that wind between tightly-packed honey-stone buildings, past medieval colleges and beneath Gothic arches. This was home to the authors of some of the most beloved English-language children's books, making it a vital stop on any literary tour of England.
CS Lewis, JRR Tolkien and Charles Dodgson (aka Lewis Carroll) all studied and wrote here, and if you know where to look, you'll find echoes of their classic stories still reflected in the city's stones, streets and statues. What's more, the grand dining halls and university colleges clearly inspired Hogwarts, and scenes from the Harry Potter movies were filmed here.
The first time I ever visited Oxford, the city is so old, layered and dense that to really explore it, I needed a native guide, like Iain. An alumnus of the university, he has an exhaustive knowledge of the city and happily tailored my tour to my interests. You could visit the Eagle and Child where Tolkien, Lewis and the other Inklings drank, or see Dodgson's photographic equipment at the History of Science Museum.
If the timing is right, he can also show you the Hall at Christ Church College, a room so stately that it warrants a capital letter. Fans of the Harry Potter movies are likely to feel a jolt of recognition upon seeing the long wooden tables, arched ceiling, head table and wood-panel walls lined with portraits of important alumni — this room inspired the movies' version of Hogwarts' dining hall.
Zip-lining in Monteverde, Costa Rica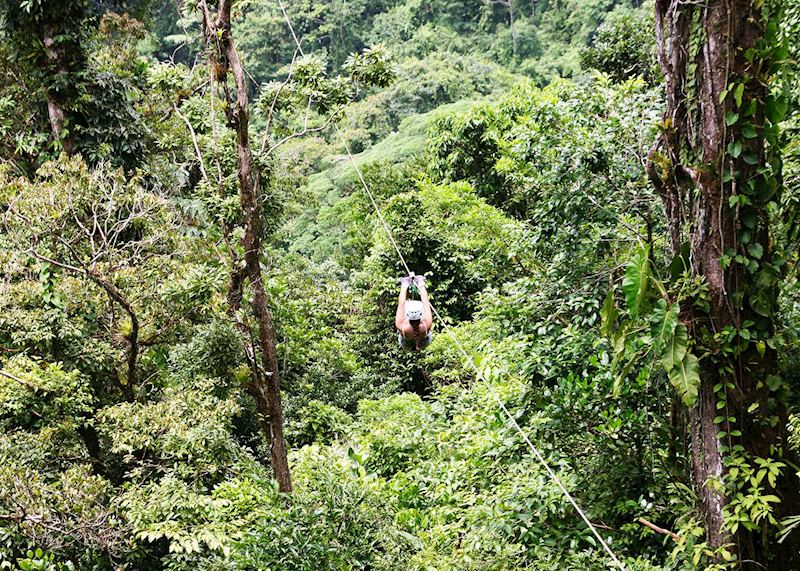 By Latin America specialist Michael
There's something to be said about wandering beneath the boughs of Costa Rica's cloud forests. But, I'd argue that it's even more exciting to peer down at the treetops as you whiz through the higher canopies with views right across the tree line.
If you're the intrepid type, zip-lining is a must, but even if you're not, I encourage you to consider it. It's not as extreme as it sounds and it's a good option if you're undertaking a family adventure across Costa Rica. I haven't met anyone who regretted trying it.
There are a number of destinations to choose from, including Monteverde in central Costa Rica. Here, in Selvatura Park, you'll traverse the cloud forest along 13 cables, gaining a vantage point once reserved for those who first climbed these trees. There's the option to ride tandem alongside a family member, and children from the age of four are welcome.
Once you've finished zooming through the trees, you can take your time along a series of treetop walkways and suspension bridges. This gives you the chance to look out for some of the region's birdlife, from iridescent hummingbirds to magenta-throated woodstars.
A fairy-tale chateau in the Loire Valley, France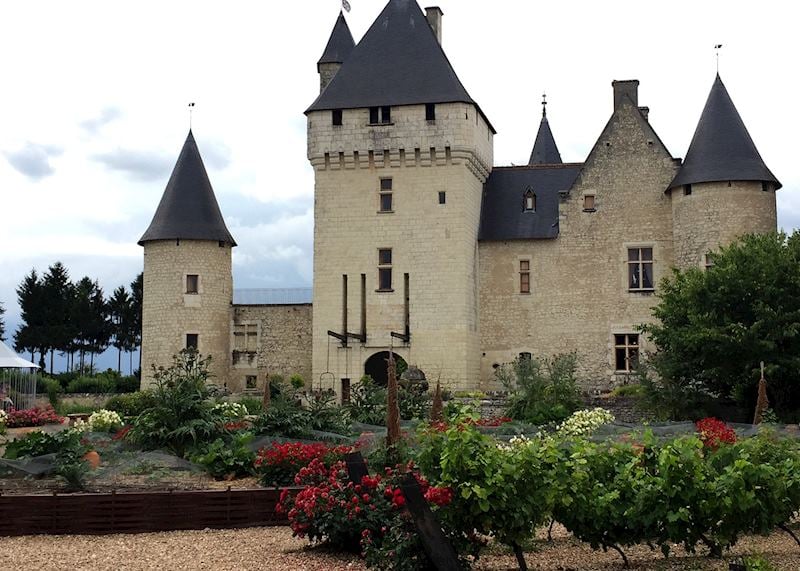 By France specialist Aislyn
Rising up from the rich, green fields on the west side of the Loire Valley, Château du Rivau looks like an illustration from a book of fairy tales. Combining both Renaissance and medieval architecture, the keep boasts a working drawbridge and its white limestone turrets are topped by blue-gray slate tiles.
Inside, the family still lives in the upper floors, while the lower ones are decorated with shining suits of plate armor and period furniture. But, for me, the real reason to visit is outside.
The castle has more than a dozen whimsical gardens and I delighted in spotting the small pixies, sprites, princesses and knights that littered the plantings. Even better was the oversized art — a massive mole erupts from a flower bed, a pair of Wellies look as if a giant had just stepped away and a carousel horse silently gallops by.
You can follow your nose to the lavender beds or the rose garden, where gardeners tend more than 200 rose varieties that were chosen for their perfumes. In the vegetable plot, local and common varieties of squash grow on rambling vines and Barangeonnier beans clamber up trellises toward the sun. I also got lost in the small box-hedge maze and hunted for fantastical topiary creatures hidden in the enchanted forest.
The chateau makes for a light-hearted diversion on an otherwise sophisticated tour of the Loire Valley, whether you're focusing on the food and wine or art and architecture.
Caving in Phong Nha, Vietnam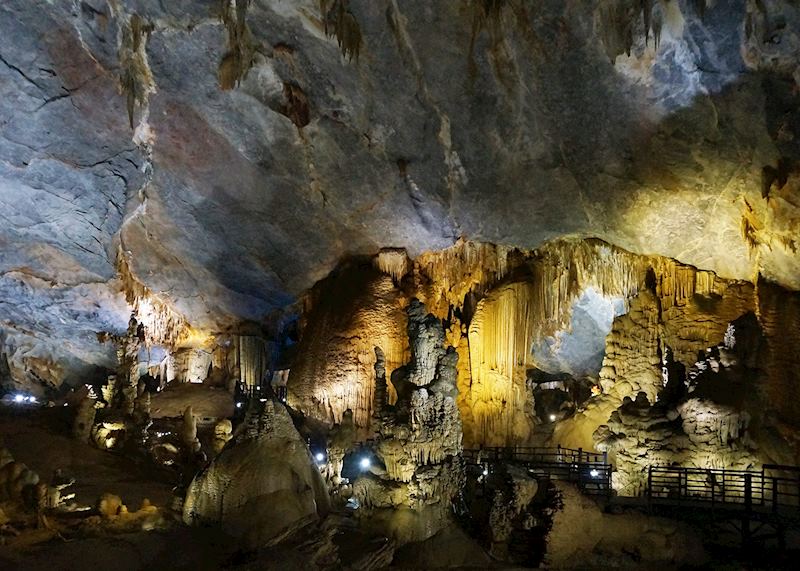 By Vietnam specialist Georgia
After a day's hike wading knee-deep in rivers and over thick jungle roots, my small group and I donned our hard hats and entered a low, wide cavemouth. From here we clambered, single file, up a pile of boulders.
Few views have actually made me gasp out loud, but this is one of them. From our vantage point we were looking down into Hang En Cave, one of the largest in the world.
A shaft of light from an arch high above flooded the cavern below, highlighting a turquoise subterranean river and a sandy beach, dotted with a neat row of small, vibrant domes. These were our tented homes for the night.
Hang En is just one of a series of caves in Phong Nha-Ke Bang National Park in central Vietnam. Some, like Hang En and Son Doong (the largest discovered, capable of swallowing a New York city block) are multi-day treks for the intrepid. Spaces are limited, so you'll need to book well in advance.
If you'd like something more accessible, there's also a series of caves close to Phong Nha village which you can drive or cycle to. Paradise Cave lives up to its name and is the most impressive, its stalagmites, stalactites and helictites lit like a subterranean cathedral.
If you're inspired to look into the adventurous side of Vietnam, you could combine this with mountain villages and waterfall treks on a two-week trip across Vietnam.