By Canada specialist Lucy
The soft shush of snowshoes on fresh powder. The elusive wonder of the northern lights. The fleeting wisp of fragrant steam from a mug of cocoa drunk by a frozen lake. Winter in Canada may not suit everyone's taste, but it's a special treat for those of us who love the cold, snow and frosty mountains.
However, winter in Canada does require more preparation than most destinations. After living there for several years, I've developed a strong sense of what works, especially when you're packing. Here are my practical suggestions for visiting Canada in the winter.
What you need to know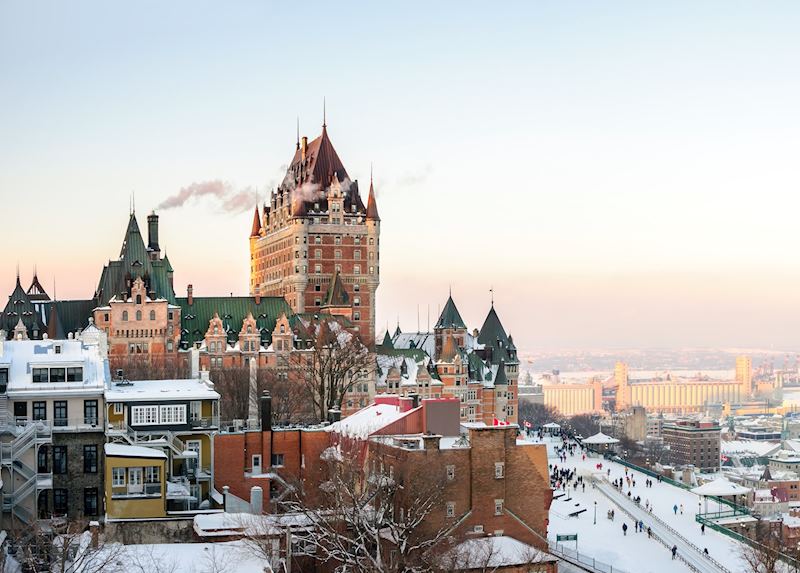 If you're visiting western Canada, you'll most likely be greeted with clear, sunny days and reasonably cold temperatures. In the depths of the winter, temperatures can range from a balmy 10°C (50°F) all the way down to -35°C (-31°F).
The extreme cold weather tends to come in waves, however, and often only lasts for a few days, before a warm Chinook wind comes in and the temperature rises. If you're wearing the right clothing and the sun is shining, the sub-zero temperatures are more manageable than you might think.
Eastern Canada's winter weather differs slightly. It can feel much colder as there's much more humidity — when it comes to Canada's winter, wet means cold. The east is also not often as sunny as the west, but when the sun does come out over the cobbled streets of old Québec, or the parliament buildings in Ottawa, it's rather glorious.
On really cold days, your eyelashes might turn white and long hair often becomes frosty at the ends. Being dressed improperly can ruin your day when it's cold outside, so we've put together a guide to make sure you're fully prepared for your trip.
What you need to pack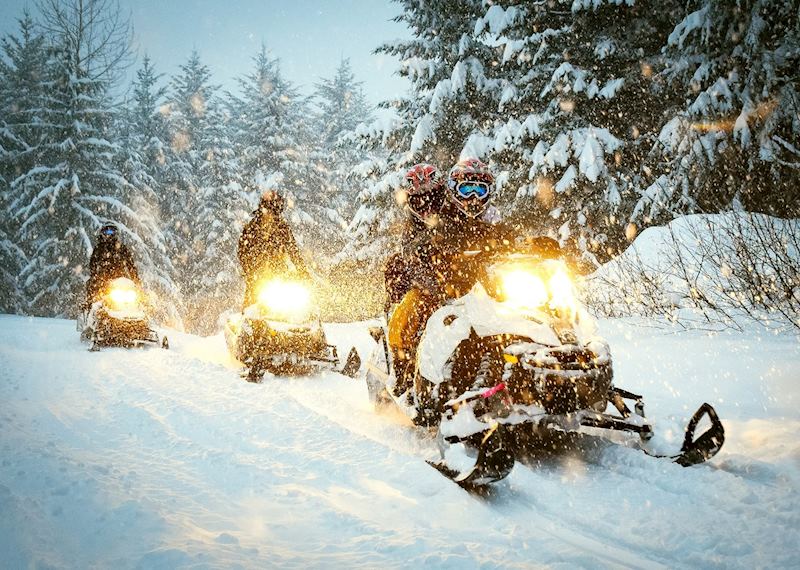 Fewer, higher-quality items are better than lots of lower-quality layers.
Avoid cotton clothing at all costs, even down to your socks and underwear. Cotton soaks up any moisture from the air and your body and makes you cold.
Avoid clothing that's too tight. Loose clothes insulate more efficiently and allow you to move your body around more easily, so you can keep yourself warm.
Despite cold temperatures and northerly latitude, you still need daily sunscreen, especially on your face. Sunglasses are also vital — the bright white snow can be very intense on your eyes.
If you're going to go dog-sledding or snowmobiling, I recommend investing in a pair of ski goggles. They don't have to be the best quality, as long as they keep the snow and wind out of your eyes.
A neck warmer is a good thing to carry around in your rucksack in case of a particularly cold day. I find that the zip on my jacket can irritate my chin when my skin is cold, and a neck warmer makes things a little more comfortable.
In some parts of Canada, especially in the west, the air is very dry, so I recommend always carrying around a reusable water bottle with you. An insulated bottle is a good idea to prevent the water from freezing.
A good pair of waterproof and insulated snow boots are an absolute must. Thick soles are advisable, as thinner soles will mean that your feet get cold quicker.
When I visit Canada in the winter, my saving grace is a really good pair of gloves or mittens. I prefer lined leather, but nylon gloves with liner made from wool or fleece should also keep your hands nice and warm. Gloves are a real staple of Canadian winters, so it's worth investing in a good pair.
How to stay warm in winter: A layering guide

Staying warm in Canada is all about wearing synthetic thermal layers.
The first layer sits right next to the skin. Materials like silk, nylon or polyester are the best options, but any fabrics that wick perspiration away from your body are suitable. Base layers should be worn on your top half and legs.
The second layer is your insulating layer. Wool and fleece are excellent insulators because they trap in warm air. Thin puffer jackets are also a good choice for a second layer as they keep warm air close to you.
The third layer protects you from wind and snow, so it should be windproof and waterproof. Gore-Tex is the best material that you can wear in a Canadian winter, and this applies to both your jacket and trousers. I recommend avoiding denim at all costs.
Final tips for Canadian winters
Make sure your boots aren't too tight. The tighter they are, the less circulation can get to your feet, meaning they will get cold.
The same thing goes for socks, which will limit circulation to your feet if they're too thick and make your boots tight.
When my head is warm, the rest of my body feels warm, so I recommend taking a woolly hat that's also fleece-lined.
Ears can often get very chilly if you're wearing earrings. If you're embarking on an outdoor excursion, considering taking your earrings out and rings off your fingers.