Here at Audley, we are fervent about providing our customers with an authentic cultural experience. Gastronomy and dining on local cuisines is an important part of any exploration, and considered important to 88% of our travelers when planning a trip. Through the use of US Google search data, we dug into the most popular cuisines in America, to understand which destinations our culinary adventurers may have their sights (and stomachs) set on next).
Most popular cuisine in the US
Escapes that change your perspective and create life-changing memories are at the heart of what we do here at Audley, this includes providing you with the most authentic culinary experiences. Our cuisine study has revealed China as a clear culinary favorite in the US. Whether this is experiencing authentic sweet and spicy Sichuan sauce from its origin, to the famous xiao long bao (soup dumplings) found in Shanghai.
The second most popular cuisine searched for in the US is Mexican. Known for its full flavors and fresh ingredients, this cuisine is treasured by many. Fill your senses with the delicious and wonderful smells of Mexican spices of Oaxaca's Beniot Juárez market, or experience the capital's best taco stands on a street food bike tour, led by a local guide.
The third most popular cuisine in America is Thai. For those looking to visit Thailand we suggest paying a visit to the food market in Chiang Mai and taking part in a cooking class in Bangkok.
Along with rich flavors, diverse history and delicate fragrances listed above, the list of most popular cuisines in the US doesn't end there. With Indian, Mediterranean and Japanese revealed as firm favorites, as well as Korean, Italian, Greek and Filipino rounding up the top ten.
It is no surprise that these well-respected cuisines from around the world have gained the attention and admiration of the US over the years. Here at Audley, we want our customers to be able to experience the origin of their favorite cuisines, which is why we are dedicated to providing gastronomic experiences tailored specifically to them.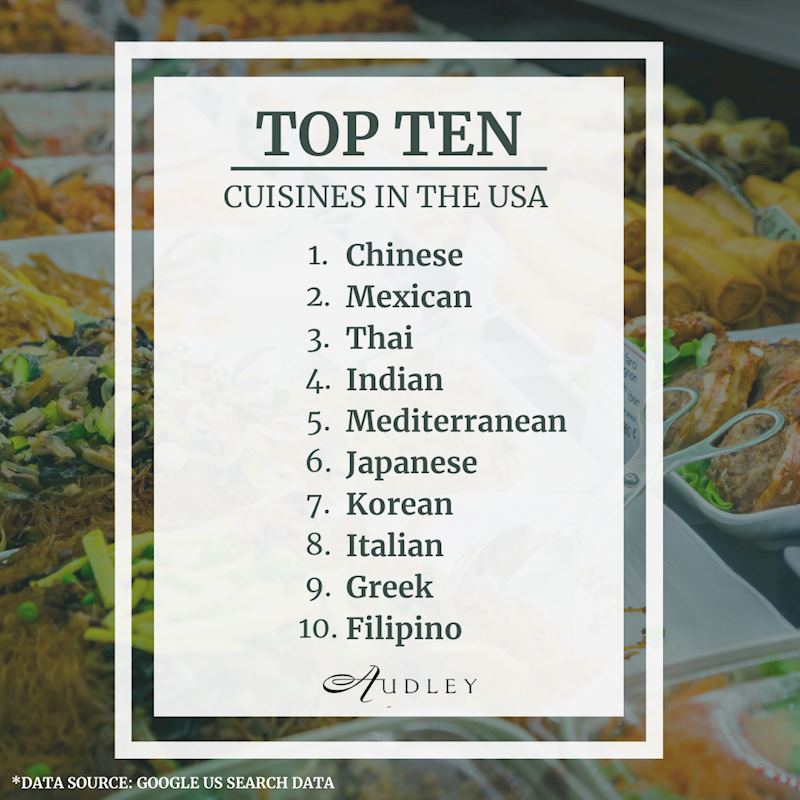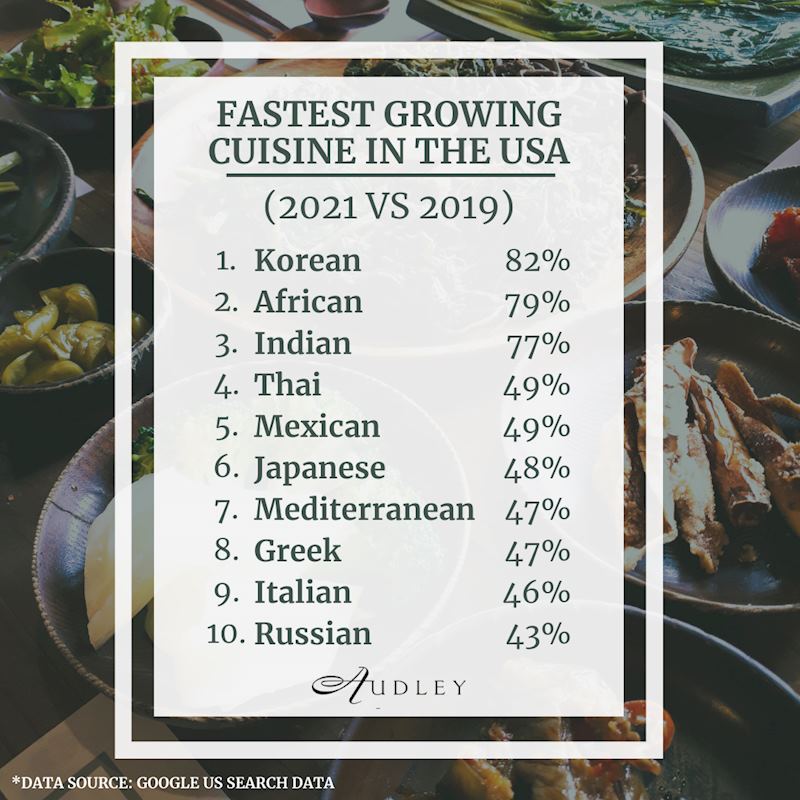 Fastest growing cuisines in America
We also identified the cuisines that are growing fastest in popularity in the US by comparing 2019 search data, with 2021 data. According to Google, it's clear that Korean cuisine is growing the fastest in popularity in the US. African cuisine came in second and Indian cuisine took up the final spot in the top three.
Taking up position four is Thai, with its rich aromatic flavors. Additionally, Mexican cuisine, known for its spice and bright fresh flavors, stands in fifth place of growing popularity.
Differences between the US States
Throughout our data analysis it was clear that the majority of states had similar culinary tastes. Chinese cuisine was a clear favorite in the majority of states, apart from Arizona and Idaho, whose favorite is Mexican. As for Hawaii and Washington, their favorite cuisine is Thai.
The deep colors and rich flavors of Indian cuisine appear to be a favorite in many states, sitting in the top 3 most popular cuisines. In the 20 states where Indian does not appear within the top three most popular cuisines, third place is held by a mixture of Thai, Cajun and Mexican food.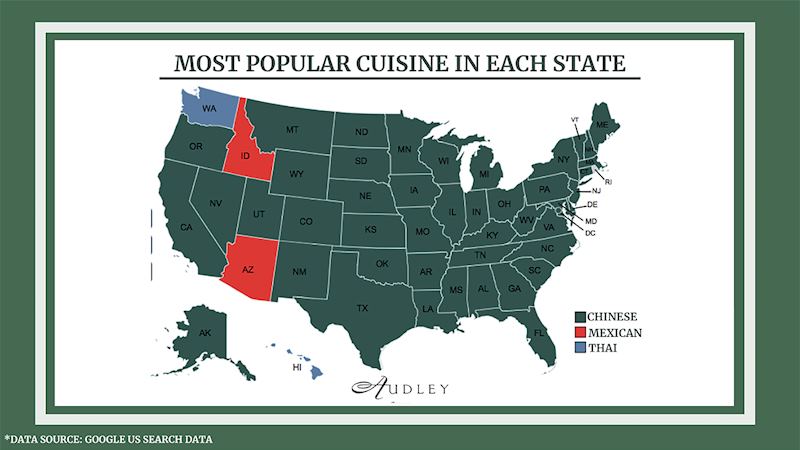 Bringing you the most authentic culinary excursions and remarkable experiences is part of the Audley promise. If we have left you wanting more and are searching for an experience that is flavor-packed with not just culinary delights, but also historic traditions, view our full list of available destinations. Our experts can help fashion a bespoke culinary expedition through their extensive expertise and knowledge.