The best times to visit Israel are in spring or fall, because the days are pleasantly warm, with temperatures around 79°F, and the nights are cool.
It can be quite hot during the day from June to August, with average temperatures of 90°F. However, the evenings are cooler and if you don't mind the heat, you'll enjoy smaller crowds at popular sites.
Temperatures are much cooler in winter, around 50°F, with Jerusalem even receiving occasional snowfall.
Speak to someone
who's been there
Start planning your tailor-made trip by contacting one of our Israel specialists
Month-by-month guide for traveling in Israel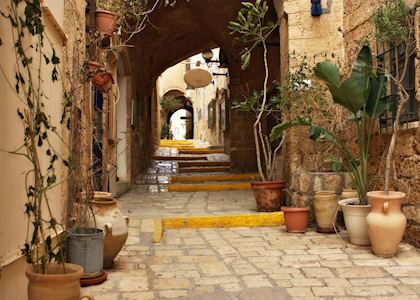 Visiting Israel in January - March
In the early months of the year, temperatures in Israel are on the cooler side, with some parts of the country seeing the odd snowfall. This is also the time of year when Israel is most likely to experience rain.
Events & Festivals
One of the most joyful days on the Jewish calendar, Purim, which takes place in March, celebrates the deliverance of the Jewish people from a Persian plot to purge the population. You'll find the streets of Tel Aviv and Jerusalem lined with lively celebrations, creating a carnival-like atmosphere.
Easter is incredibly busy in Israel, with many Christians choosing to celebrate the holiday in the Holy Land, especially in Jerusalem.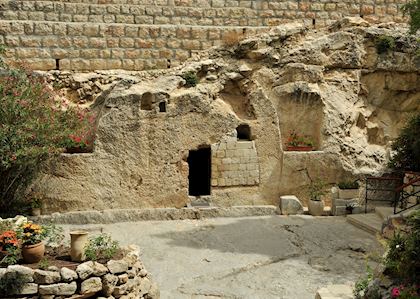 Visiting Israel in April - May
As spring begins in Israel the weather becomes much more agreeable with the sun shining and temperatures rising. Evenings can still be a bit cool, so be sure to pack a light sweater or jacket.
Events & Festivals
Yom Haatzmaut, which falls in April or May, celebrates the formal establishment of the State of Israel, and is always directly preceded by Yom Hazikaron, Israel's Memorial Day to remember the soldiers who gave their lives for the cause. There is an almost incongruous 'switch' from somberness of Memorial Day to the lively celebrations, shows and festive events the following day.
Commemorating the Exodus story, Passover, which usually falls in April, is one of the most important holidays in the Jewish calendar. As such it's also a particularly busy time to travel — all Israeli schools are closed and many families will spend time moving around the country, making it one of the most difficult times to get to certain sites or find hotel rooms. Many Jews will observe strict dietary rules during this period, and these restrictions may also affect the availability of certain foods in many hotels, though overall there is a feeling of celebration.
Easter is incredibly busy in Israel, with many Christians choosing to celebrate the holiday in the Holy Land, especially in Jerusalem.
Visiting Israel in June - August
Temperatures rise rapidly in the summer, with long days of powerful sunshine. Be sure to bring plenty of sun protection if you plan on visiting Israel during this period.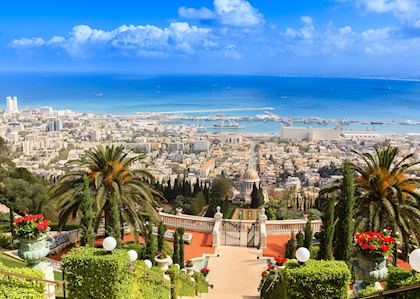 Visiting Israel in September - October
The temperatures begin to cool off again in September and October, so the weather is much more pleasant than in the heat of the summer.
Events & Festivals
The holiest day on the Jewish calendar, Yom Kippur is the day of atonement when Jews ask for forgiveness for their sins from the previous year. Observance includes a 25-hour fast beginning at sunset. Many businesses shut down over this period, and it can be difficult to find transportation or an open restaurant as many locals take time off work.
Rosh Hashanah is a two-day holiday marking the beginning of the Jewish calendar year. It is a time where the traditional shofar (ram's horn) is blown from synagogues, and apples, honey and other sweets are eaten to celebrate the occasion. Be aware, many businesses will close during Rosh Hashanah.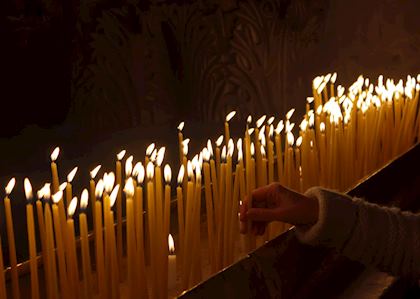 Visiting Israel in November - December
Cooler winter weather returns in November and December, with the possibility of snow and certainly rain in Jerusalem.
Events & Festivals
One of the most iconic Jewish holidays, Hanukkah is the eight-day festival of lights, celebrated by lighting menorahs and eating lots of oily food. In Israel, you can witness the annual relay race that brings a torch from the hills of Judea to light the menorah by the Western Wall.
Although Judaism and Islam are the biggest religions in Israel, many Christian residents and visitors spend Christmas in the Holy Land, especially in areas such as Bethlehem and Nazareth.
Why travel with Audley?
100% tailor-made tours
Fully protected travel
Established for over 25 years
98% of our clients would recommend us Travel advice
Practical tips for traveling to Israel, from social protocols to guidance on money matters, with a link to the latest government travel advice.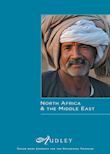 Request a brochure
Our detailed brochures feature trip ideas and travel experiences recommended by our specialists.
Trip ideas and travel guides for exploring Israel