Volcanic, jungle-covered crags bursting through subtropical forest, fishing villages and sugar fields, Hindu temples, weekly markets and colonial architecture: for an island just 65 km (40 miles) across at its widest point, Mauritius packs in a lot.
And, maybe best of all, is the comfort you can enjoy while staying on the island. Mauritius's 160 km (99 miles) of beaches are serviced by elegant beach resorts and boutique hotels nestled between the palms.
If you're looking to explore further, direct flights between Mauritius and South Africa enable you to add a touch of adventure to your trip — albeit a comfortable one — stopping off for a few days to safari.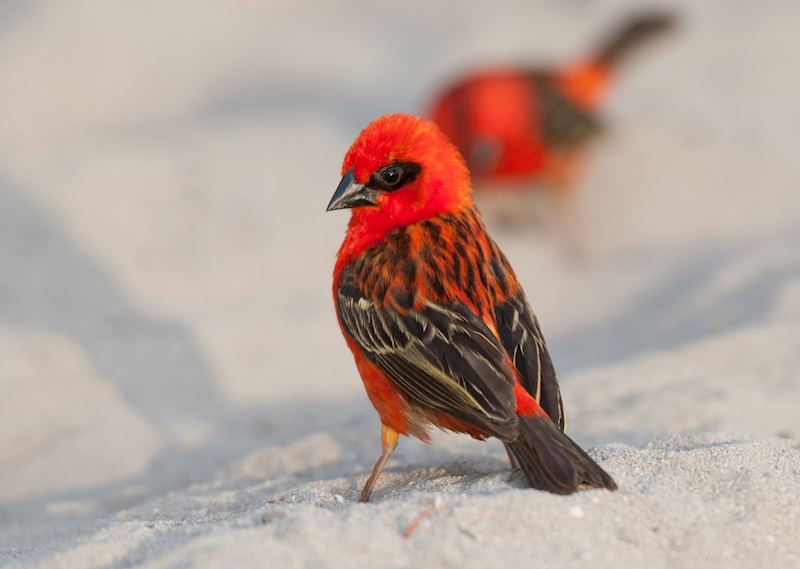 Mauritius is an ever-popular vacation choice within the Audley team, and our beach specialists have selected a few of their best experiences to help you pick your ideal way to spend time on the island.
Best luxury ecolodge: Lakaz Chamarel chosen by Francesca
The Chamarel Mountains dominate the southwest of Mauritius, sheltering more than 60 species of orchids and rare endemic birds beneath the thick boughs of ebony forests. Before heading to a beachside retreat, I suggest spending a few nights up here.
As I was driven down Lakaz Chamarel's long driveway, I felt like I was arriving at someone's weekend home. The staff waved me in, quick to collect my case and place a chilled juice in my hand. The manager, Penny, who has been at the lodge for 12 years, explained that when you start working here you don't leave, which shows in the warm atmosphere and friendly service.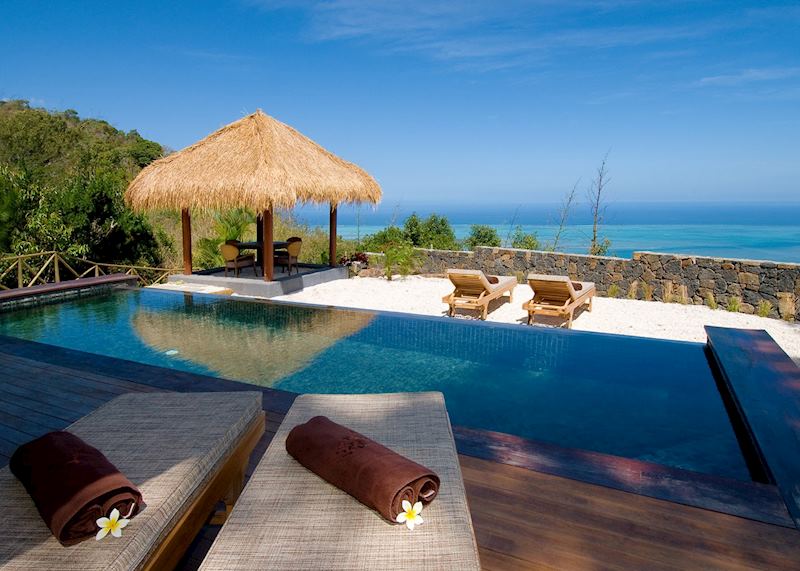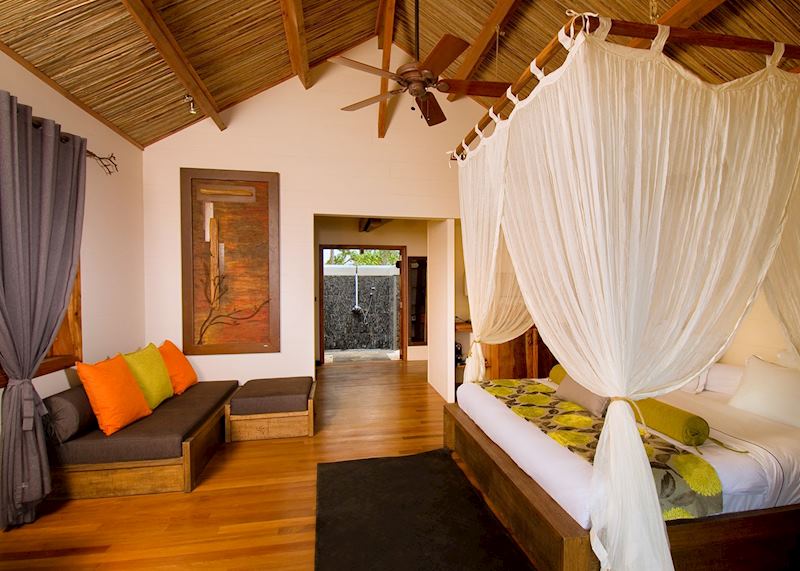 This isn't a sophisticated beach resort, but you're looked after with genuine care. Each room is furnished with hefty, wooden furniture and finished with antiques sourced from across the island. Each night, scented candles were lit in my room and flowers arranged carefully on my dresser.
I joined my fellow guests in the open-air bar each evening for cocktails — which revolved around the local rum — and canapés before dinner. The meals were simple but, as most of the ingredients were grown nearby, offered a taste of fresh, traditional Mauritian cooking. Up early one morning, I saw mangoes and star fruits being picked for the breakfast buffet from the boughs of the many fruit trees that dot the gardens.
Rum tasting in the Chamarel Mountains
A short taxi ride away from Lakaz Chamarel is the Rhumerie de Chamarel, Mauritius's premier rum distillery. Joining the rum tour, I was guided past gleaming copper stills and rows of oak barrels before tasting an admirable variety of rums.
The estate still cultivates its own sugar cane for rum production, as well as infusing premium vintages with spices and vanilla. Stay for lunch at L'Alchimiste restaurant and choose from a creative menu that includes locally reared deer, wild boar and palm hearts.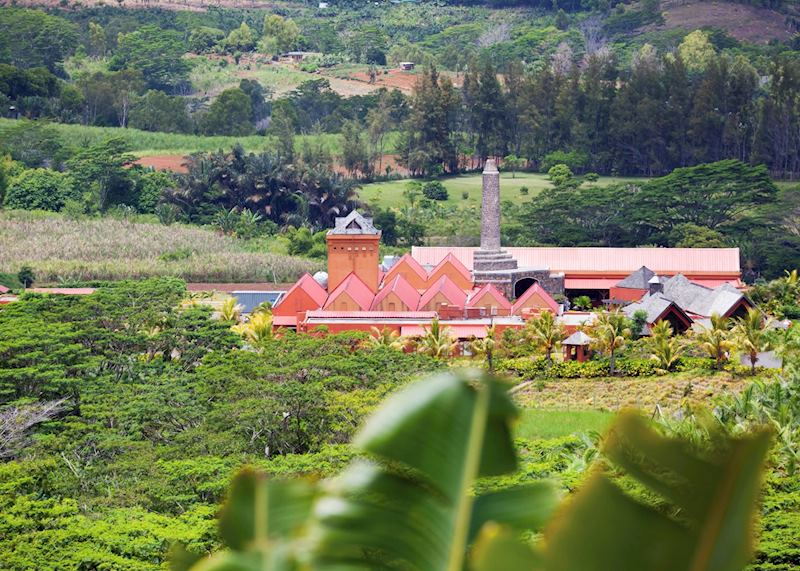 Best hotel for classic luxury: The Oberoi Mauritius, west coast, chosen by Francesca
Some parts of the Mauritian coastline can be quite windswept, but the west coast of the island is more sheltered. The beaches are freshly raked every day, and you can snorkel right from them — although for some of the best snorkeling take a boat trip further out (Mauritius is surrounded by the third largest coral reef in the world).
I was after a place to unwind, and The Oberoi offered every form of relaxation I could dream up. Settle into a villa with your own pool and garden, complete with an open-air dining pavilion. Indoors, there's a lounge, roomy four-poster bed, vaulted ceilings and a sunken bath.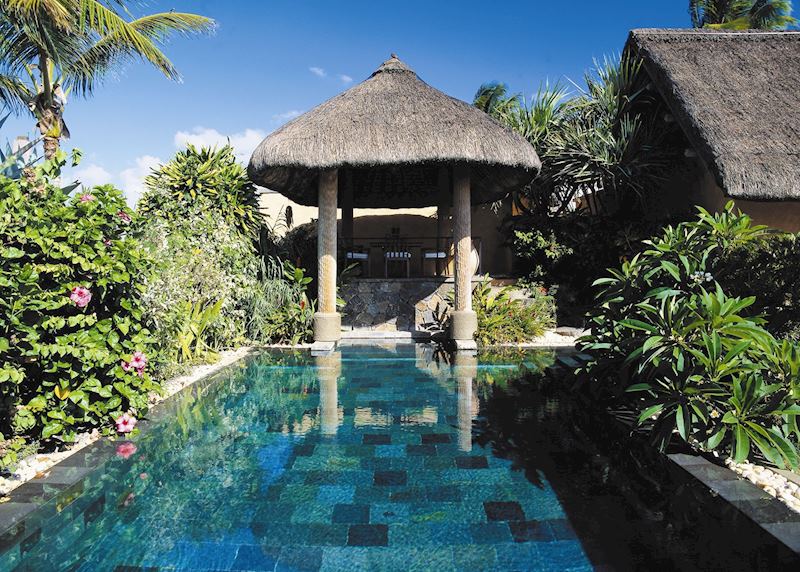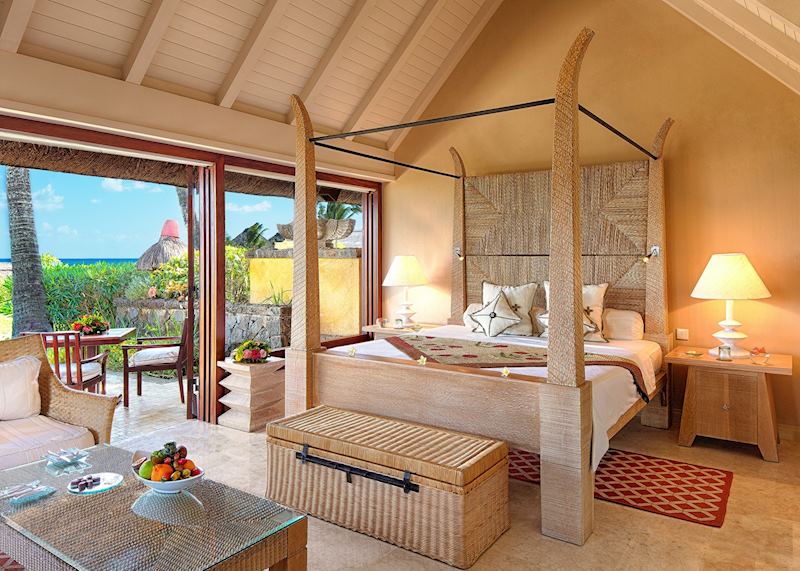 You can spend your days floating in the lagoon, lazing on the beach or lolling by your private pool. Many people hole up here and only leave to catch their plane home.
Each day the hotel arranges a complimentary experience, which could include rum tasting, painting, a cooking course, or a nature walk. The highlight during my stay was stargazing with the in-house astronomer. With little light pollution to hinder us, we could trace the Great Bear, Orion and Saturn across a luminous night sky.
Best hotel for a feast: Shanti Maurice, south coast, chosen by Sarah
With its serrated basalt cliffs and untouched jungle, the south coast has a rugged topography that was long considered too difficult to develop. A handful of hotels have now cropped up along the shoreline, making the most of the natural landscape.
The Shanti Maurice is tucked away on its own stretch of sand, and if you paddle out into the sea from here and look back toward the coast, all you see are a handful of low-rise thatched roofs backed by green hills rolling up to the horizon.
The suites may be spacious and the spa treatments indulgent, but the Shanti Maurice's appeal, for me, is the food on offer. The main fine-dining restaurant, Stars, serves Mauritian smoked blue marlin under a glittering night sky while the Fish Shack, a beachside barbecue, cooks up dishes in the reclaimed hull of an old fishing boat. The Rum Shed showcases more than 180 types of rum, and its bartenders have an encyclopedic knowledge of rum-based cocktails.
Dine at Grandma's kitchen
In the hotel's herb and vegetable garden, a smattering of tables are set out under a vine-wrapped terrace, lit by candles and decorated with flowers. This is La Kaze Mama, where your food is traditionally cooked by Grandma, a Mauritian local, and her family.
As I was escorted to my table, we passed a wooden cabin where the women were busily cooking faratas, an Indian-inspired bread, on hot griddles. Bowls were filled with a variety of curries, ranging from richly spiced mutton to zingy fish, and accompanying chutneys, and we just helped ourselves.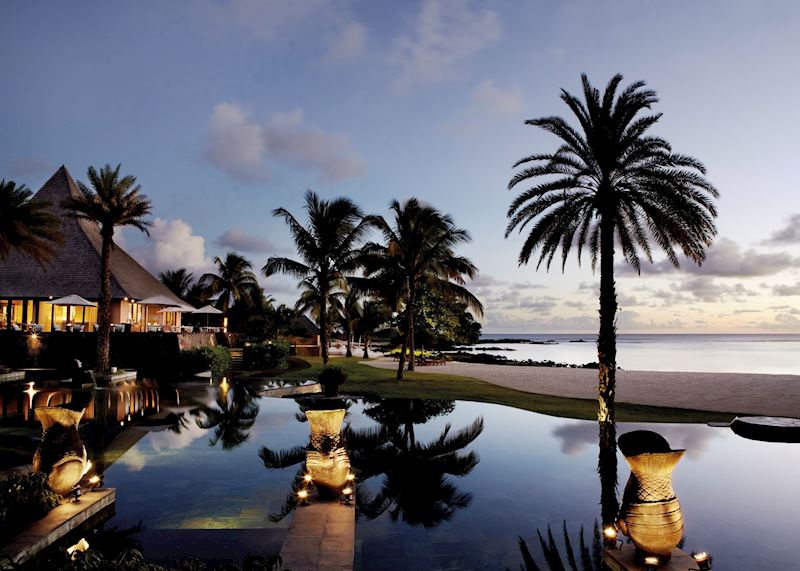 Best hotel for a rejuvenating stay: The Residence Mauritius, east coast, chosen by Sarah
As a self-confessed sybarite, I can think of little better than a day spent surrounded by candles and scented oils in an atmosphere of utmost calm. The Sanctuary Spa, at The Residence, is a series of cool underground suites subtly lit and suffused by soft instrumental music. There are so many treatments on offer it takes a while to read through the glossy spa menu.
I opted for 'The Sanctuary' signature treatment, a massage using aromatic oils designed to balance my body. Many of the ingredients are sourced locally, while other products are tailor-made by luxury French brand CARITA. You can also choose to be pampered out in the Mauritian sunshine in the open-air treatment room overlooking the Indian Ocean.
The hotel itself is decked in carved wood, and chandeliers hang from the vaulted ceilings. The rooms are airy and light, stone floored and sport marble bathrooms.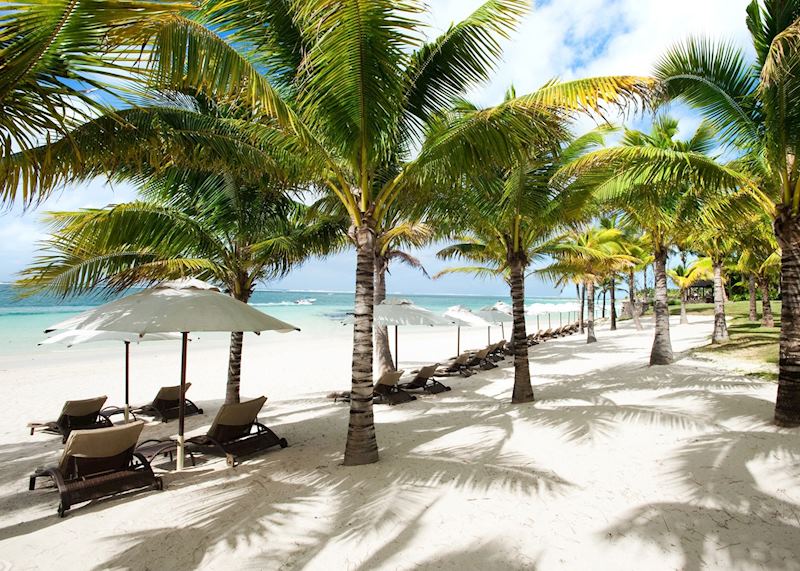 Best luxury hotel for wow-factor: Constance Le Prince Maurice, east coast, chosen by Kate
Working in travel you can get a little blasé, but I was still struck with the grandeur of Constance Le Prince Maurice. As soon as you pass through the entrance gate, you're in an oasis of manicured gardens. Lofty vaulted ceilings crown the rooms; teak walkways curve around the hotel's own lagoon.
Each element of your stay has an added pizzazz, a touch of the unusual. If you want to lie on a sunbed, you can swim out to a private pontoon in the middle of the lagoon. For dining, there's La Barachois, a lantern-lit restaurant that floats on the lagoon (the dress code encourages a smart ensemble). And, in the evening, you can retreat to the Mauritian rarity of an overwater bungalow.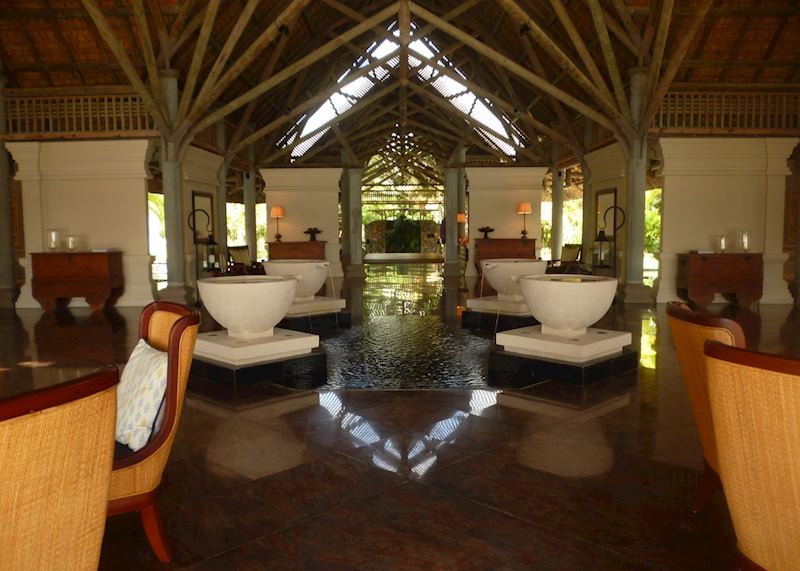 Wine tasting and sabrage ceremony
I was invited to a sabrage ceremony in the wine cellar, a network of brick-walled vaults under the hotel. The sommelier began with a tour — the cellar holds more than 25,000 bottles — before leading me to a table of cheeses, to be paired with various vintages.
After trying a selection of European and New World wines, I watched the sommelier bring out a champagne saber: a large, blunt-edged knife. With one swift swoop, he cut the lip of the bottle clean off, and the champagne was ready to pour. This flamboyant way to open champagne stems from Napoleon's cavalrymen, who often performed the party trick while visiting aristocracy.
Best luxury boutique stay: 20 Degrees South, near Grand Baie, chosen by Laura
For my honeymoon, I was after a small property with a boutique feel: the type where you get to know the staff, and the bartender quickly learns your nightcap of choice. 20 Degrees South (Mauritius is on a longitude 20 degrees south of the Equator) — with 30 airy rooms and six suites — fitted the bill.
The hotel is hidden in a quiet residential area on the northwest of the island, along a coastline of sandy coves set up with pontoons. Days drift by on the beach — although there's a stiff sea breeze depending on the time of year — or at a more sheltered spot by the pool. There's a complimentary boat to take you to Grand Baie, a coastal town of seafood restaurants, coffee shops and a bazaar filled with Mauritian handicrafts.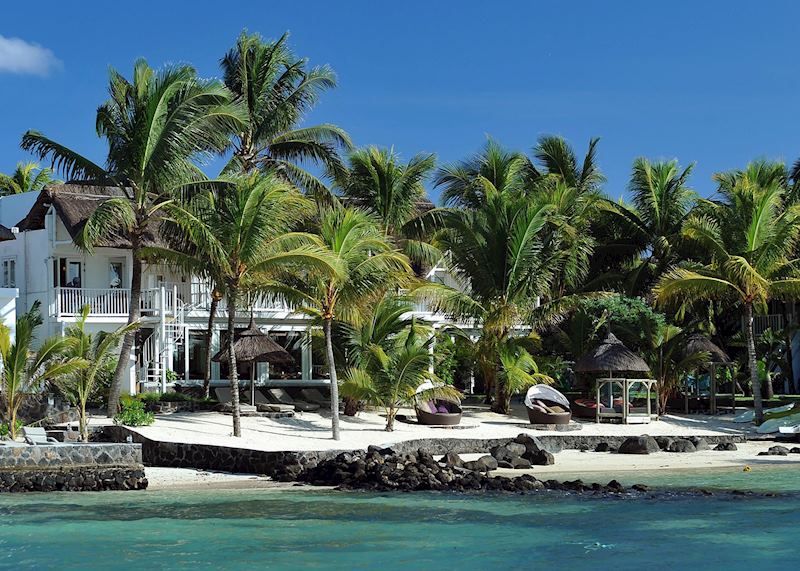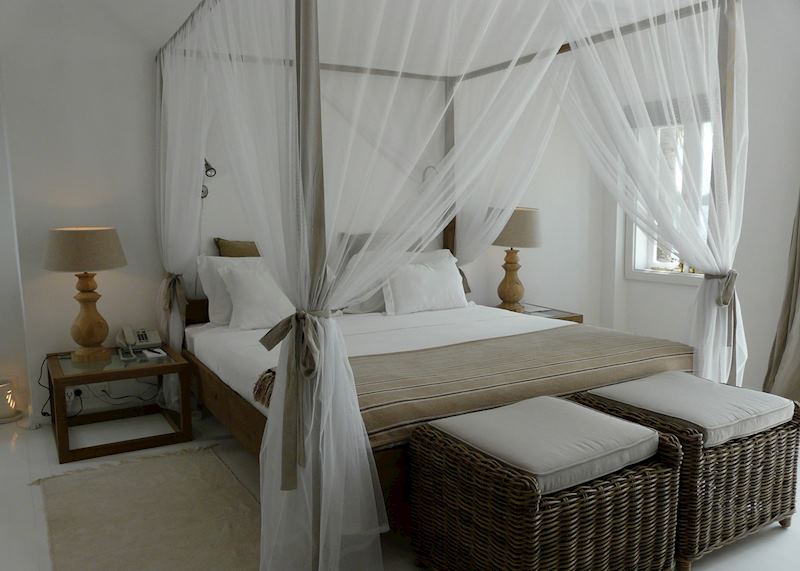 Each afternoon, my husband and I joined the rest of the guests for afternoon tea, eating generous slices of homemade coconut loaf and pineapple upside-down cake washed down with fresh coffee and tea.
Half board comes as standard, which includes most dishes from the creative à la carte menu. I ordered a smoked tuna steak, which arrived theatrically enclosed in a glass funnel filled with scented smoke.
A touch of exploration: South Africa, chosen by Matt
You'll find it easy to couple your time in Mauritius with a contrasting adventure. Taking advantage of the direct flights between Johannesburg and Mauritius, I stopped off for a few nights on safari in South Africa before heading beach-bound.
From Johannesburg, I caught a short onward flight to Skukuza Aerodrome, a small airstrip in Kruger National Park. My final destination, Earth Lodge, was then an hour's drive away in Sabi Sabi, a private game reserve.
I couldn't see the property at first as we pulled into Earth Lodge's driveway — it has been carved out of the landscape, its walls of mud and straw blending seamlessly into the environment.
It may be crafted from basic building materials, but the lodge's skillful sculpting has created a series of luxurious suites. Each is individually designed with a private plunge pool and a spacious living area decorated with wooden sculptures by the internationally renowned South African artist Geoffrey Armstrong. From your stone bathtub, you can watch the passing wildlife through a great glass window.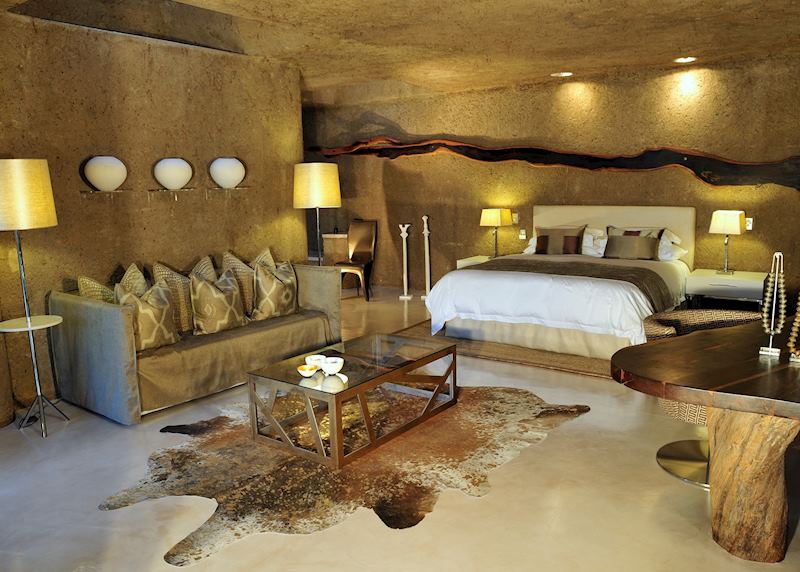 The evening before my first safari, the ranger joined me for a nightcap, eager to find out what I was hoping to spot. The lodge's safari vehicle accommodates up to ten people, and my group were keen to spot rhino. The next morning, our tracker didn't simply find us a rhino for a quick photograph. He showed us their tracks, what they liked to eat, explained their behavior, and found us a spot to sit and watch them.
We drove across the plains, pausing to take in the view: zebra, impala and buffalo roamed the scrubland in front. Suddenly, a cheetah appeared from nowhere, flooring an impala and dragging it into the bush. Over the next few days, we watched a pride of lion and tracked a leopard on the hunt.
The lodge arranges morning and afternoon safaris each day. Time in-between is yours to relax in your plunge pool or enjoy the spa. As the sun sets, everyone comes together for a sundowner at the bar, discussing the day's adventures. On our final evening, a herd of elephants marched right past us, wanting their own drink from the nearby watering hole.
Start planning your trip to Mauritius

Start thinking about your experience. These itineraries are simply suggestions for how you could enjoy some of the same experiences as our specialists. They're just for inspiration, because your trip will be created around your particular tastes.
View All Tours in Mauritius