When is the best time to visit Rwanda?
Rwanda is a destination for all seasons, but the drier period from June to September is best for spotting the country's undoubted highlight, the mountain gorilla.
The rainy seasons from March to May and June to September are the optimum times for tracking chimpanzees.
Temperatures hardly vary throughout the seasons due to Rwanda's position just south of the Equator, with warm days and nights that can be cool, especially at altitude.
Speak to someone
who's been there
Regardless of the time of year, trekking to see mountain gorillas and chimpanzees is an out-of-this-world experience and can be done all year round. Our summer (between June and August) is a great time to travel as the roads are in better condition.
James, Africa Safari Specialist
Rwanda Climate Guide
Destination
Jan
Feb
Mar
Apr
May
Jun
Jul
Aug
Sep
Oct
Nov
Dec
Kigali

81°F

3"

81°F

4"

81°F

4"

79°F

6"

79°F

4"

79°F

1"

81°F

0"

82°F

1"

82°F

3"

81°F

4"

79°F

5"

79°F

3"

Lake Kivu

79°F

4"

79°F

3"

79°F

4"

79°F

5"

79°F

4"

79°F

2"

79°F

1"

79°F

3"

79°F

5"

79°F

6"

79°F

5"

79°F

5"

Nyungwe Forest

68°F

7"

68°F

7"

68°F

8"

66°F

10"

66°F

7"

66°F

2"

68°F

1"

70°F

2"

70°F

4"

68°F

6"

68°F

7"

68°F

7"

Volcanoes National Park

64°F

5"

64°F

7"

64°F

9"

63°F

9"

63°F

6"

63°F

2"

64°F

1"

64°F

3"

64°F

5"

64°F

8"

63°F

7"

64°F

5"
Month-by-month guide to traveling in Rwanda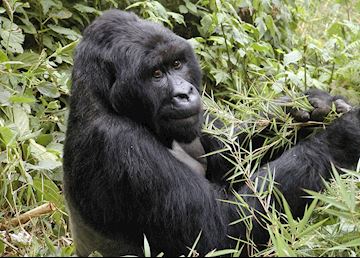 Visiting Rwanda in December - February
The weather from December to February is drier across Rwanda, making this is a popular time to visit. However, it also means that prices are higher, so it's important to book well in advance. The warm, sunny conditions make it a pleasure to track gorillas and enjoy outdoor activities across the country.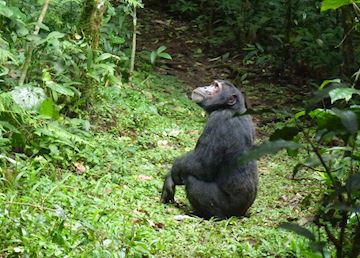 Visiting Rwanda in March
The rains arrive in March and continue until mid-May, but this is the prime time to spot chimpanzees as fruit ripens and brings the chimps down to the lower reaches of the forest canopy. For those with good quality rain gear, gorilla tracking can still be undertaken, and there are often discounts on the permits.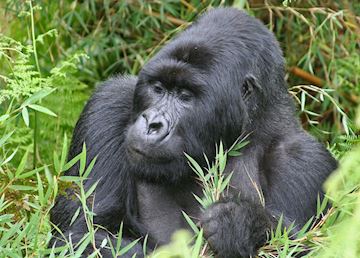 Visiting Rwanda in April
The rains continue throughout April, but chimpanzees sightings are still at their best and it's a good time to track gorillas. You may be able to take advantage of some good deals and discounts at this time of year.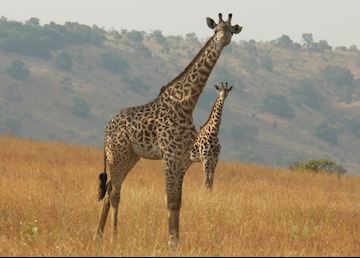 Visiting Rwanda in May
The rains begin to ease mid month and the parks are lush and verdant, with newborn animals making their first forays through the parks.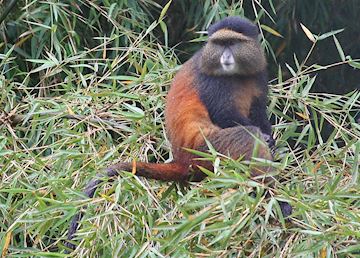 Visiting Rwanda in June - September
The dry season in Rwanda, from June to September, is the peak time to travel. There is always the chance of a shower, however; especially in the rainforest, so waterproofs remain a good idea. Wildlife sightings become more common, so it's a popular time of year and prices rise accordingly.
Events & Festivals
Baby gorillas naming ceremony/Kwita Izina (September): The annual naming ceremony for baby gorillas in Rwanda was started in 2005 and is a mixture of recognising the country's conservation efforts, celebrating the birth of the next generation and admiring some seriously cute newborns.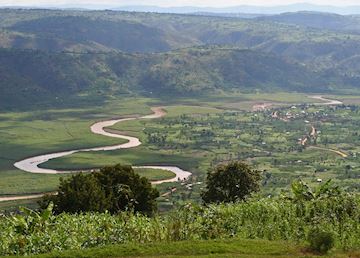 Visiting Rwanda in October - November
October and November tend to bring quick bursts of rain that clear to reveal blue skies. It's an excellent time for photographers and the ideal period to admire Rwanda's beautiful mountain scenery.
More choice for your safari
Inspiration across all our African destinations
Trip suggestions based on your interests
Advice on where to safari, when
Meet our team of safari experts
Trip ideas and travel guides to exploring Rwanda