Patagonia is vast, untamed and beautiful. Covering roughly one million square km at the end of the Earth, the region spans both Chile and Argentina and is filled with towering mountains, blue-tinged glaciers, emerald-green lakes, raging rivers, sub-polar forests and ice-carved fjords. Within this epic wilderness there are outposts that make taking it all in feasible: the range of accommodation within Chile's Torres del Paine National Park and, on the other side of the border, the small town of El Chaltén, Argentina. But which to choose?
Torres del Paine National Park, Chile
By Emma
While there are many different regions and landscapes within Patagonia, Torres del Paine National Park is probably the most well known. The park has been heavily developed for visitors in the last 15 years. This means that hiking trails are well-marked and safe, and there's a variety of accommodation, from luxury lodges to Mongolian yurts and simple B&Bs, as well as traditional camping at designated campsites.
You can visit Torres virtually all year round. The busiest season is from December to February; however, you can access most hiking trails from October to April. May to September is winter in Patagonia, but even then, visiting isn't impossible; although daylight is limited, only a handful of hotels are open and the weather overall will be colder, but the park's habitual wind dies down. Plus, there's something immensely special about seeing so few fellow visitors.
It's well worth the effort, but getting there from Santiago will take a day, so you should always be prepared to put time aside for that. There are direct flights, daily, from Santiago to Punta Arenas and, three times a week in high season, to Puerto Natales, which halves the subsequent road journey to the park from five to two-and-a-half hours.
The park is home to saw-toothed mountains, glaciers, valleys, meltwater lakes, rivers, streams, pampas, old-growth forest and some of the most indecisive weather on Earth.
There's a Patagonian saying: 'If you don't like the weather, wait ten minutes.' Rain is to be expected at any time of year, but if you kit yourself out with layers, a waterproof jacket and sturdy hiking boots, you can cope with whatever Torres throws at you.
The hiking is truly rewarding here. The demanding four-night W trek is one of the park's calling cards, and it culminates in a sharp ascent to see the three granite peaks of the Paine Massif. The French Valley trek, meanwhile, takes you over a boulder-strewn moraine and offers the tantalising chance to see glaciers calving (and possibly an avalanche or two). Then there are shorter walks to suit all abilities.
If you're not a hiker, don't be deterred. There are many ways to experience the park's landscapes: on horseback, by kayak and on board a boat. It's also a good place to spot mountain wildlife. The very lucky few might spot a puma, but it's very common to see guanacos, South Andean deer, condors and up to 115 species of bird.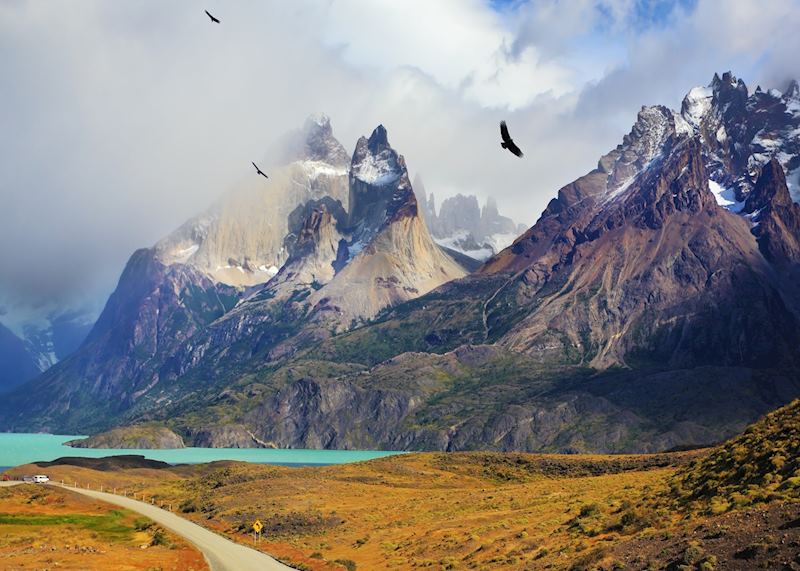 Get me there
This classic tour through Chile includes time in Torres del Paine National Park, as well as starting in Santiago and covering the Atacama Desert.
El Chaltén, Argentina
By Aliza
Edged with peaks that have entered into modern mountaineering folklore, El Chaltén is Argentina's youngest town, founded just 33 years ago when the country sought to stake its claim on the hinterland of Patagonia. The word 'chaltén' is borrowed from the language of the area's indigenous Tehuelche people and means 'smoking mountain' — a reference to the moody, cloud-covered summit of Mount Fitz Roy that dominates the area.
El Chaltén maintains the feel of a frontier-like outpost while being a very convenient base for hiking in the surrounding Los Glaciares National Park — less well-known than Torres del Paine National Park on the other side of the border, and therefore usually less busy.
Being based in a town rather than a remote lodge or hotel has other benefits, too; there are restaurants and bars a short walk away, plus trailheads often start near the middle of town and are very well-marked, making them accessible and easy to explore independently. I also find that, because the town is still considered an up-and coming destination, trips here often offer good value for money.
Getting to El Chaltén is now easier than ever, with a new paved road that connects the town to the much bigger settlement of El Calafate — a comparatively brief two-and-a-half hour drive away (either by bus, hire car or private transfer).
Although El Chaltén is, admittedly, rather sleepy during May to October, the town fills up during the spring and summer months, particularly from December to February, when the weather is at its finest and the trails around Los Glaciares National Park are at their most accessible. Booking ahead is certainly recommended but, even in the summertime, you're still unlikely to encounter large crowds.
Hiking-wise, there are many options to choose from. The most popular trail to explore is Laguna de los Tres, a challenging full-day hike that offers iconic views of Mount Fitz Roy and the witch's hat of Cerro Torre. It ends with a lookout point over a surreal blue lagoon — and if you carry on ten minutes more, you will come to another lagoon, Laguna Sucia, and an impressive perspective over the massif and its hanging glaciers.
Then there's the trail around Lago de Desierto, which is about 40 minutes outside the town. This hike terminates with fantastic views of a melting glacier and its meltwater lake. I also like the easy-to-moderate trail to the Condores viewpoint, which offers panoramas over the surrounding mountainscapes.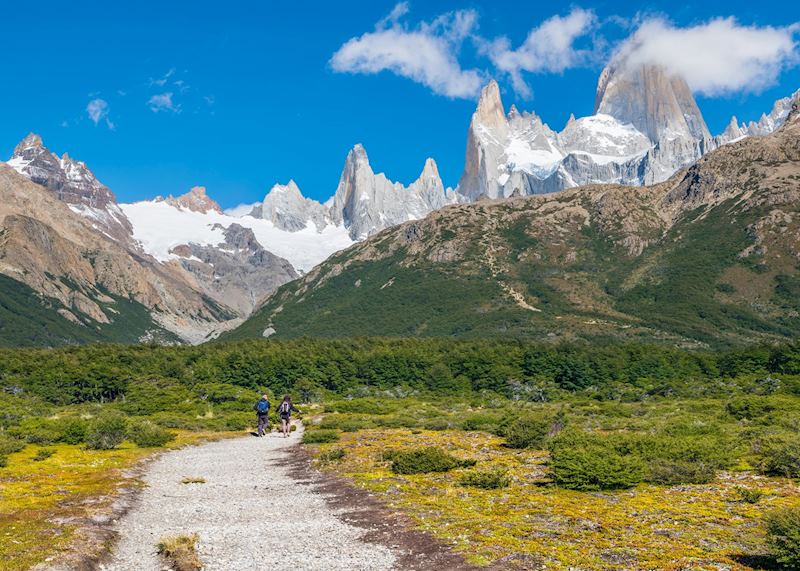 Get me there
Beginning in Buenos Aires, this classic route through Argentina visits El Calafate, the jumping-off point for El Chaltén. It also takes in the Iguazú Falls and Argentina's Lake District.