The best time to visit South America depends on which area you want to travel to. South America is an enormous continent, ranging from the world's driest desert to towering Andean peaks and the lush forests of the Amazon. This means variations in weather are often regional rather than seasonal.
While some places can be visited year-round, others have defined wet and dry seasons, though these are generally not severe enough to deter travel.
Whether you want to track wildlife, see glaciers, visit ancient ruins or party all night long, there'll be ideal conditions somewhere on the continent whenever you want to go. See below for our climate guides and recommendations.
Creating tailor-made tours for over 25 years

Excellent
TrustScore

4.7 | 3435 reviews

Month-by-month guide for traveling in South America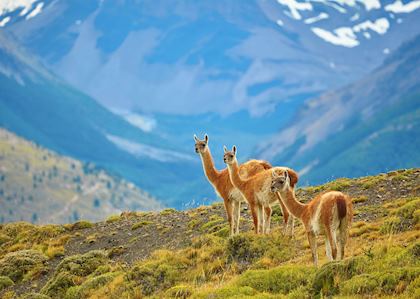 Visiting South America in January
It's high summer in Chile, Argentina, Brazil, Columbia and Uruguay and many city residents travel elsewhere so it's a good time to visit urban hubs as hotel prices are lower. Conditions are ideal for visiting Columbia's coffee districts, Uruguay's wine district, relaxing on the coast or hiking in Patagonia but book well in advance for visits to Torres del Paine National Park.
Events & Festivals
The feast of the Three Kings (6th January): Celebrated across Latin America, but Ollantaytambo in the Sacred Valley in Peru is a wonderful place to be with jubilant processions, music and dance.
Feria de Alasitas (last week of January): A fascinating festival held in La Paz, where countless stalls sell all manner of miniature items which Bolivians purchase to appease Ekeko, the household god of abundance.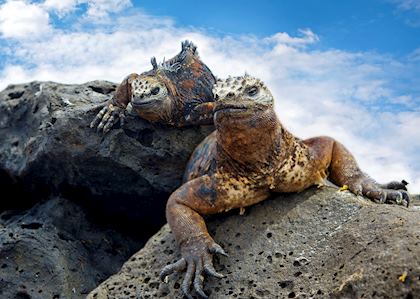 Visiting South America in February
Fine, summer weather continues across much of the continent. It's a good time to visit The Falklands with long days and wildlife rearing young, or to take a trip to the Galapagos where land and sea temperatures are warming, land birds begin unusual courtship rituals, sea turtles are nesting and marine iguanas' vivid hues indicate its mating season.
Events & Festivals
Carnival (week before Lent): Carnival is celebrated across Latin America with the most renowned celebrations in Rio where visitors crowd to see samba parades and attend lively street parties.
Visiting South America in March
As the crowds begin to ease off and hotel prices drop a little, March is a great time to travel across much of South America. Chile, particularly the Lake District and winelands, is very pretty at this time of year, or possibly take a trip to Uruguay's beaches, Colombia's coffee district or go hiking in Patagonia where the trails will now be quieter.
Events & Festivals
Wine Harvest (late February to early May): Many areas host wine festivals during harvest time with grape stomping, local music and wine tasting.
Fiesta de la Patria Gaucha (early March): Taking place in Tacuarembó, this festival celebrates all things guacho, featuring parades, rodeos and traditional music.
Holy Week (March or April): Somber but elaborate religious processions occur across many towns and cities in the continent.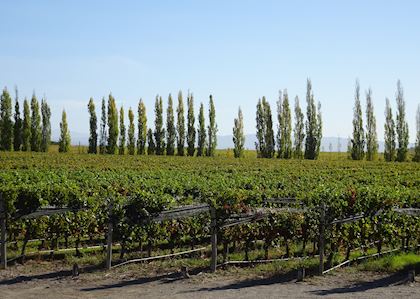 Visiting South America in April
The summer heat eases and visitor numbers tail off in April making it a great time to hike in Patagonia or visit Mendoza's winelands. Sea turtles and land iguanas are hatching in the Galapagos, it's hot and dry in Paraguay, and the sea around Uruguay is at its warmest making it a good time to go snorkeling here.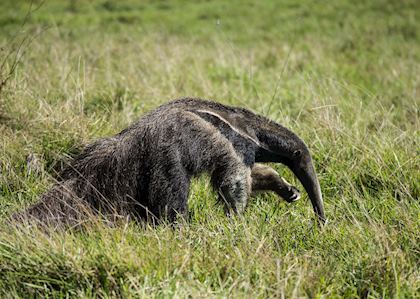 Visiting South America in May
The rains ease off in the Andes, and both Bolivia and the Pantanal in Brazil enter their dry seasons. While it's not quite high season, it's a great time to visit with lower prices and fewer visitors at attractions such as Lake Titicaca and Machu Picchu. It's also a good time to visit Argentina's wetlands, Esteros de Iberá, with good wildlife spotting opportunities.
Events & Festivals
El Señor del Gran Poder (May or June): The feast of El Señor del Gran Poder brings over 20,000 dancers in vivid costumes to the streets of La Paz in Bolivia.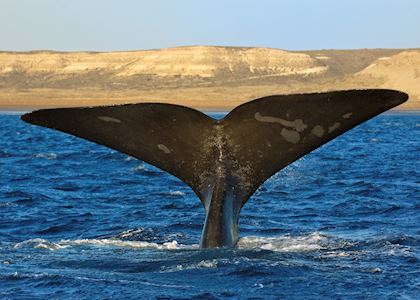 Visiting South America in June
June marks the start of the peak season for visitors in Peru, Bolivia and Ecuador where the weather is warm and dry. By mid-month Argentina's ski season begins and southern right whales arrive at the Península Valdés. Whales can also be seen off Uruguay's coast, and it's a great time to visit the Green Coast between Rio and São Paulo in Brazil.
Events & Festivals
El Señor del Gran Poder (May or June): The feast of El Señor del Gran Poder brings over 20,000 dancers in vivid costumes to the streets of La Paz in Bolivia.
Inti Raymi (24th June): The Inca Festival of the Sun is celebrated on the winter solstice with a theatrical representation of the traditional Inca religious rite in Saksaywaman.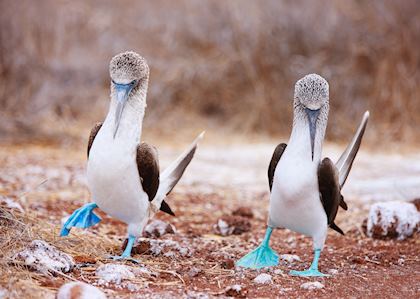 Visiting South America in July
July is a great month to visit the Galapagos where you can see the mating ritual of blue-footed boobies and flightless cormorants and the bright red pouches of frigatebird. Cooler evenings make it a good month to visit Buenos Aires, ski season is in full swing in the Argentinian mountains, and Colombia experiences a short dry season ideal for touring.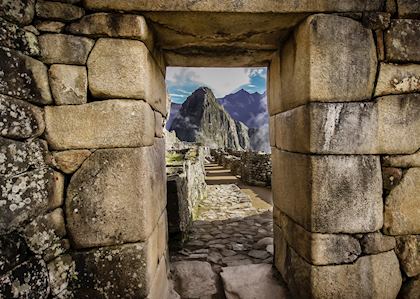 Visiting South America in August
August is one of the best times of the year to visit the tropical wetlands of the Pantanal and is a great time to visit Rio with spring weather, largely blue skies and rising temperatures. Meanwhile, it's peak season in Peru and Bolivia, so plan well in advance, up to a year ahead if you wish to hike the Inca Trail.
Events & Festivals
Medellín Flower Festival (early August): Medellín's annual flower festival sees the streets filled with monumental flower displays as well as live music and other festivities.
Buenos Aires Tango Festival (mid-August): This annual festival sees two weeks of free events, featuring performances by the world's best tango dancers, art exhibitions and opportunities for visitors to get involved.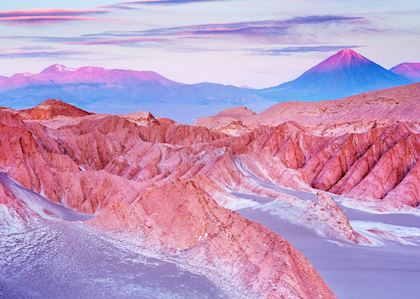 Visiting South America in September
September is a great month to visit the Península Valdés in Argentina where you can expect sightings of whales, seals, penguins and lots of seabirds. In Chile, the weather is beginning to warm up but visitor numbers are still low making it a good time to visit Santiago, the Atacama Desert and the central valleys of the north.
Events & Festivals
Chilean Independence Day (18th September): Nationwide festivities take place to mark the anniversary of Chile's independence from Spain, including parties, dances and traditional meals.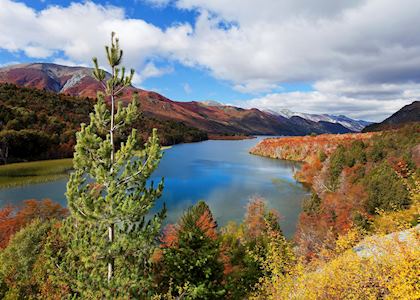 Visiting South America in October
The weather is warming up and wildflowers are blooming across Argentina's Lake District making it a wonderful time for walking here, or a good time to visit Patagonia before the peak summer crowds arrive. The winds are dropping in the Galapagos, the seas are calmer, blue-footed boobies are raising their chicks on Española and Isabela, and sea lion pups play in the water.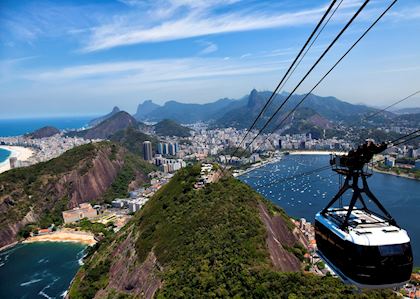 Visiting South America in November
Warmer weather, longer days and wildlife rearing their young make this a good time to visit the Falkland Islands. Brazil, Chile and Uruguay are ramping up for the summer crowds, though the beaches are quieter than in December. Patagonia is becoming increasingly busy and it's advisable to book well in advance.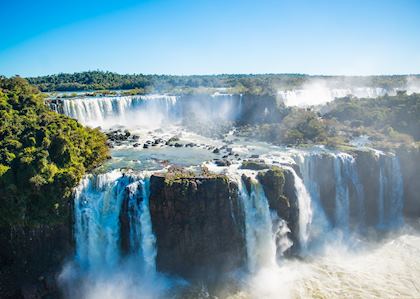 Visiting South America in December
Although a busy time, December offers the best chance of warm, clear weather in Patagonia with dramatic views and scenic hiking opportunities. Good travel conditions in Colombia bring increased visitor numbers but ideal weather for visiting colonial cities and the beaches, while the season's rains have filled the rivers and Iguazú Falls is thundering dramatically over the cliff edge.
Events & Festivals
Santurantikuy Market (24th December): Vendors from the High Andes arrive in Cusco to sell grasses and plants for the nativity manger.
New Year's Eve (31st December): New Year's Eve is a sight to be seen in Rio, where much of the city dresses in white and gathers on Copacabana Beach to watch a huge fireworks show over the sea.
Our recommendations for when to visit South America
Best
Good
Okay
Not recommended
Winter season
Destination
Jan
Feb
Mar
Apr
May
Jun
Jul
Aug
Sep
Oct
Nov
Dec
Peru

climate guide

A good time to travel, but there may be some factors to be aware of

A good time to travel, but there may be some factors to be aware of

A good time to travel, but there may be some factors to be aware of

The best time to travel

The best time to travel

The best time to travel

The best time to travel

The best time to travel

The best time to travel

The best time to travel

A good time to travel, but there may be some factors to be aware of

A good time to travel, but there may be some factors to be aware of

Argentina

climate guide

The best time to travel

The best time to travel

The best time to travel

A good time to travel, but there may be some factors to be aware of

A good time to travel, but there may be some factors to be aware of

A good time to travel, but there may be some factors to be aware of

A good time to travel, but there may be some factors to be aware of

A good time to travel, but there may be some factors to be aware of

A good time to travel, but there may be some factors to be aware of

A good time to travel, but there may be some factors to be aware of

The best time to travel

The best time to travel

The Galapagos Islands

climate guide

A good time to travel, but there may be some factors to be aware of

A good time to travel, but there may be some factors to be aware of

A good time to travel, but there may be some factors to be aware of

A good time to travel, but there may be some factors to be aware of

A good time to travel, but there may be some factors to be aware of

A good time to travel, but there may be some factors to be aware of

A good time to travel, but there may be some factors to be aware of

A good time to travel, but there may be some factors to be aware of

A good time to travel, but there may be some factors to be aware of

A good time to travel, but there may be some factors to be aware of

A good time to travel, but there may be some factors to be aware of

A good time to travel, but there may be some factors to be aware of

Chile

climate guide

The best time to travel

The best time to travel

The best time to travel

A good time to travel, but there may be some factors to be aware of

A good time to travel, but there may be some factors to be aware of

A good time to travel, but there may be some factors to be aware of

A good time to travel, but there may be some factors to be aware of

A good time to travel, but there may be some factors to be aware of

A good time to travel, but there may be some factors to be aware of

The best time to travel

The best time to travel

The best time to travel

Ecuador

climate guide

A good time to travel, but there may be some factors to be aware of

A good time to travel, but there may be some factors to be aware of

A good time to travel, but there may be some factors to be aware of

A good time to travel, but there may be some factors to be aware of

The best time to travel

The best time to travel

A good time to travel, but there may be some factors to be aware of

A good time to travel, but there may be some factors to be aware of

A good time to travel, but there may be some factors to be aware of

The best time to travel

The best time to travel

The best time to travel

Brazil

climate guide

The best time to travel

The best time to travel

The best time to travel

A good time to travel, but there may be some factors to be aware of

A good time to travel, but there may be some factors to be aware of

A good time to travel, but there may be some factors to be aware of

A good time to travel, but there may be some factors to be aware of

The best time to travel

The best time to travel

The best time to travel

The best time to travel

The best time to travel

Bolivia

climate guide

Travel is possible, but this is not the best time of year

Travel is possible, but this is not the best time of year

Travel is possible, but this is not the best time of year

A good time to travel, but there may be some factors to be aware of

The best time to travel

The best time to travel

The best time to travel

The best time to travel

The best time to travel

A good time to travel, but there may be some factors to be aware of

Travel is possible, but this is not the best time of year

Travel is possible, but this is not the best time of year

Uruguay

climate guide

The best time to travel

The best time to travel

The best time to travel

A good time to travel, but there may be some factors to be aware of

Travel is possible, but this is not the best time of year

Travel is possible, but this is not the best time of year

Travel is possible, but this is not the best time of year

Travel is possible, but this is not the best time of year

Travel is possible, but this is not the best time of year

A good time to travel, but there may be some factors to be aware of

The best time to travel

The best time to travel

Colombia

climate guide

The best time to travel

The best time to travel

The best time to travel

A good time to travel, but there may be some factors to be aware of

A good time to travel, but there may be some factors to be aware of

A good time to travel, but there may be some factors to be aware of

The best time to travel

The best time to travel

A good time to travel, but there may be some factors to be aware of

A good time to travel, but there may be some factors to be aware of

The best time to travel

The best time to travel
South America trip ideas and travel guides