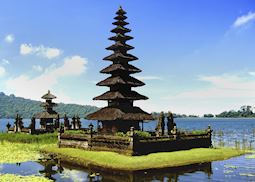 With just so much on offer in such a relatively small area, Bali really does have pretty much everything anyone can possibly want from a destination.
You could be on a sandy beach in the morning, trekking up a volcano in the afternoon and spending the evening having a clifftop sunset dinner as you watch waves the size of houses crash down on the beach below. Or, maybe you'd like to witness — in my opinion — the most atmospheric and magical traditional dances on the planet: the Kecak dance. It has fire dance performances to blow the mind of even the most traveled among us — or, perhaps, the most hard to please.
Throw in the fact that you have some of the most beautiful temples and ruins, wreck diving, beautiful islands and an endless list of adventurous activities, means Bali really has something for everyone.