After studying abroad in Barcelona, Spain and traveling throughout Europe her junior year of college, it was clear that Blair had been bitten by the travel bug. Her collegiate studies focused on both Public Relations and International Business and she thoroughly enjoyed learning about business models and methods all over the globe. Culture plays such a large role in all aspects of business and marketing, and she yearned to learn more first hand.
Blair's passion for travel was irresistible and adventure was calling her name. It was this desire that led to her decision to teach English in Thailand for 6 months. She instantly fell in love with every aspect of the country, from the stunning beaches in the southern islands to the bustling city life in Bangkok. During her teaching career, Blair fully immersed herself into the Thai culture, and she now understands why it is truly The Land of Smiles. Her travels have led her to Vietnam, Indonesia, and most recently Myanmar, where she experienced countless new adventures.
Speak to Blair

Start planning your trip to Southeast Asia with Blair by calling
1-844-250-3439


Recommend Blair to someone you know
Help your friends and family discover the world with Audley. Recommend Blair today.
I spent less time planning this trip than I have spent booking a trip domestically, and this was a 13 day trip for five people to Thailand which was packed with activities daily!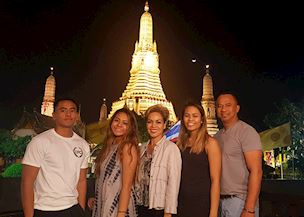 Eunice Perez and family traveled to Thailand for 13 days in December 2017, organized by Blair P
Audley made the process very smooth and incorporated any changes we made. We loved how organized our itinerary was, thanks to Blair! I spent less time planning this trip than I have spent booking a trip domestically, and this was a 13 day trip for five people to Thailand which was packed with activities daily! My family felt spoiled with our private guides and transportation. Someone was always taking care of us even when it came to the little details like helping us check in our luggage for all our domestic flights within Thailand.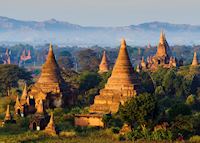 It is an extremely difficult decision to appoint one destination as your favorite, but I will have to say that I personally fell in love with the city of Bagan in Myanmar. With over 3,000 Buddhist pagodas dotting the vast beautiful landscape, Bagan is definitely a must see. Still fairly untouched by commercialism and crowds of tourists, Bagan remains relic and traditional. I had the opportunity to watch the sunset from the top of the Shewshandaw Pagoda; it is such an incredible sight as the sun falls behind the mountains in the distance. The authenticity and beauty of the city prove why Bagan should be at the top of every world travlers' list.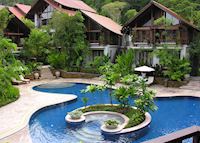 The Tubkaak Resort in Krabi is a beautiful accommodation located right on a long stretch of beach. The location is ideal to sit back with a cold drink in the evening and watch the sky turn brilliant shades of pink and orange as the sun sets over the water. It is the perfect combination of luxury and charm. The Tubkaak has a more boutique style and the rooms are beautifully decorated with modern high end amenities. I had the pleasure of enjoying a delicious Thai meal under the stars at the Arundina Restaurant right by the water. Having been to Thailand before and falling in love with the cuisine, I requested my favorite dish, pad see ew with prawn, and the chef crafted a delightful meal just for me. The entire Tubkaak staff always wore a bright smile and welcomed guests to come to them with any and all requests. I truly felt at home during my stay, everything from the spa treatments to the white sand beach was exceptional!
I'll never forget when…
I had the incredible opportunity to be truly up close and personal with the elephants at the Anantara Golden Triangle Elephant Camp. Spending an entire afternoon bathing, riding, and interacting with these magnificent creatures is truly an unforgettable experience! I rode down through the jungle and out to the Ruak River, where the three countries, Thailand, Myanmar, and Laos converge to form the Golden Triangle. There is nothing quite like the feel of an enormous animal swaying back and forth beneath you as they trudge along through the leafy jungle! I was captivated the entire time by both the elephants and their mahouts [elephant trainer/rider] and the strong bond they share together. It was amazing!