Lauren's passion for Southeast Asia started before she could ride a bike when she caught a glimpse of Thailand's amazing temples on television. Her passion led her to study international relations at Simmons College while focusing on Southeast Asian politics and economics. She was able to explore the region in depth when she studied abroad in Thailand, examining human rights issues throughout the region and learning from refugees and locals on both sides of the Thai-Myanmar border.
After graduating, Lauren started teaching pre-algebra and then moved into an analyst role in the energy industry. Her passion for travel and Southeast Asia soon led her to Audley where she was able to feed her travel bug by further exploring Thailand, Cambodia, Vietnam, and Laos. Since starting at Audley, Lauren has been able to visit Southeast Asia several times, and she can't wait for her next trip.
When not working or planning her next adventure Lauren is a huge foodie and loves cooking and eating new things, reading, attempting to learn new languages, and watching a good movie.
Speak to Lauren

Start planning your trip to Southeast Asia with Lauren by calling
1-844-250-3405


Recommend Lauren to someone you know
Help your friends and family discover the world with Audley. Recommend Lauren today.
I heartily recommend Audley as a travel planner. The service was excellent and the trip exceeded our expectations.
Leslie Knight traveled to Vietnam for 24 days in March 2015, organized by Lauren
Lauren's knowledge and enthusiasm for Vietnam and Thailand was amazing. She is a good listener and is excellent at creating experiences that were tailor-made for our interests. She was spot on! I heartily recommend Audley as a travel planner. The service was excellent and the trip exceeded our expectations. It was the perfect mix of experiences! It will be difficult to top this adventure in Southeast Asia.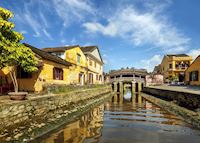 Choosing a favorite destination is like choosing a favorite child, they're all fantastic. However, Hoi An was truly a unique and varied destination that won me over the moment I arrived. The UNESCO heritage site of the old city is brimming with character: there are ancient buildings, charming shops selling beautiful handicrafts, and a unique atmosphere that comes from the prohibition on driving cars or building new hotels within its boundaries. Hoi An also boasts a beautiful beach where you can escape the heat or catch some sun. This, combined with the delicious food prepared with amazingly fresh ingredients, makes Hoi An a must visit destination.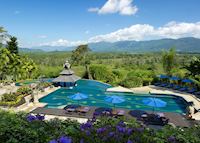 The Anantara Resort in the Golden Triangle is a beautiful property with a range of activities to make the most of your time in this unique area. From your room you have an amazing view of Thailand, Myanmar and Laos. There is a stunning infinity edged swimming pool that also allows you to take in the three-country view. The highlight is the formerly abused elephants being cared for in the sanctuary on the property. You can take a mahout training course where the friendliest elephants are enlisted to help you learn mahout commands and methods for riding, mounting and dismounting the animals in the safest way for both you and them.
I'll never forget when…
Most memorable experience: Watching dawn break over the haunting beauty of Ta Phrom in Siem Reap, Cambodia was unforgettable. The enormous trees whose roots have taken over most of the temple also filter the light to make the morning eerie and peaceful. No matter where I turned, I was reminded that nature is more powerful than anything people can come up with. The roots have crept between tiny cracks in the rocks of the temple and warped the entire structure as they've grown. The best part was that with everyone flocking to Angkor Wat for sunrise, I had Ta Phrom completely to myself and I could stare at it in awe, uninterrupted.