Though it's fairly compact by American standards, New England is arguably the country's most versatile region. You can sit on a rocky beach eating a lobster roll one day, and the next find yourself standing at the top of a wind-scoured peak in a vast green wilderness. There's Revolutionary history on Boston's narrow streets and whale watching in the rich waters off the coast.
The region is replete with unexpected vistas and small towns where you'll find white steepled churches and covered bridges, so I advise driving yourself to reach as much as you can. It gives you the flexibility to explore, whether that's hiking past clear mountain streams or window shopping in a historic downtown.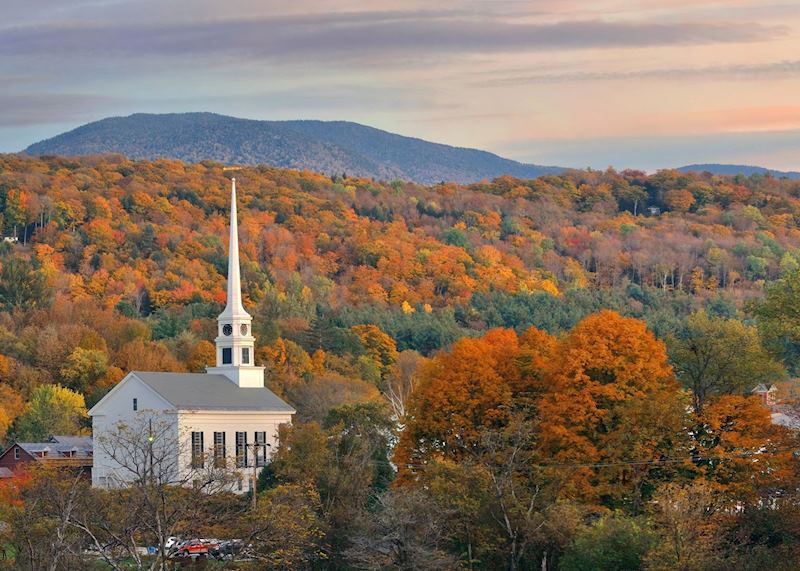 Things to do & see in Boston
As the largest city in the region, and the home of Logan International Airport, Boston is a convenient place to begin a tour of New England. One of the most walkable cities in the country, Boston also has a public transit system, something lacking in many other American metropolises. This is convenient because the driving here is terrible and the parking is worse. I always suggest waiting to rent a car until you're ready to leave the city.
The Freedom Trail and Beacon Hill
Dating back to the early 1600s, Boston witnessed many of the most important events in the country's early history. The American Revolution was fomented in its pubs and drawing rooms, and played out on its cobbled streets.
You can get a comprehensive introduction to the city's role in the revolution by walking on the Freedom Trail. A red line that's painted directly on the pavement (or, as the Americans say, sidewalk), the trail takes you past more than a dozen important historical sites. A good guidebook can provide context.
The Granary Burial Ground is a particular highlight. Opened in 1660, it's the final resting place for many prominent Bostonians. Many of the gravestones are engraved with a 'death's head' — a winged skull representing the soul's flight to heaven. Copp's Hill Burying Ground is the city's oldest and includes the grave of Cotton Mather, a fire-and-brimstone preacher who is closely associated with the deadly Salem witch trials.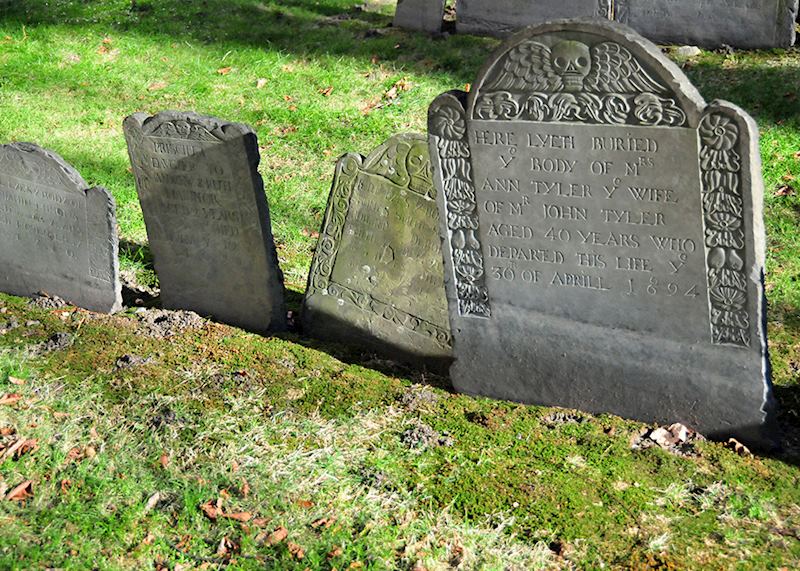 The trail takes you through several of Boston's oldest enclaves, including the North End. This warren of cramped lanes has long been where new immigrants landed when they arrived in Boston. It's now the city's Italian quarter, crowded with one-time tenements, cafés and trattorias. When I visit, I like to stop at Mike's Pastry for cannoli, an Italian export of a fried pastry shell piped with sweetened custard that made its way across from the Mediterranean.
Not included on the trail is Beacon Hill. Wealthy and powerful families have made their homes here since the 18th century. The steep, gaslit streets are graced with gated gardens, stately brick mansions and well-preserved townhouses that sport tidy black shutters.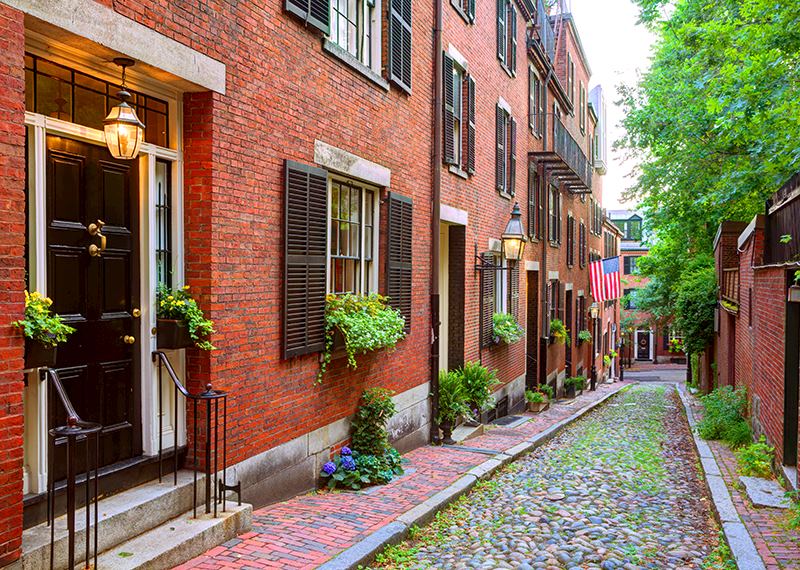 Where to stay in Boston
Right in the heart of downtown, the Langham Hotel is a stately stone landmark set in the former Federal Reserve Bank. The decor borders on the opulent and there's a chocolate bar on Saturdays at the in-house restaurant, Café Fleuri.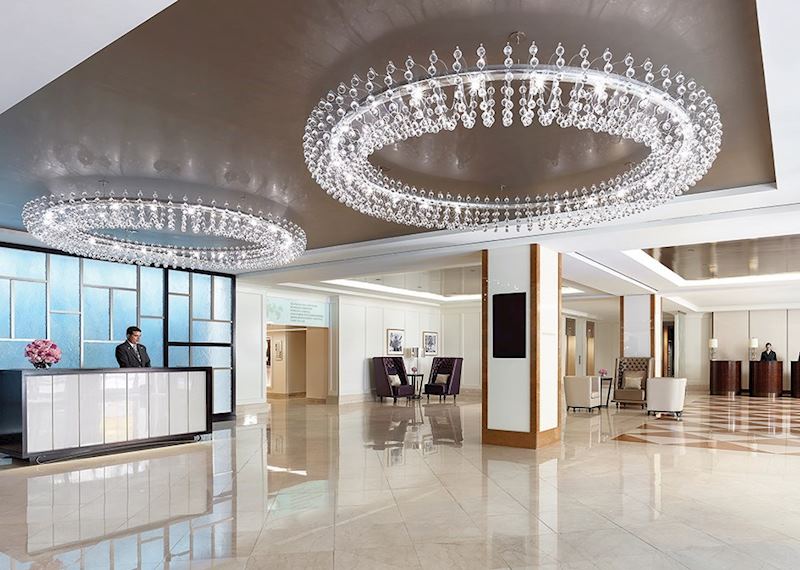 Driving from Boston to Maine
It's only about 90 minutes from Boston to Kennebunkport if you take one of the major highways. However, I prefer to meander up along the smaller Route 1A. It gives you the chance to admire the small fishing towns that are filled with clapboard houses and have marinas where sailboats dock alongside brightly painted lobster boats. If so inclined, you could make a whole trip out of just visiting these towns. But, as a one-time resident, I'm particularly fond of Salem.
The notoriously brutal witch hysteria of the 17th century often overshadows the fact that Salem was once the wealthiest city in the New World. It's rife with New Age shops that celebrate modern and historical witchcraft as well as dignified captain's mansions, each with a widow's walk around the perimeter of the mansard roof. There are older homes, too. Usually painted charcoal gray, they have small windows that peer out from under sharply peaked gables, relics that date back to Salem's darkest chapter.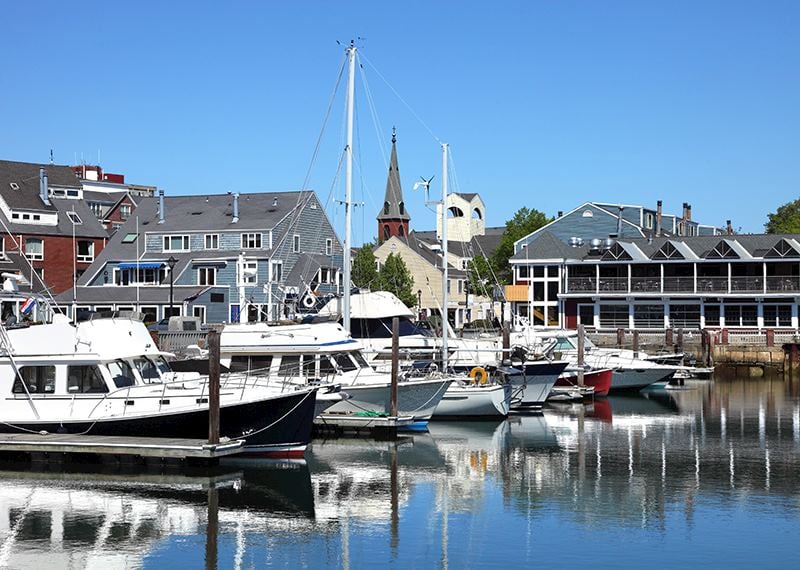 Things to do & see in Maine
Arguably New England's most preppy enclave, Kennebunkport has a small downtown filled with cafés, chic boutiques and sunlit art galleries where you can buy paintings of seascapes and lighthouses. Outside town, Ocean Avenue is a meandering coast road populated by understated mansions, their deep porches overlooking the stony shore.
If Kennebunkport's carefully casual elegance doesn't appeal to you, Mount Desert Island offers a more rugged option. Acadia National Park, covering much of the island, is criss-crossed with carriage roads, originally intended for horse-drawn buggies but now used for cycling through the forest. There are also well-maintained walking trails that range from easy to challenging.
Also on Mount Desert Island is Bar Harbor, a town that primarily offers support services for the park. It was here I boarded the Lulu, a working lobster boat, for a tour of the coast. The captain, John, explained the history of the industry and how traps work as we cruised past colonies of somnolent seals and watched seabirds wheel high in the sun-bleached sky.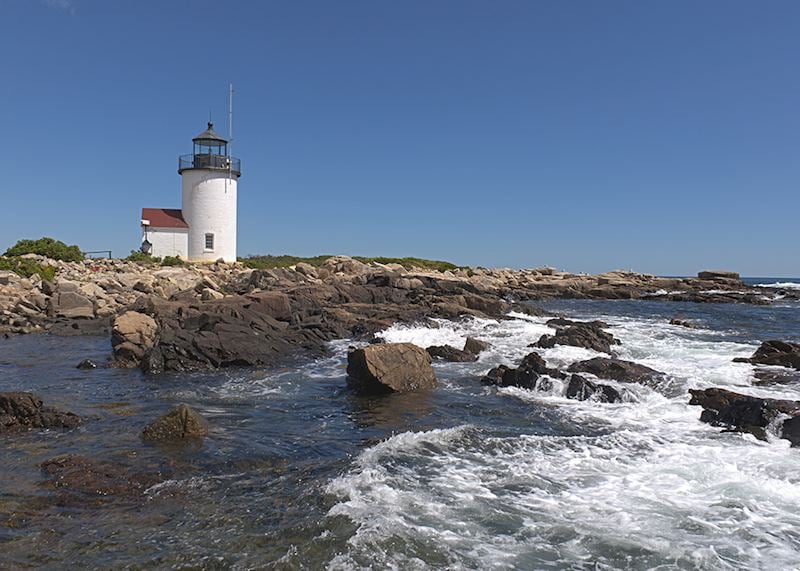 Where to stay in Maine
I like staying at the Nonantum Resort, a sprawling Kennebunkport beach resort that dates back to the 1880s. The airy rooms look out over the water and the staff can arrange a variety of activities, including yoga, kayaking and fishing.
Driving from Maine to New Hampshire
Leaving the Maine coast, you can head northwest on Route 302. This two-lane road winds through small towns, over pristine lakes, and up and down the slopes of steep mountains covered in dense forests of pine and oak.
If you drive steadily, it will take you about three hours to reach North Conway, near Franconia Notch State Park. But you'll probably be tempted to slow down and explore. You'll pass by bright-red barns sporting verdigris-crusted weathervanes as well as rambling farmhouses, their black shutters and white clapboards tucked behind gray stone walls.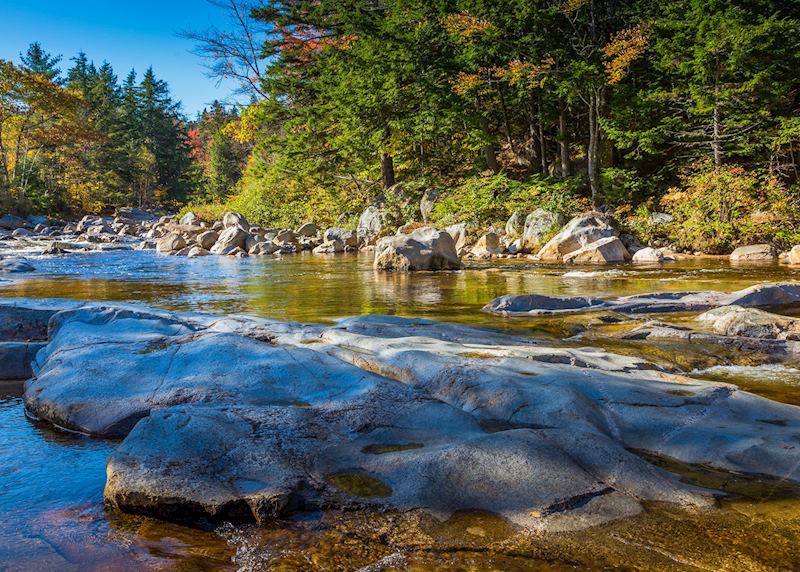 Things to do & see in New Hampshire
Franconia Notch State Park
This state park nestles inside the larger White Mountain National Forest and together they create a vast, unspoiled wilderness. Dense and seemingly endless swathes of trees sweep down steep mountainsides, punctuated by the silvery gleam of waterfalls and distant rivers.
You can experience the park in a variety of ways. The Kancamagus Highway snakes along the highlands, with wide views of crags, steep-sided valleys and mirror-like lakes. There's also an aerial tramway (cable car) to the peak of Cannon Mountain, where you can climb an observation tower and gaze at the mountains fading into the hazy distance.
You can also hike along the Flume, a gorge between two sheer granite walls. Mosses and ferns soften the hard stone and a cold, clear river spills over rounded boulders. The route is well marked and fairly short but involves many stairs and inclines. You'll cross two covered wooden bridges and pass by Avalanche Falls, the sound of the cascade magnified into a roar as it echoes off the sides of the ravine.
Mount Washington
In fact, there are many trails in the region, ranging from easy strolls to challenging multi-day treks. However, unless you are very experienced, I don't recommend hiking up Mount Washington. The tallest peak in the region, it suffers from notoriously erratic weather. Even if it's a hot day at the base, you might find near-freezing temperatures and strong winds at the summit.
Expert outdoorsmen will find much to love at Mount Washington — including hiking, climbing and hang gliding — but I won't even drive up the mountain road. Instead, I always take the Cog Railway up. The rack-and-pinion train chugs slowly but steadily to the summit, where you can take in sweeping views. Remember to bring a hat and warm sweater, however.
Driving from New Hampshire to Vermont
There are towns named Woodstock in both New Hampshire's national forest and in Vermont — driving along Route 118 from one to the other will take you about two hours. You'll go from the daunting peaks of the White Mountains to the somewhat gentler Green Mountains, past dairy farms, tumbledown stone walls and small antique shops, their porches cluttered with bric-a-brac.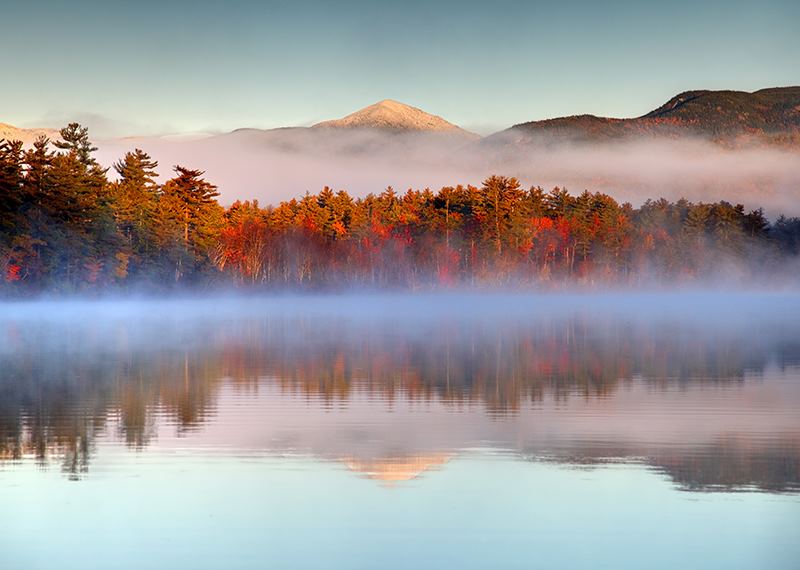 Things to do & see in Vermont
Perched on the banks of the gentle Ottauquechee River, Woodstock has long been a rustic retreat for New England's wealthiest families. The downtown is built around a long, narrow green surrounded by mansions that span more than a century of architectural styles.
White clapboard colonials, with pediments and black shutters, stand next to red-brick Federalist homes, their doors framed by white columns. Just north of the green, the streets are lined with galleries, boutiques and small shops.
The surrounding countryside offers plenty of opportunity for active pursuits. The twisting country roads lend themselves to cycling and on nearby Mount Tom you can follow trails to a summit that overlooks the town.
In nearby Quechee, you'll find a plunging ravine that was carved into the native stone by glacial melt more than 13,000 years ago. A walk on the gorge's well-graded paths rewards you with some of the region's most dramatic views — stone walls slanting down 50 m (165 ft) to a swift river that burbles over water-smoothed boulders.
Where to stay in Vermont
At the Inn at Manchester you can choose to stay in either of the two red-with-white-trim barns out back or in the main building, which has a deep wrap-around porch. The inn has a pool and a living-room-style pub, and makes a convenient location for exploring Vermont.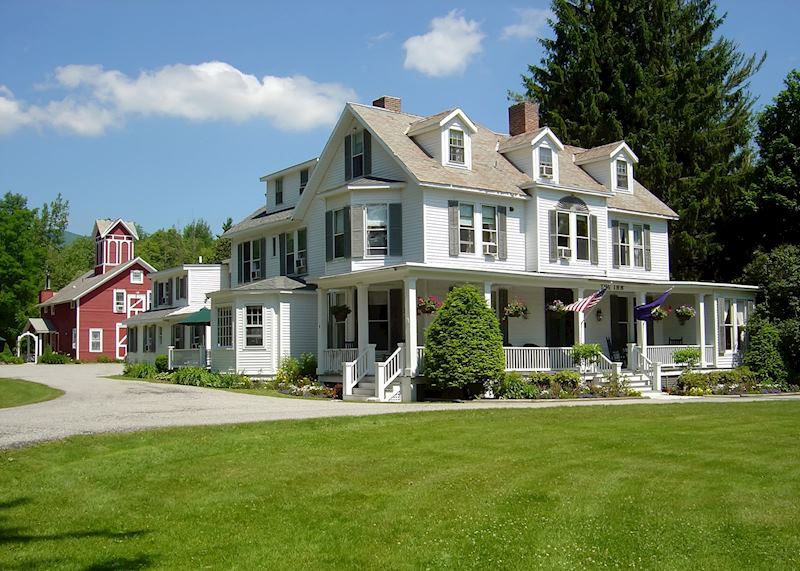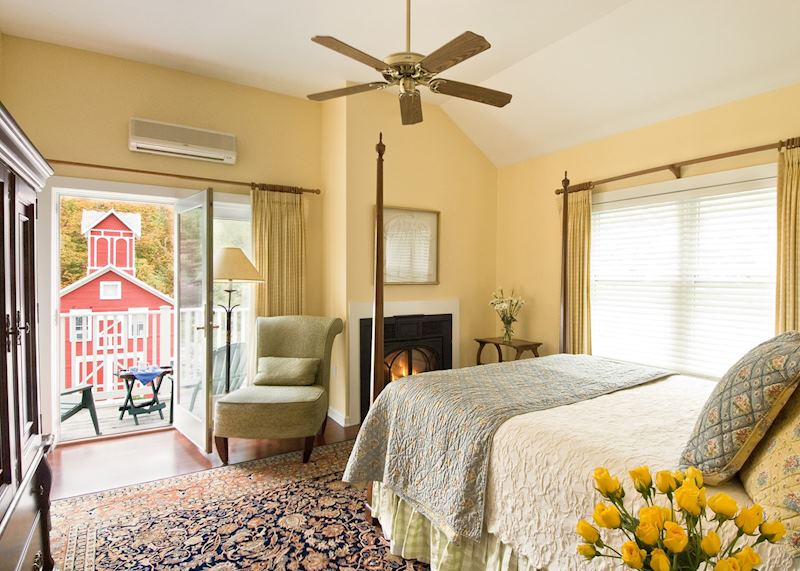 Driving from Vermont to Cape Cod
There are several routes to get from Woodstock to Cape Cod, but all of them take more than four hours, so I suggest breaking up the drive. A good option is Old Sturbridge Village, located just off Route 90 in Massachusetts. This living history museum recreates the village as it was in the 1830s, with costumed staff, artisan demonstrations and livestock milling around inside corrals made of split-rail fences.
Things to do & see on Cape Cod
For generations, New Englanders have flocked to Cape Cod to enjoy old-fashioned fun — lobster rolls, swimming and walking barefoot down sandy lanes. However, the roads are a bit old fashioned, too, with just two bridges as your means of getting on or off the Cape. This can make traffic nightmarish, so never plan to drive over the bridges on weekends, especially in the summer.
Once you're past that bottleneck, the Cape makes up for the inconvenience, with golden beaches, gray-and-white cottages, drifts of beach roses and small shops shaded by striped awnings.
If you're visiting in the summer, the towns hum with activity — bands play on gazebos, clam shacks serve fried seafood on picnic tables, and bars stay open late into the night, doors flung open to catch the sea breezes.
In the spring and fall, you may find fewer shops and restaurants open, but you can slow down to appreciate the briny breeze and the play of light on the rippling sand.
Beyond the beaches, there are shops for renting kayaks or bicycles and many paths for cycling, including the Shining Sea Bikeway in Falmouth. You can also visit Provincetown — 'P-Town' to locals — a vibrant little place known for its nightlife and LGBTQ culture.
The Cape's wildlife includes an abundance of marine and shore birds, including gulls, ospreys and snake-necked cormorants, a dark-feathered bird you can often see standing with their wings half spread to dry in the sun. The Massachusetts Audubon Society operates three different bird sanctuaries, though you'll see plenty just walking around. You can also board whale watching vessels to Stellwagen Bank. You're likely to see humpback, finback and minke whales and, if you're lucky, the critically endangered right whale.
Where to stay on Cape Cod
Many of Cape Cod's inns and hotels are a bit twee, but the Platinum Pebble in West Harwich is a well-polished exception. It combines a sophisticated atmosphere with a convenient location, just a brief walk to the beach. The breakfasts are particularly indulgent.
Start planning your trip to New England

Start thinking about your experience. These itineraries are simply suggestions for how you could enjoy some of the same experiences as our specialists. They're just for inspiration, because your trip will be created around your particular tastes.
View All Tours in New England