By Zimbabwe specialist Amelia
When I first went on safari in Zimbabwe, my mind had painted a picture of what it would be like — big open plains, wildlife of all shapes and sizes gathering on the riverbanks and glorious sunsets. However, this was mixed with the negative things I'd read about government corruption and poaching issues, so I was a little apprehensive.
While Zimbabwe certainly has work to do, I was still blown away by the whole experience. Safaris here are some of Africa's most authentic, and there's a real sense of being out in the wilderness. The quality of the guides is exceptional, and their passion, knowledge and respect for wildlife bring your safari to life.

Zimbabwe's guides are some of the most qualified and experienced in Africa, undertaking a rigorous four-to-seven year course to gain their qualification. They can take you out on some excellent walking safaris through the bush and tell you in detail about each species you encounter, while sharing general knowledge about the area.
Morning and afternoon guided game drives are offered in most parks, while walking safaris and night drives are often available in private concessions. Water based safaris are also an option in places like Mana Pools and Lake Kariba, allowing you to see a wider variety of wildlife.
Hwange National Park

Zimbabwe's largest and oldest national park, and its most popular safari destination, Hwange National Park was set up as a game reserve in 1928. Bordering Botswana in the west of the country, it's just a four-hour drive from Victoria Falls, so you can enjoy a safari and then visit the falls without a light aircraft flight.
Big open plains scattered with pockets of dense woodland appeal to a wide range of animals, including lion, leopard, buffalo and more than 30,000 elephant. You might also see cheetah, spotted hyena, warthog and Burchell's zebra, as well as prolific birdlife, with also over 400 bird species present here.
While I've visited Hwange in both the dry (April to October) and wet (November to March) seasons, my preference is the dry season. This is when large numbers of game congregate around the waterholes and the grass dries up, making it easier to see big cats and other wildlife.

As there are no natural water sources in the park, the waterholes are man-made. You often hear the noise of the pumps running to keep the water levels up, dubbed 'the heartbeat of Hwange'. Some camps offer a 'pump run' trip out with a guide to see how the pumps are operated.
A typical day on safari here involves heading out early for a morning game drive before the heat hits and while the wildlife is at its most active. You return to camp for brunch, and spend a few hours relaxing. High tea is served at around 3pm ahead of the afternoon game drive, which returns as the sun sets over the plains.
Several camps and lodges sit just outside the park on their own private concessions and offer activities that can't be done within the park itself. On guided walking safaris you can view some of the smaller species, such as birds and insects, while night drives give you a chance to spot nocturnal animals, such as jackal, spring hares and big cats on the prowl. It's harder to see animals, as you rely on your flashlight to pick up the glint of their eyes, but the atmosphere compensates.
Where to stay in Hwange National Park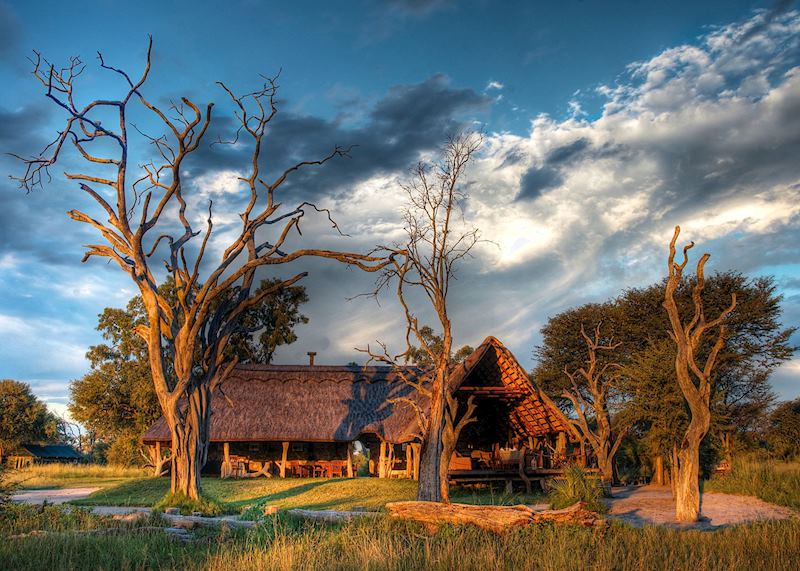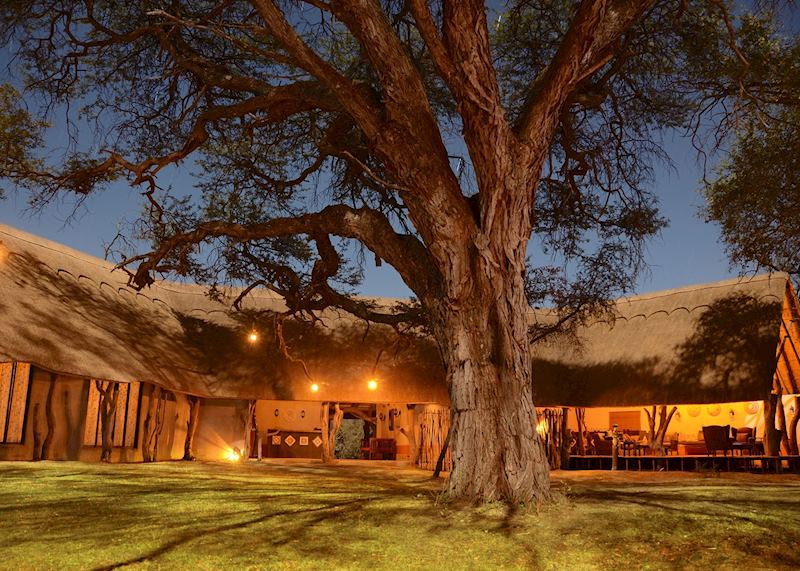 Bomani Tented Camp and Camelthorn Lodge are set on private concessions toward the southeast of the park.
Bomani is a more rustic option, offering comfortable canvas tents with en suites. It's set in open plains overlooking a waterhole where you can watch game. Camelthorn is a luxurious lodge offering spacious villas with balconies and open fireplaces for the cold winter evenings. It's set within acacia woodland that attracts bushbuck, squirrels and a variety of birdlife.
What I also like about Bomani and Camelthorn is that they help local communities, donating some of their profits toward building new schools and other facilities. Many of the staff are from these villages, which you can visit with a guide.
Mana Pools National Park

For a wilder, more remote safari, I highly recommend Mana Pools in the north of Zimbabwe. Its secluded location is only accessible by light aircraft, and the whole area has an untouched feel to it. While the wildlife can be fairly skittish, it's all the more rewarding when you have a close encounter.
What makes Mana Pools special for me is the scenery — the wide Zambezi River snakes across the north of the park, Zambian mountains are visible in the distance and vast floodplains stretch out in all directions. There are also four oxbow lakes — Main, Chine, Long and Chisambuk — which give the park its name (mana means 'four'), as well as several smaller natural pools. These hold water and attract wildlife all year round, especially during the dry season.
The park is home to good numbers of elephant and lion, as well as hippo, leopard, eland, buffalo and wild dog. The combination of woodland and river is excellent for birdwatching, attracting species including the collared palm thrush, racket-tailed roller and purple-banded sunbird.

Game drives are offered in the park, but with many areas only accessible on foot, walking safaris are the main draw and rate among the best in Africa. They really show off the passion and knowledge of Zimbabwe's guides. As well as keeping an eye out for larger game, my guide helped me to track animal footprints on the ground, pointed out smaller wildlife such as birds, plants and insects, and gave me a detailed explanation of the park's ecosystem.
While in Mana Pools, you become completely immersed in the wildlife and your surroundings — I've walked through huge herds of elephant, which was daunting and exciting in equal measure. The elephant here have learned to stand on their hind legs to eat leaves high in the trees, which was a rare thing to see — it looked like they might topple over at any moment.
Most memorably, I also stayed in a simple mobile camp set up in a remote area of the park — through the canvas tents you can hear wildlife out and about at night, from distant lion roars to thudding elephant feet.
Where to stay in Mana Pools National Park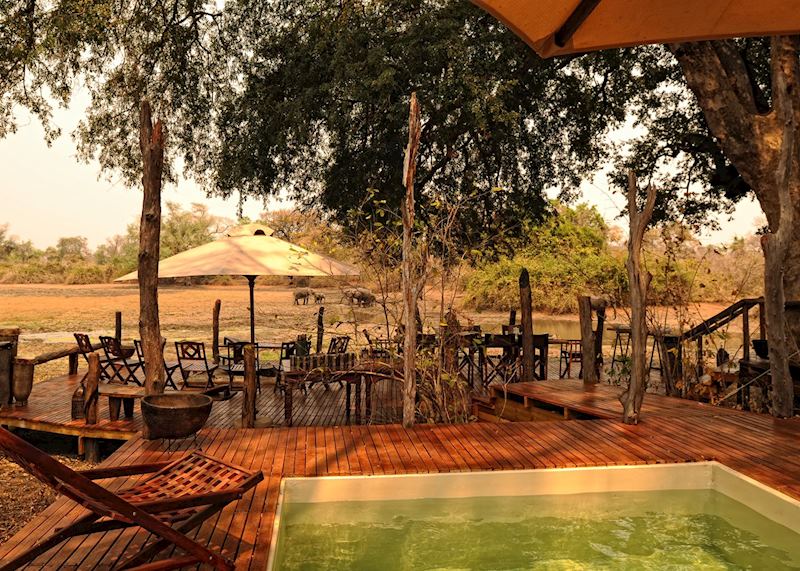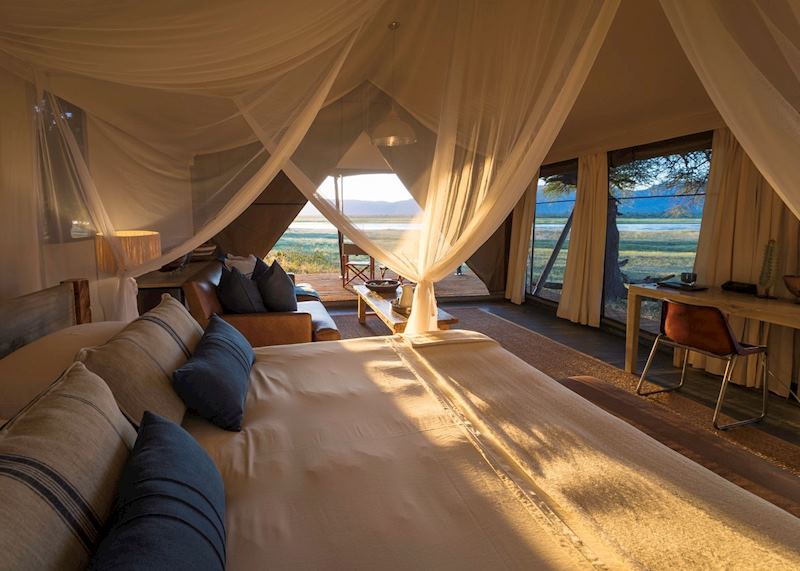 Mana Pools offers a handful of more rustic accommodation, with a few luxurious options mixed in. Whether you stay by the river or beside one of the park's pools, you'll have good views of game as it congregates at the nearby water source.
Kanga Camp is set beside the Kanga Pan, a natural waterhole. It has a raised lounge area with armchairs set up right in front of the pan so you can watch game in comfort; aided by floodlights at night. It feels surreal eating dinner outside while being so close to elephant, leopard and lion quenching their thirst.
Just an hour away from Kanga, Ruckomechi Camp is a more luxurious option on the banks of the Zambezi. It has a stargazing deck strewn with cushions and the tents face the river, where hippo can be seen wallowing in the water.
Lake Kariba

In the northwest of Zimbabwe, the expanse of Lake Kariba attracts a variety of wildlife, from cormorants and fish eagles to hippo and crocodiles. In the dry season, it also draws in game such as lion, buffalo, waterbuck, zebra and huge herds of elephant. It's one of the largest man-made lakes by volume in the world, with a dam in the Zambezi widening it to around 32 km (20 miles) across.
Matusadona National Park borders the lake and is a great place to mix safari and relaxation. One of the best experiences I had here was taking a boat trip out on the lake at sunset. I watched the sky and the water gradually change hue as the sun sank and birds sang their last song of the day.
Game drives are available from the small number of camps. Guided walking safaris are also excellent in the park, taking you through open grasslands and giving you a chance to get close to wildlife you might usually overlook, such as bush squirrel, dassies (rock hyraxes), porcupine and scrub hare.
Where to stay in Lake Kariba
I recommend Musango Safari Camp, which is situated on its own little island on the shores of the lake. The simple tented chalets are set in the dense bush and face east, offering sunrise lake views. One of the camp's main appeals is its owner, Steve Edwards, who's a well-respected guide and will happily share his knowledge of the area and its wildlife with you.
Combine a safari with other Zimbabwe highlights
Victoria Falls

One of the Seven Natural Wonders of the World, the falls are in Zimbabwe's northwest corner, within driving distance of Hwange and an hour and a half flight from Johannesburg.
I could describe the height and breadth of the falls, the crashing sound of water hitting rock and the cooling mist as it rises from the water, but this really is the kind of place you have to see for yourself.
There are lots of ways to experience Victoria Falls, from taking a guided tour to white-water rafting and helicopter rides.
The water levels vary significantly depending on the time of year. Between late October and early January there's far less water and much of the rock face is exposed, while mid-January to early April sees almost too much water, making it hard to take good photographs. I recommend visiting between late April and August, when water levels are ideal and safari season is in full swing.
Zambezi Riverfront
As part of your visit to the Victoria Falls area, you can join boat safaris along the Zambezi and spot wildlife along the Zambezi Riverfront, which is home to both Zambezi National Park and the Matetsi Safari Area. Here, you can often see elephant, buffalo, giraffe and zebra, as well as hippo, crocodiles and all manner of birdlife, from fish eagles to kingfishers.
Matopos Hills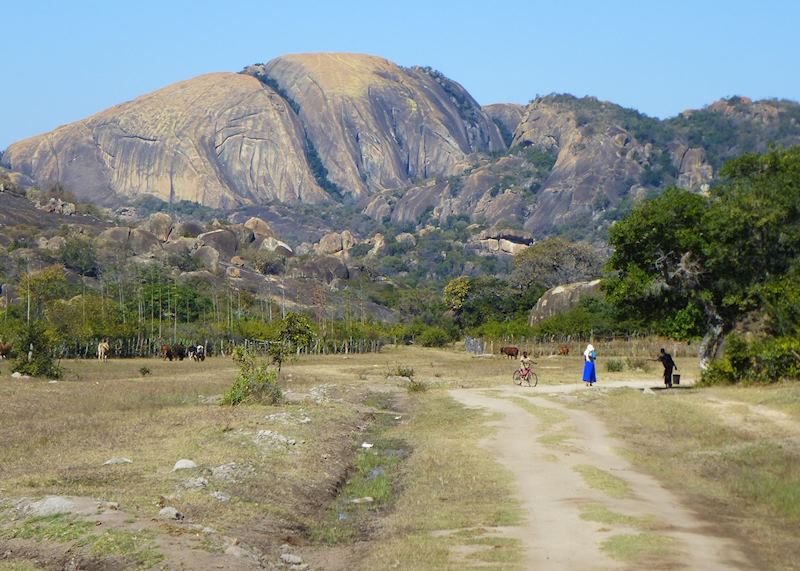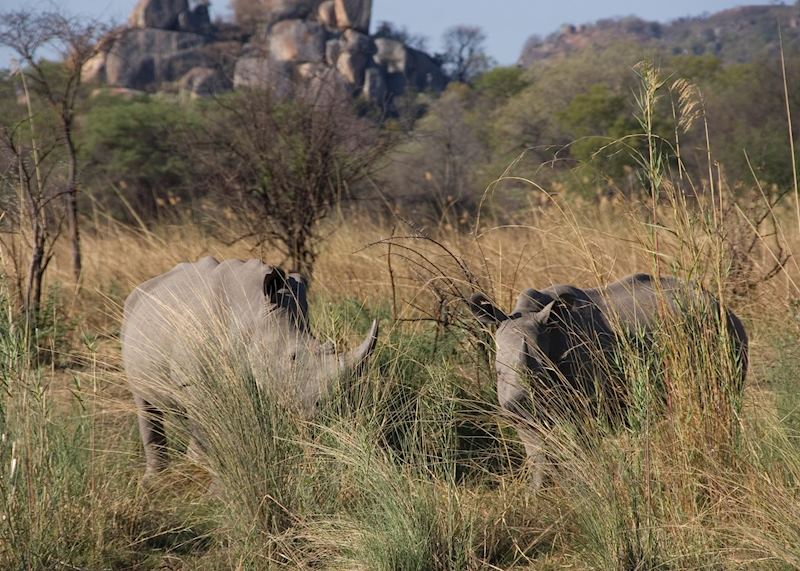 Matopos Hills, in the southeast of Zimbabwe, is an area I'd recommend to anyone with an interest in history and culture as well as wildlife. The granite hills, or kopjes, were formed by volcanic activity billions of years ago and the landscape is strewn with large orange boulders, some balancing one on top of the other. It feels completely different to anywhere else in Zimbabwe.
Much of the area is made up of the Matobo National Park, whose healthy black and white rhino populations are part of the reason people visit. You can head out with a guide on foot to track them. It's an opportunity to see these usually rare animals in such high numbers — one group of people returned to my camp claiming to have seen 11 in just one outing.
Another draw is the abundance of ancient rock art discovered in the area. The paintings were etched onto boulders and inside caves over 13,000 years ago and reflect the lives of the region's ancient inhabitants, including images of them hunting giraffe and other wildlife. It's remarkable how clear the paintings are after all this time.
A note on poaching
As with other countries in Southern Africa, poaching has historically been an issue in some parts of Zimbabwe. However, teams are working tirelessly across the country to combat the problem. Anti-poaching patrols are proving successful, while safari operators are running educational initiatives in local communities and schools to help teach the value of local wildlife.
Start planning your safari in Zimbabwe

Start thinking about your experience. These itineraries are simply suggestions for how you could enjoy some of the same experiences as our specialists. They're just for inspiration, because your trip will be created around your particular tastes.
View All Tours in Zimbabwe
Further reading