By USA specialist Alice
More than many other places in America, the Deep South grabs your attention. Its invigorating music scene, culture-clash food, history of slavery, and role in Civil Rights and the Civil War still shape the region today.
You can add in experiences that reveal the region in more detail and elevate your trip, in an area of the USA where your money goes further. I've shared some of my highlights, from private classic-car tours to VIP tickets and backstage passes to some of the South's main attractions.
I suggest a self-drive trip through the Deep South that takes in New Orleans, Memphis and Nashville. We can pepper your stay with the best experiences the region has to offer, as well as hotels that deliver high levels of service and have retained a sense of history and character.
You can extend your trip into Georgia and the Carolinas for some time on the coast.
Luxury experiences in New Orleans
By no means a polished city, the luxury of a visit to New Orleans lies in the experiences you can have there, which reveal the intricacies of its history and cultures.
Private walking tour of the French Quarter
Seeing New Orleans through the eyes of a local guide put everything into context for me. On a private walking tour of the French Quarter — the oldest part of the city — you'll hear about its early Spanish and French residents. Many lived in the pastel-shaded 18th- and 19th-century buildings that still stand today, distinguished by large windows and cast-iron balconies.
You'll also glimpse into the history of slavery in the city and see how the African and Caribbean population have influenced the food and music here.
Throughout the tour, your guide points out buildings and landmarks that tell the story of New Orleans. You'll see Jackson Square, where Louisiana was handed over to the United States in 1803, and the Old Ursuline Convent, the oldest building in the Mississippi Valley.
As morbid as it sounds, a highlight of mine was visiting Lafayette Cemetery in the Garden District. Since 1833, New Orleans' deceased have been laid to rest here in intricate tombs and Southern Gothic mausoleums, many of which contain the remains of whole families.
Authentic live jazz performance at Preservation Hall
While the live-music bars of Frenchmen Street showcase the city's vibrancy and joie de vivre, the seemingly dilapidated Preservation Hall's stripped-back jazz performances feel far more authentic.
The hall — which you might well assume is derelict thanks to its (intentionally) shabby appearance — is so small that not everyone queueing up will get in. We can reserve your seat in advance, allowing you to skip the line.
What I like most about performances here is how the bands interact with their audience, asking for song requests and changing the experience each time you go. You can almost feel the history of the venue, from its peeling walls to its exposed wooden floorboards and old, tattered posters.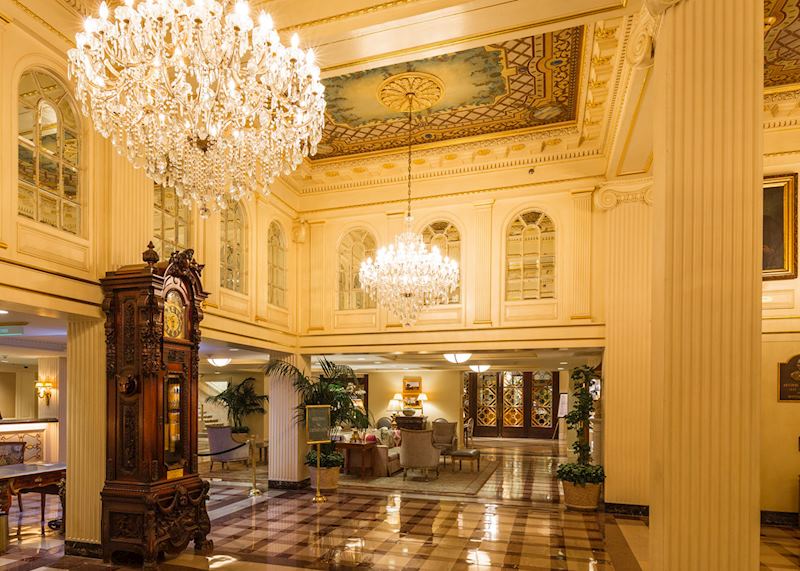 Hands-on Louisianan cooking class
In Louisianan dishes, ingredients are often combined in unusual ways, which I find works more often than not. You can get to grips with the cuisine yourself, under the guidance of an expert chef, at the New Orleans School of Cooking.
Over three hours, you make three or four dishes — think crawfish pie, seafood and okra gumbo, creamy crab bisque or barbecued shrimp, finished off with a traditional dessert such as bread pudding or Bananas Foster (bananas cooked in butter, sugar and alcohol and served over vanilla ice cream).
The class ends with you sitting around the table and dining on your creations. You take the recipes (and your apron) home with you.
Where to stay in New Orleans
Hotel Monteleone is known as the 'Grande Dame of the French Quarter'. The likes of Tennessee Williams, Ernest Hemingway and William Faulkner have stayed in this 19th-century building, some mentioning it in their works.
You can stay in a suite dedicated to one of the authors and follow their footsteps by having a drink in the revolving Carousel Bar.
Luxury experiences in Memphis
The grittiest and least-developed of the Deep South's cities, Memphis doesn't carry a hint of pretension. But, that doesn't mean you can't experience a touch of class during your stay.

Private vintage-car tour of Memphis
'This is your ride,' my guide said proudly, revealing a gleaming sky-blue 1955 Chevy Bel Air. I half expected Elvis to climb out. I settled into the plump leather seats and my guide — a Beale Street musician — pointed out a few of the car's features, then we were on our way.
You can opt for a tour focused on the life and career of Elvis, the history of Memphis, or the city's blues, soul and rock 'n' roll heritage.
I chose the history tour, which covers the history of blues music and the city's African-American heritage, as you pass the neon-lit bars of Beale Street. Your guide also takes you past the Mason Temple, where Martin Luther King Jr. gave his last speech, and the Lorraine Hotel, where he was assassinated the next day.
An obscure episode in the city's history for me was the yellow fever epidemic of 1878 — you can stop at Martyr's Park, which is dedicated to victims of the disease.
You're also shown places you might otherwise overlook, from Magevney House (the oldest house in Memphis) to the Ellis Auditorium, which hosted the first gospel performances.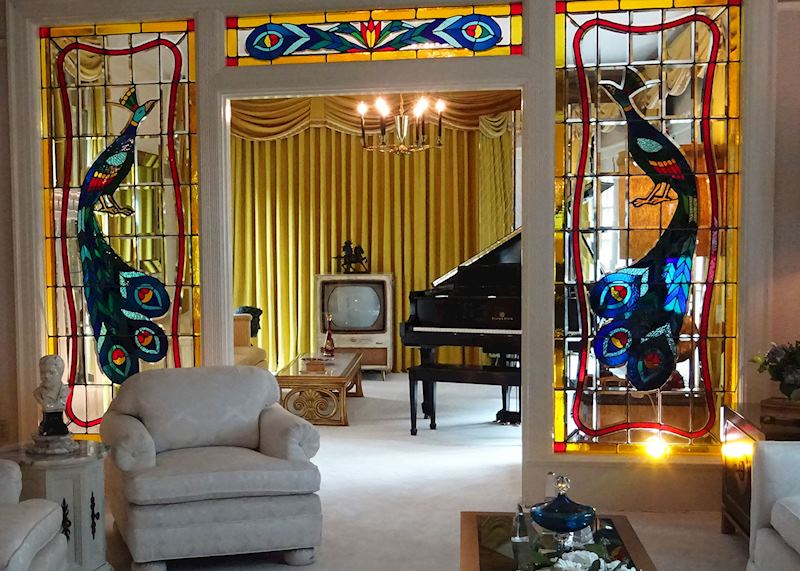 VIP tour of Graceland
Entering Elvis's former home is like stepping into a 1970s time warp. Of the several tours to choose from, all are self-guided through the use of interactive tablets, which tell the story of the King's life and career.
I recommend the Elvis Entourage VIP tour, which skips the queue to the mansion itself and gives you access to additional exhibits.
The mansion's interiors have been restored to look as they did when Elvis lived there. Most distinctive is the Jungle Room, whose carved wood and green shag-pile carpets reminded Elvis of Hawaiian holidays.
You'll find more exhibits in Elvis Presley's Memphis. This entertainment complex is stuffed full of costumes and memorabilia related to his career, as well as displays on his personal life. You can also admire his collection of vintage cars (and, I recommend paying a little extra to see his two aeroplanes).
Where to stay in Memphis
The Peabody offers plush lodgings — and not just for its clutch of resident ducks. The pampered mallards are paraded down from their penthouse to the Grand Lobby's fountain each day by the Duck Master, watched by guests and visitors alike.
Eccentric traditions aside, the 19th-century hotel's rooms and suites are elegantly decorated and you're within walking distance of many Memphis attractions, including Beale Street and RCA Studio B, where Elvis recorded.
Luxury experiences in Nashville
Country music streams from honky-tonk bars and skyscrapers stand tall beside the Cumberland River. Nashville is the Deep South's most developed, modern city, but it stays true to its roots. You can find a balance of luxury and authenticity in the experiences it offers and the places you can stay.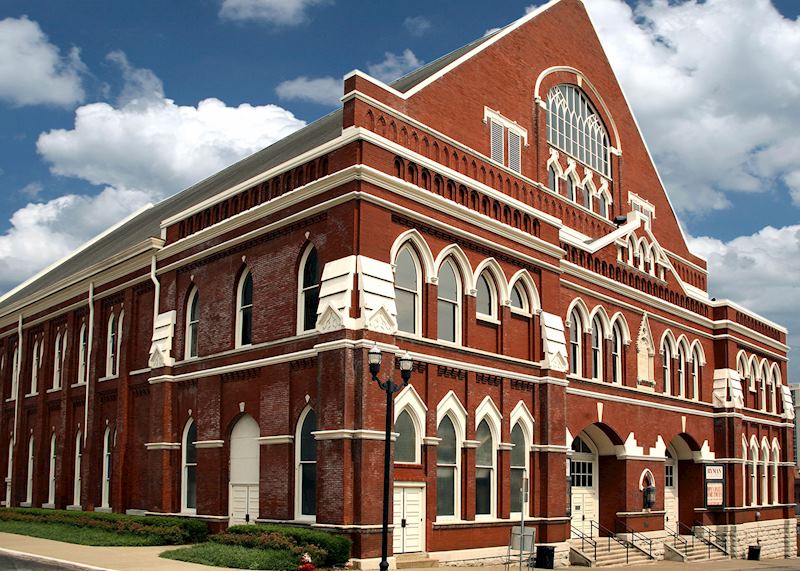 Private tour of Nashville with a singer-songwriter
Who better to show you the sights of Music City than a local musician? You'll see Nashville's musical (and non-musical) landmarks and hear about its country-music heritage through someone trying to make it big in the business, as you're driven around in a private car.
You'll stop at renowned recording studios that have hosted some of country music's biggest stars, and at live music venues where acts have performed for decades.
Throughout the tour, your guide shares song-writing techniques and talks you through how a song is created, from the initial idea to the final recording. They'll also hold a private performance for you.
The tour ends in one of Nashville's honky-tonk bars, where you can enjoy more live music over a drink.
Behind-the-scenes tour of the Grand Ole Opry
Perhaps the Deep South's most esteemed music venue, the Grand Ole Opry has hosted live country music performances that have been radio-broadcasted across the country since 1925. We can arrange for you to attend one of the live broadcasts and take a tour behind the curtain.
You're shown the individually themed dressing rooms, where the likes of Hank Williams, Patsy Cline, Carrie Underwood and Taylor Swift have prepared to take to the stage. Your guide will share anecdotes about the stars and the general history of the building, whose walls are hung with signed posters. You have the option to leave fan mail at the venue's own post office.
Your tour includes VIP tickets to a live performance that grants you access to the side of the stage for the beginning of the show. While I wasn't an avid fan of country music, being so close to the musicians gave me a new appreciation for the genre.

Where to stay in Nashville
Nashville has more sleek, modern hotels than the other Deep South cities, but I still prefer to stay at The Hermitage. Opened in 1910, the hotel is part of the city's heritage and has hosted many celebrities, politicians and socialites over the years.
Set in the heart of downtown, the hotel has generously sized rooms with large marble bathrooms and views of the Tennessee State Capitol. And, every afternoon, you're treated to freshly squeezed lemonade and cookies in the lobby.
When to go to the Deep South
It's best to visit the Deep South between March and May or between mid-September and October, when temperatures are warm but not sticky hot. You could also visit during the quieter winter months (November to February), if you don't mind cooler temperatures. Avoid August and early September, which is peak hurricane season (although hurricanes have been known to cause disruption as late as November).
Read more about luxury trips to the Deep South

Start thinking about your experience. These itineraries are simply suggestions for how you could enjoy some of the same experiences as our specialists. They're just for inspiration, because your trip will be created around your particular tastes.
View All Tours in The Deep South