Visit Katmai National Park, Alaska
Katmai National Park has two of the best places in the world for bear viewing: Hallo Bay has wonderful coastal bear viewing, while Brooks Falls is the location for the famous salmon-fishing bears.
Katmai National Park, Alaska
In June 1912 a violent eruption of the Novarupta Volcano turned a huge track of wilderness into a landscape of ash-covered mountains, smoking valleys and thousands of steam vents.
The valley floor became known as the Valley of 10,000 Smokes and subsequently became the national monument now known as Katmai National Park and Preserve.
This remote wilderness has a deserved reputation for its truly spectacular mountain scenery and for the richness and diversity of its wildlife. It has the world's largest population - more than 2,000 - of protected grizzly bears. At Brooks Falls they congregate at the rivers edge to fish for salmon while at Hallo Bay they are frequently seen feeding on sedges along the shoreline.
Hallo Bay
Grizzly bear viewing in Alaska is renowned, but Hallo Bay offers a wonderful opportunity to get close to these magnificent creatures at any time of the summer season. Reached by a thrilling light aircraft flight from Homer, Hallo Bay is located on the wild, remote and volcanic Pacific coast of the Alaska Peninsula. There are no roads within nearly 500 kilometres of Hallo Bay which is surrounded by nearly 17,000 square kilometres of the pristine wilderness of Katmai National Park. The beaches here are stunning but it is the superb coastal bear viewing for which the area is renowned.
Hallo Bay offers a diversity of food habitats and has one of the highest concentrations of bears in Alaska. From May to early July they are engaged in complex and fascinating mating behaviour, digging clams in the inter-tidal areas and grazing on the coastal sedges. In mid-July the first of the salmon arrive, providing a feast and a change in diet.
Bear viewing takes place on foot in groups of four or five guests, with experienced naturalist guides making the experience highly personal and informative, as well as safe.
Accommodation here is in simple weather-port tents but hot showers are available and plenty of hearty nutritious food is included. Guests should be reasonably fit and prepared for some wilderness walking to make the most of a stay in this exceptional place.
Salmon-fishing bears of Brooks Falls
Brooks Falls in Katmai National Park is world renowned for its large population of grizzly bears, attracted by the prolific numbers of salmon found in the Brooks River.
Special platforms overlooking the river offer guests superb independent bear viewing and park rangers are on hand to answer questions and ensure your safety.
Bears are typically seen from mid June until the end of the summer, apart from August when they forage for berries in the woods. They stand at the top of the falls to catch the leaping, spawning salmon whilst in September they gorge themselves on dead fish, fattening themselves up before winter hibernation.
Accommodation here is basic but the wildlife sightings are superb.
Speak to someone who's been there
Start planning your tailor-made trip by
calling one of our Alaska specialists on 01993 838 705
Nearby places
Nearby accommodation
Places & hotels on the map
Accommodation in Katmai National Park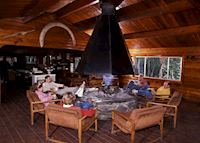 Brooks Lodge is located in the heart of Katmai National Park and offers simple, clean and comfortable accommodation. Up to 50 bears live in the region, making this one of the best grizzly bear viewing places in the world.
Activities in Katmai National Park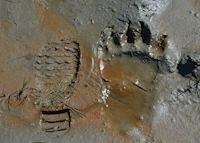 Begin with a scenic one and a half hour small plane flight over active volcanoes and glaciers to the east coast of Katmai National Park (this tour does NOT go to Brooks Falls).