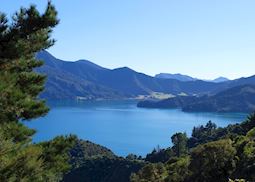 My favourite place is Wanaka in the Southern Alps, as it has so much to offer all year round.
During the summer months the town is bustling, with many lake front bars and restaurants to choose from, as well as a multitude of activities, whether it be a boat trip on the lake or day hike up to Rob Roy Glacier. Alternatively, during the winter months you can head out to the ski fields of nearby Cardona and Treblecone for a day on the snow, or you can try a stunning scenic flight through to Fiordland and beyond.
If heading to Queenstown from Wanaka, Cardrona Hotel is a firm favourite of mine for a quick stop as it offers a chance to step back in time to the New Zealand's Gold Rush period to see how things would have looked back in the day.