By USA specialist Bradley
Often when people think of California, their minds instantly go to the surf strips and art districts of Los Angeles. But for me, there's another destination that captures the classic laid-back, culture-loving atmosphere of the Golden State, just on a much smaller scale — Greater Palm Springs.
If next year's events calendar is anything to go by, 2024 is the year to visit. Within this oasis-like retreat, you could sample delicacies prepared by the country's best chefs at a tastebud-tickling food festival, anticipate the championship point at a world-class tennis tournament, or step into the most storied mid-century modern homes during a week-long celebration of architectural heritage.
Here are the events, experiences, and stays I'm most excited for in 2024.
Palm Springs International Film Festival: January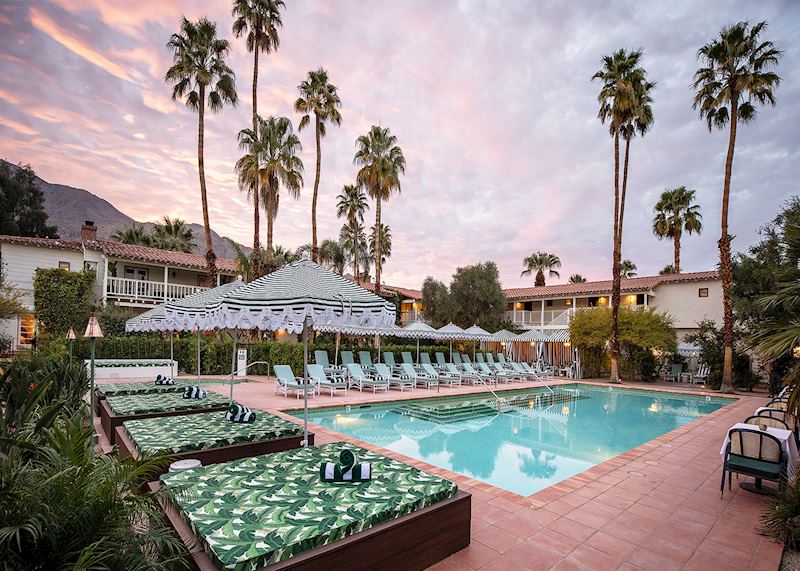 Back in the 1930s, Hollywood stars started hopping back and forth to Palm Springs to unwind amid their busy filming schedules. Offering feet-up luxury tucked far away from the crowds, the Greater Palm Springs area still beckons celebrities to this day. But, every January they come for a less secluded and more glitzy reason — the annual Palm Springs International Film Festival.
With unfurling red carpets, world film premieres, and detailed panel discussions, the festival attracts thousands of visitors from across the globe each year. If you're lucky enough to get tickets, you can attend the glittering gala awards ceremony and watch designer-clad stars take to the stage to give their speeches. Even if you don't secure a seat, there are still plenty of other events and screenings to enjoy throughout the week, including a vast array of new and celebrated world cinema.
Many of the big-name attendees will stay at the Parker Hotel, so room availability will be limited. But you can still live like a star for a few days by staying at the Colony Palms Hotel in Palm Spring's design district, which has an equally renowned past and present. Flickering fire pits, quirky flower-shaped pools, bold Art-Deco wallpaper, and a historic guest list that includes Marilyn Monroe, Rita Hayworth, and Frank Sinatra make this the ideal sanctuary for post-festival relaxation.
Modernism Week: February & October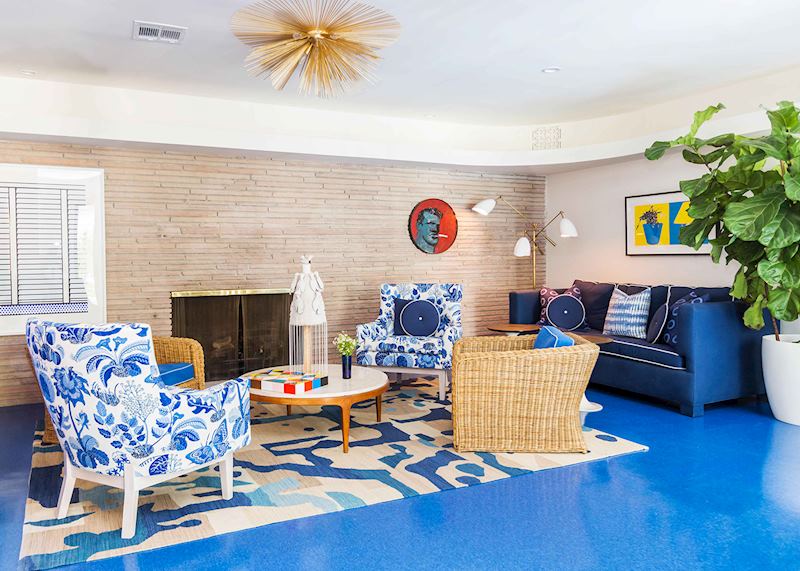 Floor-to-ceiling windows looking out over palm-fringed desert plains and mountain crags. Natural, earthy tones inviting the outside in. Angular butterfly roofs jutting out into azure skies. Greater Palm Springs has the largest concentration of mid-century modern homes in the world, and, every February, Modernism Week is dedicated to celebrating them.
During the 11-day event, residents of Palm Springs and its surrounding towns open up their homes to architecture and design devotees, so you can get a glimpse inside these pristine examples of desert modernism. In addition to guided house tours, you'll also be transported back to the glamour of Old Hollywood with cocktail parties, fashion shows, film showings, and vintage trailer exhibitions aplenty. And if February is too soon, there's also a 'mini-Modernism Week' in October with similar events spanning over four days.
Whichever month you choose to attend, there's one place in particular I recommend staying in — Holiday House. This boutique downtown hotel was originally designed by Herbert Burns, one of the architectural pioneers of Palm Springs' modernist style, and has recently been reimagined by interior designer Mark D. Sikes. Together — but seven decades apart — they've created a funky medley of old and new, maintaining the traditional low-rise skeleton of the building and adding bold contemporary patterns in an array of vibrant blues. It's mid-century modern with a whimsical twist.
BNP Paribas Open: March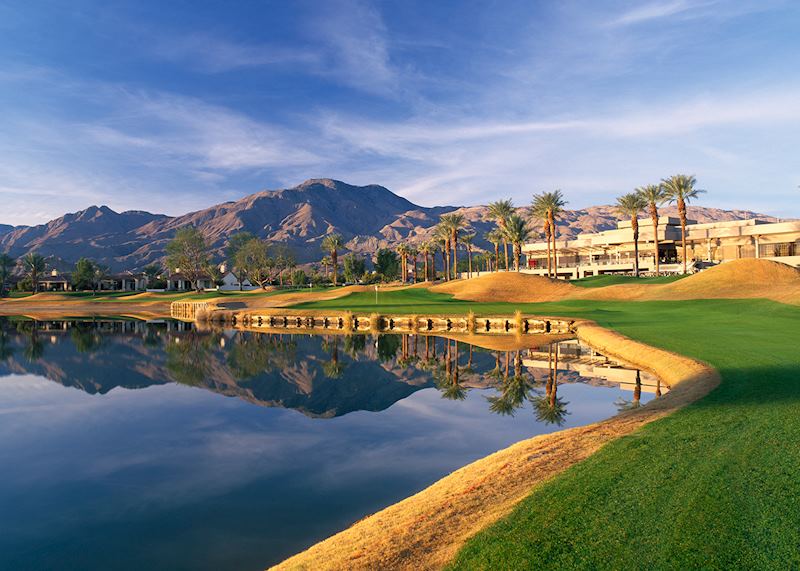 Often dubbed the 'fifth Grand Slam', the BNP Paribas Open is one of the largest tennis tournaments in the Americas, welcoming a host of international champions to its courts every March. This year saw Elena Rybakina and Carlos Alcaraz raise their trophies at Indian Wells Tennis Garden, while previous winners include Roger Federer, Serena Williams, Rafael Nadal, and Naomi Osaka.
You can get a snapshot of tennis action with single-day tickets, or watch every game, set, and match with a series package — though they're selling out quite quickly. In between nail-biting plays, you can sample a wealth of sizzling street food and snacks, such as Neapolitan-style pizza, American hot dogs, and dollops of handmade ice cream. There's also a selection of more upmarket restaurants, like Nobu (which is now open year-round), where you can keep an eye on the ball while tucking into chef-prepared dishes from a variety of international cuisines.
Afterwards, if you want to practise your serve on royal-blue sunken courts that have hosted the likes of Novak Djokovic and Maria Sharapova, I can arrange for you to stay at La Quinta Resort & Club. There are daily clinics during the BNP Paribas Open to help take your game up a notch, or you can skip class and rent a court for an hour or two instead.
Palm Desert Food & Wine Festival: March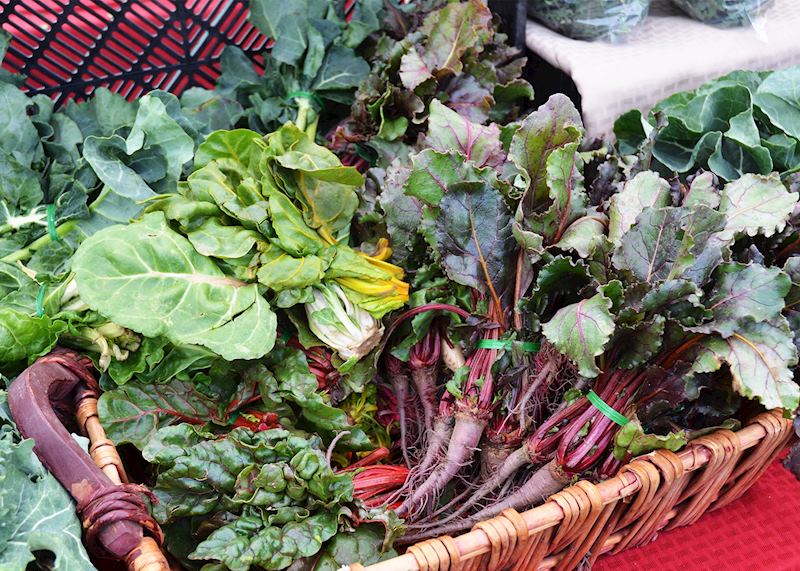 On my last trip to Palm Springs, one thing stood out to me the most: the abundance of oh-so-tempting restaurants. It seems like good food is a core part of the culture here, whether you like wholesome farm-to-table salad bowls or haute-cuisine French fare.
But if you want to take your foodie joy to the next level, I recommend visiting during the Palm Desert Food and Wine Festival in late March. Forget about the Hollywood stars because this one is all about the region's — and the county's — most renowned chefs, vintners, and brew masters coming together to prepare the finest food and drinks for you.
Sampling tasty morsels is, of course, the big draw, but you'll also get to go behind the scenes and see how the chefs meticulously craft their signature dishes. And for me, learning about the story behind the food only adds to the taste.
The festival takes place in the El Paseo shopping district in Palm Desert, which is home to some of the best restaurants and boutique shops in the region. But, if you want to explore the natural beauty of the area after you've sated your tastebuds, I suggest taking a trip to Joshua Tree National Park. It's nothing like the dense forested parks further north in California, but the vast desert plains sprinkled with spindly trees, sporadic rocks, and spiny cacti are certainly a feast for the eyes.
Holiday events: December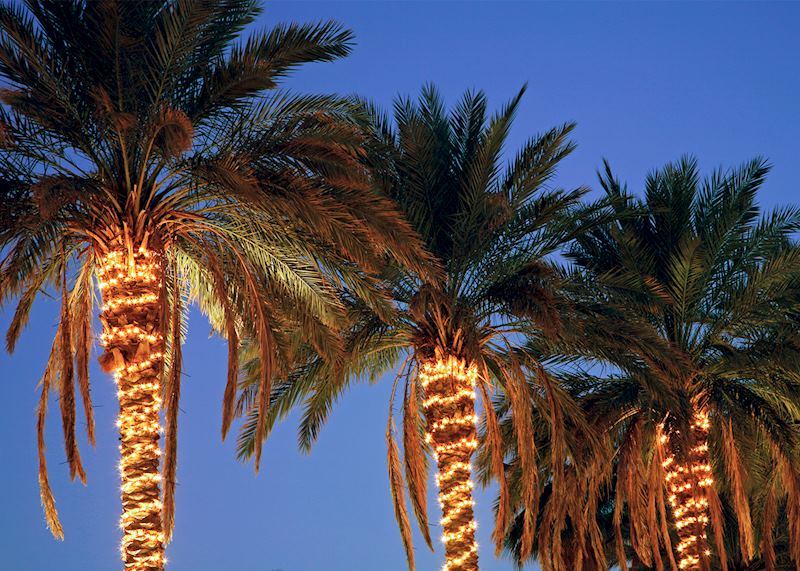 Balmy, cloud-free afternoons by the pool might not strike you as Christmassy, but in Greater Palm Springs, the holiday season is always sunny. What it lacks in snuggle-by-the-fire weather it more than makes up for in festivities. Think rows of palm trees dripping in sparkling lights, marching bands playing familiar tunes, and hotels decked out in festive finery.
Every year, there's a host of jovial performances throughout December, and while 2024's line-up hasn't been announced yet, there's typically an array of musical shows. From angelic choir concerts to soothing jazz renditions of the classics to celebrity guest charity performances, there's more than enough to bewitch you into that soothing, 'what day is it, anyway?' festive spirit.
I can also arrange for you to ride the aerial tramway up into the craggy cliffs of Chino Canyon and Mount San Jacinto State Park for glittering views of the city below. And, if luck is on your side, you may even get to experience a dusting of desert snow while you're there.
Get me there
Greater Palm Springs is around a two-hour drive from Los Angeles and around four hours from Las Vegas, so it's an ideal relaxation spot to break up your desert-to-coast road trip and soak in some of that easy-going culture along the way. Alternatively, include a visit as part of a road trip exploring California's culture and landscapes, shaped around your interests.