By USA specialist Alex
I've driven the 833 km (518 mile) section of the Pacific Coast Highway (Highway 1) between San Francisco and southern Los Angeles several times now, and it's still inspiring me.
Driving this route (always from north to south, so the coast's on the right side for making spontaneous stops to take photographs), you take in some of California's best scenery and attractions: quaint seaside towns, unspoiled sandy beaches and beautifully wild clifftop scenery.
You also have the option to extend the drive south along Highway 5 to San Diego — a place to relax on quiet beaches after the liveliness of LA.
Highlights of driving the Pacific Coast Highway
Start your journey from San Francisco

I recommend starting your journey in San Francisco, where three or four days can whizz by as you take in the sights of the unmistakable Golden Gate Bridge, Fisherman's Wharf with its sea lion colony at Pier 39, the marooned former prison of Alcatraz and the gaudy but charming streets of Chinatown.
Riding the traditional open-sided cable cars is an enjoyable way to see the city without having to walk up its many steep streets. Alternatively, hire a bicycle to visit the various districts and public parks and cycle over the Golden Gate Bridge to Sausalito for views of the entire city from across the Golden Gate Strait.
A property I like to stay in here is The Argonaut. Housed in a traditional red-brick building with nautical-themed interiors, its location in Fisherman's Wharf is close to ferries to Alcatraz and a wide range of dining options.
Drive from San Francisco to Monterey

The modest seaside town of Monterey is a two and a half hour drive from San Francisco along the Pacific Coast Highway. Here, former canneries have been restored and converted into smart shops and seaside restaurants.
The Monterey Bay Aquarium helps to conserve local marine life and educate the public about species including otters, sea lions and harbour seals. You can see animals such as African penguins and green sea turtles as well as the variety of fish.
Whale watching trips on Monterey Bay give you a chance to see migrating humpback whales between January and November, grey whales passing by from December to April, and blue whales from June to October. At any time of year you can see otters, sea lions, porpoises and dolphins.
InterContinental The Clement has stylish rooms and suites overlooking the bay. It's located on historic Cannery Row, home to shops, restaurants and the aquarium.
Monterey to Carmel on 17 Mile Drive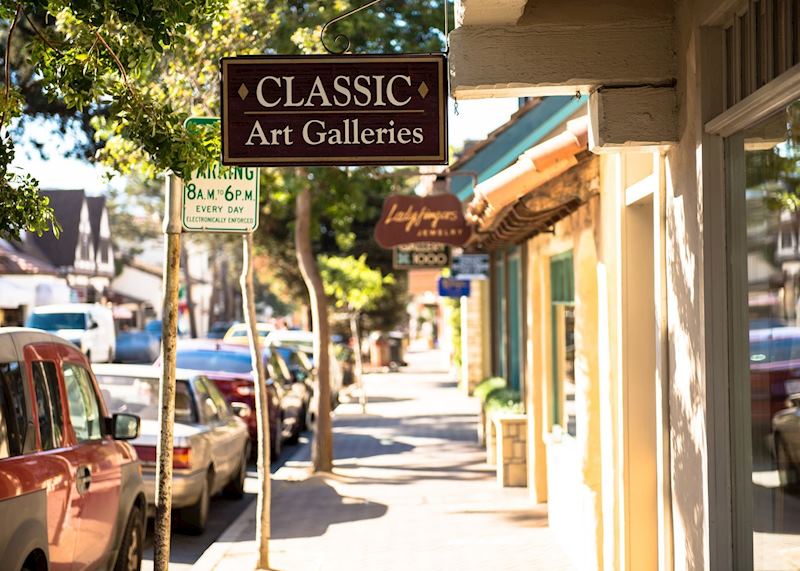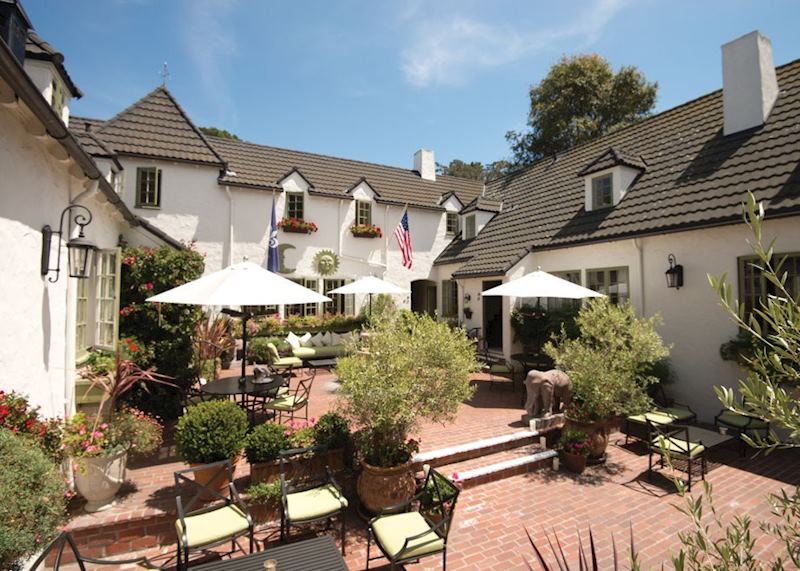 Just 20 minutes from Monterey is the upmarket town of Carmel. The two are connected by the scenic 17 Mile Drive, a private road taking you along the peninsula's coastline, past golf courses and wealthy gated communities.
Carmel has a bohemian feel. You can browse boutique shops and art galleries, walk along the white-sand beaches and visit farmers' markets to taste gourmet food from the locality.
L'Auberge Carmel is a historic hotel a short stroll from the main town and five minutes' walk to the nearest beach. I liked the personalised service here, along with the food served in its Michelin-starred restaurant.
Take the coastal road from Carmel to Big Sur

The next stretch of the journey is the most scenic, as you skirt the edge of California's rugged coastline. The ocean crashes against the rocks below you as the road winds its way through mountainous terrain. I felt the anticipation of the next incredible view at each turn of a corner.
Tunnels and bridges, such as the Bixby Creek Bridge, add to the drama, and there are a succession of stopping points where you can pull over for photographs and stand on the clifftop, feeling the blustery wind and seeing for miles out across the ocean.
Big Sur itself is a village community surrounded by woodland. I suggest stopping for a picnic in Pfeiffer Big Sur State Park. Here, you can follow walking trails through redwoods to waterfalls, looking out for wildlife such as deer, raccoons and belted kingfishers.
Big Sur to San Simeon and Morro Bay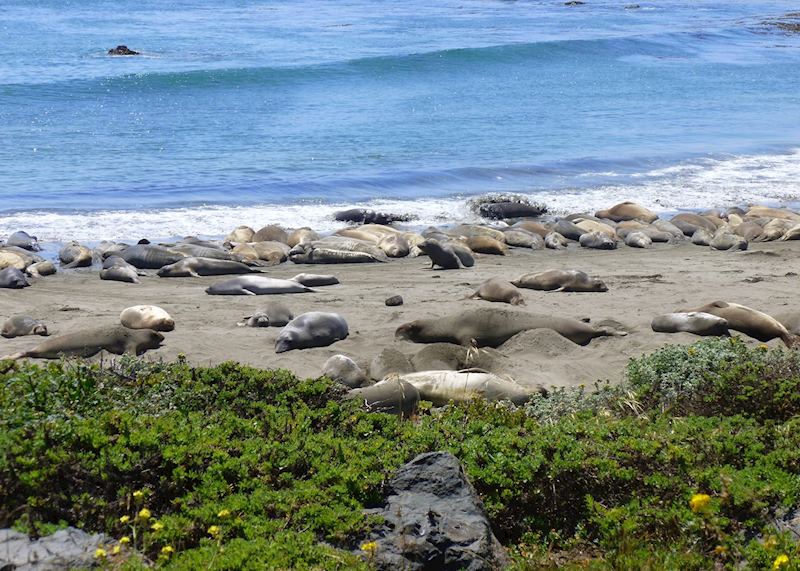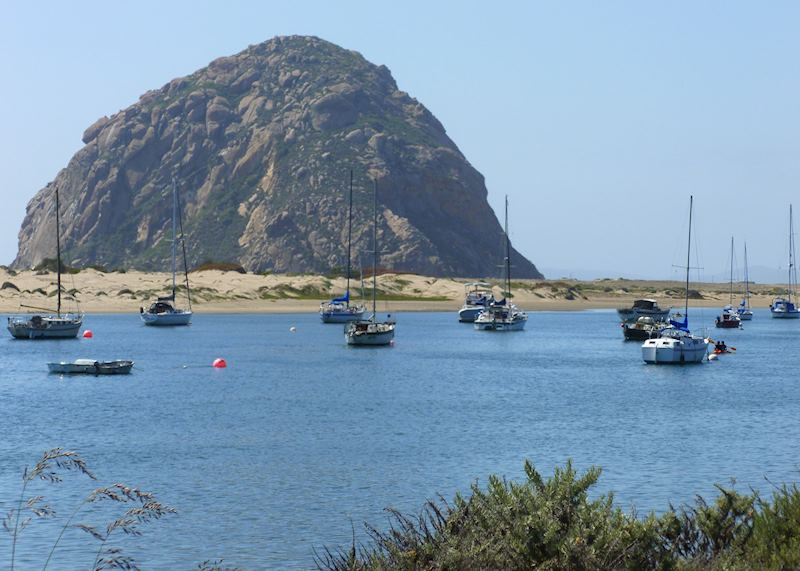 Over the next 150 km (93 miles), you'll notice the high rocky cliffs peter out, replaced by unspoiled sandy beaches.
Hearst Castle is set on a hillside just outside the town of San Simeon. This early 20th-century ocean-facing mansion was owned by newspaper magnate William Randolph Hearst, and you can take a tour of the house's grand interior and gardens.
Just before reaching San Simeon, you'll pass the Piedras Blancas Elephant Seal Rookery. From the car park you can look over a long sandy beach filled with hundreds of wild elephant seals basking in the sun.
Further along the coast, Morro Bay's waterfront is lined with shops and cafés. Located on an inlet, its sheltered waters are ideal for kayaking and paddleboarding.
The Inn at Morro Bay is on the water's edge and surrounded by woodland. Its restaurant offers fresh seafood, local wines and ocean views.
Explore San Luis Obispo and Pismo Beach

A little inland of Morro Bay, the town of San Luis Obispo is one of California's oldest settlements. Founded by the Spanish, you can still see some of its historic buildings, including the Spanish mission of San Luis Obispo de Tolosa, established in 1772.
The town also lies in the heart of central California's wine production region, and some of the local wineries run tasting sessions and talks.
Further south is Pismo Beach, a typical southern Californian seaside town with a down-to-earth atmosphere, crab-shack-style restaurants and surf culture. It has miles of quiet sandy beaches.
At the nearby Oceano Dunes State Park, you can enjoy buggy rides through the dunes and look for birdlife such as long-billed marsh wrens, American kestrels and red-tailed hawks.
Seacrest Oceanfront Hotel has direct access to the beach and a heated pool overlooking the ocean. The town's shops and restaurants are a short walk away.
Travel from Pismo Beach to Santa Barbara

Following the highway for another two hours, you'll arrive in historic Santa Barbara. Many wealthy Los Angeles residents weekend at the town, whose whitewashed buildings house designer shops and one-off boutiques.
High on a hillside in the town's northern outskirts is the 18th-century Santa Barbara Mission (a religious outpost established by Spanish Catholics to spread Christianity among local Native Americans), which is open to visitors and still in use today.
Downtown, El Presidio de Santa Barbara Historic Park holds the region's last Spanish fortress. Two of its adobe buildings still stand, and there are exhibits about its history.
One of the best things I discovered in Santa Barbara was the urban wine trail. Around 30 different wineries across the town stock locally produced wines and, armed with a map, you can walk or cycle between them to sample their produce.
Just north of Santa Barbara, Los Padres National Forest is a mountainous landscape scattered with walking trails. Mule deer, coyotes, raccoons and birdlife can be spotted among the pine trees.
Canary Hotel, in the downtown area, is a 20-minute walk to the beach. It has a rooftop lounge for cocktails and views over the town.
Explore Los Angeles

The two-hour drive from Santa Barbara to LA sees you pass through the coastal city of Malibu, where celebrities' mansions dot the hillside, and the lively beachside town of Santa Monica, whose pier is lined with amusement arcades and fairground rides.
The Pacific Coast Highway traces the coast as closely as possible around the edge of Los Angeles, America's second largest city. LA's vast size may seem daunting, but if you plan what you want to see and do, it can be a really rewarding place to visit. Most head to the Hollywood area and its movie-related attractions. North of the Hollywood Hills is Universal Studios, which I definitely recommend visiting if you're interested in film and want the experience of walking onto a working film set and seeing props from movies you've watched.
The Loews Hollywood Hotel has a great location within walking distance of the Hollywood Walk of Fame, Grauman's Chinese Theatre and the Dolby Theatre. Many of its rooms have views of the Hollywood sign and the LA skyline, and there's a large outdoor heated pool to relax in after a day of taking in Hollywood's sights.
Relax at nearby Huntington, Newport & Laguna Beach

As the Pacific Coast Highway breaks free of LA, you reach the laid-back beach community of Huntington Beach, which makes a great alternative to pricier Santa Monica. Its streets are lined with surf shops and camper vans, and the beach is well-used by the locals. You can spend time here playing beach volleyball, surfing and swimming, fishing and browsing the farmers' markets.
Newport Beach is a little further along the coastline, where plush yachts owned by the rich and famous are moored in the marina. Take a stroll along Balboa Pier with its Ferris wheel and arcades. Or try paddleboarding in Newport Bay's sheltered waters.
A few miles further, Laguna Beach has a large artist community and a really relaxed ambience. Browse its art galleries and, from late June to late August, visit the annual Sawdust Art & Craft Festival. The nearby Laguna Coast Wilderness Park has lots of scenic walking trails, taking you through woodland and along the cliff tops.
The Hyatt Regency Huntington Beach Resort & Spa is just across the road from the beach. It has a large pool and offers bicycle and surfboard rentals.
San Diego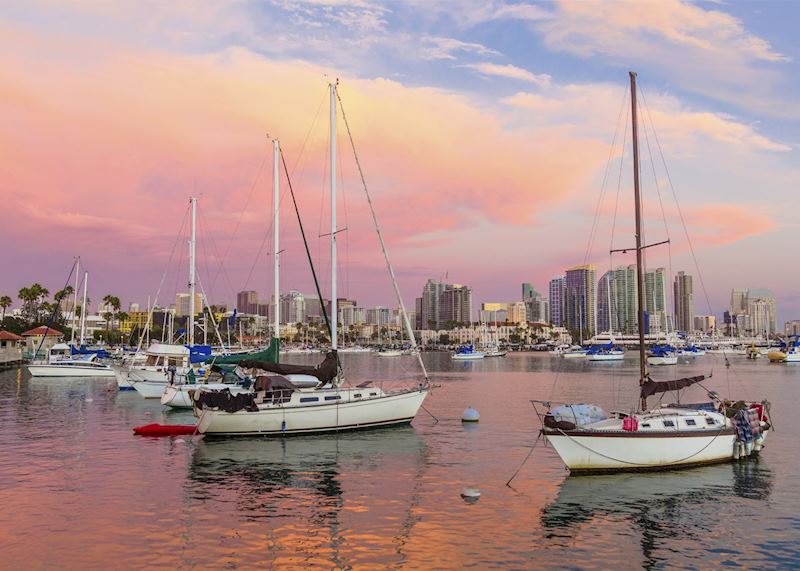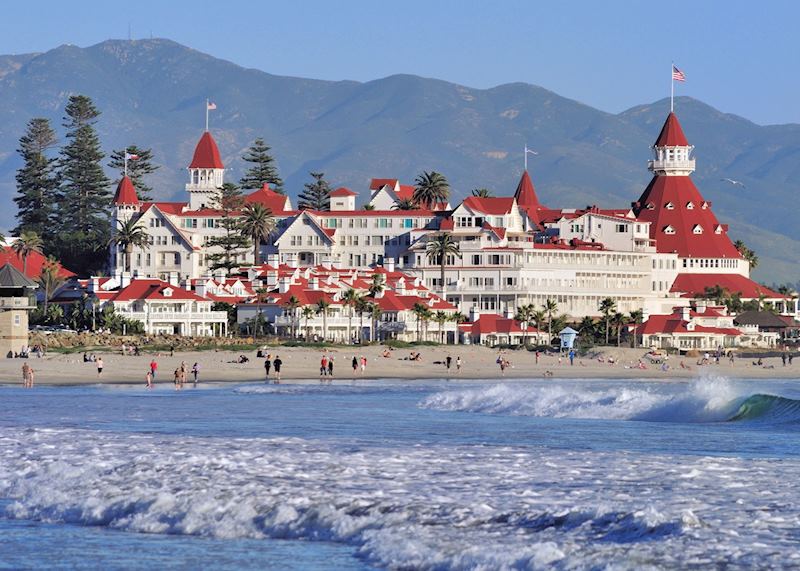 The Pacific Coast Highway ends just past the Orange County city of Dana Point in southern LA, but you can merge onto Highway 5 to continue your journey south to San Diego.
Far removed from the busy streets of LA, San Diego is a city of quiet beaches, with a diverse mix of cuisines and the San Diego Zoo, which has a large focus on conservation and educating the public about its wildlife.
The trendy Gaslamp District has a lively atmosphere and a variety of bars and restaurants, while the relaxed Pacific Beach area has a 4.8 km (3 mile) boardwalk where you can cycle or stroll along the oceanfront.
I attended a local San Diego Padres baseball game. The atmosphere was fantastic, and I joined in with the crowd as they chanted, sang and ate nachos.
Across the bay from downtown San Diego, Hotel del Coronado is an historic property dating back to the late 19th century. It's set right on the edge of a white-sand beach, offering water sports rentals, a spa and a large pool.
When to drive the Pacific Coast Highway
Practicalities of driving the Pacific Coast Highway
It's best to travel from north to south as you'll be on the right side of the road for uninterrupted views and to pull over to take photographs.
Parking in cities can be expensive. It's better to leave your rental vehicle and use public transport.
Plan in plenty of stops along the way. I recommend staying overnight in at least three different places along the coast.
A minimum of two weeks will allow you to appreciate this region fully.
Start planning your self-drive along California's Pacific Coast Highway

Start thinking about your experience. These itineraries are simply suggestions for how you could enjoy some of the same experiences as our specialists. They're just for inspiration, because your trip will be created around your particular tastes.
View All Tours in California