The best time to visit Botswana is during the dry season, which falls between May and October. Temperatures range between 22°C and 35°C, so you'll enjoy warm, sunny days — just remember the nights can get much cooler, so pack accordingly.
Water levels in the Okavango Delta are at their highest during the dry season, creating the waterways and channels Botswana is famed for.
Botswana's green season lasts from November to April. The rain makes the scenery pop with verdant foliage and you may spot animals giving birth to their young, so it's still a great time to travel (if you don't mind the odd rain shower). Visitor numbers and prices are lower too.
Creating tailor-made tours for over 25 years

Excellent
TrustScore

4.7 | 3351 reviews

Month-by-month guide for traveling in Botswana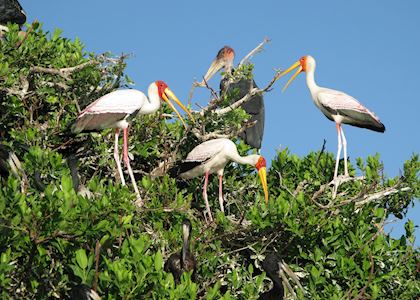 Visiting Botswana in January
January is hot, with long sunny spells punctuated by short, tempestuous thunderstorms when it can be a good idea to settle back under canvas with a drink to watch the lightning illuminate the sky. This time of year sees migratory birds breeding and the young of the grazers growing quickly on the lush grass, giving predators the runaround.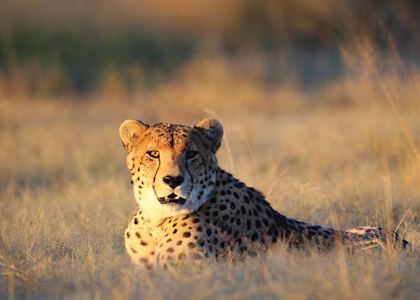 Visiting Botswana in February
The mercury can soar, with continued sunshine and dramatic storms that make for photogenic skies. The Central Kalahari starts to come to life, with the grasslands enticing plains game. Ripening fruit sees many different species congregate around the trees in search of a sweet meal.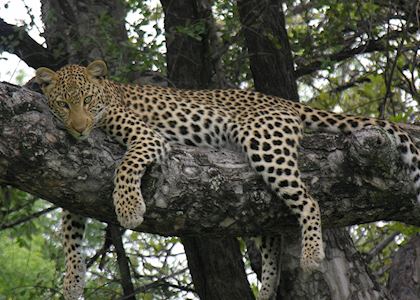 Visiting Botswana in March
The rains start to ease off, and very hot, drier days and nights are the rule in March.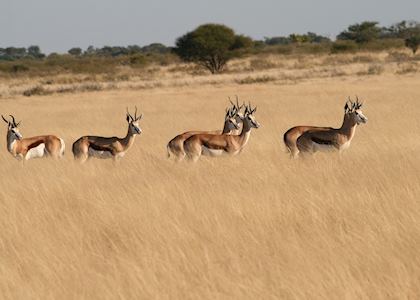 Visiting Botswana in April
While days continue to be hot and sunny, the nights start to get cooler in April, making sleeping more comfortable while still allowing plenty of scope for sitting outside in the evenings with a sundowner. Breeding season for antelope is underway, and the males are busy butting heads and strutting around as they strive to impress the females.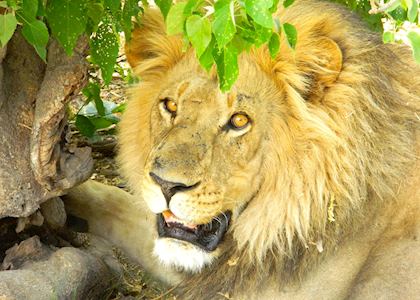 Visiting Botswana in May
The end of the rains sees the mercury start to fall, and days are no longer quite as furnace-like. Evenings can be cool, so it's a good idea to pack a jacket for night safaris.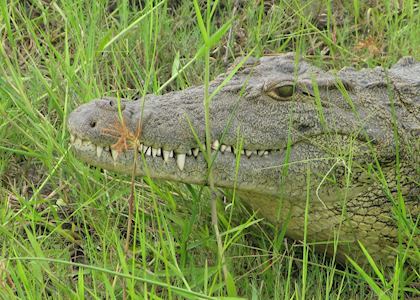 Visiting Botswana in June
Midwinter in Botswana is nothing like it might be in the higher latitudes of the Northern Hemisphere, so you can expect beautifully warm days without being sweltering, and only the nights approach anything close to freezing. The shrinking waterholes are the focus for both prey and predators alike, making game easy to spot.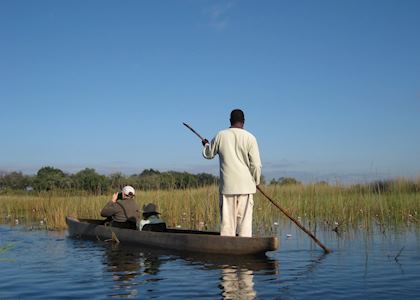 Visiting Botswana in July
Warmer days abound, although early mornings and evenings are still chilly. Despite it now being the dry season, the floodwaters begin to rise as the water filters through from the central uplands of Angola. This is a rewarding time to get out on the water in a mokoro as the channels fill up and you can reach further day-by-day.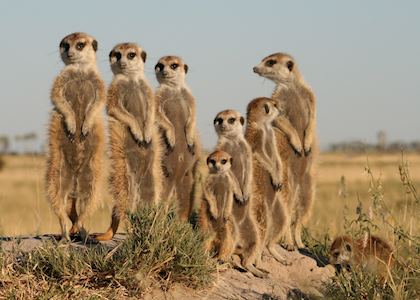 Visiting Botswana in August
Botswana starts to heat up again and it is unusual to experience a night-time frost at this time of year, while days can be very hot.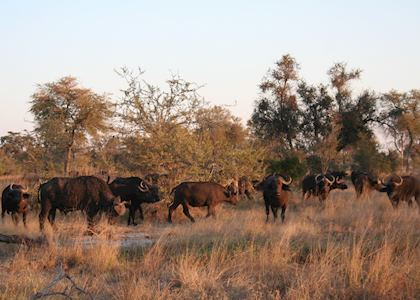 Visiting Botswana in September
You can expect sparkling blue skies, bright sunshine and hot temperatures during the day, with the evenings becoming balmy. The ground is dusty as the rains recede into distant memory, and the plains game face a constant battle for survival as they are harried by predators.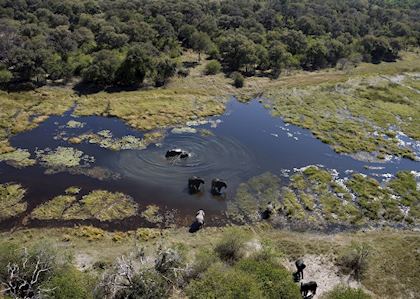 Visiting Botswana in October
The heat increases in October, and activities are timed to avoid the middle part of the day when the thermometer can show above 100°F. The annual catfish run sees countless numbers of them migrating upstream to avoid falling water levels, devouring smaller fish as they go.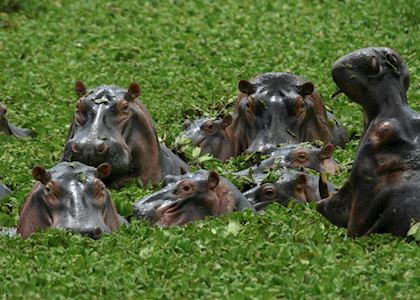 Visiting Botswana in November
It is hot around the clock, and for the first part of the month the land is usually dry and dusty, until the rains come to soak up the dust and bring greenery back to the landscape. Plenty of young are born in this period, and are consequently picked off by the attendant predators.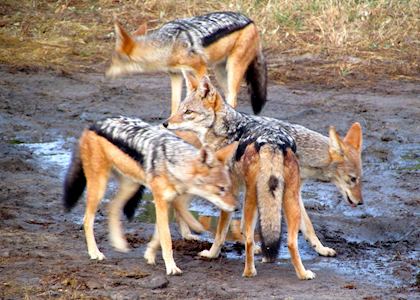 Visiting Botswana in December
Thunderstorms return to Botswana and bursts of rain nourish the grass, which in turn allow the newborns to gain weight quickly and stand a fighting chance against the predators.
Botswana Climate Guide
Destination
Jan
Feb
Mar
Apr
May
Jun
Jul
Aug
Sep
Oct
Nov
Dec
Central Kalahari

32°C

94mm

31°C

68mm

31°C

51mm

29°C

28mm

27°C

5mm

24°C

1mm

24°C

0mm

27°C

1mm

31°C

5mm

34°C

19mm

33°C

44mm

32°C

65mm

Chobe National Park

31°C

128mm

31°C

110mm

31°C

67mm

30°C

18mm

28°C

2mm

25°C

0mm

26°C

0mm

29°C

0mm

33°C

1mm

35°C

25mm

33°C

42mm

31°C

101mm

Gaborone

32°C

85mm

32°C

79mm

30°C

61mm

27°C

33mm

24°C

11mm

22°C

4mm

22°C

4mm

25°C

4mm

29°C

12mm

31°C

37mm

31°C

58mm

32°C

72mm

Makgadikgadi Pans, Kalahari

31°C

76mm

31°C

79mm

30°C

44mm

29°C

22mm

27°C

1mm

24°C

0mm

24°C

0mm

27°C

0mm

31°C

4mm

33°C

21mm

32°C

44mm

31°C

62mm

Maun

32°C

109mm

31°C

102mm

32°C

61mm

30°C

26mm

28°C

5mm

25°C

1mm

25°C

0mm

28°C

0mm

32°C

4mm

35°C

19mm

33°C

47mm

32°C

84mm

The Okavango Delta

32°C

106mm

31°C

105mm

31°C

59mm

30°C

25mm

28°C

1mm

25°C

1mm

25°C

0mm

28°C

0mm

32°C

4mm

35°C

21mm

33°C

50mm

32°C

84mm
More choice for your safari
Inspiration across all our African destinations
Trip suggestions based on your interests
Advice on where to safari, when
Meet our team of safari experts
Request our brochure
Covering all seven continents, The world your way shows you how you can see the world with us. It features trip ideas from our specialists alongside hand-picked stays and experiences, and introduces our approach to creating meaningful travel experiences.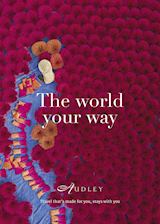 Trip ideas and travel guides for exploring Botswana