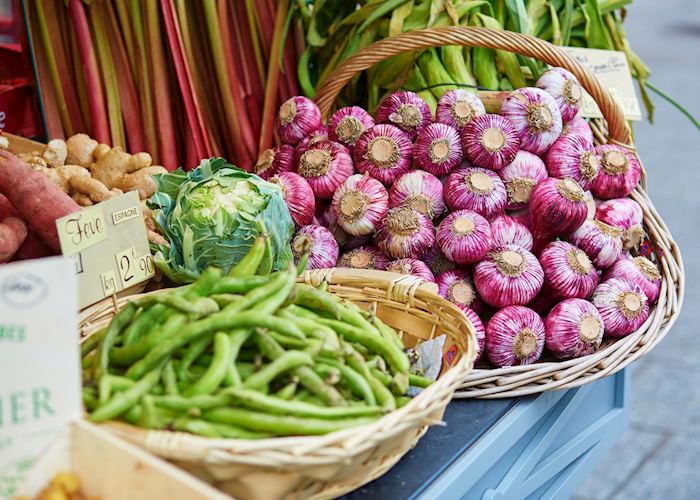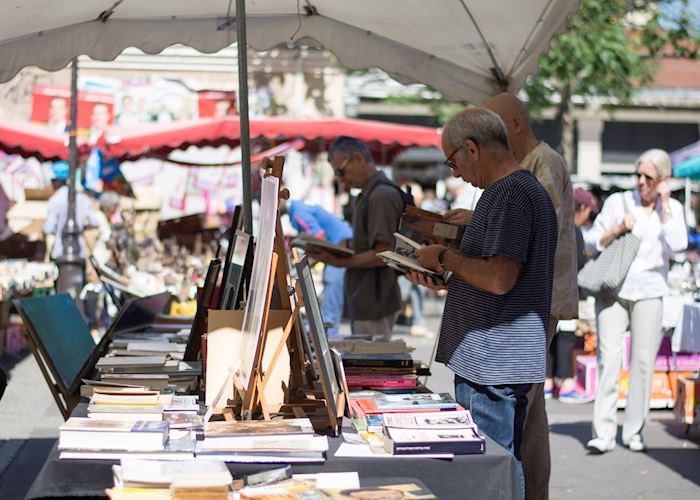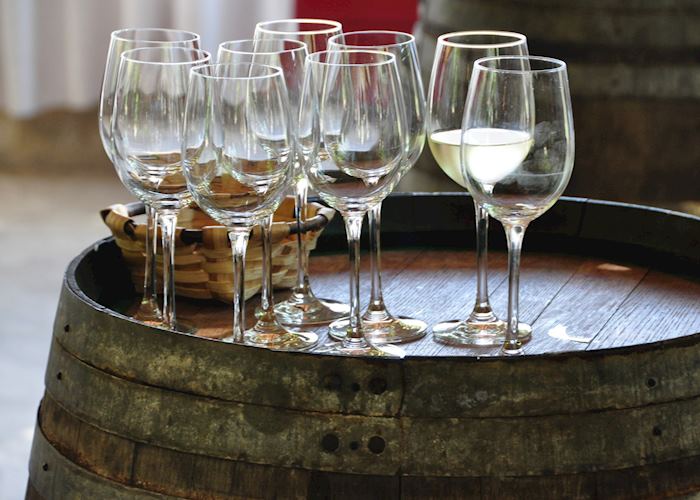 Aligre market tour with wine and cheese tasting
Explore a Paris food market like a local on this engaging two-hour tour of the Marché d'Aligre, an authentic local market in Paris's 12th arrondissement (district) in the east of the city. It's a vibrant yet small market frequented primarily by locals who come here to buy their daily produce, fresh vegetables, cheese, fish and meat.
By exploring with a knowledgeable local guide you can begin to see the market through Parisian eyes, learning about the fundamental importance of food in French culture and the best ways to choose the ripest picnic ingredients.
Your private guide will take you around the market's two main sections. The covered market is set around an old fountain and features mostly French and Italian food stalls selling all types of fish, meat, game and dairy products, along with craft beers, cheeses and cut flowers. Outside, the fruit sellers loudly announce their wares alongside antique dealers and flea market stalls, North African food stores and shops slung with dried meats and fresh herbs.
Next, your guide takes you around a selection of the stalls, introducing you to stall holders and grocers who've been selling their produce here year after year. You then make your way to the open-air part of the market, where you'll find tables full of the reddest of strawberries, the greenest of lettuce, and an array of spices and nuts. The delicatessens are also worth a pause to see rows of prepared dishes that beg to be taken home or enjoyed on a picnic overlooking the Seine River.
As you meander through the market with your guide, you'll sample a few of the products and buy some cheese to enjoy during your wine tasting. You'll also begin to understand the importance of food in the French cultural experience as you discuss how typical Parisians shop, the influence of North African immigrants and their food traditions, and the French diet and gastronomy.
The market remains well off the tourist path and feels reassuringly local. You'll learn about the provenance of food on the stalls you visit, how to choose the ripest of fruit or cheese, how to pair your cheese with wine or simply how to respond to the persuasive cries of the stall holders.
Your tour finishes with a wine-and-cheese tasting in a local cafe, where you can enjoy the fine produce bought at local stalls paired with a selection of wines chosen by you with the help of your guide. After your tour, you're free to wander the market under your own steam, discover more of Paris at leisure or return to your hotel, aided by your guide or by car.
Speak to someone
who's been there

Start planning your tailor-made trip by contacting one of our France specialists
Photos of Aligre market tour with wine and cheese tasting