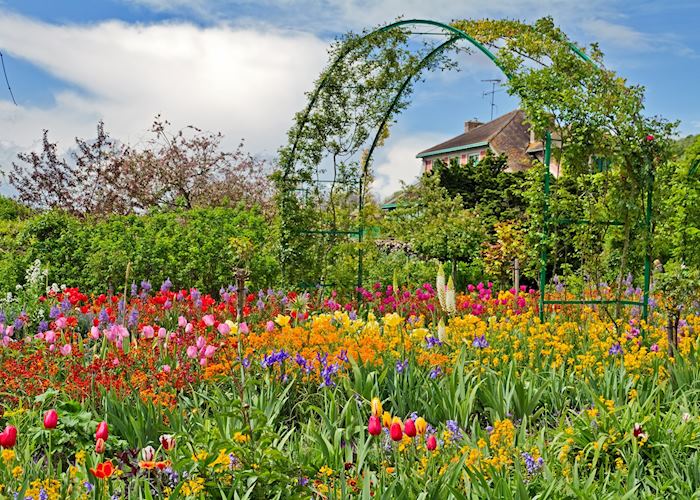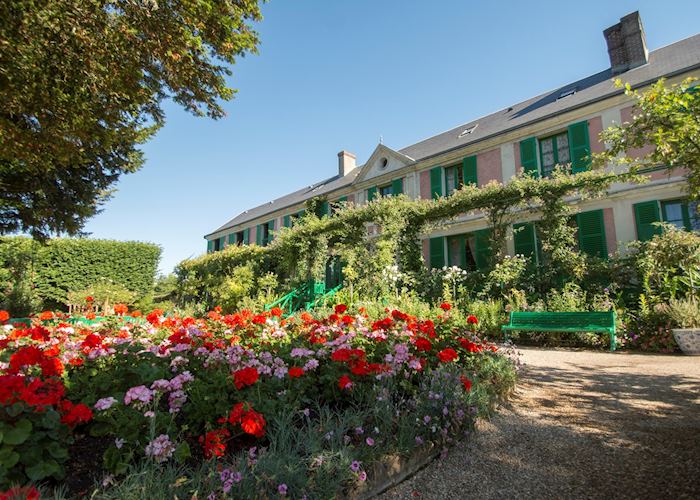 Claude Monet's house and gardens at Giverny
Impressionist artist Claude Monet spent the last 43 years of his life living in a rambling old house on the outskirts of Giverny, a small rural town north of Paris. He worked tirelessly to improve the gardens here, surrounding the house with wisteria and azaleas, a Japanese bridge, water ponds and formal gardens.
Today, the pastel-pink house, his studio and his beloved gardens are kept just as he left them and offer a captivating insight into the artist and his life. This private half-day tour with an expert guide brings the property and Monet himself to life once again.
Your driver will pick you up at your hotel in Paris for the hour-and-a-half drive to Giverny. Monet is said to have noticed Giverny from a passing train and vowed to live there. First renting and then buying the house, improving and then expanding the gardens, he made Giverny central to his very existence. He lived here from 1883 until 1926, painting numerous works in the gardens, receiving guests, mentoring artists and making Giverny the hub of a whole art movement.
Your private guide will give you some background details on Monet and his work before entering the house. In order to keep the numerous visitors moving and to keep the house as quiet as possible, guides can't give commentary inside. Once out in the gardens, your guide can elaborate on any questions you may have.
The house has been kept more or less as it was when Monet lived here, with pictures of his family, his children and his wife, Alice, scattered throughout. You can see the family bedrooms and kitchen as well as the studio-sitting room in which he worked.
Although Monet once had a vast collection of paintings that he acquired from his peers Cézanne, Caillebotte and Renoir, the originals are now mainly housed in the Musée d'Orsay in Paris. However, you can still see excellent replicas in Giverny, along with Monet's impressive collection of Japanese prints.
The gardens that surround the house, although small, are the inspiration for some of Monet's most famous artworks and can seem surprisingly familiar to visitors. The Clos Normand, the enclosed walled garden with its overflowing flowerbeds, rose-lined pathways and cherry and Japanese apricot trees, was carefully planned to reflect Monet's pictorial esthetics.
Monet expanded the original garden and diverted the nearby River Epte to create his Water Garden, where he painted numerous works that depicted his wisteria-clad Japanese bridge and the water lilies below. The play of light and reflection of clouds had always fascinated Monet but here, right outside his back door, he could work with its very structure, planting bamboo, maples, weeping willows and water lilies to create his ideal garden and muse.
Monet's house and gardens at Giverny are an understandably popular destination and can get very crowded so although this is a very rewarding and incredibly beautiful place, it is also far from tranquil.
At the end of the tour your driver will take you back to your hotel in Paris.
Speak to someone
who's been there

Start planning your tailor-made trip by contacting one of our France specialists
Photos of Claude Monet's house and gardens at Giverny