A hazy-green tinge, a strobe of pink light or a dancing ribbon of vivid purple: the aurora borealis is one of nature's most captivating spectacles. Positioned on the edge of the Arctic Circle, Iceland is one of the best places on the planet to see the northern lights.
It's also one of the most accessible places to encounter them: once there, you don't need to journey to remote pockets of the country, because the lights can potentially be seen anywhere. Visibility is best outside of towns and cities, but these are few and far between.
While a lot of northern lights viewing is down to sheer luck, we've answered common questions that might boost your chances of witnessing the phenomenon.
What are the northern lights?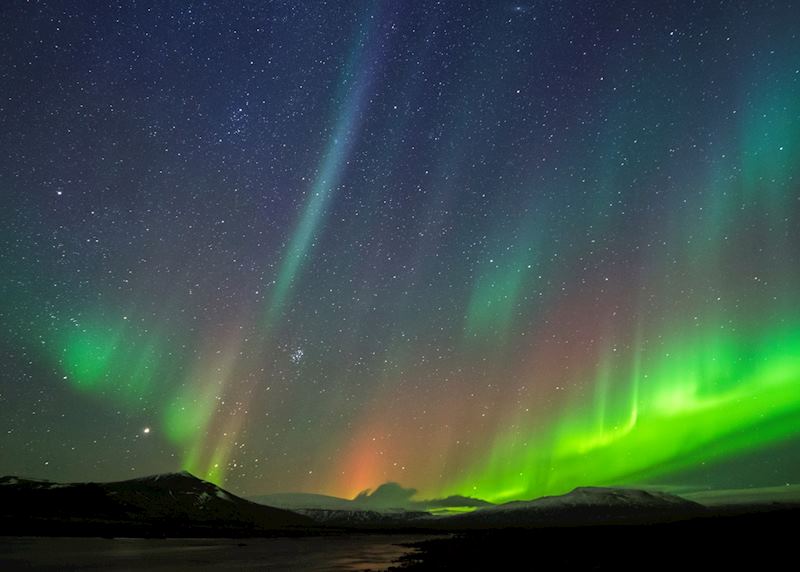 The northern lights are a result of electrically charged particles from solar wind colliding with gas molecules in the Earth's magnetosphere. They're most likely to appear greenish-yellow, but can also be blue, red, violet or pink. Their form also changes — you might see just a hazy green-tinged cloud, but it's also possible to see more impressive vivid arches, pulsating streamers or rippling ribbons.
Your sighting(s) of the northern lights might not be as spectacular as the images of the aurora you might have seen prior to your trip. Cameras tend to pick up on the lights better than the naked eye. That said, there's something captivating about gazing skywards and seeing natural forces beyond our control at work.
You can find out more about the northern lights and how they work at Aurora Reykjavík: The Northern Lights Center. The museum has interactive exhibits that tell you about how the aurora is formed, the myths and legends surrounding the lights and how to best photograph the phenomenon. You can also see auroral displays captured around Iceland in the 4K theater.
How can I see the northern lights in Iceland?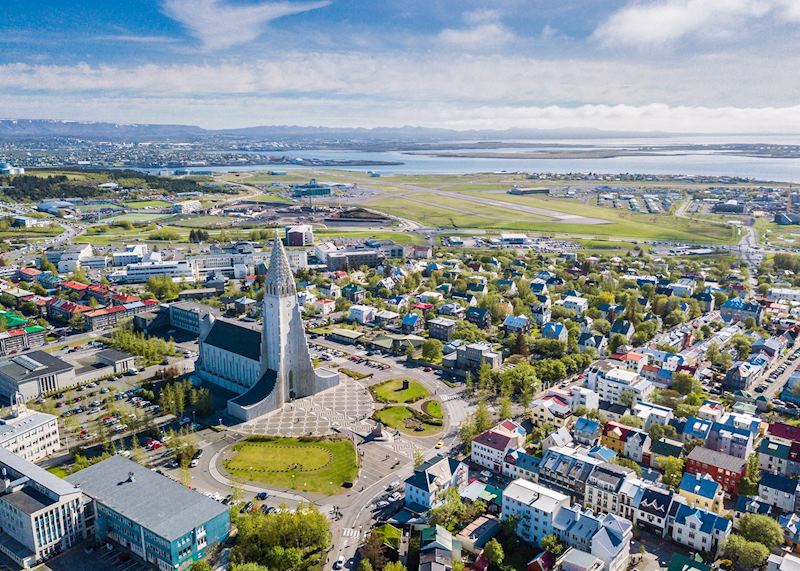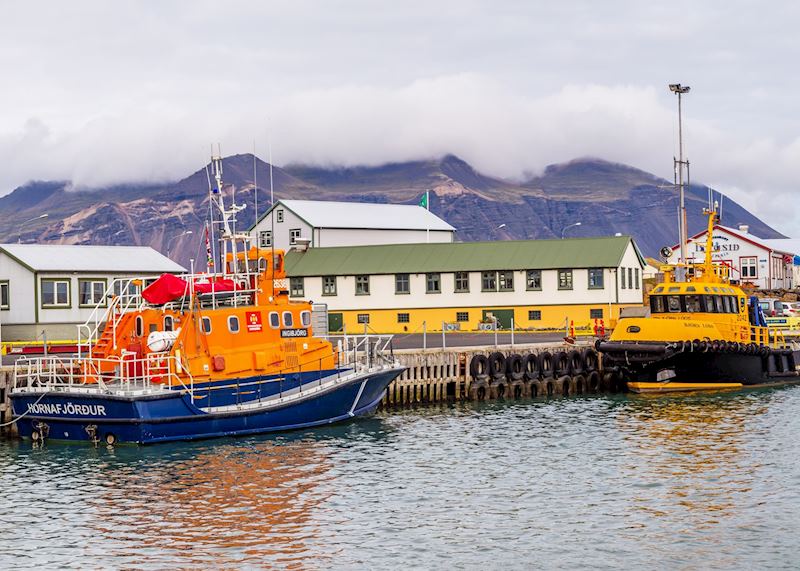 If you're lucky, viewing the northern lights can be as effortless as simply looking up, particularly during winter months when darkness lasts up to 20 hours a day. That said, the lights can't be controlled and their appearance is never a given. To increase your chances, though, you could join a dedicated tour led by a local guide.
Departing from Reykjavík or Akureyri on an evening where the chances of activity are high, you're driven out to a more rural location where the night skies are completely unimpeded by light pollution. Once out in the barren volcanic landscape that surrounds the capital, your guide will continue to drive around until the lights come into view.
You'll then pile outside, wrapped in plenty of layers and with a cup of hot chocolate in hand, to gaze skywards. Your guide will explain a little about what causes the phenomenon. If you want to capture the display on camera, we recommend using a low shutter speed, a high ISO, a wide aperture and a tripod to keep your camera steady.
It's best to arrange a tour for the start of your trip. That way, if you fail to see the northern lights on your tour or if your tour is canceled due to poor conditions, you can arrange a second trip free of charge.
Where should I stay in Iceland to see the northern lights?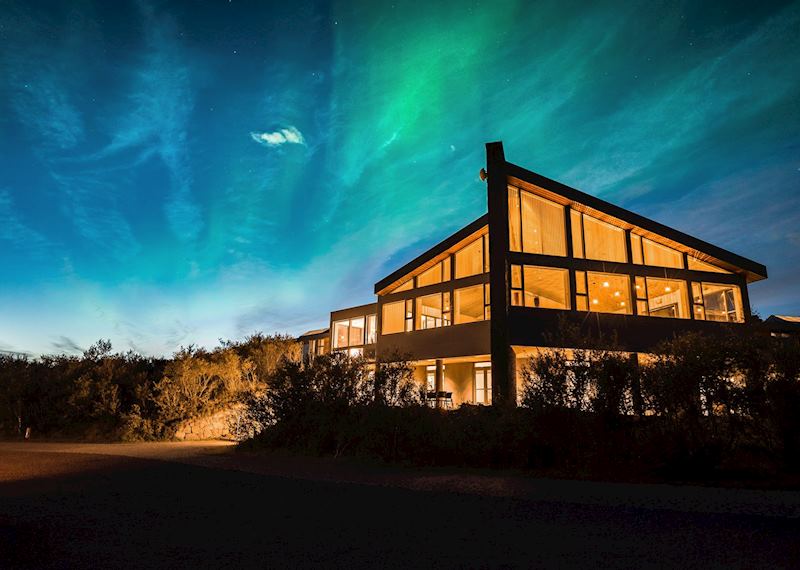 Many Icelanders are so used to seeing the northern lights that they can seem almost blasé about them. But, hotels around the country acknowledge their significance. Because the lights can show up wherever you stay on the island, there aren't any properties specifically dedicated to northern lights viewing. But, most have facilities and procedures in place to help guests get the most out of their experience.
During your stay, you can often arrange northern lights wake-up calls, so you're always alerted if any activity occurs overnight. Some properties also have dedicated viewing decks, or you could choose to stay at a hotel with naturally heated hot tubs so you can watch the lights as you soak.
Hotel Rangá, situated just off the main ring road in South Iceland, is well set up for northern lights viewing. Everyone at the property seems invested in giving you the best chance of seeing the aurora during your stay. Wake-up calls can be arranged for any overnight occurrences, but you could even be alerted to their presence while having dinner (the kitchen staff will keep your food warm while you head out to see them).
Blankets and hot drinks are handed out and you can sit back in one of the hotel's reclining benches, which have been specially designed for northern lights viewing. Even if the lights aren't showing, it's a great spot for stargazing, and you can borrow the hotel's telescope for closer inspection.
Elsewhere, Hotel Húsafell's remote location in West Iceland lends itself to clear displays if conditions are right — opt for a suite so you can watch the lights from your own private terrace.
When is the best time to see the northern lights?
As long as you're visiting between mid-September and mid-March and are blessed with clear skies, your chances of witnessing the aurora are high, though still never guaranteed. The lights also rely on solar wind activity, which can be difficult to predict. It's worth downloading one of the many apps available that provide a northern lights forecast, so you know which nights are worth staying up for.
What else can I do in Iceland in winter?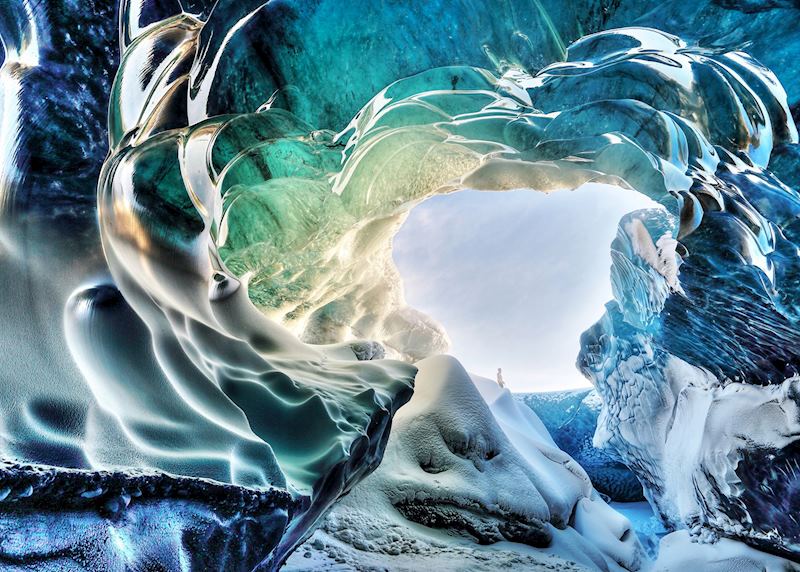 Even if luck isn't on your side when it comes to seeing the northern lights, there's still plenty to do during Iceland's winter months. You could follow a tunnel through the interior of Langjökull, Iceland's second-largest glacier, which even has a chapel carved into the ice. Or, go snowmobiling on the glacier's surface, taking in views of distant mountain peaks.
Another option is to hike through ice caves or lava tubes, led by guides who can explain their formation. It's also still possible to go whale watching, with orcas present off the Snæfellsnes Peninsula between December and March.
We particularly like the winter months for the long twilight you experience each day, which makes for great photography as the sun hovers on the horizon.
Then, of course, there are Iceland's geothermal baths. Treat yourself to a sumptuous four-hour soak in the Blue Lagoon's exclusive area, The Retreat. Here, the steaming milky-blue water sees far fewer visitors than the main lagoon, and you have access to a full body treatment of natural scrubs, volcanic mud masks and algae-based products.
A worthy alternative is GeoSea in the northern town of Húsavík. Its naturally heated infinity pools give you uninterrupted views over Skjálfandi Bay's mountain-framed water. And, because the baths stay open late, you might have views of the northern lights from the pool.
For something slightly different, head to Bjórböðin Spa. Its wooden bathtubs are filled with beer, water, hops and yeast which help to cleanse and reinvigorate your skin.

Our top six tips for viewing the northern lights:
Be patient and flexible: the northern lights are never guaranteed to show.
Check the forecast for aurora activity and cloud coverage regularly and download a northern lights app on your phone. We also recommend checking the Icelandic Met Office website.
If you're taking a guided northern lights tour, arrange this for the beginning of your trip so there's space to rearrange if the tour doesn't go ahead.
A DSLR camera is best for capturing the northern lights. It's important your camera is kept still to prevent photographs being blurred, so we recommend using a tripod.
Ask your hotel for a northern lights wake-up call.
Spend time outside of Reykjavík and other towns to take advantage of Iceland's dark skies.
Read more about trips to Iceland

Start thinking about your experience. These itineraries are simply suggestions for how you could enjoy some of the same experiences as our specialists. They're just for inspiration, because your trip will be created around your particular tastes.
View All Tours in Iceland