By Iceland specialist Katy
The sheer variety of activities you can do in Iceland might take you by surprise. For example, one day I was snowmobiling across the surface of a glacier, the next I was watching puffins from a windswept headland. You could find yourself taking daily soaks in geothermal pools, or dining on freshly caught cod or Arctic char.
Your trip to Iceland can be completely different depending on the season. Long days of sunlight in summer (June to August) allow you to spend time in the great outdoors, hiking, horseback riding and strolling along black-sand beaches. Meanwhile, in winter (October to March), dark skies are illuminated by the ethereal streaks of the northern lights (which you can read more about in our northern lights guide).
How to explore Iceland

Iceland is a versatile destination. Many of its highlights fit well into most trips, whether you're in Reykjavík for a short break or spending two weeks circumnavigating the island along its Ring Road.
If you're visiting in summer, you can either drive yourself around or take in the country in a private vehicle with your own driver. In winter, when weather conditions are more temperamental and can affect the roads, we'll ensure you're driven around in a comfortable 4x4.
To cut down on drive time, it's possible to take a short 45-minute flight between Reykjavík and Iceland's second city, Akureyri, giving you easier access to the north of the country. Or, for the east, fly from the capital to Egilsstaðir.
A Reykjavík city break: sightseeing and day trips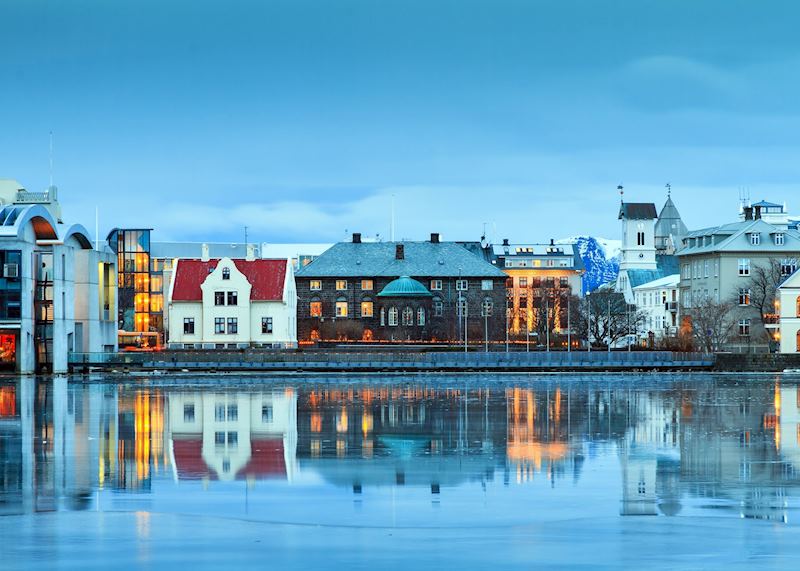 The Icelandic capital might not be the prettiest city, but I like its laid-back nature and compact size. It doesn't take long to stroll from one side of Laugavegur — the main shopping street — to the other (unless you're pausing to take advantage of the many bars and restaurants lining it).
Apart from the Hallgrímskirkja Lutheran church, whose stark, basalt-column-inspired structure dominates the skyline, most of Reykjavík's historical attractions are relatively unassuming. A private guided tour of the city helps point them out and put them into context.
Day trips from Reykjavík: The Golden Circle and Blue Lagoon
While staying in Reykjavík, you could join a full-day tour of the Golden Circle. This popular circuit east of the capital takes in Gullfoss waterfall, the geysers of Geysir and the very active Strokkur, and Þingvellir National Park.
You're also within an hour of the Blue Lagoon, the best-known geothermal bath in Iceland. Here, you can soak in a balmy milky-blue pool while looking out across a lava field. To make the experience even more special, I recommend bathing in The Retreat, a more exclusive section of the lagoon, where you can also indulge in a full body treatment of natural scrubs, volcanic mud masks and algae-based products.
Where to stay in Reykjavík
Canopy by Hilton is a stylish, contemporary hotel located just off Laugavegur. Rooms and suites have a fresh Icelandic feel, with grays and turquoises in the decor and fabrics inspired by the city. And, you can borrow bicycles to explore downtown.
The Snæfellsnes Peninsula: Iceland in miniature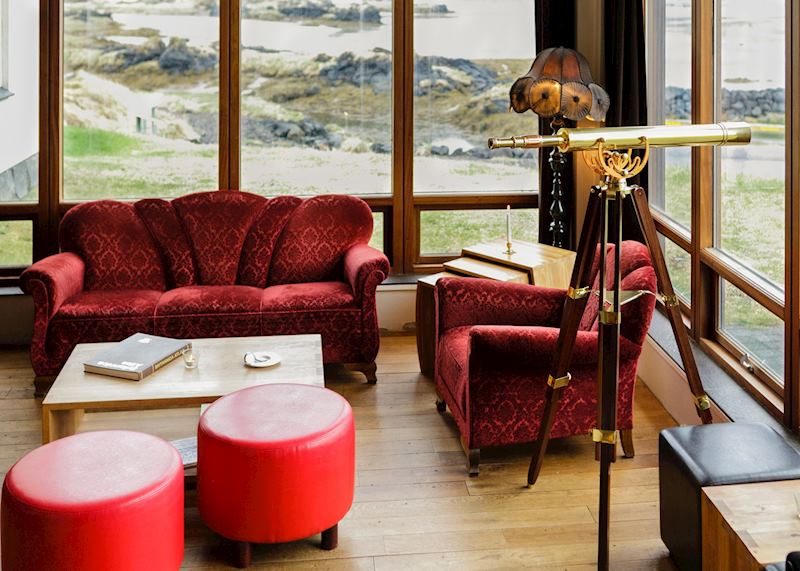 One of the most geologically striking areas of Iceland is the Snæfellsnes Peninsula in west Iceland, which extends like a knobbly arm out into the sea. It's a microcosm of Iceland's geography. You'll notice volcanoes and lava fields similar to those in southern Iceland, fjords reminiscent of the east, and volcanic wastelands as seen in the north. Then there are black-sand beaches, plus the only golden-sand beach in Iceland.
The peninsula's home to Snæfellsjökull National Park and its glacier-capped volcano of the same name. Spoiler alert: it's inside this volcano that the protagonists of Jules Verne's 1864 novel, Journey to the Centre of the Earth, discover the passage that leads to the Earth's core.
You can join a tour that takes you inside Vatnshellir, an 8,000-year-old lava tube within the national park. As you walk through the cave's chambers, your guide explains its formation and shares folklore that tells of trolls once living here.
The road circling the peninsula follows the coastline, with gently sloping hills on one side and rock-strewn beaches on the other. A highlight for me was strolling along Ytri Tunga beach and coming across a small colony of seals lolling on the rocks.
Close by is the black-sand beach of Djúpalónssandur, where you can tackle the 'lifting stones' — a collection of rocks ranging from 23 kg to 154 kg (50 lbs to 340 lbs) that were used to test fishermen's strength back when the peninsula was a thriving trading post. To become an oarsman, a man would have to lift the 100 kg stone onto a designated platform. I could only just lift the 54 kg (119 lb) stone, so certainly wouldn't have made the cut.
Where to stay on the Snæfellsnes Peninsula
Hotel Buðir is set right on the southern shoreline and feels completely secluded. Its bar and lounge have large windows with views of hills and wide swathes of sand, and you can sit and watch birds through the telescope.
Whale watching and waterfalls in North Iceland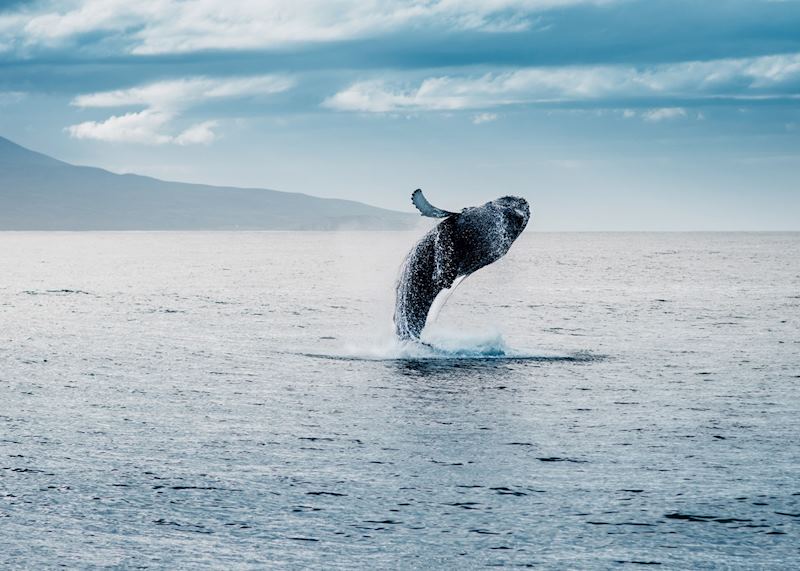 Deep fjords; snowy peaks; great, crashing waterfalls; alien landscapes sculpted by volcanoes: north Iceland definitely delivers when it comes to scenery. The region also offers lots of things to do, from horseback riding and white-water rafting to soaking in a beer bath. The mixture of beer, water, hops and yeast is said to cleanse and reinvigorate your skin (while the beer tap next to the bath keeps your pint glass replenished).
The best way to take in North Iceland's natural highlights if you're short on time is to tour the Diamond Circle, either privately or in a small group. With fewer visitors than the Golden Circle, the circuit allows you to hop between waterfalls, canyons and steaming volcanic landscapes.
The headliner is Dettifoss. It holds the biggest volume in Europe and greets you with a roar. You'll also visit the smaller but arguably more entrancing Goðafoss, a horseshoe-shaped waterfall with historical significance. After it was decided that Iceland would become a Christian nation in 1000 AD, idols of the Old Norse gods were dropped into the water here.
You'll pass Lake Mývatn on your tour, but if you have more time I suggest staying for a night here to further explore the area. The lake's a popular breeding ground for water birds such as black-tailed godwits, pink-footed geese and horned grebes during the summer — numbers reach their peak in May and June.
Hands down, the best experience I had in the north was whale watching from Hauganes — a quieter but just as rewarding alternative to Iceland's whale-watching capital, Húsavík.
After layering up in a full-body flotation suit, we boarded a renovated oak fishing vessel and cruised out onto Eyjafjörður, a long, deep fjord framed by snow-streaked mountains. Just a few minutes later, our guide called out "4 o'clock!". Everyone looked just in time to see two humpbacks shooting plumes of spray.
Over the next couple of hours, we encountered four different humpbacks. They took it in turns to flip their tails before deep diving for fish. One, which my guide identified as 'Ginger', spent a few minutes slapping her tail against the water right next to the boat. Apparently she's a bit of a show-off.
Where to stay in North Iceland
Icelandair Hotel Mývatn is just a short walk from Lake Mývatn. Its style blends elements such as exposed wood with bright contemporary decor and abstract art. In winter, you can soak in the hot tub while looking out for the northern lights.
South Iceland: ice caves, puffins and glacier hikes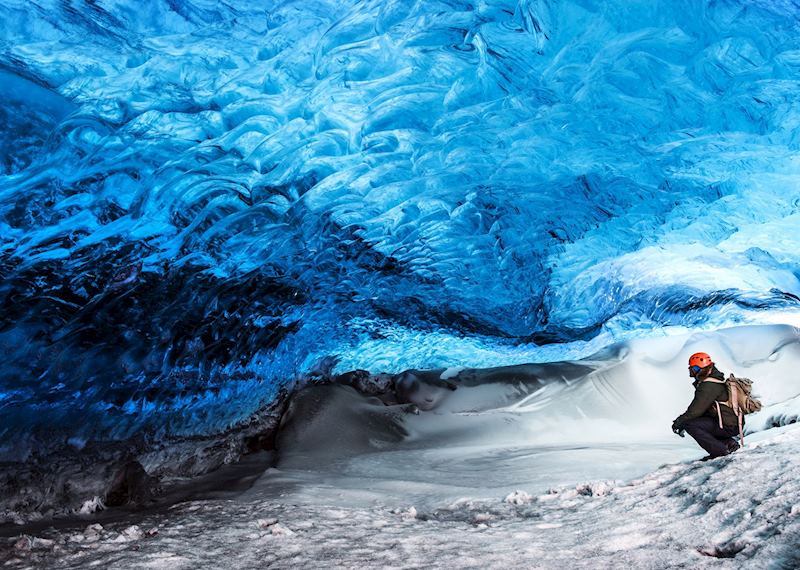 South Iceland is the country's most volcanic region. It houses Europe's largest glacier, Vatnajökull, huge active volcanoes such as Hekla, Katla and Eyjafjallajökull, black-sand beaches glistening with chunks of ice, and powerful waterfalls that seem to have been designed for photographers.
While simply driving around is a pleasure, I'm usually overcome with a strong urge to get out among the landscapes. You can go hiking with a guide on Sólheimajökull glacier, learning about the natural forces that have created and sculpted it, or zip across the ice on a snowmobile.
Elsewhere, you can wander through tinkling ice caves burrowed beneath the Kötlujökull ice cap. I was captivated by their glowing blue walls, which our guide explained had been smoothed into wavy shapes by glacial water.
You could also enjoy a day dominated by waterfalls, visiting both Skógafoss and Seljalandsfoss, which are just 29 km (18 miles) apart. The 15 m (49 ft) wide curtain of Skógafoss seems to move in slow motion as it drops 60 m (197 m) to the ground. Walk across the black pebbles to stand among the spray at the foot of the waterfall.
Meanwhile, Seljalandsfoss is narrower but just as tall, and in summer you can stand right behind its cascade.
In the southeast, you'll find Diamond Beach. Its jet-black volcanic sand contrasts with the translucent, jewel-like shards of ice that wash up on its shore from drifting icebergs.
Perhaps even more beguiling is nearby Jökulsárlón, a glacial lagoon scattered with icebergs. In summer, you can paddle a kayak or join a Zodiac tour of the lagoon to weave between the icebergs, looking out for seals lounging on their surfaces.
For further wildlife encounters, join a local guide to see the puffin colony nesting on Ingólfshöfði. To reach this exposed headland you're driven in the back of a tractor before hiking up a steep slope to the top. You're then free to watch the endearingly clownish birds toddling around and flapping their way to and from their nests.
Where to stay in South Iceland
Hotel Rangá has a peaceful setting beside the Rangá river, in the shadow of Mount Hekla. The property's secluded position makes for excellent stargazing from its own observatory, as well as northern lights viewing in the winter from its hot tubs.
Read more about trips to Iceland

Start thinking about your experience. These itineraries are simply suggestions for how you could enjoy some of the same experiences as our specialists. They're just for inspiration, because your trip will be created around your particular tastes.
View All Tours in Iceland