Visit Fraser's Hill (Bukit Fraser), Malaysia
Fraser's Hill is a highland resort destination nestled among the mountains of Pahang, about two hours away from Kuala Lumpur. Locally known as Bukit Fraser and located 1,524 meters above sea-level, this cooling vacation retreat is popular for its nature activities and cooling climate, attracting many locals escaping the city heat. It is also one of the last hill stations of Malaysia, an imprint left behind by former British colonial masters.
Fraser's Hill has its roots in the 1890s, when the tin ore trade was bustling. It was named after the ore-trader and mule train operator Louis James Fraser at the turn of the 20th century. Fraser was not on the hill for long and soon after it became a hill station developed by Bishop Ferguson-Davie from Singapore. It is said that of the hill stations in the area, Fraser is the one that retains most colonial charm.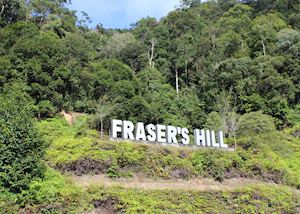 The main attraction of Fraser's Hill is its natural heritage — verdant rainforests, tranquil environment and cooling mountain air. With little commercial development, only a few places provide entertainment for visitors other than exploring the jungle trails and walking about. Highlights include Allan's Water, a small lake converted from a reservoir into a recreational park and the Tudor-style elements reflecting Fraser's colonial past; Fraser's clock tower.
If you are a bird lover, Fraser's Hill also offers sightings of various endemic birds. Over 250 species of birds have been recorded here, including magnificent hornbills, rare doves, colorful pheasants, sleek eagles and endemic species. During certain seasons, migratory birds from Russia, Japan and China visit Fraser's Hill to escape freezing winters and find pasture. They sojourn for a few months, and then soar south toward Australia and New Zealand for warmer regions, before returning to their native lands much later.
Speak to someone
who's been there
Start planning your tailor-made trip to Fraser's Hill (Bukit Fraser) by contacting one of our Malaysia specialists
Map of Fraser's Hill (Bukit Fraser)
Places & hotels on the map
Places near Fraser's Hill (Bukit Fraser)
Photos of Fraser's Hill (Bukit Fraser)