By Paul from our New Zealand team
What does luxury in New Zealand really come down to? If you ask me, it's best exemplified by the country's luxury wilderness lodges. Though they offer many indulgent touches, ultimately you're not staying for out-and-out ostentation.
You're going for the immersive, one-off experiences they provide — like taking a private helicopter ride to visit a forest sacred to the Māori. You're going for the warmth and hospitality of your hosts. For farm-to-table food, and for an escape from everyday schedules and urban settings. And, for the pleasure of being the only person standing in the middle of a mountainscape, or looking out to sea.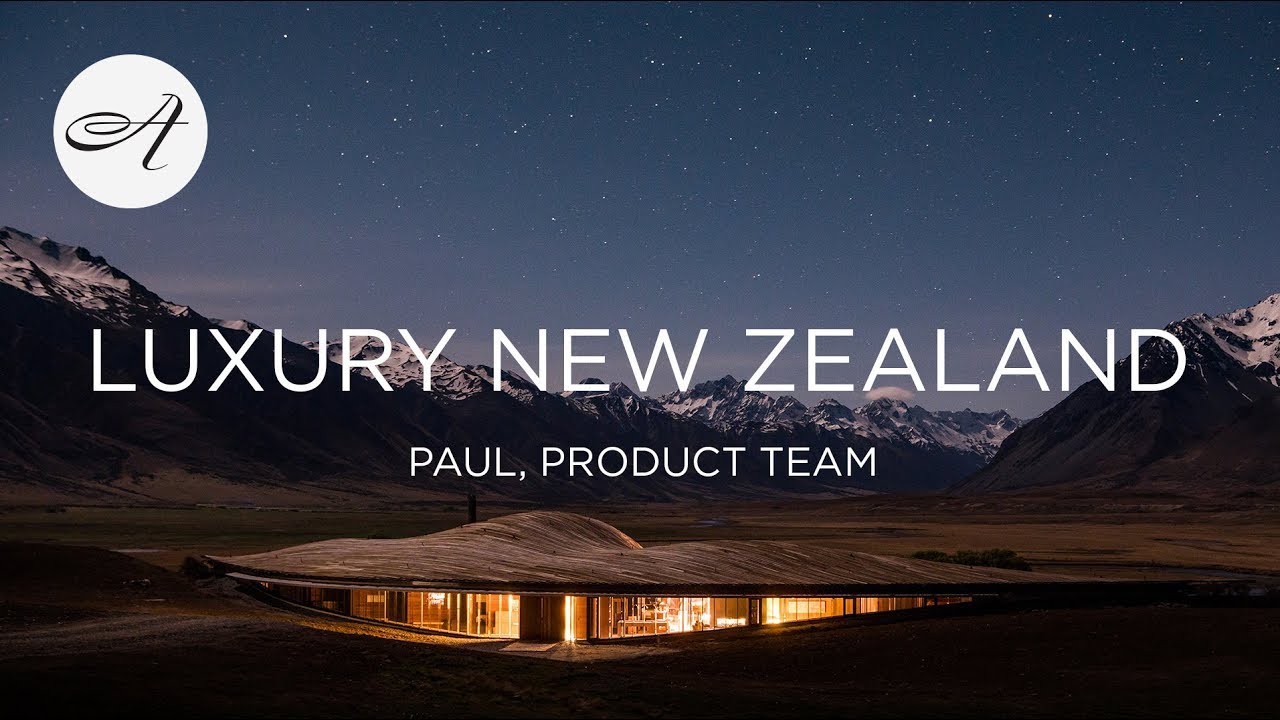 Though there are several great lodges in New Zealand, the ones I've selected fulfill (for me) all the above criteria. Short stays in them can easily form part of your itinerary — whether you're looking for a luxury New Zealand self-drive or an out-and-out ultimate luxury tour of New Zealand.
Note, too, that these lodges are all based in the regions outside the main travel hubs of Queenstown, Auckland, Wellington and Rotorua. Quiet and blessed with the most unspoiled scenery in the country, these regions can conjure up previously unthought-of experiences to include in your trip, and they prove a great foil to your time in the cities.
Luxury lodges on North Island
Warm hosts and a rural retreat at Wharekauhau Country Estate, Wairarapa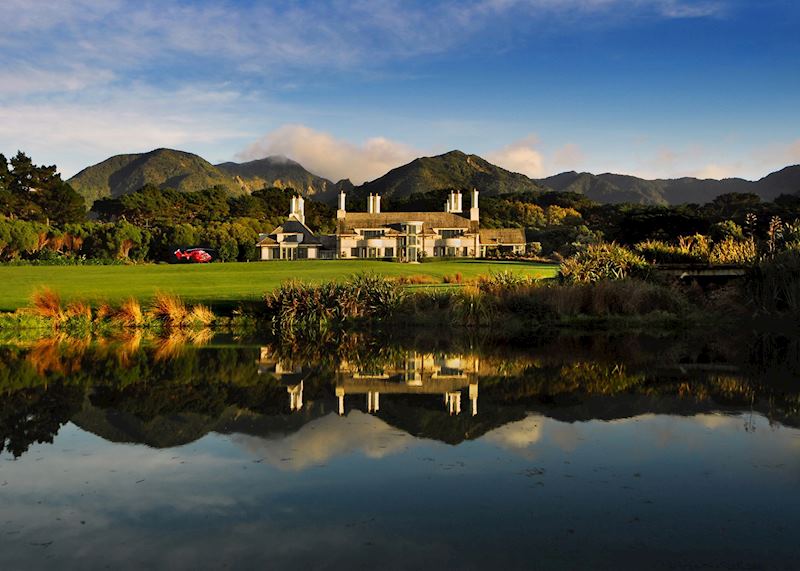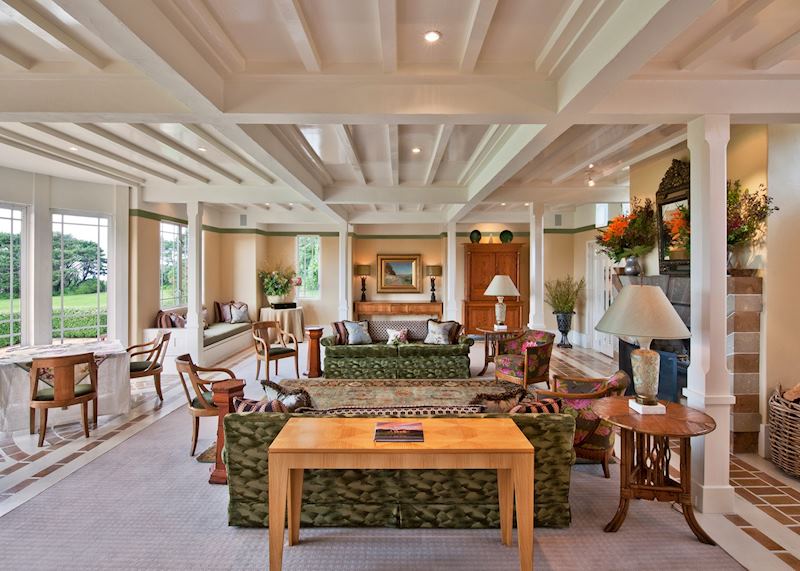 It's pillowed among peppermint-green fields, the bush-clad Rimutaka Ranges, and fern and podocarp forests. Its estate encompasses pastures of Romney sheep, and it stretches right down to the sea, where it meets a wild and kelp-strewn black-sand beach.
Wharekauhau is in New Zealand's deep country (it's a 90-minute drive or helicopter ride from Wellington), and this is one of the property's highlights. The quietude is instant.
The other highlight is its hospitality. You're welcomed with open arms (literally), and the staff seem to have a sixth sense: they know exactly how to gauge your mood.
To give you an example, when I stayed here, my group was due to sit down to a five-course degustation dinner. But, we'd had a busy (if fulfilling) day of exploring, and we were in the mood for something less formal.
'Why don't we do you a roast dinner instead?' came the offer from Richard, the manager. A little while later, we were all cosied around a big wooden table, and sommelier Nicolas, a jovial Frenchman, was carving up a succulent, bronzed roast chicken. From our seats, we could peep into the kitchen and watch the chefs working away.
Rooms-wise, think upmarket farmhouse: exposed beams, four-poster beds and roaring hearths. They're the kind of spaces you'd be happy ensconcing yourself in for a few days. And, you easily could. There's a spa with a pool, and some rooms have an alfresco hot tub. My advice is don't rush through a place like this but take time to unwind.
There's plenty to explore, too. The lodge deals heavily in country pursuits, from clay target shooting to mountain biking and fishing from the beach. You can also tour the lodge's copious grounds, where you might see local farmers shearing sheep or mustering them with dogs.
This is also prime wine country. You can venture a little further afield to explore the wineries of the Wairarapa region (much quieter than, but just as celebrated as, those of the better-known Blenheim). You can even take a private wine tour and access cellars whose wines haven't even been bottled yet.
I really like Cambridge Road Vineyard, a small operation producing biodynamic pinot noirs and syrahs.
Māori-guided tours and gourmet beach barbecues at The Lodge at Kauri Cliffs, Northland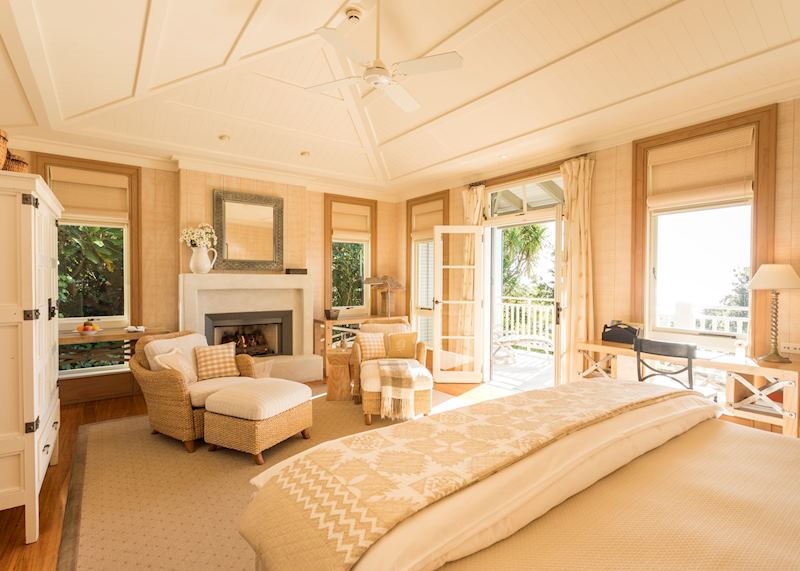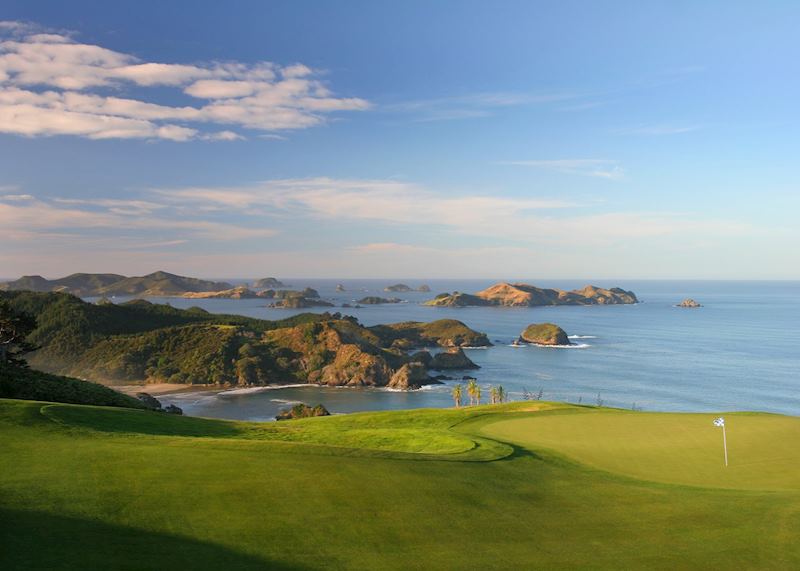 The first thing that hits you about this place is the view. As the name suggests, the lodge looks right out over the Pacific, more specifically Matauri Bay in New Zealand's under-visited Northland. The water is lapis lazuli blue, the horizon line broken up by wave-lashed capes and scattered islands.
Just below you lie the sort of unblemished white-sand beaches you'd normally associate with the South Pacific. Difficult for non-guests to reach, they're private in all but name.
The lodge's architecture recalls an old plantation. Rooms are all standalone suites and scattered around the expansive grounds. Across the estate you'll find totara forest, sheep farms, an award-winning golf course, and the oldest kauri tree on private property in New Zealand.
You can walk right up to this 800-year-old titan — and if that whets your appetite, you might consider one of the lodge's standout experiences.
New Zealand's oldest, tallest, and most venerated kauri trees live in Waipoua Forest on the other side of the Northland Peninsula. You can visit them in the space of an afternoon from the lodge, flying by private helicopter over to Omatere. Here, you'll meet your private Māori guide for an up-close-and-personal tour of the forest, which the local Māori hold sacred.
En route, you pass over the long, broad sands and dunes of 90 Mile Beach. You might also fly over Cape Reinga, where the Southern and Pacific Oceans collide in a churning seam of waves.
After touchdown, you'll explore the forest with your guide, who'll share Māori folklore with you and take you to meet these 'gods of the forest'.
You can read more about these intimate Māori-guided tours of Waipoua Forest in our guide to experiencing Māori culture in New Zealand.
The weekly barbecues held during the summer months (December to February) down on one of the beaches are another of the lodge's unexpected treats. Less formal than the lodge's restaurant, the food and wine served up is still first-rate gourmet stuff.
Getting there is relatively straightforward, too: take a short flight to Kerikeri from Auckland, and then the lodge is a farther half hour by road.
Luxury lodges on South Island
Architectural innovation and wide-open space at The Lindis, Mackenzie Country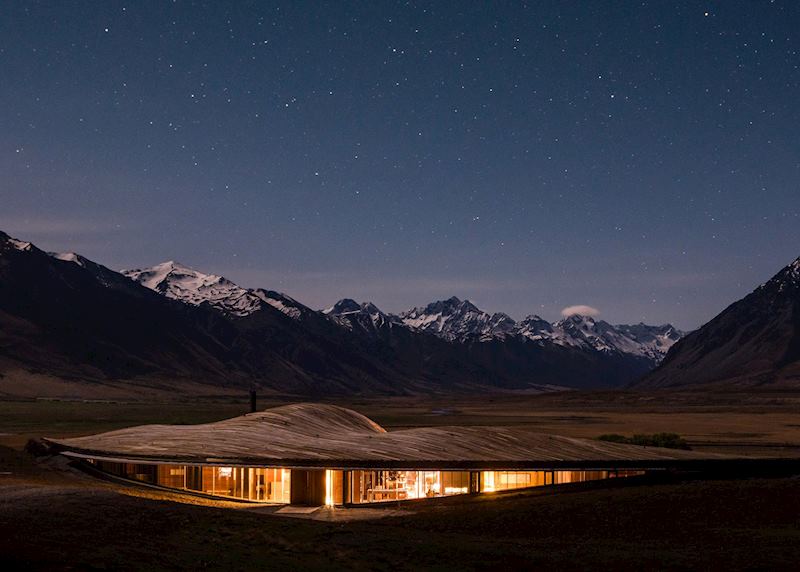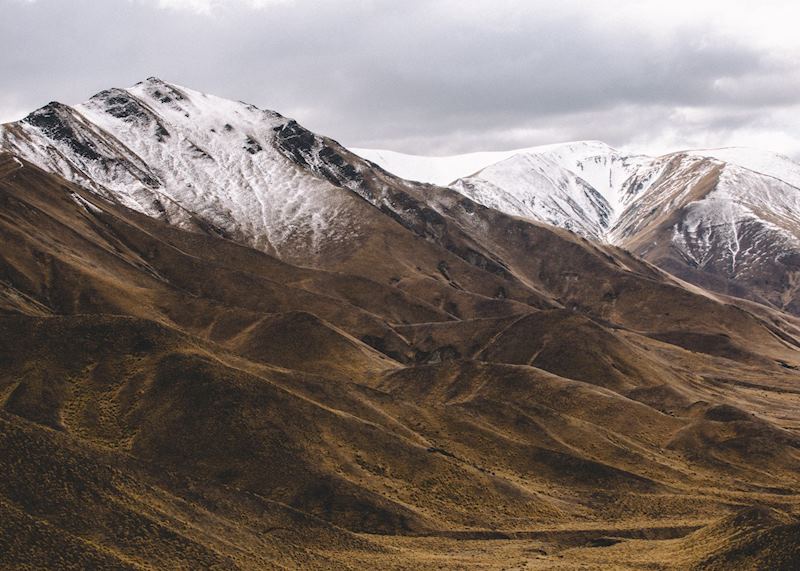 This lodge makes for an excellent place to break a car journey between Christchurch and Queenstown. It hides a 20-minute drive down an unsealed road, and you can barely see it as you approach.
The Lindis' slightly space-age structure only really becomes apparent once you're standing right before it. Fronted with floor-to-ceiling glass and half embedded in the earth, it looks like some immense heavy-lidded, half-opened eye.
A freeform one-story building, its timber roof barely discernible from the surrounding tussock, it looks like little more than a bumpy hummock in the middle of the Ahuriri Valley. This is intentional, of course. The design blends in with the valley, and its roofline echoes the profile of the mountains in the background.
Inside, it's all dark natural wood and stone textures, and you'll find wooden sculptures and lots of original artwork.
There are five suites with floor-to-ceiling windows, or you can opt to stay in one of the three secluded glass pods, each set on its own wooden deck in a private space, but still close to the main lodge.
Having uninterrupted views over the landscape means all the rooms here are great even if it gets a little stormy. I could sit on my bed (or even in my bathtub) and observe the weather patterns moving through the valley, watching the play of light and shadow across the flat grasslands of the valley bottom.
The lodge is set on working farmland at the crossroads of three conservation parks. You look out over beech forest, river lagoons, and mountains with almost perfect equilateral-triangle peaks. Some of the scenery made a guest appearance as Rohan in Peter Jackson's The Lord of the Rings.
Food is locally sourced, fine dining is par for the course, and there's an extensive wine cellar.
The remote setting and absence of light pollution make the Lindis an ideal spot for stargazing (and the Ahuriri Valley itself is an International Dark Sky Reserve). You can often see the Milky Way here.
Then, during daylight hours, you can go horse riding, mountain biking, walking and climbing. The real feather in the Lindis' cap, though, is its fly-fishing: one of the world's top fly-fishing streams runs right past its door.
Accessible wilderness and tailored horse riding at Mahu Whenua, near Wanaka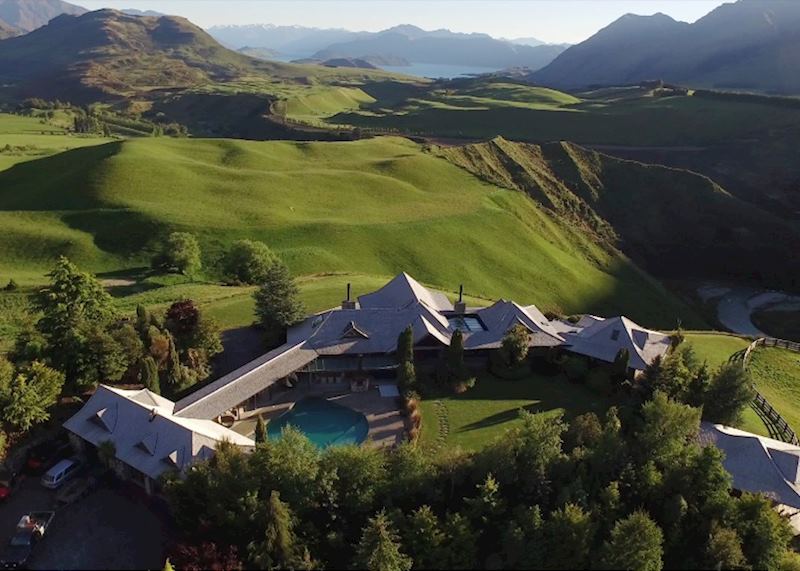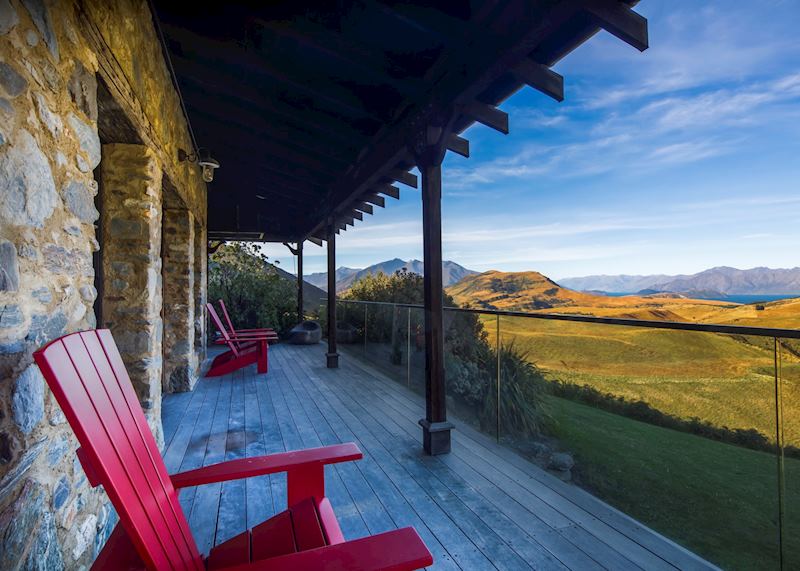 A luxury lodge-come-homestead, Mahu Whenua isn't short on space — in fact, it lounges amid 517 sq km (200 sq miles) of it. And yet, it's only a 20-minute drive from the placid lakeside town of Wanaka.
It's one of the most accessible wilderness lodges I've visited in New Zealand, both in terms of its price tag and its location.
Yet, once you're over the threshold, overlooking the peaks of Mount Aspiring National Park and the electric-blue slick of Lake Wanaka, you feel very much alone with the wild. Horses graze in paddocks and native weka birds stroll around the grounds. There isn't another habitation in sight.
As a protector of its environment, Mahu Whenua (Māori for 'healing of the land') has much to shout about. Its grounds represent the largest philanthropic project in New Zealand. Some 90% of the land is legally protected, and its owners have gone to great lengths to replant native trees.
Rooms and communal spaces evoke the feel of a modern luxury ranch. You'll find exposed stonework, big wooden beams, floor-to-ceiling windows, throws, chandeliers and arty light fittings, and sleek, contemporary furniture.
There are lots of sitting areas — some alfresco — for sitting and drinking in the panoramas. Other distractions include a heated outdoor pool with alpine views, a library, and a TV and games room.
If you have a group of 12, you can even hire the whole place on an exclusive basis.
There's also a real variety of experiences and activities available. The stables (and their inhabitants) are among the plushest I've ever seen. You can ride out on a long backcountry trek or simply be led around the (vast) grounds.
Heli-biking and heli-hiking are becoming increasingly popular in this region, giving you the chance to easily explore the trails lacing the many nearby peaks.
For something a little calmer, you can opt for a wine tour of the Central Otago wine region — another lesser-known rival to Blenheim.
And, you can also use Manu Whenua as your base for visiting Milford and Doubtful Sounds.
Read more about luxury trips to New Zealand

Start thinking about your experience. These itineraries are simply suggestions for how you could enjoy some of the same experiences as our specialists. They're just for inspiration, because your trip will be created around your particular tastes.
View All Tours in New Zealand