By Audley Sri Lanka specialist Laura
Fringed by beaches, peppered with World Heritage Sites and famous for its wildlife, Sri Lanka offers couples the chance to see and experience many different attractions as well as sit back and relax after the pressures of wedding planning.
Along with atmospheric old cities and crumbling colonial grandeur, you can hike through tea plantations, discover elaborate cave temples, track leopards, go whale watching or just lounge by the sea. On top of all this, Sri Lanka is a good value destination with a great selection of accommodation options.
Memorable honeymoon experiences in Sri Lanka
Immerse yourself in the Cultural Triangle

Sri Lanka's historic heart is home to the ancient cities of Polonnaruwa and Anuradhapura, as well as impressive forts and glittering temples.
One of the places I like to explore is Dambulla, where you can climb a granite outcrop and discover a series of sprawling caves that are decorated with huge Buddha statues, gilded stupas (domed shrines) and vivid murals. It's a completely unexpected end to your ascent and has been a place of pilgrimage for over 2,000 years.
Another of Sri Lanka's cultural treasures, the Sigiriya Rock Fortress is built on an outcrop rising 200 m (650 ft) above the surrounding plains. It's a demanding but engaging climb past intricate frescoes and carvings to reach the 5th century palace ruins at the summit, but the panoramic views are well worth the effort.
From Colombo, where the international airport is, you can reach the Cultural Triangle in four to six hours by road with a private driver. As the Cultural Triangle is such a large area it can take several hours to travel from one location within it to another.
Best honeymoon accommodation in the Cultural Triangle

Not far from Sigiriya Rock, stilted villas sit above a private wetland reserve created out of an abandoned paddy field at the Jetwing Vil Uyana. These marshes create a unique ecosystem, and the villas themselves are no less special. Built from local materials of wood, stone, woven reeds and rattan they each have their own character and combine a rustic simplicity with a touch of luxury.
For a more historic property, Ulagalla, near Anuradhapura was once the ancestral estate of the local nobility and has a 150 year old villa at its center. Accommodation is in chalets around this center. The rooms are luxuriously modern, with cutting edge design features, and private plunge pools.
Spot Sri Lanka's wildlife

Sri Lanka's diverse landscape supports a huge array of wildlife and its numerous national parks are home to elephants, leopards, wild buffalo, monitor lizards and a host of vibrant birdlife.
For honeymooners I'd recommend Horton Plains, a high-altitude cloudforest reserve. Take an early morning trip to 'World's End', where the mountains fall away dramatically to the coastal plains. Arriving at dawn, you'll see the sun rise and reveal a sheer drop to the vast lowlands stretched out below you.
The area is home to numerous sambar deer among other mammals, and is a haven for birdwatchers with more than twenty endemic species including four that are only found in Horton Plains. These include the Sri Lanka blue magpie and Sri Lanka wood pigeon.
Best honeymoon accommodation around the national parks

With a few exceptions, accommodation near the national parks tends to be in functional properties positioned in the buffer zones around the parks. These hotels offer easy access to the park to see the wildlife. If you would like to splurge on somewhere very special to stay I would recommend Chena Huts at Yala.
Built on a strip of land between jungle and a saline lake, these thatched huts all have their own plunge pools and luxurious furnishings in a rustic setting. Each hut is separate from its neighbors offering honeymoon couples privacy and a sense of seclusion.
Relax at the coast

Sri Lanka's beaches range from deserted white sands to lively resorts and rocky coves. It's easy to find an isolated beach well away from the crowds or, if you prefer something more active, there's the option to surf, snorkel or dive.
The southern and western beaches are the most established and offer everything from five-star luxury to charming colonial properties and quirky boutique hotels. Here you can laze on the sand, surf in warm seas and, if you are staying further south, enjoy some of the world's best whale watching.
Between December and April, blue and sperm whales feed in the ocean near the pretty village of Mirissa and a short boat trip offers frequent and impressive sightings.
Best beach accommodation for honeymooners in Sri Lanka

One of the properties I love in Sri Lanka, and perfect for honeymooners, is the Reef Villa in Wadduwa, on the western coast south of Colombo. It's a small hotel with a beachfront setting and a charming colonial style. You'll find antique furniture, hand-carved woodwork, canopied beds and massive bathrooms with tubs big enough for two.
On the southern coast one of the best properties I have stayed in is Coco Tangalla, a boutique hotel overlooking the Indian Ocean. There are only six rooms, simply but beautifully decorated with whitewashed walls and bright silks. It's an utterly tranquil escape where you can relax by the infinity pool and just take stock.
Some other lovely options are Cape Weligama, perched on an outcrop of land surrounded by ocean and Aditya, named after the sun god and set on a beautiful stretch of white sand.
Explore verdant tea plantations

Sri Lanka's central highlands are blanketed in tea plantations and particularly photogenic when the lush terraced hills are shrouded in mist. The cooler temperatures create ideal tea growing conditions and make the region well suited for exploring on foot.
You can visit the tea estates and stay in carefully restored colonial-era guesthouses such as those run by Tea Trails. These five former estate managers' bungalows are spaced out along a valley and offer plenty of old world character with antique furnishings as well as magnificent settings with sweeping views.
Take a pilgrimage to Kandy

Set between verdant hills and a large lake, Kandy is a handsome city with bright buildings and a relaxed air. It's both a cultural hub and a place of pilgrimage, famous for its temples and festivals, and is a fascinating place to explore.
I've fond memories of staying at Kirinda Walauwa, a lovely homestay just outside town. Rooms are within a historic mansion that dates back over 200 years and is surrounded by lush vegetation, tea and rubber plantation.
You'll receive a warm welcome from your hosts, who live at the property and can take a cookery class and learn about traditional ingredients and cooking methods, and get a private tour of the owner's pride and joy — his classic car collection.
Another place I particularly like is Elephant Stables with its vibrant wallpaper and stylish decor that complements the lovely views.
Wander Galle Fort's narrow streets

A lovingly preserved colonial town with an old world atmosphere, Galle Fort is hemmed in by fortress walls and surrounded by water on three sides. Its winding streets are flanked by old Dutch buildings, churches, galleries and cafés.
From the hotels in this area, I'd recommend Mosvold Villa for honeymooners. It's a beachfront house set in lovely gardens and has eight rooms, all with high ceilings, antique furniture and local artworks. The honeymoon suite has a private deck with a plunge pool looking out over the sea.
Another great option, just inland, Why House offers utter seclusion in a stately colonial house. Luxurious while relaxed, the service here is really personal and the private cabanas are stylishly decorated.
Unusual honeymoon hotels in Sri Lanka

Following the busy preparation for the wedding, many honeymoon couples like to spend the first few days of their trip somewhere that is completely out of the norm. Within 45 minutes' drive of the airport in Colombo, Casa Heliconia offers just that.
Casa Heliconia has just two distinctive rooms (Temple Angkor and Pagoda Gold), each set in its own pavilion with a private terrace and dining area surrounded by tropical vegetation. The luxurious decor blends Asian art and antiques with contemporary style and from the moment you arrive it feels like a world apart, yet is just a short drive from the international airport.
Best time to honeymoon in Sri Lanka?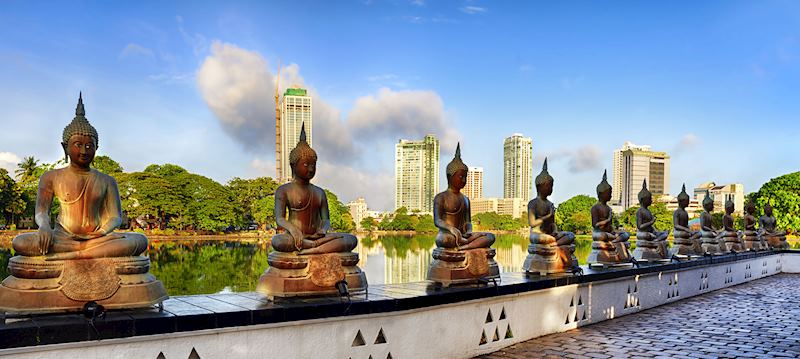 Consistent sunshine and pleasant temperatures make Sri Lanka a year-round destination. The country is affected by two monsoons, making it best to visit the tea region, Kandy and the south coast between late December and early May, and the Cultural Triangle from late April to September.
Extending your honeymoon

Sri Lanka combines very well with a trip to the Maldives so it's worth considering some time on the white beaches and colorful reefs of this island nation after your tour of Sri Lanka's cultural and wildlife attractions.
Start planning your honeymoon to Sri Lanka

Start thinking about your experience. These itineraries are simply suggestions for how you could enjoy some of the same experiences as our specialists. They're just for inspiration, because your trip will be created around your particular tastes.
View All Tours in Sri Lanka