After qualifying as a lawyer, Christopher worked in the City for a number of years before succumbing to his passion for travel. An overland expedition across Africa was followed by several years' co-ordinating holidays and guiding in Europe, Africa and Asia. Subsequently he joined a leading long haul tour operator concentrating on itineraries to New Zealand, Australia and the South Pacific. Christopher has made several visits to New Zealand, Australia, The Cook Islands and French Polynesia where he has visited many of Audley's preferred properties and experienced a wide variety of our recommended tours. Chris recently fulfilled a lifetimes ambition and sailed on the Americas Cup yacht around Auckland harbour. When not exploring the globe Christopher likes to relax by playing tennis, which passion led him to set up the Audley Tennis Club.
Speak to Christopher

Start planning your trip to Australia & New Zealand with Christopher by calling
01993 838 807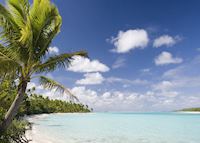 Not everyone has the time to stay over on Aitutaki and there is plenty to do on Rarotonga but it really is a shame not to visit this pearl of the South Pacific.
I was struck immediately by the shimmering kaleidoscope of blues and greens which were visible from the air on approach on the regular Air Rarotonga light aircraft transfers.
The contrast with Rarotonga is immediately noticeable from the gentle pace at the airport to the stunning beaches and lagoons.
Even on a day trip there is time for a lagoon cruise during which you have chance to snorkel over the coral reefs and perhaps dine on the local delicacy, coconut crab.
My favourite accommodation in the Australia Outback is North Bundaleer where Malcolm, Marianna and family made me so welcome during a hectic tour of South Australia in 2007.
The detailed restoration of an Edwardian homestead reminded me of historical houses I have lived in in South Africa but never have I felt the overwhelming sense of history in such a cosy and comfortable home.
As a photographer the surrounding landscapes were inspiring and although the Outback is within easy reach as I relaxed in the lounge after a sumptuous dinner the heat and dust of the desert existed only in my memories.
I'll never forget when…
I first visited Mount Cook National Park at the end of a very long and tiring five week tour of New Zealand. I had seen all of the most magnificent landscapes, tried the world class food and wine and flown over the peaks and valleys of the North and South Islands to such an extent that it would have been easy for this region to disappoint.

To my surprise, the country definitely saved its greatest display until last. There is only one large hotel in the park but the panorama of Mount Cook under a full moon seen from the new wing rooms is my favourite from a hotel anywhere in the world, I had to pinch myself every time I opened the curtains.

The glacier valley walks and scenic flights are a superb bonus but on a fine day just sit on the cafe balcony and wonder at the striking panoramas.
Photos taken by Christopher