After graduating from Cardiff University, Matt travelled thoroughly through Latin America before living in Barcelona and teaching English through various parts of Catalonia for 18 months.
After three years working with Audley a second trip around the world beckoned. Taking the Trans-Siberian Railway, staying with locals in Mongolia and trekking the ranges of Nepal ended with a two month jaunt through India and Sri Lanka, the most striking countries of his trip and he was officially hooked. The range and depth of cultures offered in this part of the world was the outstanding fact drawing his deep interest in this region. Whether it's the fish curries of Kerala or traditional Sri Lankan hoppers, he is passionate about all things related to this wonderful part of the world.
Since returning to Audley he has undertaken return trips to the Indian Subcontinent and been lucky enough to again ride the Trans-Siberian Railway, taking in extended time around the Irkutsk and Baikal parts of the country.
When not exploring abroad Matt enjoys walking and climbing in his native Peak District.
Speak to Matt

Start planning your tailor-made trip with Matt by calling
01993 838 353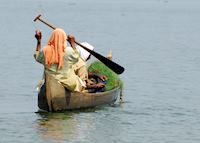 The backwaters of Allepy in Kerala are packed full of history. Previously a system of canals used to move rice around Kerala, this vast network of waterways are home to hundreds of villages where life has changed little down the years. A houseboat or homestay on the water is the perfect way to take in the relaxed lifestyle of this beautiful corner of the country.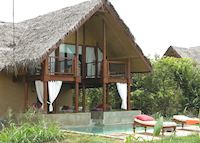 Vil Uyana close to Sigiriya rock was the perfect base for me to explore the region. As a wildlife lover I was amazed by the birdlife around the lake and paddyfields in the morning, while the resident naturalist guide took me on a night walk where we spotted the rare Slender Loris. The property is cleverly designed to fit into the landscape and the restaurant here is excellent, the perfect place to enjoy a cool drink after a day exploring.
I'll never forget when…
Upon arriving at the ancient capital Anuradhapura I was taken aback to see thousands of Buddhists wearing pure white robes congregating around the stupas offering white lily flowers in the area's temples. A great example of the festivals you can stumble across while travelling throughout Sri Lanka.