Growing up my father worked in the oil industry and would travel the world regularly. He would always come home full of life. It filled me with such excitement, that l knew l too wanted a job that allowed me to see the magic of the world as he did. In my 30 years within the industry, I've been very lucky to not only work but live in some fantastic countries growing and gaining more exciting knowledge to share with my clients.
I spent a couple of years living in Texas which was a wonderful experience and l got to travel along the east and west coastline of USA. But some of my top places, however, have been within the Caribbean.
On a recent research trip, I spent the best part of 3 weeks exploring the Caribbean. This was a fantastic experience which l started in Antigua, before journeying on a ferry to Bequia. I then caught a small 12-seater flight to Barbados, and ended my trip in Saint Lucia, which proved perfect as it ended up being my favourite island. Saint Lucia for me is such an active island from hiking the Pitons to zip-lining through the rainforest, every day was filled with some form of activity. However, each Island has its magic with its own quirks and uniqueness pulling you back again and again.
Speak to Leighann

Start planning your trip to the Caribbean with Leighann
Q&A with Leighann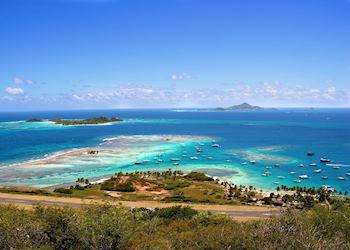 What's the one thing you always pack?
I would love to say my phone as l love taking photos and talking. But for me as l've become so tasty to the mosquitos l have got to say, 'Avon Skin So Soft.' For some reason this helped not being bitten so much, it also kept my skin nice and soft to.
What's your most vivid travel moment?
Hiking Tet Paul in Saint Lucia was a magical moment for me. My guide, MacGyver was so knowledgeable, he's done this trek every day since 2008 — when the trail was built. He told me about how it was a community project and they all carried wood to make the railings at the top to keep everyone safe and they had dug the steps out by hand to create this amazing trail. There is even an organic farm on the way up. The produce being grown and sold to the local hotels. The hike takes approximately 45 minutes where you get to see the Pitons in all their glory. They call the final climb the 'stairway to heaven' and that is exactly what it felt like. The Pitons were magnificent, and a memory l won't forget. You could also see the islands of Martinique and St Vincent in the distance.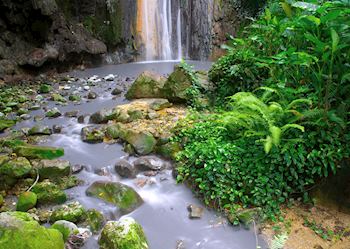 Your best piece of travel advice?
My best pieces of travel advice while in the Caribbean is don't wear black at night, sadly l found this out the hard way after 2 weeks of been bitten badly on my legs. All the locals will tell you that this hue attracts mosquitos. They also said that eating bananas can alter your body odour making it more detectable or should l say tastier to mosquitoes.