I have always had a strong sense of adventure, so after graduating from college not many people were surprised when I decided to pack up and move across the world. It was always a dream of mine to live in Australia and I was certainly not disappointed when I finally touched down in this vast and wonderful country. Spending my first couple of months along the quiet northern beaches of Cairns in Far North Queensland, I swapped the bitter New England winter for days jetting out to the Great Barrier Reef, or splashing in the abundant waterfalls of the Atherton Tablelands.
Searching for something a bit more challenging, I made my way to the great Outback, where I spent the next couple of months working on a station in the heart of Australia's Tanami Desert in the Northern Territory. By the end of each day I was covered in red dirt and each night was greeted with a display of stars unmatched by light for hundreds of miles away.
But my favorite experience in Australia has to be my time spent along the gem that is Western Australia's Coral Coast. Filled with endless stretches of brilliantly white beaches along iridescently blue waters. Contrasted against the vibrant red dirt, the coral coast is home to some of the most beautiful and remote beaches in Australia. Swimming with the sea turtles along the Ningaloo Reef is certainly something I will not forget.
During my two and a half years in Australia I had the opportunity to travel extensively throughout the vast country, where I fell in love with each of its unique regions for a different reason. But what really made Australia home for me was the welcoming nature of the people, eager to share their love for their home with those who have the pleasure to pay it a visit. I will continue to be grateful to have the opportunity to immerse myself in the many treasures Australia has to share.
Speak to Jillian

Start planning your trip to Australia with Jillian
Q&A with Jillian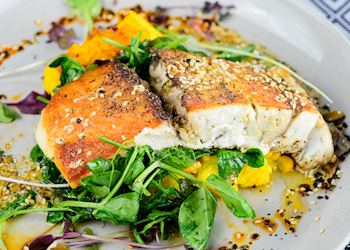 What is the best local dish you tasted?
You cannot go wrong with any of the seafood in Australia especially if you are spending time near the Great Barrier Reef in Far North Queensland. This region is home to some of the freshest seafood in the country. One of my go-to dishes when I'm there it's always the Barramundi, a type of seabass local to Australia. And although the term "Bugs" might not sound like the most appetizing dish, Moreton Bay Bugs are a local delicacy. Similar to a small lobster, but a bit sweeter, these bugs are a must-try when visiting the northern coast of Queensland.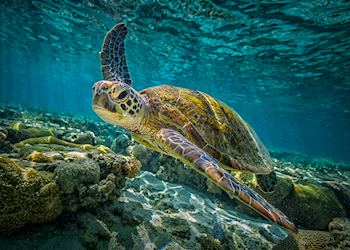 What is your most vivid travel moment?
While traveling along the west coast of Australia we stopped off for the night at a local campsite along the Ningaloo Coast and Shark Bay region. Not expecting much but a place to cook up some dinner and rest our heads before heading out to explore more of the region the following day, we sparked up a conversation with a local who informed us that the green sea turtles were nesting just on the beach in front of us and asked if we wanted to join to watch them that evening as they made their way onto the beach to lay their eggs. As we watched from a distance these incredible creatures slowly made their way up onto the beach, burrowed themselves into a sandy hole, and laid their eggs. I was so grateful to have made that pit-stop that night, having the opportunity to experience something so incredibly special. I have never felt so close to nature as I did that day.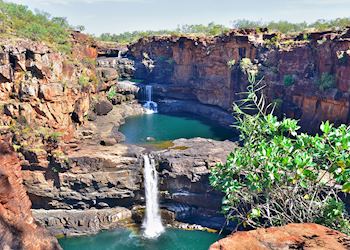 Where would you love to travel next?
On my next trip, I would love to explore the Kimberley region of Australia. Having only just skimmed the surface of what this remote region of the country has to offer on my last visit, I have been searching for a chance to go back ever since. Home to some of the most impressive landscapes, remote swimming holes, rich indigenous culture and incredible wildlife. Exploring the turquoise waters in and around its gorges and driving 4x4 tracks, would be my ideal way to spend some time there.