Family trips ignited my passion for travel at a young age and I have always felt most alive when discovering new places and experiences. After working in New York City for an event production company, I gave in to my desire for an endless summer and booked a one-way ticket to Sydney. I spent the following ten months falling in love with the beaches, hiking trails, cities and laid-back lifestyle of Australia's east coast, and while there, took the opportunity to go backpacking in New Zealand, Indonesia, Thailand, Vietnam and Singapore. Australia stole my heart though, no day was ever the same whether I was in Port Douglas, Melbourne or Tasmania.
Since returning home to Boston and joining the Audley team, I have made it my mission to help others experience all the wonders of Australia in the hope that they'll grow to love it as much as I do.
Speak to Nina

Start planning your trip to Australia with Nina
Q&A with Nina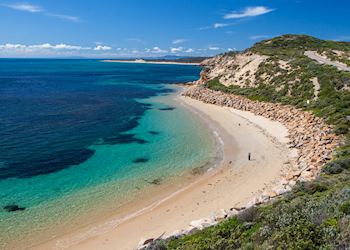 What's the best local dish you've tasted?
Dining at the Montalto Estate Winery in the Mornington Peninsula, about two hours south of Melbourne, was an absolute pleasure. Australians place a big emphasis on fresh, sustainable foods and this was a glorious celebration of local produce. We ate overlooking the sculpture garden within the vines and the chefs created a menu of sharing plates for the table including a beetroot and whipped-goats-cheese salad, homemade pizzas, tender steaks and fresh bread. The dishes were accompanied by the estate's own wines and I found myself dreaming of the meal for days to follow.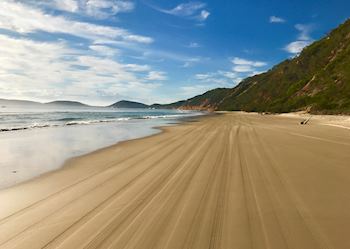 Where would you love to travel next?
Fraser Island in Queensland is the world's largest sand island and high up on my list of future destinations. I've read about the incredible rainforest hikes and scenic views, the untouched beaches and massive dunes, and the crystalline waters and vibrant coral reefs. I've just got to go scuba diving in those waters.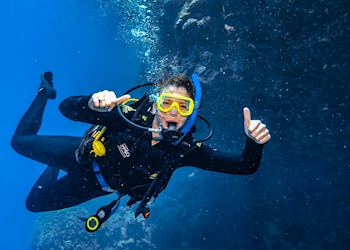 Which book, film or artwork captures Australia the most?
While living in Sydney, I saw the documentary Blue The Film which left a lasting impression on me. The film documents the shocking reality of the effects of plastic on our marine ecosystems. It taught me invaluable lessons about Australian waters and the efforts being made to create positive change. The film highlights the care that so many Australians give to their environment and pays tribute to their understanding of the impact lifestyle changes can have to protect wildlife. As someone who is fascinated by ocean life and loves to swim, snorkel and dive, this film resonated with me and left me feeling empowered.