By Alison from our Australia team
I lose count of the number of moments in the Northern Territory that have sent shivers of awe down my spine.
Like the sense of being swallowed up by the vast winding gorges of Nitmiluk, or setting eyes on immaculate rock art in Arnhem Land — a part of Australia so remote that few overseas visitors ever venture there. Or, gazing over the Timor Sea while the sun sinks behind the horizon in a fiery ball. The skies are so huge here, the landscapes so rugged and immutable. And yet, they're also teeming with wildlife and imbued with Indigenous stories and beliefs.
Where to go in the Top End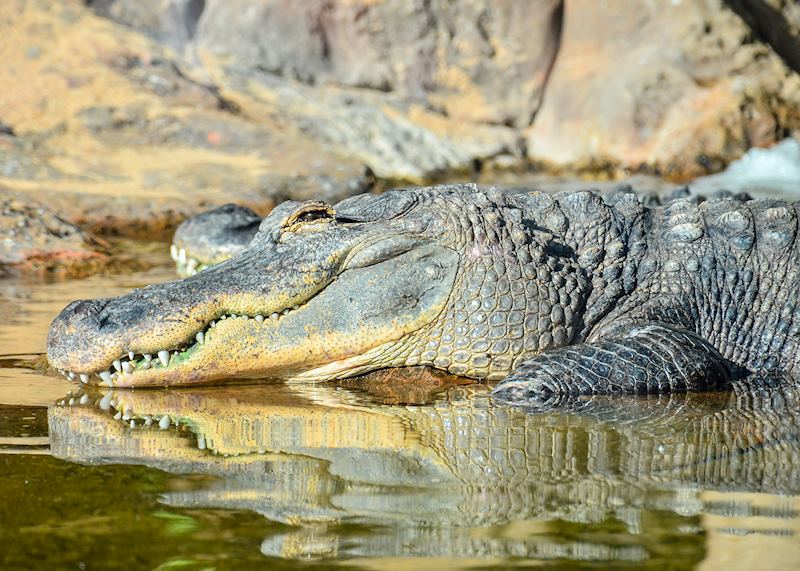 To get the most out of your time in these lands — the northernmost reaches of the Northern Territory, known as the 'Top End' — I recommend taking on a particular trio of experiences.
First, stay on a working cattle ranch that's also a luxe river lodge, for a visceral yet relaxed introduction to the Top End's Outback. Then, head to Nitmiluk National Park with its many-fissured gorge, plus a wealth of Indigenous (Aboriginal) heritage that you can explore on cruises or hiking trails.
From here you can journey to Kakadu National Park, which has the kind of pulse-quickening Outback scenery that perhaps spurred you to visit the Northern Territory in the first place. Think lonely sandstone outcrops, waterfalls and natural pools, escarpments and billabongs, and even rainforest.
Kakadu can be your access point into permit-controlled Arnhem Land, one of the world's last great wildernesses and the home of Indigenous custodians stretching back millennia.
The rock art here is the finest you'll see in all Australia, but it's not the only reason to visit. Go for the atmosphere, for the feeling of stepping momentarily outside of time — outside of familiar, Western thinking with all its structures and commerce and ideas, and into the local people's way of not only experiencing time, but seeing the world.
A quick note, before we go any further: in the Northern Territory, the term 'Indigenous' is preferred when talking about Aboriginal Australians, so that's the word I'll be using here.
Finniss River Lodge: airboats, crocodiles & canapés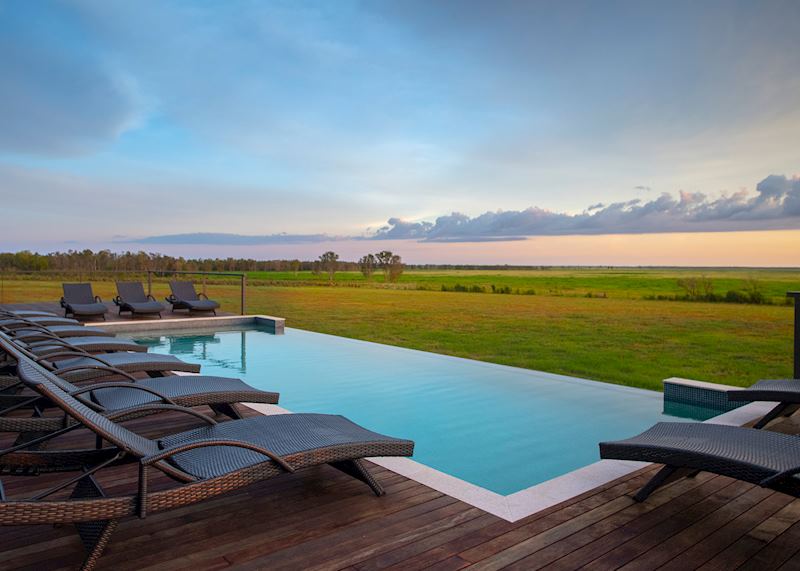 A straightforward one-and-a-half-hour drive (no 4x4 necessary) from the city of Darwin (your gateway to the Top End) brings you to a working Outback cattle ranch that moonlights as a riverside ecolodge.
Its six rooms exude the kind of pared-back luxury that Australia does so well, all decked out with local natural furnishings, freestanding baths, and private verandas overlooking the surrounding wetlands.
There are, in fact, six different ecosystems on the property's lands, including coastline and savannah, and exploring them all is part of the delight of staying here. Airboat trips along the Finniss River or floodplains bring you to a safe but still thrillingly close distance from saltwater crocodiles. You could also go bushwalking among paperbark forest, keeping an eye out for wallabies.
I recommend taking it easy in the middle of the day, given the intensity of the Outback heat — an ideal time to cool off in the infinity pool. In the late afternoon, you can take an airboat over to the lodge's private viewing platform and watch the sun go down over the Timor Sea while sipping an aperitif. One of the most enjoyable experiences, for me, is to have your aperitif out among the ranch's cattle in the early evening.
During an activity memorably called 'cows n' canapés,' you can pat a few of the 800-strong herd of muscular brahmans while hearing all about the day-to-day life of the station from the rancher.
Nitmiluk National Park: river cruises, geology & Indigenous art classes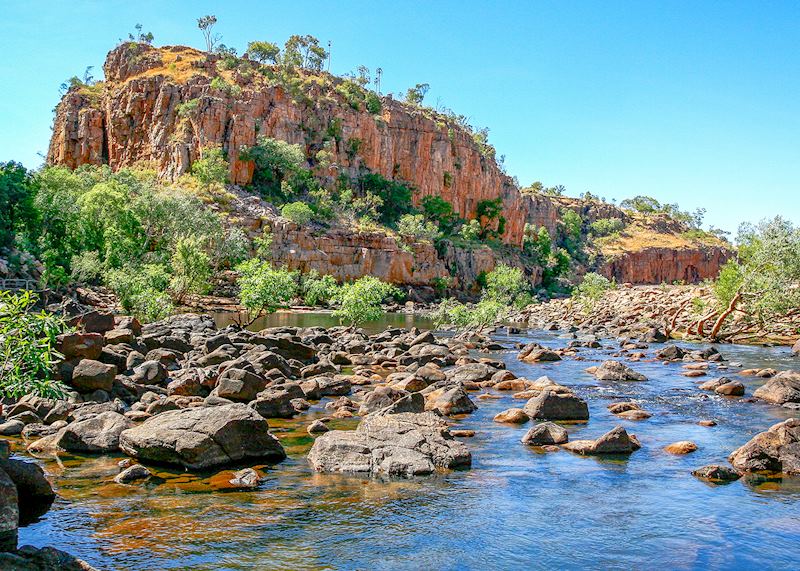 The showpiece of this national park is one immense gorge, Nitmiluk (Katherine) Gorge, carved through orange- and yellow-toned ancient sandstone, and splitting into 13 smaller gorges that are interconnected when water levels are high.
The rocks here are so old, they pre-exist the dinosaurs — no fossils are found in them. The whole park is owned, or rather looked after, by the local Jawoyn people ('owned' is a slippery word for Indigenous people, who don't believe nature and land can ever be yoked to human possession).
From the air, the gorges look like mere cracks in the Earth — unlike many natural phenomena, a helicopter flight is not the optimum way to experience this place. Instead, go down into these canyons, either on foot or via a flatboat cruise, and strata-rich rockfaces peppered with vegetation will tower over you, while the waterways themselves are punctuated by small pink-tinged beaches where freshwater crocodiles lay their eggs.
I highly recommend taking a cruise to explore. I like the dinner cruises, which glide down two or three of the smaller gorges. You'll be served a gourmet three-course meal on board, featuring regional fare like fresh barramundi. And, a guide will tell you about local geology and the Jawoyn people's stories and beliefs that are such an inherent part of this landscape.
I was intrigued to learn that some gorges are off-bounds to Indigenous pregnant women, and that you can find rock art on the gorge walls, though it's sometimes submerged in water during particularly wet rainy seasons.
Indigenous beliefs dictate that not just anyone can restore this art — it's a highly prized skill among the community, but one which has sadly been lost over generations. There are measures being taken to protect the art, though, like coating it with silica.
You can, though, have a hands-on encounter with Indigenous art at Top Didj Cultural Experience & Art Gallery near the town of Katherine, where local artist Manuel runs classes in rarrk (cross-hatch) and dot paintings. You'll create your own work under his guidance, using traditional reed paintbrushes.
It gave me a real appreciation of how deliberate, time-consuming, and intricate this technique is. It was tricky enough to master while sitting at a desk, in an air-conditioned room – I can't imagine how difficult it would be to try it on a craggy rock, en plein air.
Afterwards, you can browse the gallery, which helps to support the local Indigenous artists whose work is exhibited.
Arnhem Land: rock art, spears & wilderness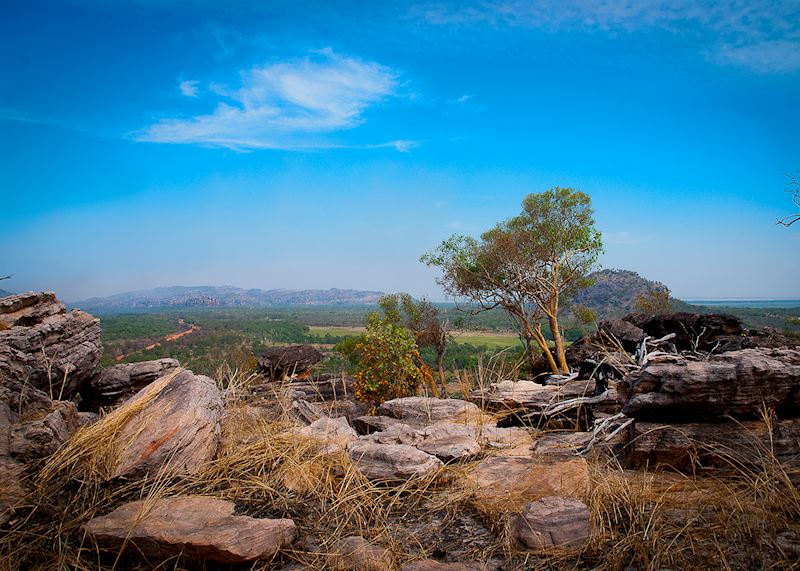 Floodplains, red-rock terrain that's powerfully synonymous with the Australian Outback, fertile billabongs, savannah woodlands: Arnhem Land has similar landscapes to Kakadu National Park, which it borders. And yet, when you enter it, it's as though everything just… stops. Kakadu can be busy (with good reason), but in Arnhem Land I saw a total of three trucks, and two of those were local Indigenous people driving over to Kakadu to get supplies.
You can explore Arnhem Land over the course of three or four days, but if you're pressed for time, you'll get a real feel for its landscapes and culture on a guided small-group day tour.
After driving over from Kakadu, you'll stop at a billabong for a coffee, and it was here that my guide told me all about the local Aboriginal people's way of life. I learned, for example, that at age two they start learning about wildlife and plants, and by 12 they're expected to know all about the seasons.
Arnhem Land's main draw, for many, is its rock art. It's the best-preserved, most detailed, and most complex in all Australia. On a full-day tour, you'll see art depicting species that haven't been seen in the region for thousands of years, like the Tasmanian tiger — evidence that some rock galleries are over 8,000 years old. Some later pieces depict contact with European settlers.
Arnhem Land also gives you the chance to see rock art in such scenic and (unlike some national parks) completely uncrowded settings. You might view a piece alongside a calm billabong, or against a lush green field. You get a very strong impression that each piece of rock art is there for a reason, that each has some message to impart — and guides will help you unpack all this richness.
One of the other highlights of a full-day tour from Kakadu is a visit to Seven Spear Rock, an outcrop still pierced to this day by wooden spears. They were traditionally thrown by local Indigenous men to display their hunting prowess — a practice still in place today.
Finally, I'd say that setting foot in Arnhem Land is an invitation to look at life from a different perspective. Your guide might explain in great detail how local people have a different mindset when it comes to time, which is almost perceived as circular here, rather than linear.
One of the challenges for local communities, my guide told me, is finding ways to incorporate their traditions and way of life with the norms of the Western world.
Non-Indigenous residents of the Top End are increasingly listening to and learning from Indigenous ways — for example, I learned how Finniss River Lodge's owners are working with Indigenous locals and the Department of Conservation to find the best ways of managing their land. And, happily, through initiatives such as art galleries and tour guiding, more and more bridges are being built.
The Northern Territory in pictures
Start planning your trip to the Northern Territory

Start thinking about your experience. These itineraries are simply suggestions for how you could enjoy some of the same experiences as our specialists. They're just for inspiration, because your trip will be created around your particular tastes.
View All Tours in Australia