We would like to arrange a honeymoon to Botswana and maybe a few days in Mauritius on the way home. We would like to depart on Sunday 13 July 2014 for about 12 - 14 days. We have done safaris in Kenya and Tanzania previously. Would be grateful for your recommendations and price estimates?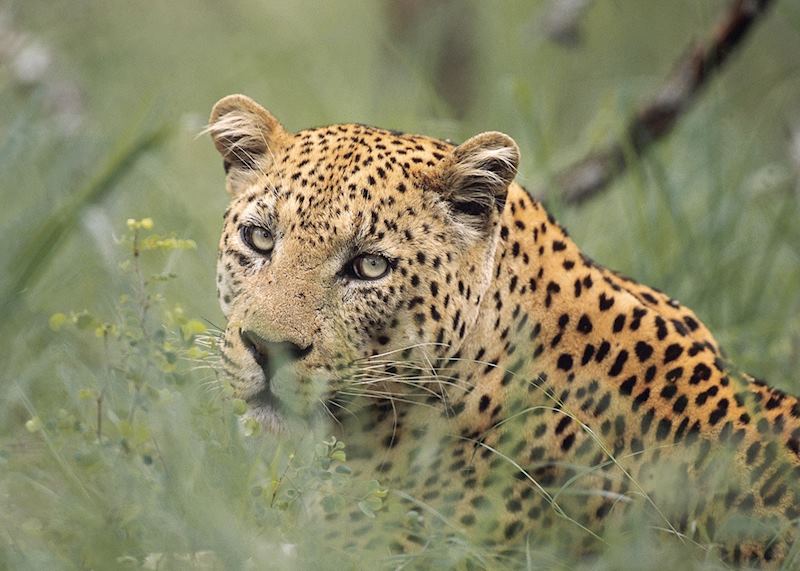 Answer
Firstly, congratulations on your engagement. It's great that you're looking to travel to Botswana on your honeymoon. July is within peak season as the weather is lovely and warm and the game viewing is good, although you'll need to take layers as the evenings can be cold. It's also the most expensive time to be in Botswana, so if your dates aren't fixed yet do consider traveling in June or October when you can get better value for money. Botswana safari prices are often off-putting but one brilliant thing about Botswana safaris is that the price you pay in the UK will be the total cost of that part of your trip — the only things you pay for locally are tips and curios. There are no extra taxes or visa costs (providing your passports are British) and all activities, park fees, transfers, meals and drinks tend to be included.
I have always found that a two or three center stay in Botswana yields the most balanced experience and best game viewing opportunities, with three nights the ideal time spent at each camp. If you're adding on Mauritius then you'll find the best value fares on either BA or a combination of South African Airways and Air Mauritius, or if you don't mind going indirectly then Emirates offers good value too.
In terms of your safari, if you're looking at Botswana then it's most likely that you'll want to go to the Okavango Delta. This is the largest inland delta in the world and a certified UNESCO World Heritage Site. At its center is the Moremi Game Reserve which is surrounded by private concession areas. Most concessions have a mix of habitats, with permanent rivers, floodplains, riparian woodland, mopane veld and lagoons, although some are considered 'wetter' or 'dryer' areas and therefore offer different activities. In Moremi the rules are strict — no night drives, walks or off-road driving, but in the private concessions the lodges can be more original with their offerings. The day and night drive are ubiquitous in these areas but the mokoro (dugout canoe) rides, boat cruises and guided walks are more limited.
In terms of recommending actual lodges in Botswana there is a huge amount of choice and my recommendation would depend on your particular interests, and your thoughts on your previous experiences in East Africa. I would query if there are any particular animals or birds that you would like to see, which activities you would like to do, and what you really enjoyed or disliked about previous camps/lodges that you have stayed in. For example; if you would like to see the most diversity of birdlife then Xigera or Kanana Camps are renowned for their birding, the best spot for lion and buffalo interactions is at Duba Plains and some of the most consistent big game sightings including lion, leopard and wild dog come from the Chitabe and Kwara Concessions. Properties like Oddballs Enclave and Letaka Mobile Safaris offer a really rustic, authentic, immersive and wild experience whilst Mombo and Zarafa, the most expensive options, offer both bling and bragging rights.
It's worth remembering that, as you have between 12 and 14 days to play with, two of these are taken up by actually traveling out and home again and depending on your flights you may need a night in Johannesburg. You would have time for three nights at two camps in Botswana, leaving around three or four days on Mauritius. Here, again, my recommendation would depend on your requirements. For a boutique hotel with amazing service, reasonably priced cocktails and contemporary style there isn't much that beats 20 Degrees South. If you've spent more of your budget on Botswana and have less for Mauritius, then look at Le Sakoa, which has a fabulous beach and lots of dining out opportunities. If you'd like a resort style hotel then the best options are the Oberoi or Le Prince Maurice and both have attractive honeymoon discounts.
As you can probably expect, prices are completely dependent on the style of accommodation you choose. I would expect a trip like this to start at around £6,000 per person in peak season but for top end accommodation it could be in excess of £15,000 per person. If you traveled outside of peak season, or spent longer in Mauritius and less time in Botswana then realistically you could look at between £4,000 and £5,000 per person.
I hope that this helps to develop your thoughts on your honeymoon, you're doing the right thing looking at it now, peak season fills up fast as each lodge has a limited number of rooms so we recommend a year in advance to ensure you get your first choice. Do have a peruse through our website, and request our brochure for more specific information on each concession area. Alternatively, for an initial information gathering chat with one of our specialists just call and we'd be happy to help.