Cacti-dotted desert, colonial towns and some of the world's best whale watching — Mexico's Baja Peninsula has plenty to offer the inquisitive traveler...
An insider's guide to whale watching in Baja
Time zone: UTC-6
Flight time: 4 hours+ (New York to Cancun)
When to go: January to March is the official whale season but Baja California offers plenty to make it a year-round destination. Read our full guide about the best time to visit Mexico.

In brief: Conveniently served by a choice of direct flights, Mexico offers a wealth of attractions to tempt the traveler. Ideal for shorter breaks combining crumbling ruins with pristine beaches or more comprehensive tours taking in colonial towns, colorful markets and dramatic canyons.
Stretching for over 750 miles along Mexico's Pacific Coast, the Baja Peninsula is a geographically fascinating place. The rolling dunes of the desert meeting the sea is a sight to behold in itself, even without the astonishing marine world teeming beneath the surface. Although the region is now synonymous with whale watching, the discovery of whales in Baja California in the 1800s was almost accidental — the explorer Charles Melville Scammon questioned whether the sight of whales, seemingly spouting over the dunes, was an optical illusion. Nowadays, the commercial whaling that decimated the population during the mid-19th century has been outlawed and gray whale numbers in particular have grown at a steady rate. There are estimated to be more than 20,000 gray whales and although they are still protected, they were removed from the endangered species list in 1975. The region was declared one of the world's first whale sanctuaries in 1972, and the careful growth of ecotourism in the area has established Baja California as one of the most exceptional places in the world to go whale watching.
Which whales might I see in Baja California?
Gray whales
Earning their reputation as the 'friendly' whale, there are times within the season when these magnificent creatures seem to love being touched and stroked; it's usually the younger whales, becoming curious. The way in which the whales approach the boats and interact with groups is certainly not an artificial set-up where they expect food — they are just the original attention seekers! Arriving in season in great numbers to calve in Magdalena Bay, the San Ignacio Lagoon and Guerrero Negro, these gentle giants are the species you are most likely to see on a trip to Baja.
Blue whales
The largest mammal in the world, these mighty creatures are the stuff of legends. Weighing up to 200 tonnes, their tongues alone can be as heavy as a full-size elephant. Blue whales are best seen around Loreto, either on a very long day trip (in a shared or private boat) or, better, as part of a longer cruise around the Baja Peninsula. Fin whales can also be seen in this area.
Humpback whales
This species can be seen in the area around Cabo San Lucas, although they are trickier to find. Also, it is not possible to get as close to humpbacks as you can to the gray whales.
Whale sharks
Although not whales at all (they are fish not mammals), these docile creatures share more characteristics with whales than you might expect. They can be seen in the waters around La Paz on day trips from the peninsula, though the journey time is long for relatively little time in the water.
When is the best time to see whales in Baja?
Mid-January to mid-March is the 'official' whale season, but as with any wildlife experience there can always be variations within this. For example, the gray whales are most prolific in number in February, but they are said to be at their most friendly in March. The whale shark season starts and ends a little earlier, running from around mid-December to mid-February.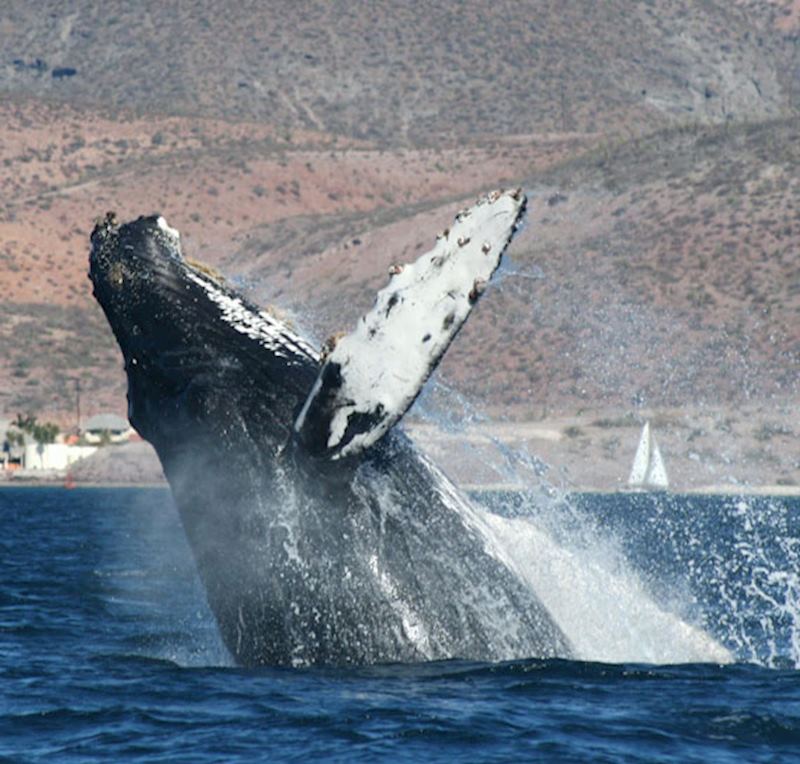 What else can I do in Baja?
Baja California is truly a year-round destination, and whether you are visiting in whale-watching season or not, there are some charming towns to explore and some great activities to keep you busy. Most people considering a trip to Baja will have heard talk of 'Los Cabos' — the two towns of San José del Cabo and Cabo San Lucas, linked by the coastal road along the southern tip of the Baja Peninsula. There are certainly some good beach hotels to choose from along this stretch such as the elegant new Capella Pedregal; this could be the perfect place to unwind after a week of activities.
Baja is not just about the beaches however. The town of San José del Cabo itself has an attractive colonial center, and there are also some lesser-known gems to be discovered. La Paz is one of the main gateways to the region. Around 130 miles to the north of Los Cabos, it has a charming historic center and a long seaside promenade to stroll along. It is also a good base for a range of activities, from sports fishing to kayaking camps out onto Espiritu Santo Island. We also like the smaller town of Todos Santos, around 30 miles from the main airport at Cabo San Lucas. It has a real 'oasis in the desert' feel, with palm trees and fruit trees, preserved colonial buildings and a thriving artist community. Although the town itself is not directly on the beach, the nearest beaches are only just over a mile away.
What is the best way to arrange a trip to Baja?
There are a variety of packages on offer, both land- and sea-based, which we can tailor to suit your specific interests, budget and preferred pace of travel. The most affordable way to travel is by hiring a car and driving between each of the lagoons. However, with so much to see in between the lagoons it is a shame not to have a guide. As a result we have designed some 12-day land-based small-group tours that not only represent great value for money but also include a huge number of whale watching opportunities including trips to San Ignacio, home to the gray whales. Alternatively, a number of expedition cruises explore the water surrounding Baja Lagoon. The Safari Voyager is a great value option offering flexible itineraries and a variety of activities in addition to whale watching including kayaking, snorkeling and hiking.
If your focus is solely on seeing whales with minimal distractions, the Searcher attracts the most dedicated of whalewatchers on its 12-night voyages — although cabins are simple, the boat has permits to enter areas of the peninsula that no other operators have been granted. The National Geographic Sea Bird enjoys similar privileged access to lagoons that the larger ships cannot reach; it also boasts some of the most authoritative wildlife experts and speakers on board.
And what about visiting other places in Mexico?
San José del Cabo is the main airport of the peninsula and is serviced by daily flights from Mexico City, Los Angeles, San Diego and Phoenix. Most of Mexico and the USA's west coast can be combined with a trip here.