From the volcanoes and rainforests of Hawaii to the bicycle-friendly cities and wildlife watching opportunities found in Canada, our two latest destinations give you a chance to explore slightly closer to home.
Both places are well-suited for a shorter family trip packed full of activities. You could look for bears by Zodiac boat, explore Vancouver on a family bicycle ride, soar over the steaming craters of Volcanoes National Park in a helicopter or take in the filming locations of Jurassic Park in an open 4x4.
Our specialists have also picked their favorite family activities in Mexico, also within easy reach for a short beach break.
Family activities in Canada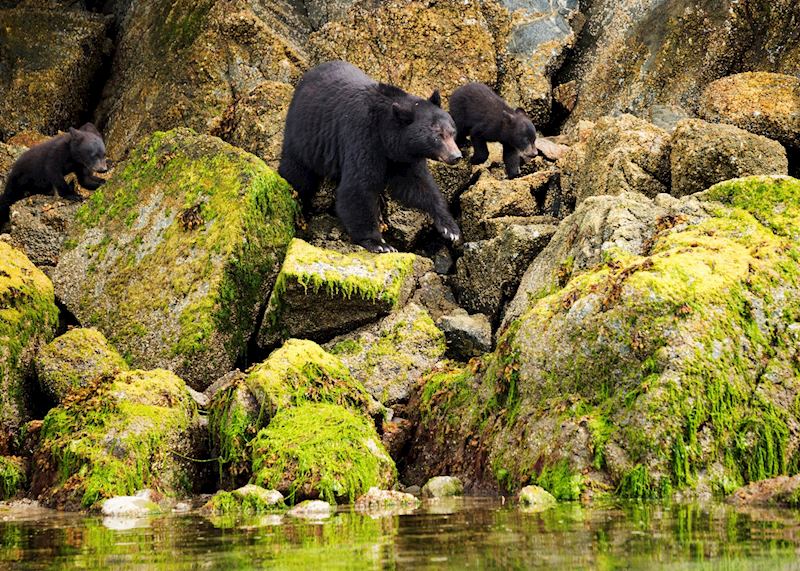 Black bear watching in Tofino, BC
Chosen by Canada specialist Mary
Known for its surfing beaches and forested hiking trails, the town of Tofino on Vancouver Island's south coast is a popular family haunt. If you're visiting between April and October, one of the best things to do, in my eyes, is join a bear-watching trip out on Clayoquot Sound's calm waters.
The shoreline's a popular breakfast spot for black bears, which forage among the rocks and stones for clams, barnacles and rock crabs. Traveling by an open-air, rigid-hulled Zodiac boat with just a handful of others, you'll scour the sound's sheltered bays in early morning. Your guide will help spot the bears and tell you more about them and the local area.
Bears are mostly solitary, but if it's earlier in the season you might see cubs, fresh from hibernation, following their mother as she lifts stones in search of food. As you explore the inlets, you can also look out for orcas, seals, bald eagles and porpoises.
How to do this trip: Our Bears of British Columbia 15-day trip idea can include this tour — and plenty more — to give you a chance to see the region's black and grizzly bears.
A cycle tour of Vancouver, BC
Chosen by Canada specialist Sian
With its parks and waterfront trails, I find Vancouver is well-suited to cycling. The whole family can take in the city's main sights on a cycle ride led by a local guide. You'll spend most of the day pedaling through the city at a leisurely pace, covering around 20 km (12 miles) and stopping regularly at points of interest to take photos.
Far from being all skyscrapers and traffic, the ride takes you along the sea wall that encircles Stanley Park, a large, leafy area that juts into the waters of Burrard Inlet and English Bay. Your guide will help point out wildlife as you go, from squirrels to bald eagles and waterfowl, and you'll cycle underneath the Lions Gate Bridge. Pause to look at Siwash Rock, too, which is linked to First Nations folklore.
Following the coast round, you'll cycle past beaches and along the south side of False Creek for views over the skyline, framed by the North Shore Mountains in the distance. You'll also pass the Olympic Village complex and Science World before taking in the sights and smells of Chinatown — one of the largest in North America.
How to do this trip: You can begin or end a trip to Canada's west with a few days in Vancouver.
Family activities in Hawaii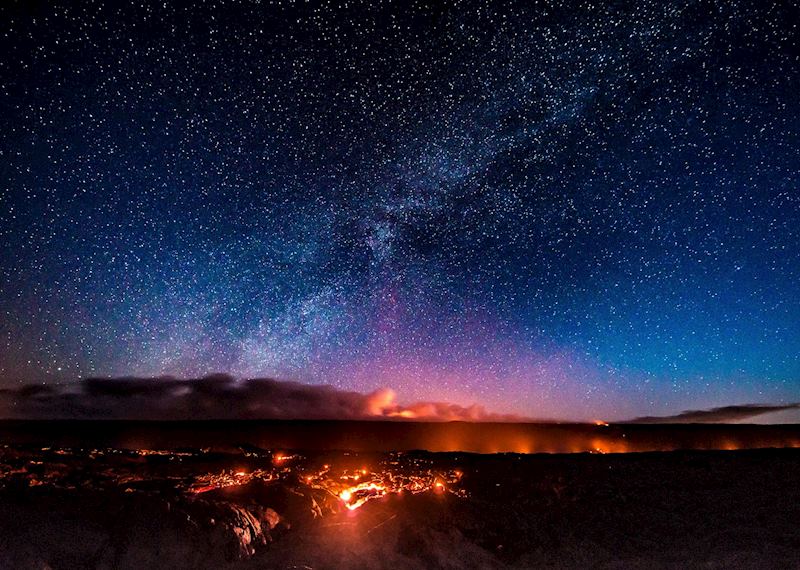 A UTV tour through Jurassic Park
Chosen by USA specialist Katherine
With its dense rainforests hiding waterfalls, steep coastline falling to aquamarine waters, and volcanic hills and mountains, it's no surprise Hawaii is often at the top of the list for those scouting filming locations. While on the island of O'ahu, you can visit some of the areas that have appeared in movies and TV shows, including Jurassic Park and Lost.
One of the best ways that I've found to do this is by joining a two-hour UTV (ultra-terrain vehicle) tour in Kualoa Nature Reserve — a popular filming site. The open-sided 4x4s fit up to six people and are designed to travel over the reserve's rough terrain, splashing over streams and moving through rainforest at a leisurely 15 mph.
Each group of UTVs is led by two guides who know the reserve well and can tell you more about its flora, fauna and filming history as you go. You'll also make regular stops at points of interest, whether it's a spot with particularly good views over the valley and the distant ocean, or a place used for a movie — we even saw the log beneath which the characters of Jurassic Park hid from a stampede of gallimimus.
How to do this trip: You can spend time on O'ahu and include this activity as part of this 12-day Hawaii self-drive trip idea.
A helicopter flight over volcanoes and waterfalls
Chosen by USA specialist Katherine
The island of Hawaii (also known as the Big Island, it being the largest of the archipelago) is home to some of the most geologically active areas on the planet. You can take in the smoldering volcanoes and dark, glowing lava fields of the island's Volcanoes National Park from above on a 45-minute helicopter flight.
Lifting off from Hilo, you soar over the steaming craters of two active volcanoes — Kilauea and Mauna Loa — and can look down to see the paths of old lava flows that have scarred the landscape. Your pilot-guide will use a headset to interpret what you're seeing and explain the different geological processes at work.
Kilauea had erupted relatively recently when I flew, so no lava was visible inside its caldera. But, it was still impressive to see the crater from above and notice how the eruption had altered the surrounding landscape.
You then head northeast to explore the island's Hāmākua Coast, where black-sand beaches meet almost-vertical cliffs over which waterfalls spill.
How to do this trip: Our 16-day Hawaii island-hopping trip idea includes several nights on the Big Island, giving you plenty of time to fit in a helicopter flight.
Family activities in Mexico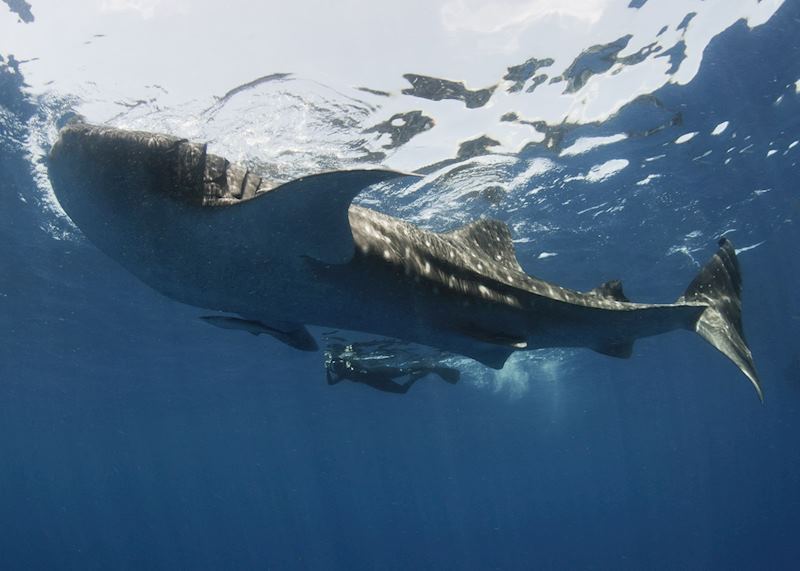 Whale watching in Baja California
Chosen by Mexico specialist Jeff
Already popular for a beach break, Baja California offers white-sand beaches and, farther inland, forested mountains, natural pools and waterfalls. It's easy to fill your days here hiking, horseback riding, zip-lining and snorkeling as a family.
One of my highlights, though, is taking a whale-watching trip out on Magdalena Bay. You have a chance of seeing humpback, gray, fin, minke and blue whales, which migrate from Alaska to these warmer waters, nursing their young there between January and March. You might also see dolphins playing among the waves. Your on-board guides will know the best places to look and can tell you more about each species and their traits.
How to do this trip: You can include this activity as part of this ten-day trip idea focusing on Baja California's marine life.
Beaches and whale sharks on the Yucatán Peninsula
Chosen by Mexico specialist Jeff
The Yucatán Peninsula is home to the popular beachside town of Tulum. But, for quieter beaches, I recommend heading to Isla Holbox, on the peninsula's northernmost tip.
There's a distinctly bohemian feel to this tiny island. With no cars, you get around by golf buggy or on foot. Brightly painted buildings add character. And unassuming beachfront restaurants serve fresh seafood (including lobster pizza) with sunset views that photographs can rarely do justice. You'll also find the island's calm waters make for safe wading, and its sandy beaches offer reams of space.
Best of all, the island's renowned for the whale sharks that inhabit its waters between June and mid-September. You can head out on boat trips to see these enigmatic creatures, their speckled skin nicely camouflaged to the sun-spangled water. They're harmless to humans, preferring to dine on plankton. Keep your eyes peeled for dolphins, flamingos and pelicans, too.
How to do this trip: Isla Holbox makes a relaxing finale to a trip taking in the highlights of Mexico.
Further Reading