By Mexico specialist Anna
One region stands out when it comes to family holidays in Mexico — the Yucatán Peninsula.
Beyond its beaches, there's much to capture the imagination. Think ancient Maya ruins that rise from the jungle like something straight out of El Dorado, including Chichén Itzá, one of the New 7 Wonders of the World. Wildlife reserves where creatures such as pink flamingos and caimans can be easily spotted on boat trips. Then there are cenotes, sinkholes formed where the peninsula's porous limestone bedrock has given way and fed by underground springs. Swimming in one is like entering a strange subterranean realm and will appeal to older children with a sense of adventure.
Family activities in the Yucatán, Mexico
Swim and snorkel in cenotes

Beneath the endless-seeming green jungle you'll see from the plane window, the vast limestone shelf of the Yucatán is a honeycomb of underground rivers and pools. Some of these pools or sinkholes — known to the Maya as cenotes ('sacred wells') — are open to the elements and the surrounding jungle. Others are water-filled caverns, with only chinks of light falling onto their mineral-rich waters.
There are thousands of cenotes all over the region. When you swim in one, you can see why the Maya believed them to be portals for communicating with the gods. The water is so pure and clear you can often see catfish and other tropical fish swimming below you, with or without a mask. The water itself is pleasantly cool and refreshing, not glacially cold. Many cenotes are deep, so young children will require supervision. More confident swimmers will love snorkeling under their own steam.
For a quieter experience, I'd recommend Cenote Yokdzonot, a 20-minute drive from Chichén Itzá. It looks like a vast, deep-sided swimming hole. Vegetation hides the pool from view until the very last second; long vines stretch down into the water, which changes shades dramatically depending on the light — sometimes parakeet green, sometimes midnight blue. You might see hummingbirds buzzing around, while fish dart beneath you.
This once-forgotten cenote was reclaimed from the jungle as a development project to replace the low-paid farm work that many rural Maya communities rely on. Today, it's sustainably managed by a local Maya women's cooperative, Zaaz Koolen Haá ('Clear Water'), and continues to be an important source of jobs and income for local people. It also donates a portion of its monthly takings to supporting local agricultural workers.
Explore ancient Maya ruins
Tulum's seafront Maya citadel

Tulum's ruins sit on a promontory above the beach to the north of the town. They're easily accessed from the Tulum beach zone and from Playa del Carmen, and they're a relatively small, manageable site. You reach them via a forested walkway (possibly surprising a family of raccoons en route), squeezing through openings in the original city walls to emerge onto a grassy plain. Here, the weathered remnants of this once prosperous Maya trading hub are spread out before you in a rectangle.
A former port and the only Maya settlement built on the coast, its most exciting (and largest) building is the stepped pyramid, the Castillo, set right on the edge of the cliffs and used for religious and astronomical ceremonies. It was originally brightly painted.
Look out for serpent carvings on some of the structures, as well as the bizarre upside-down winged figure, the 'descending god'. You'll see iguanas encrusting many of the ruins — it's easy to mistake them for lumps of stone.
The Temple of the Wind, a smaller square structure, juts out on a crag overlooking the secluded sliver of beach. Make time, if you can, to paddle in the sea here — it's really peaceful if you visit first thing as the site opens.
Uxmal
On the western side of the peninsula, Uxmal is another good site for children. It's a jungle-enclosed mass of stepped temples and squat buildings with heavily sculpted façades — try to spot the carvings of 'vision serpents', believed to be conduits between gods and men, and the carvings of turtles. Like Tulum, Uxmal's ruins are crawling with sunbathing iguanas, which can move surprisingly fast when they want to. Some are the size of baby crocodiles — but they're all harmless.
The 35 m (115 ft) Pyramid of the Magician is the first structure you see as you enter Uxmal, a pyramid with rounded sides (unusual in Maya architecture) and steep slopes. It's crowned by smaller squat temples. When you take a closer look, you'll see that the lower temple is actually part of an elaborate carving of Chaac, the hook-nosed Maya rain god, and his jaws form the temple entrance. You can see a similar 'monstermouth' entryway on the House of the Dwarf.
Try to visit with a guide, who can recount the many fantastical local legends associated with these ruins. The main one tells of an alux (leprechaun or dwarf), the offspring of an iguana and a witch, who defeated a powerful king in a Maya version of David and Goliath. The king set him challenges, such as constructing the Pyramid of the Magician (and many of the other buildings at Uxmal), during a single night. The final test involved being struck by hammers — the alux survived the king's blow thanks to the protection of a magic tortilla, and became the new ruler.
Uxmal is a long drive from the Mayan Riviera, so I suggest staying for a couple of days in Mérida, a Moorish-influenced colonial city about an hour by car from the ruins. It comes to life as dusk falls, with dancing in the main square and guitar-carrying Yucatán trios (troubadours) serenading people on request.
Chichén Itzá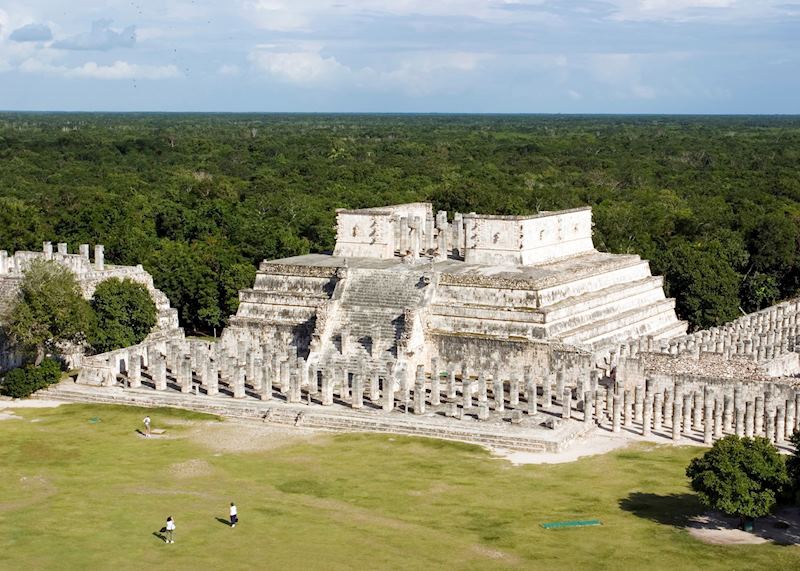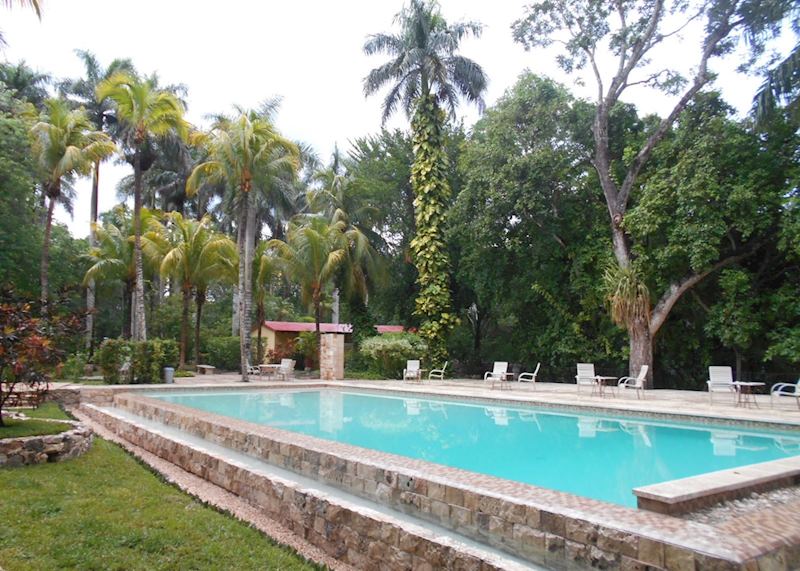 The busiest of all Maya sites, this sprawling complex includes several richly carved pyramids, temples, a ball court, an observatory and a giant gaping cenote. El Castillo, the stepped pyramid with serpent heads carved at its base, stands in the central plaza and is believed to have served as a giant calendar (count the 365 steps) as well as a sacred temple.
There's a lot to see here. The site quickly becomes thick with visitors and local Maya hawking souvenirs, so arrive early and take a good guide to help you interpret the ruins. There are plenty of weird and wonderful (and slightly gruesome) features, however, from a platform carved with skulls (a symbol of life for the Maya) to the humongous ball court. Players could use any body part other than their hands (some scholars say even feet were prohibited) to move the ball — it must have been virtually impossible to score through one of the high-placed carved rings. Then there are the gangrenous green waters of the sacred cenote. Treasure and the remains of sacrificial victims have been found in its depths.
It's possible to visit Chichén Itzá as a day trip from the Mayan Riviera. It takes around two hours to drive to the site, so be prepared for a very early start if you want to beat the crowds. Alternatively, you can stay over at Hacienda Chichén, a hotel a few steps from the ruins. Surrounded by subtropical forest, it has its own restaurant and pool.
Go wildlife watching in protected reserves
See flamingos at Celestún Nature Reserve

If you're staying in Mérida, consider making the journey to the quiet fishing village of Celestún. It's the starting point for small-group boat tours into the wetlands and lagoon around a sheltered estuary. After a day exploring this watery reserve, I suggest finishing with a visit to a quiet nearby beach, where you can eat a simple but tasty lunch of fried fish before swimming and snorkeling.
When I last visited, we puttered through dark tunnels of tangled mangroves and petrified forests, whose trunks were sunk deep in the water. We stopped to swim in ferny freshwater springs, where the crystalline water was an inviting shade of mint blue, and walked on wooden pathways snaking through the trees.
The real draw, however, was the birdlife. You can spot ibises, egrets and pygmy kingfishers, but the real treat, for me, were the great masses of wading pink flamingos that suddenly came into view when the boat pulled into open expanses of water.
Spot caiman and other creatures in the Sian Ka'an biosphere reserve

The southeast corner of the Yucatán Peninsula, just beyond Tulum, is mostly an uninhabited wilderness containing Maya-built freshwater canals and natural mangrove swamps, lagoons, lakes and primary rainforest. In total it stretches over 4,500 sq km (1,737 sq miles) and extends right to the Belize border. It has become a haven for wildlife, and the best way of experiencing it is either by a 4x4 safari through the forests or a guided boat trip.
Over a third of all species discovered in Mexico live in the reserve. Guides will help point out the most commonly seen birds, including orioles, great blue herons, storks and the odd vulture. Peering into the undergrowth, you might spy ocelots and tapirs. Bush pigs, raccoons and spider monkeys are more likely to make an appearance, as are caiman, both on the banks and in the water.
Where to stay in the Yucatán
Tulum beach on the Mayan Riviera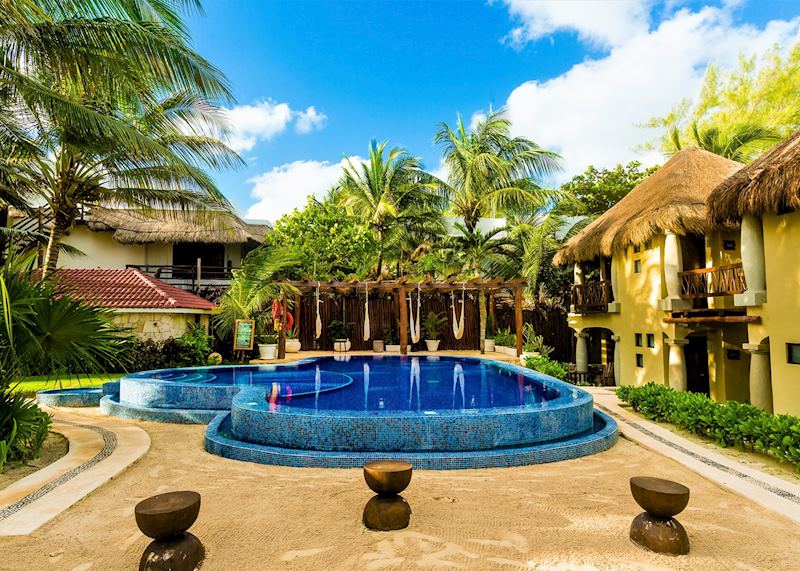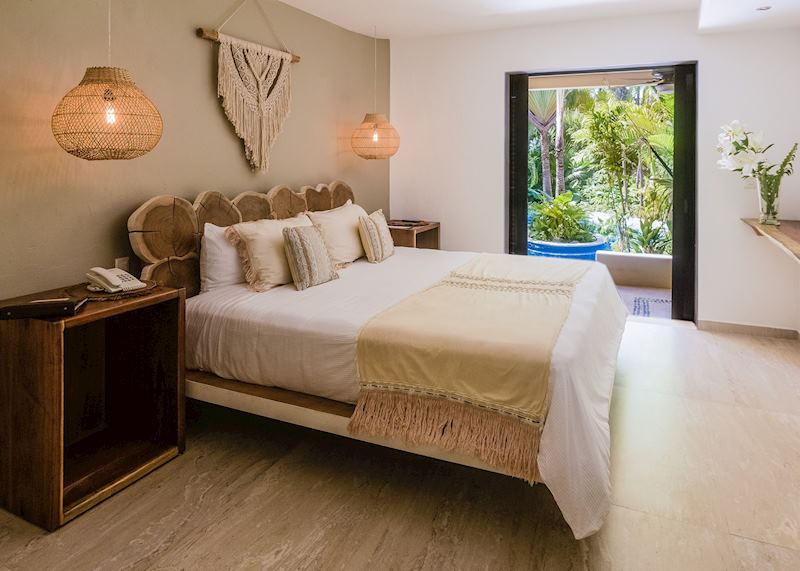 The stretch of coast between the busy city of Cancún and the smaller but still glitzy town of Playa del Carmen can be a family-friendly place to stay. There are several hotels in gated communities which have good amenities for families, including a choice of pools.
There's Andaz Mayakoba, a large all-inclusive resort which admittedly does lack a bit of character, but it comes with a range of connecting rooms and a kids' club. I also like Mahekal, set among a peaceful forest of palms, ceiba, and mangroves, and yet only a short walking distance from the shops and restaurants of Playa del Carmen. Plus, children's menus are available in all this resort's restaurants.
Further south, Tulum has long been beloved for its stretch of beach lined with palm trees and wooden cabañas, but it does come with a few caveats. Increasing amounts of local traffic, especially in the early evening, and rising noise levels, due to the sheer amount of development and the proliferation of beach-style bars and a party-loving clientele, has to be contended with. The beaches are also, unfortunately, clogged with large amounts of sargassum (seaweed).
Why go at all, then? Well, Tulum can be a useful base for many of the region's attractions. Snorkeling trips to the nearby Mesoamerican Barrier Reef and swims in nearby cenotes (see below) can be easily arranged via your hotel.
I like to hire a bicycle to head up to Tulum's Maya ruins — there's one long, flat road running behind the beaches leading all the way there. And, it's also a good vantage point for visiting the region's water parks — several are only a short drive away. Xel-Há, for example, is a snorkel park with a coral lagoon, while Xcaret, a slightly longer drive, has a butterfly garden and zoo.
The small-scale hotel Ana y José is an option for families, with ground-floor rooms that offer some insulation against Tulum's near-constant soundtrack of traffic and bar music, and a swimming pool. It's also within walking distance of several restaurants.
Mérida, a Spanish-colonial town in the north of the peninsula, is another good place to stay even just for a day or so, especially if you're journeying more widely around the state and visiting Celestún and Uxmal. Boutique by the Museo is our preferred option here, with various room configurations on offer.
Alternatively, you could spend a few days on Isla Holbox, just off the northern tip of the peninsula. It's a sleepy, largely undeveloped, car-free island. You trundle everywhere by golf cart and spend the days idling on the beach, watching pelicans swooping, and looking out for the dolphins that are known to visit Holbox's waters.
The best family hotel here is Hotel Las Nubes, which has bungalow-style rooms with ocean views that fit a family of four.

Food for children in Mexico
Mexico has a reputation for fresh food that isn't necessarily spicy or hot. Often dishes will be served with spices and hot sauces on the side, so they can be added to suit individual tastes.
Best time to visit Mexico with your family
Avoid summer (June to August) as the weather turns much hotter and more humid to coincide with the start of hurricane season. Opt instead for the winter break period (December to January) as well as the spring break (March to April).
Start planning your trip to Mexico

Start thinking about your experience. These itineraries are simply suggestions for how you could enjoy some of the same experiences as our specialists. They're just for inspiration, because your trip will be created around your particular tastes.
View All Tours in Mexico