By Brazil specialist Rachel
When I think about what luxury in Brazil means, I think first of the wildlife experiences I've had in the country. It's the luxury of experiences you simply couldn't have elsewhere: just take stalking jaguar with expert felinologist guides in the Pantanal, or watching the sun rise over the Amazon's unbroken canopy.
There's room for you sybarites too: luxury travel in Brazil includes its fair share of exclusive properties. These aren't impersonal ostentatious resorts, though — they're locally owned, environmentally sustainable places that display real artistic flair.
Rio de Janeiro without the crowds… or the tourists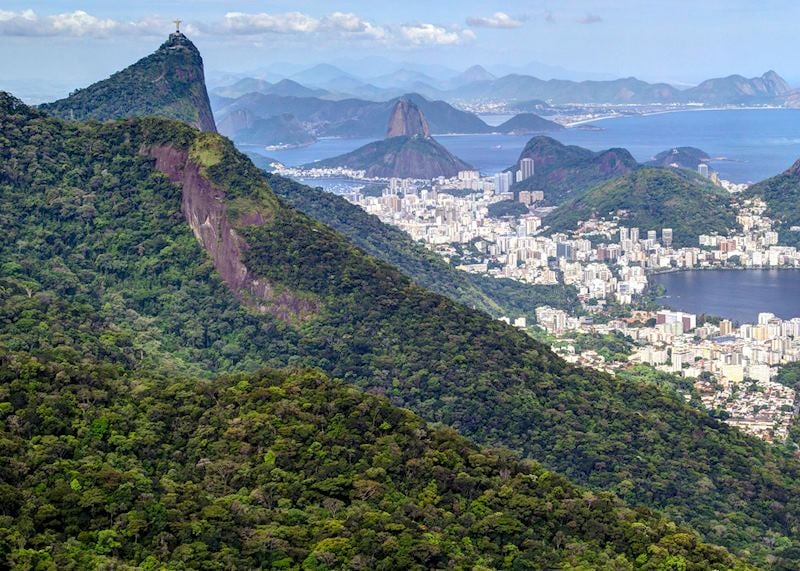 Brazil's coastal metropolis likes to refer to itself, in its usual shy and retiring way, as the 'Cidade Maravilhosa' (Marvelous City). But, I have to admit, it has a point. The contrast between the emerald-green forested morros (the peaks down which the city spills into a lagoon), the bright sapphire of the bay water, the caramel sands of Copacabana and Ipanema beaches… yes, Rio is an immensely good-looking city, and it knows it. (So do its inhabitants: be prepared to see eye-wateringly small bikinis and busy workout stations all along the beaches.)
Most visitors head to Rio's two main highlights and vantage points, Christ the Redeemer on Corcovado Mountain and the twin peaks of Sugarloaf Mountain out in the bay. But they're not the only places to drink in the city's vistas (and they're often crowded).
Head up to Tijuca National Park, a mass of tropical rainforest that appears somewhat incongruously in the middle of the urban sprawl, and make for one of its lookouts. I like the Vista Chinesa, a viewing platform crowned by a kitsch Chinese pagoda. Standing under its welcome shade, the city looks like huddles of white cubes sandwiched between morros and the lagoon. From here, the mighty Christ the Redeemer resembles a stick man.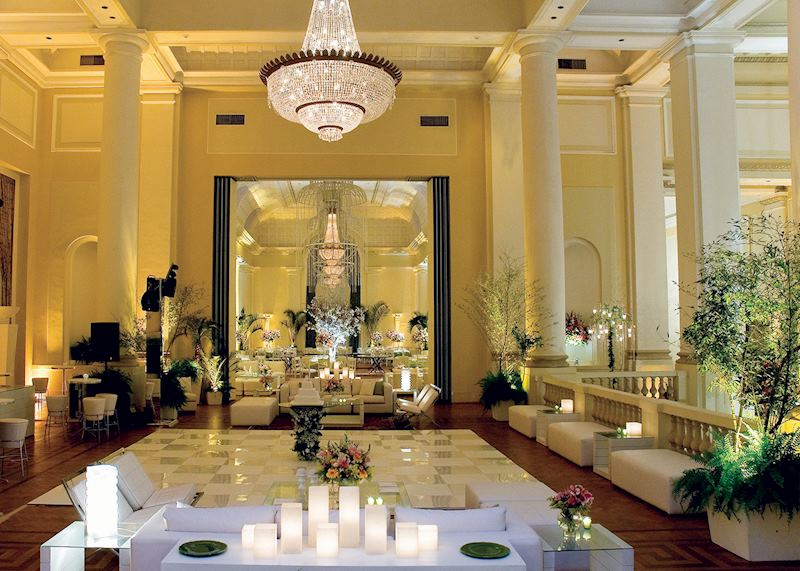 Tijuca's size and maze of winding forest trails makes it one of the least congested places in Rio. Go with a guide, who can show you even more obscure yet equally rewarding vantage points. You might see marmosets swinging through the trees as soon as you step off the main pathways.
If you're looking for a slice of old-school 60s and 70s Rio glamour, I recommend staying at the Belmond Copacabana Palace. Portraits of past guests line the walls, a roll call of everyone from Sinatra to Obama, and bossa nova music plays around the hotel.
For something even closer to a quintessential Carioca (Rio resident) experience, head to the Lapa District at nightfall to sample some of the throbbing samba.
The best club, in my opinion, is the Rio Scenarium. The stage is on the ground floor, and you can hop in the clanking lift and grab a spot on one of the mezzanine balconies to watch the live samba band from above. The walls are decorated with all kinds of wacky objets d'art and antiques, from clocks to porcelain dolls and even a bicycle. The later you stay, the more people stop watching the band and start dancing. It feels authentic — you'll hear little English spoken, and the atmosphere, as the crowd begins to dance, is electric.
The best of the Amazon at Cristalino Jungle Lodge

Spending time in the 'lungs of the planet' is rewarding, but be aware that it's more developed than you might think. For this reason, if you have the budget, I'd eschew the main hub of Manaus and fly from Cuiaba into Alta Floresta instead (flight duration is around one and a quarter hours). This far-flung settlement is swallowed deep in the rainforest, but it's your gateway to the lodge that I feel offers by far the finest Amazon experience.
Cristalino is different to other lodges, not least in that it's much harder to get to. After the flight to Alta Floresta, you cross the wide commercial Amazon itself and travel by car for 90 minutes, followed by a 45-minute boat ride. If you were to head upstream for two days, you'd hit a Brazilian military base, but that's the only sign of nearby civilization. There's not a shred of light pollution, and you won't see any other craft when you head out on boat trips with guides.
Being there redefined the meaning of remoteness for me. When I climbed one of the lodge's 50 m (165 ft) observation towers, I looked out onto the Amazon I'd dreamed about: a canopy of broccoli-like trees stretching out as far as the eye could see, with wisps of mist hovering over it in places. The very air, even at that height, was thick with moisture.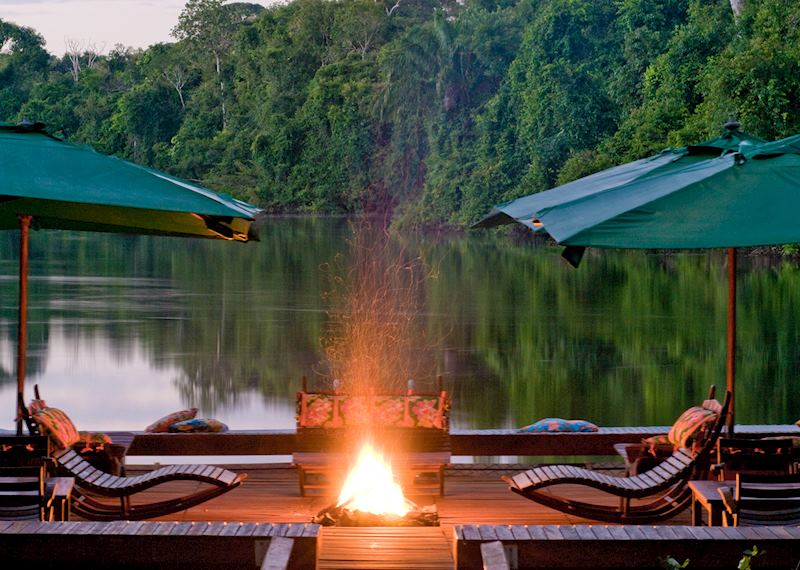 The lodge also has a strong ecological backstory. It was founded by the daughter of a wealthy Alta Floresta resident, who bought up the surrounding land to save it from encroaching deforestation. The lodge also runs a sidearm in which it takes local children out into the forest to educate them about the importance of conservation.
The lodge itself is harmoniously designed to blend in with the jungle. Its buildings are made out of local woods and they fit around naturally occurring rock formations. It's understated rather than hyper-luxe. The real treat is the floating deck, where bonfires are lit in the evenings, and from which you can go swimming. It's surprisingly safe water (there's a risk of ticks, but they're harmless).
What makes this place exclusive — aside from its pristine and isolated setting — is the quality of the guiding and the activities on offer. Your guides will help you appreciate the Amazon in its entirety as a living, complex, delicately balanced biome.
I most enjoyed simply following my guide on jungle trails in the understorey, listening to him expound on everything from wildlife habits to the medicinal uses of plants. Oversized, triffid-like alien vegetation springs out at you from everywhere, and you often have to crane your neck to take it in properly.
I remember seeing one tree whose entire trunk was covered in spines, which my guide explained was a defensive mechanism. He also taught us how to identify the calls of various species of monkey, and alerted us to a family of giant river otters, an unusual sight in this part of the Amazon.
The ultimate Pantanal wildlife experience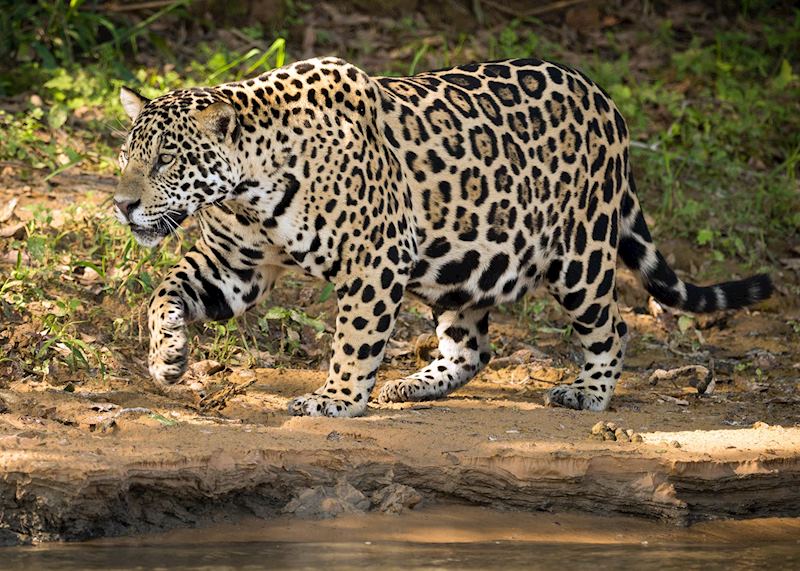 While the Amazon is compelling as an ecosystem, if you're looking for the best wildlife watching in Brazil you should head to the Pantanal. The world's largest tropical freshwater wetland, it's a gaping expanse of cerrado savannah, semi-arid woodland, marshes, great inland lakes and flooded areas. It's also ranchland for the area's few inhabitants and unofficial custodians, the Pantaneiros (cowboys) whom you might see riding in the distance.
Caiman Ecological Refuge impressed me immediately. In my first day staying there, I saw more wildlife than I had on any of my previous visits to the Pantanal. Occupying former farm buildings, guests stay in small groups of no more than 12 people in one of two separate accommodation lodges. One is set on a hillside overlooking a lake, one right by the lakeshore. Both have their own pools.
There's privacy, but there's a real genial, personal atmosphere, too. The owners always try to hold a churrasco (Brazilian barbecue, Pantaneiro-style) for all guests at least once during their stay.
It's the type of place where you can simply observe wildlife from the comfort of your hammock — families of capybara sometimes hang out in the lodge's grounds in the mornings — but I urge you to make the most of all the guided tours the lodge offers. Sometimes you'll set out on walking trails through open grassland, where wildlife is easier to spot than in the dense Amazon undercanopy.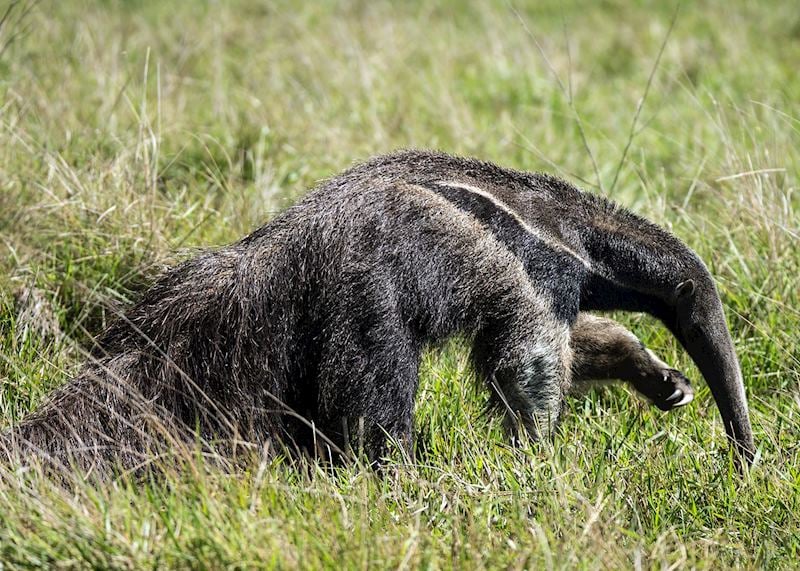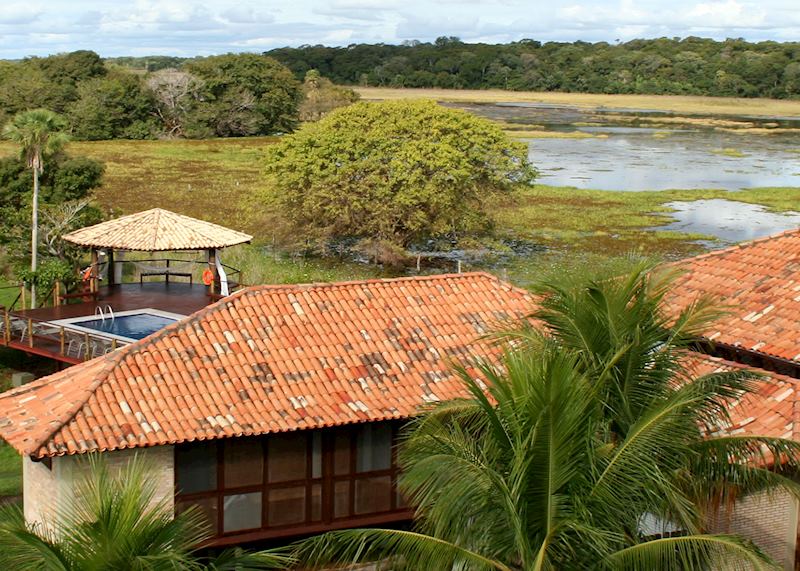 It was on one of these walks that I saw a giant anteater crossing an open plain with its young clinging to its back, an armadillo burrowing into a hole, and several macaws in flight. The piercing azure blue of their plumage was majestic to see every time.
One day, my guide stopped me as I was walking along. 'Smell that?' he asked. I sniffed. There was a distinct sweaty stink in the air. 'White-lipped peccaries,' he explained, 'you smell them before you see them.' And, sure enough, a minute later, a couple of families of what looked like white-snouted, small hairy hogs trotted nonchalantly across our path.
But the real highlight? The jaguars. Spotting them is never guaranteed, but your chances are increased if you go out with one of the guides, or — even better — one of the biologists working on Onçafari, a jaguar conservation project based at the lodge. Its masterstroke in increasing species numbers has been to ensure that the jaguars are habituated to humans without being dependent on them for food. They do all their own hunting.
I had a few sightings when out with the guides, but the best one happened by accident. Driving back from a churrasco, a jaguar ran in front of our open-topped car. The driver immediately killed the lights, and my guide and I got our torches out to watch a female jaguar pad alongside the vehicle. Though a powerful, grown female, she was emitting a screechy call. It was a special kind of warning, explained my guide, which meant she had cubs nearby and was telling them not to come any closer.
Escape everything at the Ibiti Project
This fazenda isn't only set in the scenic surroundings of Atlantic Forest — its grounds form part of a nature reserve riddled with rivers, waterfalls, quartzite cave systems and tropical vegetation — it also has a quixotic backstory.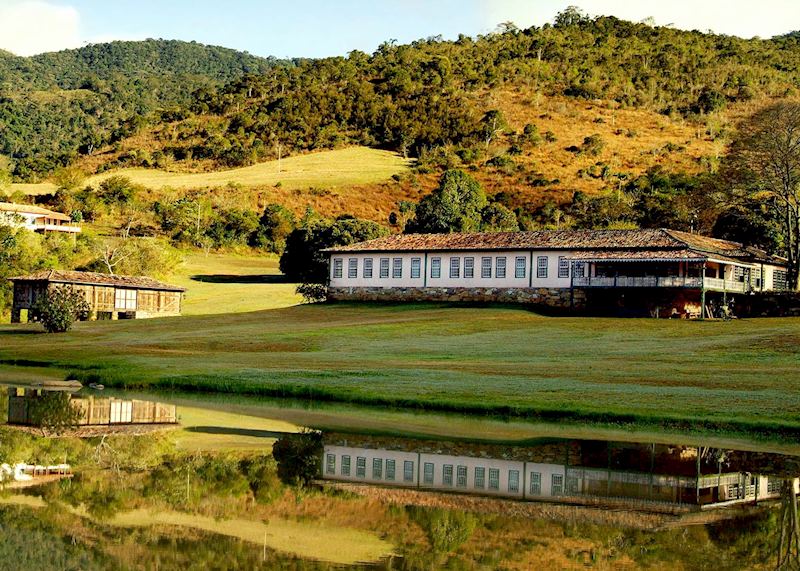 A Brazilian billionaire purchased the land to build a family home, but he grew interested in local environmental issues — such as protecting indigenous wildlife, including the near-extinct maned wolf — as well as the need to provide jobs for local people. He changed his plans and built a hotel, made many local residents partners in the business, and introduced conservation initiatives. Now, you can often hear the maned wolf's calls within the hotel's grounds.
A four-and-a-half-hour drive (or a 45-minute helicopter flight) from Rio, this place makes for a more exclusive yet just as restful alternative to the beaches of the Green Coast. Stay there for a few days during the week, if you can, as Brazil's wealthy tend to descend on it at weekends — though it's hardly the type of place that gets crowded.
What's all the fuss about, then? Well, partly, it's the fazenda itself, an exuberant architectural mêlée of 18th-century Venetian design combined with French furniture, 1920s erotic art and Brazilian religious memorabilia. Eclectic, but it works. Then there are the sprawling grounds and nature reserve, which you can explore on horseback, on walking trails, or by electric buggy. Art installations, including fire sculptures, are also dotted around the grounds, as well as statues of kaleidoscopically painted cows.
If it all sounds a bit mad… well, it is. But there's a real tranquility about staying here, too. You can walk to waterfalls and have picnics on sandy river beaches, or spend time in the rustic spa. Built in a converted barn, it produces its own aromatherapy oils and is one of the only places in Brazil to offer anti-gravity (similar to aerial) yoga classes.
Other, more sedate, activities include wandering around the property's organic garden, which grows much of the produce used in the (excellent) food. Guests can also take part in cheesemaking classes, or even get involved in milking the estate's cows.
Staying at the Belmond Hotel das Cataratas, Iguaçu Falls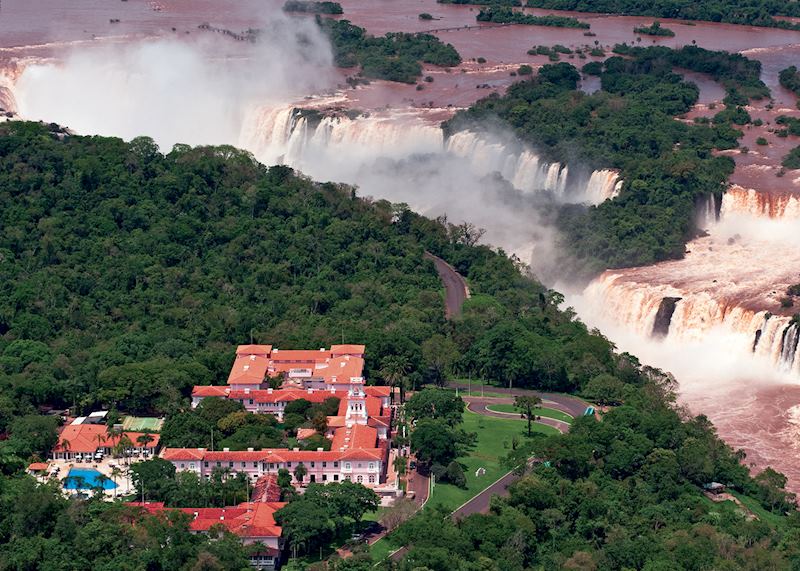 I unashamedly prefer Iguaçu to other waterfalls I've seen, including Niagara and Venezuela's Angel Falls. It's partly the sheer volume of water that surges in Iguaçu, and partly the fact that it's possible to experience this natural wonder in a very intimate, quiet way, unlike most of the other headline waterfalls of the world.
My first sight of Iguaçu Falls was late in the day, when most visitors were leaving, and I love how the great wall of silvery water reveals itself little by little as you approach through the jungle.
The most luxurious way to experience the falls — and by 'luxury' I mean the chance to explore in an unhurried way, with privileged access — is to stay at the Belmond Hotel das Cataratas. It's an elegant hotel, the only one inside Iguaçu National Park.
While it has all the trimmings you'd expect of a Belmond property, its trump card is access. At sunset, when all the day's visitors have departed, you watch the weakening light throw golden tones out over the falls and explore some of the panoramic walkways by yourself.
Start planning your luxury trip to Brazil

Start thinking about your experience. These itineraries are simply suggestions for how you could enjoy some of the same experiences as our specialists. They're just for inspiration, because your trip will be created around your particular tastes.
View All Tours in Brazil