By Cambodia specialist George
When I lived in Cambodia, I'd join friends and their children at a local restaurant for dinner. As we adults ate, the children were free to run around in the restaurant's courtyard, the staff happy to mind them. When we were due to leave, we had to prise them away from a game of football with the waiters. And, this is typical: children will never be an inconvenience in Cambodia.
This attitude is reflected in Cambodia's infrastructure, with family-sized and interconnecting rooms common hotel options. Your guides will be skilled in making tours thought-provoking for adults, while simultaneously engaging and interactive for children. Journeying through the country with a guide and driver, you're able to explore at your own pace.
A note on how to travel
Only Cambodian passport holders can rent a car in Cambodia, so it's best to travel with a private car and driver. This still gives you flexibility to stop when you wish, but with the added benefit of your driver's local knowledge.
Siem Reap
This market town has grown considerably over the years due to its proximity to the temples of Angkor, but it has managed to keep a village feel (despite its international airport). While Siem Reap acts mainly as a portal to the surrounding sites, where you'll spend most of your time, you can avoid temple fatigue by spending an afternoon wandering the local markets and watching the incessant activity along the banks of the Siem Reap River.
The temples of Angkor
Ten minutes' drive from Siem Reap, the prang (tiered towers) of the Angkor complex rise above the surrounding jungle. The largest religious monument in the world, Angkor Wat, sits at its core.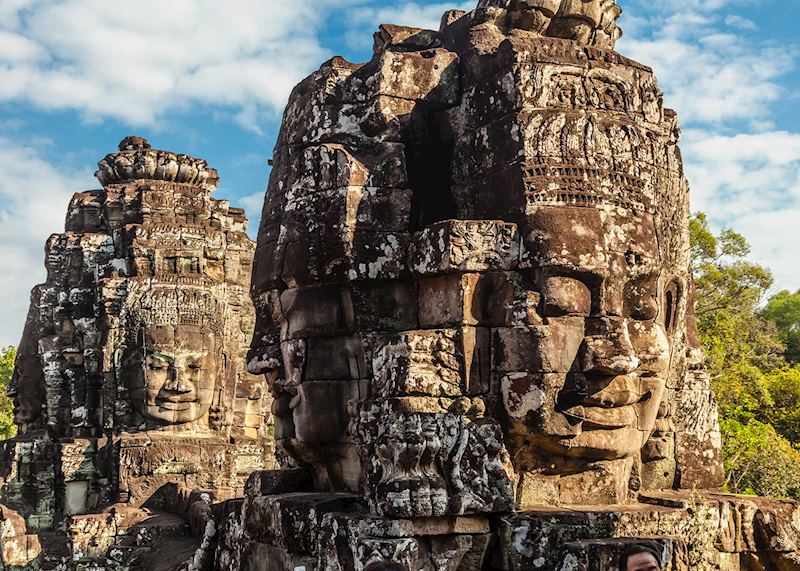 Angkor Wat
Visiting Angkor Wat with a family, I found that our guide was a key part of the experience. While recounting the meaning and history behind the temples for the adults, he conducted a scavenger hunt for the children, encouraging them to look for natural objects and pick out details in the carvings.
The great thing about the temple is that you can get up close to the carvings and step into the inner rooms. And, it might not look possible from a distance, but you can also climb the largest, bulbous tower. It's a steep ascent, more suited to older children, but even as an adult I found it exciting (and I've been up a few times now). From the top, you have a great vantage point of the temple stretching out below, and views across to the jungle and the waterways beyond.
Angkor Thom
Nearby Angkor Thom, a ruined Khmer capital, is guarded by five monumental gates that lead to the Bayon temple, whose towers are carved with nearly 200 serene Buddha faces smiling out from the rock. Our guide used the temple's bas-relief carvings, which show tableaux of local life, to recount tales of the people who once lived and worshiped here.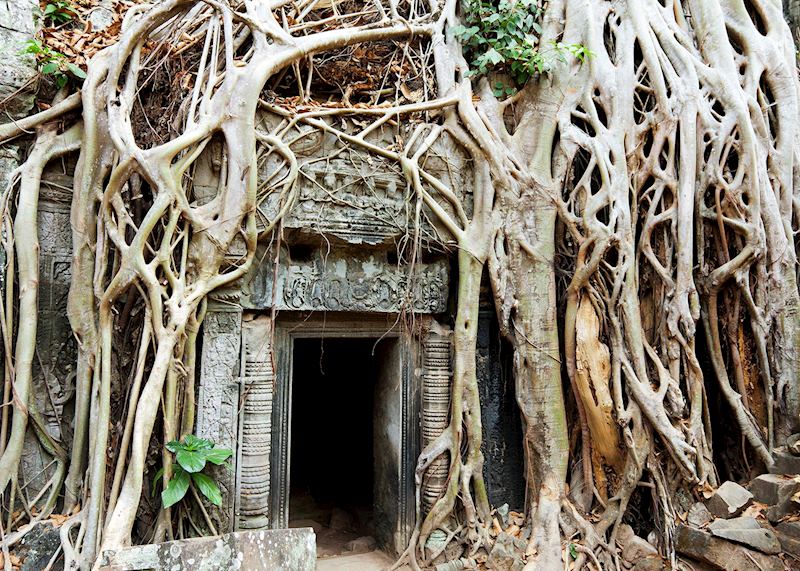 Ta Prohm
Ta Prohm completes the trio of Angkor's big three temples. It's quite the celebrity, having appeared in Tomb Raider and Indiana Jones and the Temple of Doom. In contrast to Angkor Wat, it has been left largely as it was when first rediscovered in the late 19th century, with roots of strangler fig trees creeping across the stonework. Spring-green moss skulks up the walls and the corridors are full of jumbled hunks of stone. The trees above dapple the sunlight, giving the site an eerie, mysterious feel. The first time I arrived here, I did feel a bit like Indiana Jones.
I suggest visiting these temples at sunrise or sunset to avoid the crowds and benefit from the best light for photographs.
Outlying temples
Angkor's outlying temples are largely ignored by coach tours and groups, and if you make time for some of them you'll be able to explore away from the crowds. The following temples are about 45 minutes' drive from Angkor — you'll need a few hours to explore each one fully.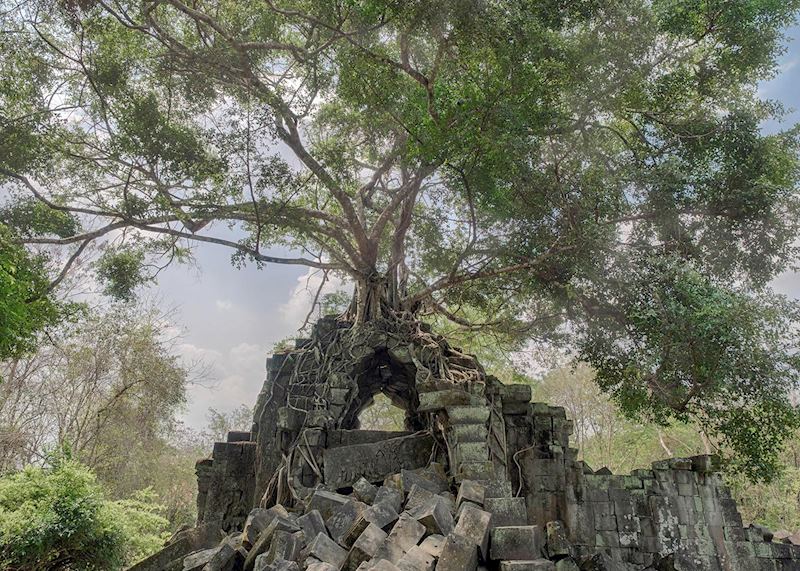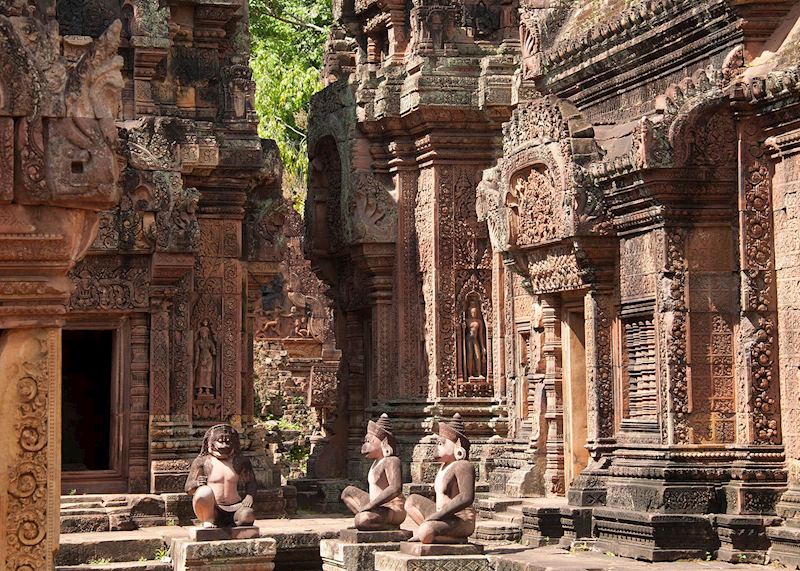 Beng Mealea
Clambering through Beng Mealea will give you a good idea of what it might have been like for French explorers to discover the temple in the 19th century. Nature has taken full control here with thick creepers bursting through stonework.
Based on the same floorplan as Angkor Wat, Beng Mealea is just as large and still surrounded by a deep moat. Displaced stonework litters the floor, and in places the trees have become an integral part of the architecture.
Kbal Spean
No road leads to Kbal Spean. To reach this temple set on a hillside surrounded by jungle, you'll first embark on a half-hour walk through the forest, passing the occasional Hindu sculpture that marks the way.
You arrive at a natural sandstone bridge over the Stung Kbal Spean River, which has been carved with linga (Hindu symbols of divine energy) and representations of Hindu gods. As we walked up to the site, my guide told me that the local people believe it to be a fertility temple. As the water passes over the linga, it's charged with positive energy before flowing into Siem Reap and blessing the population with fertility.
Banteay Srei
My guide at Banteay Srei enthused that it's the art gallery of Angkor, and I agree. One of the smaller temple sites, it isn't the most imposing, but once I got up close I was captivated.
The carvings are so delicate that you have to get up really close to see their detail, such as intricate elephants and mythical creatures crawling along the walls. Columns of fluted filigree and symmetrical pillars frame each piece. Apsaras (female spirits) and dvarapalas (male protectors) guard the doors.
Phare Circus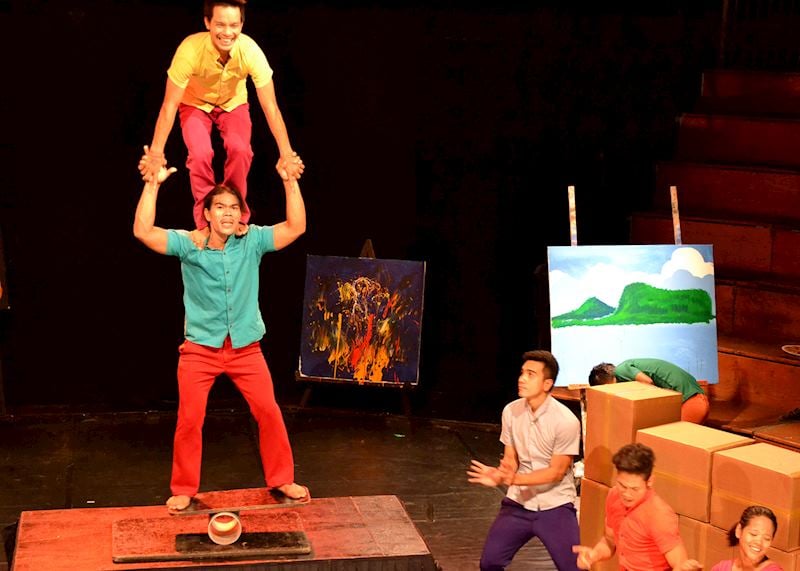 Siem Reap's Phare Circus tells Cambodia's story through acrobatics, dance and music. The circus is run by Phare Ponleu Selpak, a non-profit association that supports disadvantaged children and young adults by training them in the performing arts.
The hour-long performances are held in a billowing circus tent — I recommend you arrive in time to try the homemade ice cream in the circus café before the show.
Family-friendly food tour of Siem Reap
The Cambodian culinary experience can be exciting, especially if you know where to go. I suggest joining a food-loving local to guide you to some of Siem Reap's most interesting eateries. Starting in the late afternoon, you'll visit Psar Chas (Old Market) to try some of the exotic fruit — including dragon fruit, longans and the very smelly durian.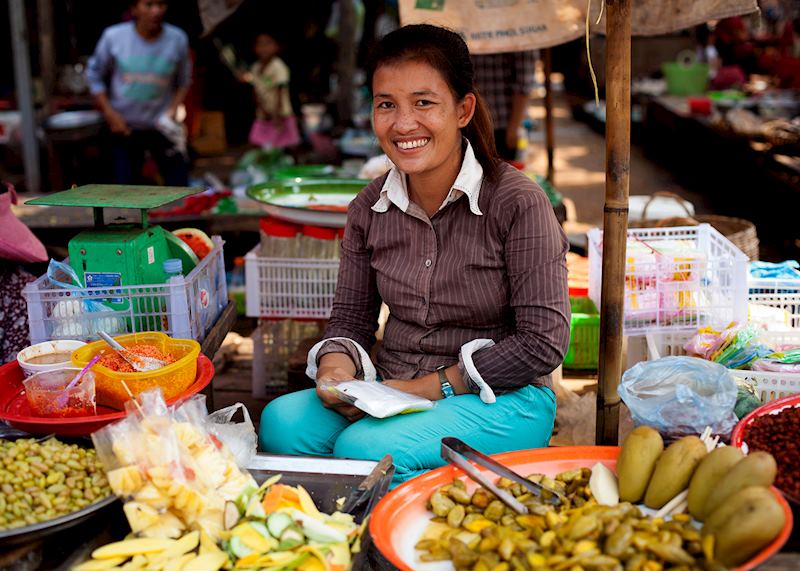 With a focus on food suitable for children, you'll visit family-owned restaurants and street-food stalls to try a range of delicacies including sach ko ang jakak (beef skewers), a popular street-food snack and ho mok, a fragrant coconut curry.
Family-friendly hotels in Siem Reap
The Shinta Mani Shack caters for families with interconnecting rooms, an intuitive service and little touches like handing out ice creams around the pool.
There's continental food on the menu as well as a seven-course Khmer tasting menu. Alternatively, the chefs are happy to cook something specific. Located in the French Quarter, the hotel is a short walk from the Old Market and Royal Gardens.
Kratie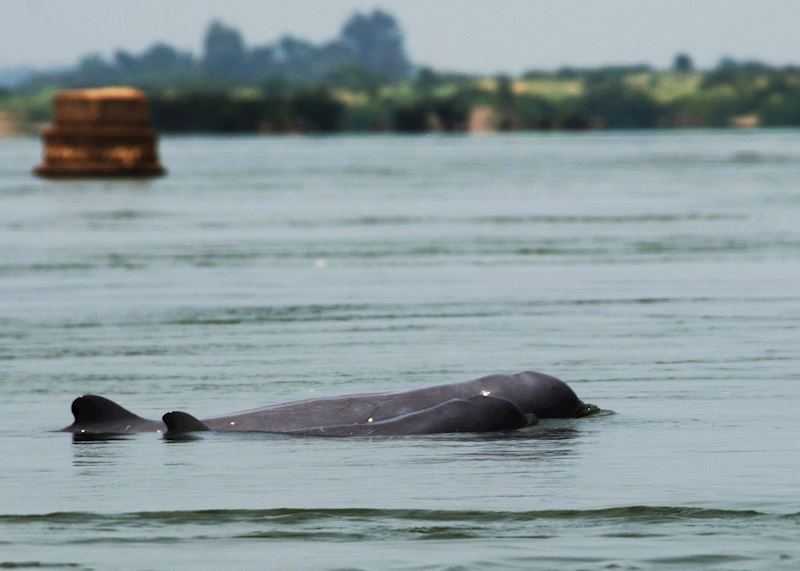 A four-hour drive east of Siem Reap is Kratie, a small town on the banks of the Mekong. It's a useful stop to break up a journey from Siem Reap, but it's a place to visit in its own right.
The river runs deep there, creating a channel for Irrawaddy dolphins to gather. In early morning, you can take a boat trip out to spot them, and they often come close by, poking their heads above water. Your fee goes toward conservation projects for this endangered animal in the area.
Family-friendly hotels in Kratie
Set on the small island of Koh Trong, Rajabori Villas is a collection of stilted villas built in the traditional Khmer style. There's a pool and small restaurant on site.
Bicycles are on hand to explore the island, where you'll find a few tiny fishing communities and trees dangling with tropical fruits. A single tuk-tuk has a transport monopoly on the island and irregular electricity supply adds to the local village feel.
Sen Monorom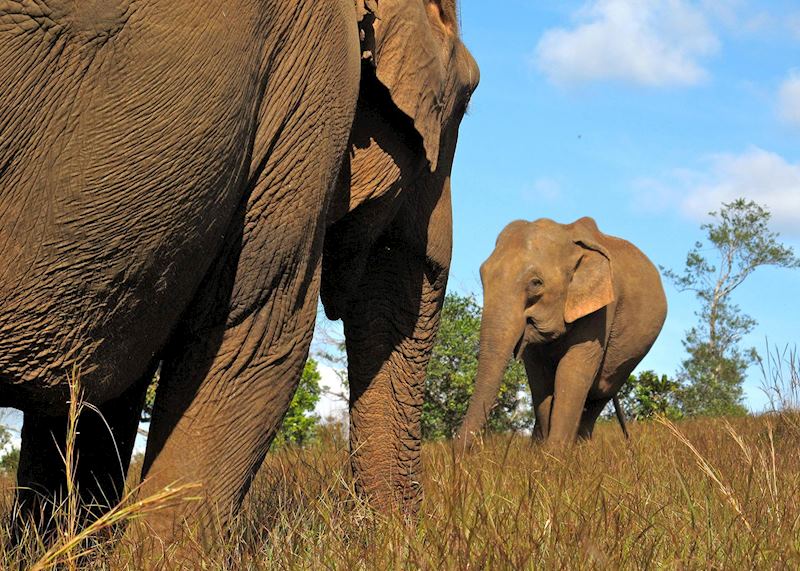 Nudging the border of Vietnam, Sen Monorom is the provincial capital of Mondulkiri, a four-hour drive from Kratie. Days pass here at a slow, rural pace: it's the largest of Cambodia's provinces, but the least populated. The hilly landscape is a patchwork of pine forests and jungle, marked by waterfalls and the locality for minority villages.
Here, you'll also find E.L.I.E. (Elephant Livelihood Initiative Environment) and the Elephant Valley Project. I'm often asked about elephant trekking, but E.L.I.E. supports elephants' welfare while offering a wildlife experience. This conservation project rescues domestic elephants from abuse and prepares them for release into the wild.
A representative from the project will greet you before showing you around. E.L.I.E. extends over a huge section of jungle, dense with trees to encourage the elephants to behave naturally.
There are no tricks or shows. Rather, you'll hike into the forest to watch the elephant herd, following their natural movements through the scrub. The elephants may come up to say hello, but it's not guaranteed, and the emphasis is on observing the animals in their natural environment.
E.L.I.E. also supports the local Bunong people by providing medical care and education. The Bunong are indigenous to Mondulkiri, living in tight communal settlements. I visited a few villages with my guide to warm welcomes. Visiting children are able to play with the children in the village.
Relaxing with your family in Cambodia: Koh Kong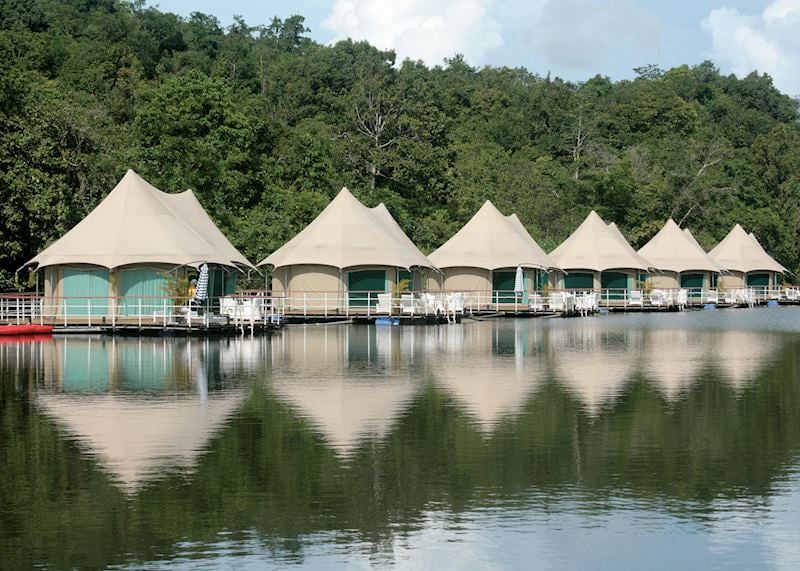 Inland in Koh Kong, Cambodia's southwest beach-lined province, the 4 Rivers Floating Lodge sits on a bend of the Tatai River in the rainforest interior.
After a boat journey from a jetty upriver in Tatai Village (reached by a four hour drive from Phnom Penh), you can stay here in safari-style tents, each with a sun deck, on platforms over the water.
Each lodge is equipped with kayaks for exploring the river and nearby mangrove swamps. I paddled mine early one evening and found a congregation of fireflies lighting up one particular tree like fairy lights. The water is safe and calm, with plenty of natural bays to stop and swim.
You can simply sit back and relax here, but more active families can delve into the deep-green forests of the Cardamom Mountains. The hotel's guides can take you along trails that run deep into the jungle, which is considered the second-largest virgin rainforest in mainland Southeast Asia, and reveal hidden glades and waterfalls.
Phnom Penh
From Koh Kong, it's a five-hour drive to Cambodia's capital, Phnom Penh. If you're short on time, you can fly straight home, but otherwise I suggest finishing your trip with a few days here.
Sat on the banks of the Mekong, a continuous flow of river traffic keeps the city busy, under a skyline of French-colonial architecture and temple spires.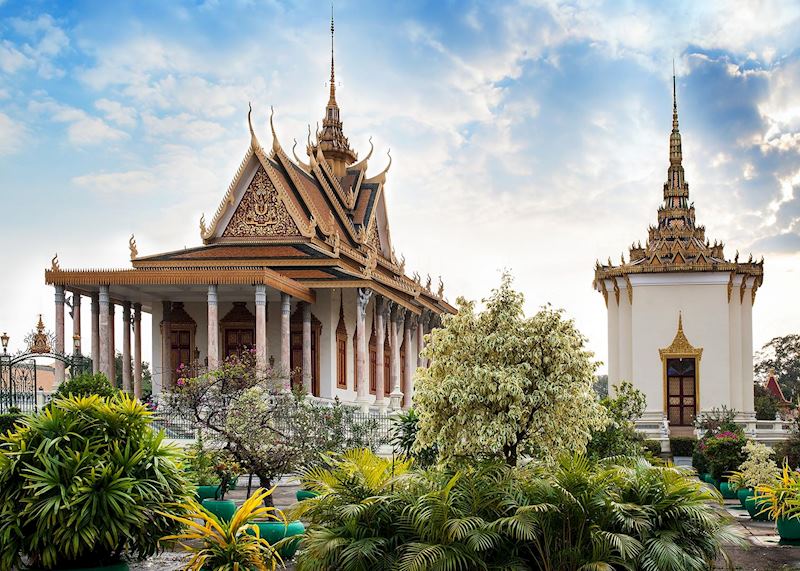 Many visitors focus on learning more about the Khmer Rouge, visiting the Tuol Sleng Museum of Genocidal Crimes and the Killing Fields. However, the exhibits are graphic so I wouldn't recommend them for young children, although they might be appropriate for informed teenagers (our specialists can advise on this).
A worthwhile alternative is a tour of the Royal Palace. The official residence of King Sihamoni, the palace is a sparkling collection of Khmer-roofed buildings and neatly kept courtyards. The Silver Pagoda on the south side of the complex houses the Emerald Buddha (despite the name it's most likely made from jade), which sits atop a huge pyramid of gilded platforms and altars.
Depending on which season you visit, the Emerald Buddha will be dressed accordingly in woven gold clothes. The statue is accompanied by a group of similarly twinkling figures, including a life-sized solid-gold Buddha, which weighs 90 kg (14 stone) and is studded with diamonds.
If you're in Phnom Penh over a weekend, I suggest following the age-old Khmer tradition of journeying to Kien Svay for a riverside picnic. 20 km (12 miles) southeast of the city, Kien Svay is a rural town on the banks of the Mekong, with bamboo platforms over the river built specifically for picnicking. Lolling in a hammock strung to one of the platforms, I've whiled away a few afternoons here by the waterside.
There's also plenty of space for children to play, and local people will come round selling milkshakes and fruit. Among the choice are red rambutans, which look more like sea creatures than fruit, slices of jackfruit (related to the fig) and massive spiky durians, a fruit so smelly it's often banned from hotels.
Eating with your family in Cambodia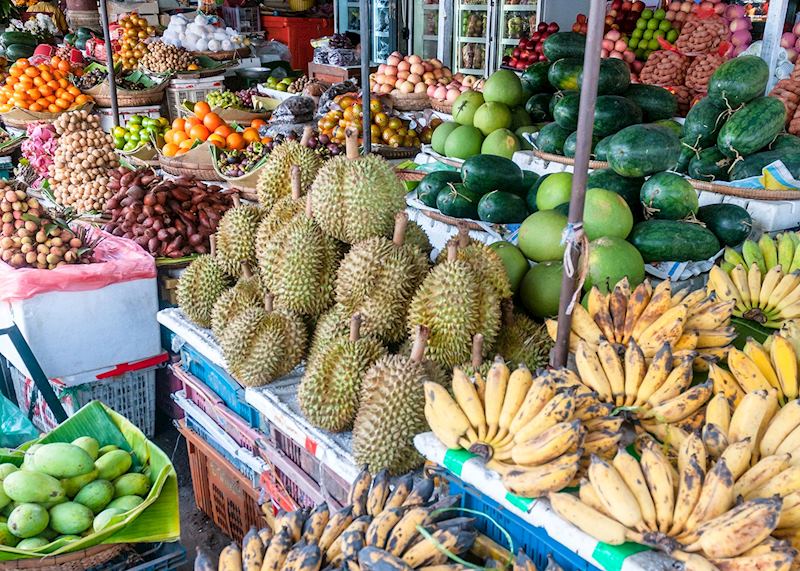 Cambodia offers a wide range of food choices, with most hotels offering continental options. Typically, local food is well-cooked, simple and rarely spicy, and there are plenty of dishes for children to try. Beef lok lak, a stew with rice and egg, is served in every restaurant, as is amok, a mild, creamy curry usually served on a banana leaf.
More adventurously, deep-fried spiders and crickets are on the menu. Driving south from Kratie to Phnom Penh, you can stop at the small town of Skun, where the local market sellers fry spiders on street-side barbecues. They were surprisingly tasty, although I struggle to find anything to compare them to taste-wise.
One of the most locally revered dishes you can try is prahok, a fermented fish dish (if you can't bear to eat it, it's worth just smelling it to give you an idea). I can't fathom why you'd want to eat it, but my guide took a similar viewpoint over the Western desire to eat blue cheese.
Start planning your family trip to Cambodia
Laos, Vietnam and Cambodia
Start thinking about your experience. These itineraries are simply suggestions for how you could enjoy some of the same experiences as our specialists. They're just for inspiration, because your trip will be created around your particular tastes.
View All Tours in Cambodia