The best time to visit Cambodia is between November and April, when there is very little rain. During this time you'll see clear blue skies, making it a great time to enjoy a relaxing getaway on the southern coast. Temperatures stay at a warm 68°F year-round.
Between May and October, humidity increases and the rains come, assisting Cambodian farmers in the growing of their crops. However, you shouldn't be deterred from traveling — the countryside is lush and green, rivers are full and flowing, and the temples are quiet. This is the best time to visit some of the outer-lying temples, which will often be deserted.
At the end of the summer one of Cambodia's true wonders comes to life — Tonle Sap, the largest freshwater lake in Southeast Asia, home to Cambodia's floating villages.
Creating tailor-made tours for over 25 years

Excellent
TrustScore

4.7 | 3435 reviews

Month-by-month guide for traveling in Cambodia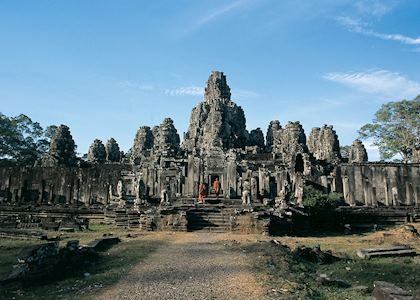 Visiting Cambodia in January
January is the driest month of the year in Cambodia and has a comfortable average temperature of 79°F, making this the perfect time to explore the temples in Siem Reap or relax on the southern coast's beaches.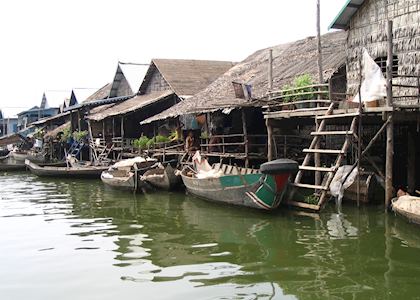 Visiting Cambodia in February
February sees little rain and temperatures are still cool enough to enjoy long walks around the temples. Conditions are still perfect for river travel during this time, and the great Tonle Sap still holds the bulk of its volume.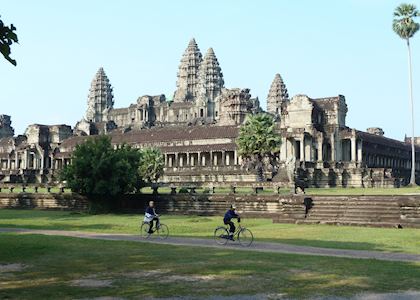 Visiting Cambodia in March
This is the peak time to visit Cambodia, and temperatures are likely to rise to the high 80°Fs. Water levels begin to fall toward the end of the month, meaning that the Tonle Sap is not as impressive. Hotels are often booked up far in advance during this period.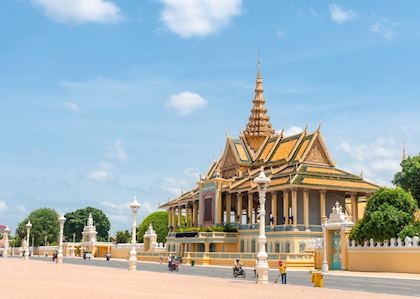 Visiting Cambodia in April
The peak season continues and temperatures reach sizzling heights, often exceeding 91°F. It is therefore best to explore early in the morning and in the late afternoon rather than embarking on full day excursions. The Chaul Chnam (Cambodian New Year) takes place during April, and although the rains should hold off, you should be prepared to get wet if venturing around town during those dates.
Events & Festivals
Khmer New Year (April 13-16): The country's most celebrated holiday, with towns and cities becoming deserted as people head home to be with their families.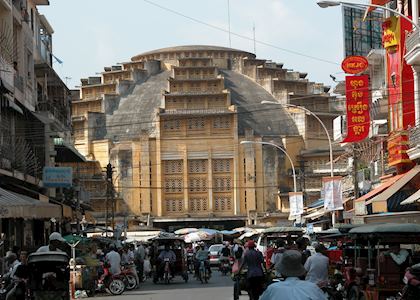 Visiting Cambodia in May
With the wet season fast approaching, May provides a good opportunity to take advantage of promotional shoulder season offers as crowds begin to disperse. You should expect a few showers during this time of year, but nothing that will greatly impact on your trip. In fact, the showers help to break up the humidity, making for more comfortable conditions.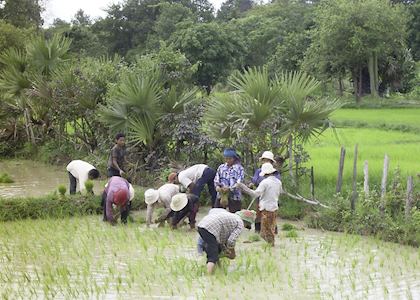 Visiting Cambodia in June
The rains come to Cambodia in June, bringing great relief to the farmers. For the most part, showers are short and sharp and should not impact on your trip, with plenty of sunshine still seen. Temples and other tourist sites are quieter at this time of year, and you can take advantage of many hotel promotions during Cambodia's 'green season'.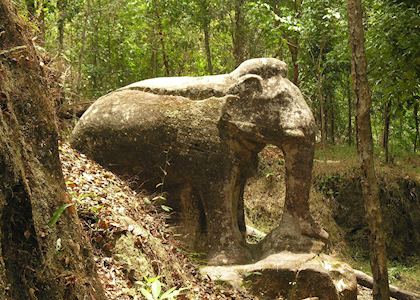 Visiting Cambodia in July
The rains continue across the country and the beaches on the southern coast are best avoided. Temperatures start to decrease, averaging 80°F, and some of the outerlying temples are deserted at this time of year, making it a great time to explore some of the lesser-known destinations. Lots of families choose to visit at this time of year as it coincides nicely with European summer holidays.
Visiting Cambodia in August
Temperatures reduce further, making temple exploration all that more comfortable. Rains continue throughout the country and reach their peak; although showers only usually last for a few hours at most and tend to be more prevalent in the north of the country. The Tonle Sap fills up again, and flora and fauna is in full bloom, making this a good time to visit for wildlife enthusiasts.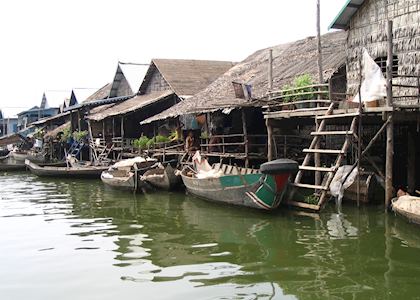 Visiting Cambodia in September
September is Cambodia's wettest month and you should expect heavy showers daily; although these are normally short-lived and exploration is still possible. The rain does mean that some rural areas are difficult to access by road, so visiting a month either side is more attractive.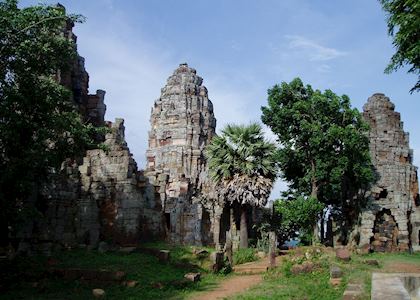 Visiting Cambodia in October
The rains begin to die down and temperatures average 81°F, making October a lovely time to visit Cambodia and its lush landscape. Beat the crowds and take advantage of early season promotional offers.
Events & Festivals
Pchum Ben (October): An important Buddhist festival marked throughout the country over 15 days, with main celebrations taking place on the final day as locals pay their respects to deceased relatives.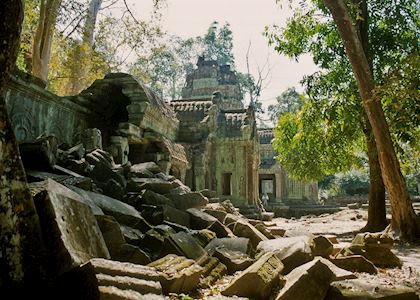 Visiting Cambodia in November
Cambodia's peak season begins again and the crowds flock to the temples, with temperatures averaging a comfortable 77°F. It is the perfect time to venture out onto Tonle Sap lake. The Cambodian Water Festival usually takes place in November, and hotel prices are often higher at this time of year, so it is essential to book far in advance.
Events & Festivals
Bon Om Touk/Cambodian Water Festival (November): One of the nation's most popular festivals, celebrated over three days with concerts and boat races in Phnom Penh.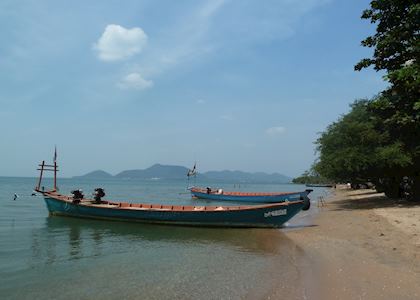 Visiting Cambodia in December
During December, Cambodia sees great weather throughout and can make for a rewarding Christmas destination. Hotels are often booked up far in advance.
Cambodia Climate Guide
Destination
Jan
Feb
Mar
Apr
May
Jun
Jul
Aug
Sep
Oct
Nov
Dec
Ban Lung

84°F

0"

88°F

0"

91°F

1"

93°F

2"

90°F

10"

86°F

14"

84°F

21"

84°F

20"

84°F

17"

84°F

8"

84°F

2"

82°F

0"

Kep

86°F

1"

88°F

1"

88°F

3"

90°F

6"

88°F

9"

86°F

9"

86°F

14"

86°F

14"

86°F

12"

86°F

11"

86°F

6"

86°F

2"

Phnom Penh

88°F

0"

90°F

0"

93°F

1"

95°F

3"

93°F

6"

91°F

6"

90°F

6"

90°F

6"

88°F

9"

88°F

10"

86°F

5"

86°F

1"

Siem Reap

86°F

0"

91°F

0"

93°F

1"

95°F

2"

93°F

5"

90°F

6"

90°F

7"

90°F

8"

88°F

10"

86°F

8"

86°F

3"

86°F

0"

Sihanoukville

88°F

1"

90°F

1"

90°F

4"

91°F

5"

90°F

12"

88°F

19"

88°F

25"

86°F

27"

86°F

24"

88°F

13"

88°F

5"

88°F

1"
Why travel with Audley?
100% tailor-made tours
Fully protected travel
Established for over 25 years
98% of our clients would recommend us Travel advice
Practical tips for traveling to Cambodia, from social protocols to guidance on money matters, with a link to the latest US State Department travel advice.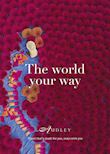 Request our brochure
Covering all seven continents, The world your way shows you how you can see the world with us. It features trip ideas from our specialists alongside hand-picked stays and experiences, and introduces our approach to creating meaningful travel experiences.
Trip ideas and travel guides for exploring Cambodia