As the largest French-speaking region outside France and Canada's largest province, Québec offers a Gallic charm all of its own.
This manifests itself in a great culinary heritage of sublime restaurants and delightful pavement cafés.
Visitors, arriving from all over the world to discover Québec's rich heritage and history, are charmed by Québec's bustling urban centers and enchanted by the vast, wild territories teeming with natural wonders.
Québec offers perhaps the most complete mix of culture, scenery and wildlife of any of Canada's provinces.
Start planning your vacation to Québec

Start thinking about your experience. These itineraries are simply suggestions for how you could enjoy some of the same experiences as our specialists. They're just for inspiration, because your trip will be created around your particular tastes.
View All Tours in Canada
Things to do in the Québec region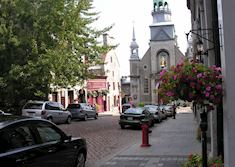 Enjoy a private 3-hour walking tour focusing on more than 360 years of history. With a private guide, you will discover how Montréal was settled by the French, conquered by the English and achieved the status of a great and fun metropolis in the 20th and 21st centuries.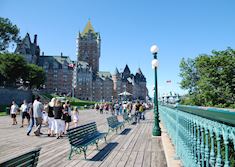 This delightful walking tour visits all the major sights of the old city in a downhill fashion at a leisurely pace. Professional guides make sure that you gain a good understanding of the history and the everyday-life of this World Heritage Site.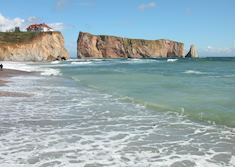 Join a discovery cruise of the majestic Percé Rock and the seabird sanctuary on Bonaventure Island. The cruise boats allow you to get up close to the rock and the island to admire the scenic beauty and observe the fascinating wildlife.
The province of Québec
The province of Québec covers a huge expanse of area. In fact it is three times the size of France, and like France, has a predominantly French-speaking population.
Québec City is North America's only walled city and Montréal is a sleek and buzzing metropolis, but away from the urban centers Québec Province spreads out across the vast unvisited tracts of tundra on the shores of Hudson Bay to the pastoral and idyllic Eastern Townships.
The Laurentian Mountains are the playground of the Québécois throughout the year, while the St. Lawrence River is the beating heart around which European settlers gained a foothold.
On the south shore the Gaspé Peninsula's mountains are draped in dense forests that grow down to the water's edge. The north shore is home to the thriving arts scene, the charming villages of Charlevoix and the grand Saguenay Fjord.
In the far north, expedition cruising departs from Kuujjuaq into the Arctic Circle to see polar bears, narwhal and Inuit culture while the Gulf of St. Lawrence is the seasonal home to blue, fin, humpback and beluga whales.