Japan is one of only two countries — the second being France — whose food has UNESCO cultural heritage status. A nation of food lovers, the Japanese even have a word, kuidaore, to express the predicament of bankrupting yourself by splurging on eating.
Sushi may be familiar worldwide, but raw fish is just a tiny part of washoku (traditional Japanese food). And, it's not just what you're eating, but how, when and where you eat it.
Japan specialists and food aficionados Henry and Rory share some of the nuances of experiencing Japanese cuisine on a trip across Japan, from guided tours to eating out independently.
Kaiseki dining in Japan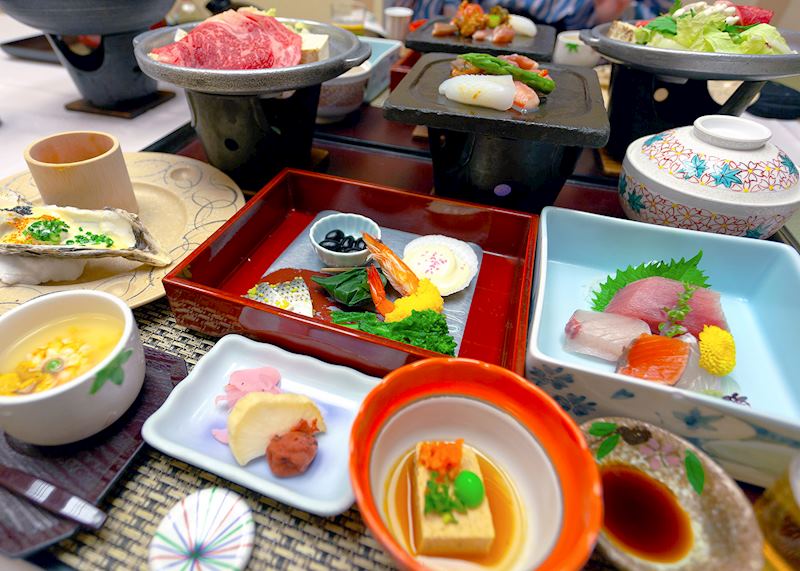 By Rory
Kaiseki is the equivalent of a high-end tasting menu. It's a traditional multi-course, multi-dish experience that you'll normally sample while staying in a ryokan (a traditional guesthouse). You might think of a stereotypical dining room set on the floor, but most properties have alternatives (lengthy stints on the floor without numb legs is a fine art).
The dishes are a celebration of local ingredients, anything from fresh crab in Kanazawa to grilled eel around Honshu's southern coast. Menus are led by whatever catches the chef's eye at the morning market.
I tried kaiseki at Hoshinoya Karuizawa, a hotel in Honshu's alpine region. Over a couple of hours, ten courses — each paired with sake — were gently placed before me. A highlight was a perfectly-grilled beef steak served on a hot plate, an ode to the region's prized cattle. The follow-on of sake sashimi (thin slices of raw salmon) melted in my mouth.
When each course arrives it's announced in Japanese, but many places will also provide a menu in English. You should still be prepared for a bit of guesswork, as most dishes will look unfamiliar (even to the most experienced Japanese food enthusiast). Sometimes, you'll have to roll the dice and nibble something to see what it is.
Eating in Japan's izakaya restaurants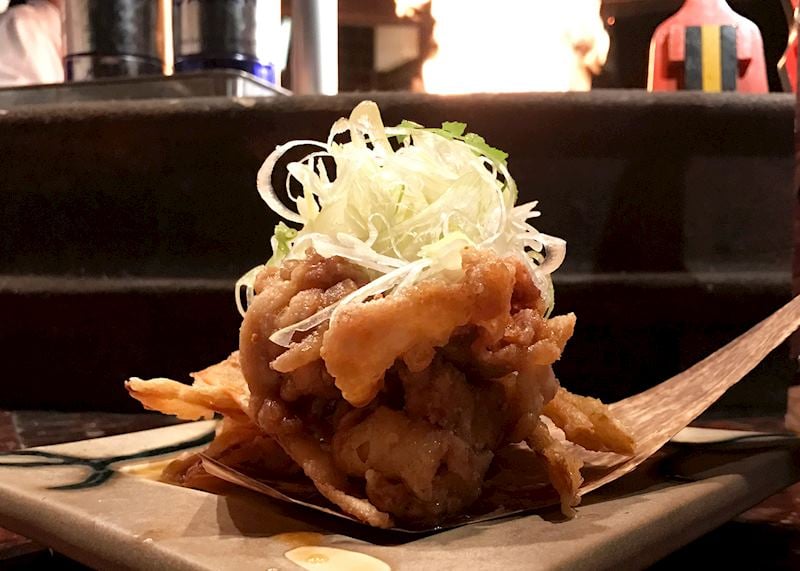 By Henry
Kaiseki dining is a quiet, secluded experience. In contrast, eating at an izakaya is inexpensive and social. They're often compared to pubs, but, for me, izakaya are closer to tapas restaurants. They have huge menus that cover almost every type of Japanese food, giving you a great choice if you're vegetarian or you need to cater for children.
When you enter, simply find a seat. There's usually a buzzer for you to press to call a waiter, and you order by pointing at pictures.
The idea is to order a selection of dishes to share. I recommend karaage (cubes of fried chicken that have been marinated in garlic and ginger), and tebasaki, deep-fried chicken wings in a soy-sauce-infused batter.
This is usually a point in the trip when I find myself in conversation. The Japanese tend to be very reserved, but you're likely to find fellow eaters leaning over to ask where you're from. One of the reasons I love dining in izakayas is that they're popular with all ages, so you encounter a real mix of people.
Even the smallest town will have an izakaya. Look out for the smaller, locally run places, which are usually built into someone's front room. They can look a little shabby, but this often hides the best dishes.
The best ways to try street food in Japan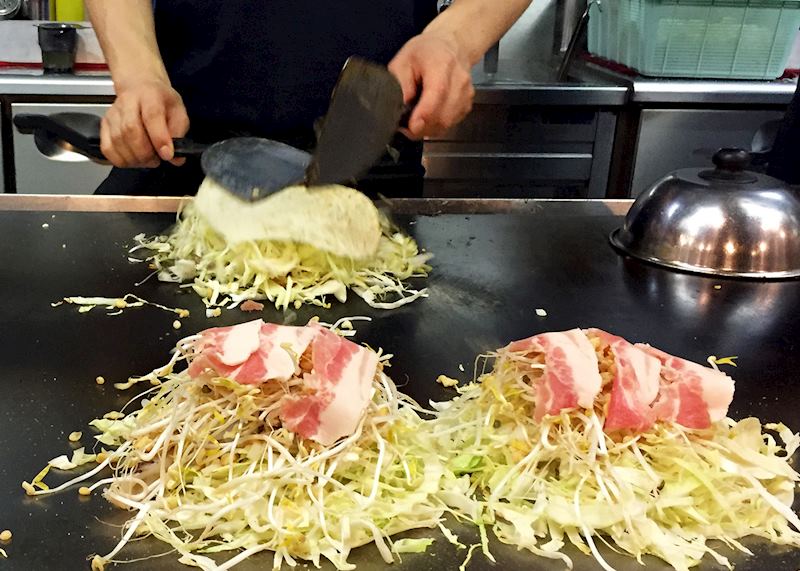 By Henry
The Japanese consider it rude to eat while walking, so street food has a different meaning to those sizzling street stalls you see in Southeast Asia. Each stall is a four-seater restaurant, where you grab a few bites before moving onto the next.
For an introduction, take a guided tour. If you're visiting Tokyo, an evening street-food tour will lead you to Memory Lane, a barbecue-smelling scrum of more than 50 stalls. The proprietors seem endlessly cheerful and are always keen to watch your first bite of their specialty.
Every other stall sells yakitori, skewers of grilled meat or vegetables that have a chargrilled taste. They come covered in a sweet, sticky teriyaki sauce or seasoned with a pinch of salt. Leek wrapped in sweet, smoky bacon is a recent yakitori find of mine (it's the way the leek soaks up the bacon fat).
One of the best street-food cities is Osaka. Nicknamed the 'kitchen of Japan', this brightly lit merchant city has a fun-loving, casual attitude to food. Takoyaki is a regional specialty — although it translates as balls of deep-fried octopus, you can get a range of fillings, including cheese, sausage and vegetable.
Another local delicacy is okonomiyaki. It's the best street snack in Japan, in my opinion. This savory pancake is filled with meat (usually pork belly) and topped with mayonnaise, barbecue sauce and flakes of fried bonito (a type of fish).
Hiroshima also claims okonomiyaki as its signature, and the two cities have been feuding for years over the best recipe (in Hiroshima, the toppings are layered a bit like a pizza).
Signature dishes to taste in Japan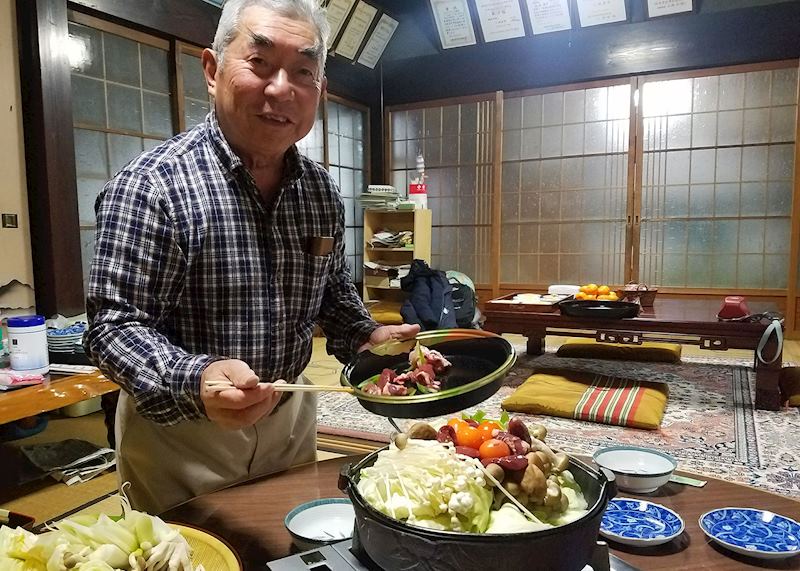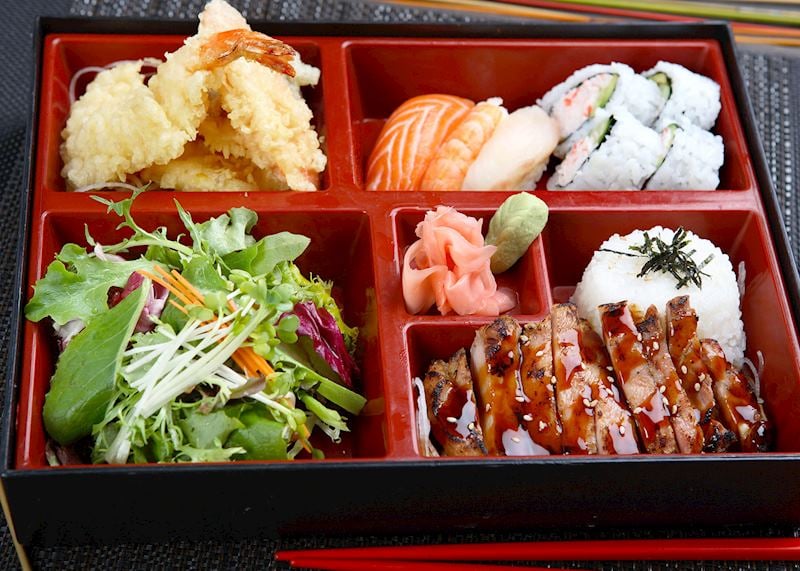 Sukiyaki
By Rory
A slow-cooked one-pot, sukiyaki developed in farming communities who needed a quick-to-prepare dinner they could leave bubbling away. As such, the best way to sample one is in a rural town.
Ogoto-onsen is a farming enclave a short train ride from Kyoto. Here, you can take a guided walk around the town before visiting a farmhouse for lunch.
You're encouraged by your hosts — a gently bickering, elderly couple — to help yourself from a giant pot of steaming vegetables (picked from the farm) and pork.
Served with their home-grown rice, it's a hearty dish. Your guide stays to act as interpreter, which is particularly useful when they are encouraging you to try their homemade drinks — most of which have a potent alcohol content.
Bento, Japan's packed lunch
By Henry
American chef Anthony Bourdain once described Lawson's (a Japanese convenience store) egg sandwich as the finest in the world. Stores like this offer an array of cheap, quick cuisine that still manages to incorporate fresh, local ingredients.
Your best bet is a bento box, a packed lunch of rice with neatly segregated accompaniments ranging from teriyaki chicken to pickled vegetables. They're ideal fodder for picnicking under the flower-laden trees during cherry-blossom season, or during long journeys.
You'll find bento shops on the bullet-train platforms (I recommend Bento Boy), which have plastic models of the food for you to point at as you order.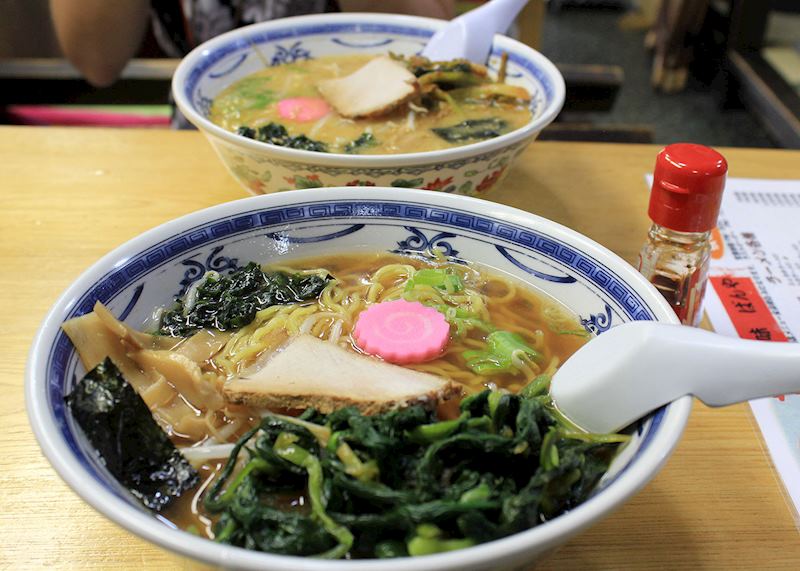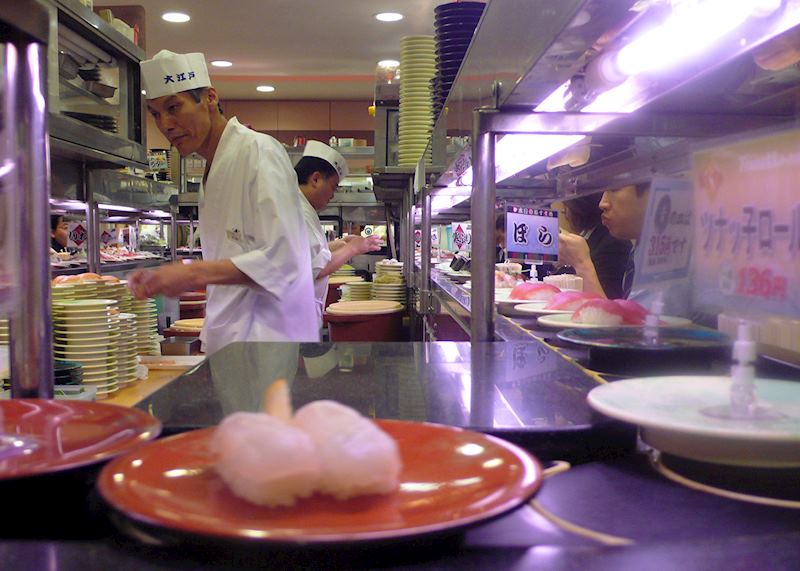 Ramen
By Rory
During my student days in Japan, I worked as a chef. As the only foreigner working in the restaurant, it was a way to learn Japanese, but it also gave me an insight into Japanese cuisine. One of the dishes I prepared, and simultaneously became very enthusiastic about, was ramen. In a nutshell, it's noodle soup. But, there are many variables to this simple dish.
The best outlets are tiny ramen shops that seat around six people. Each has a different recipe, from fragrant fried garlic to hearty pork varieties.
And, while I'm passionate about ramen, the Japanese are obsessive. TV shows discuss new ramen shops, you can pick up a quarterly ramen magazine, and some towns have giant cuddly mascots of their regional ramen.
Sushi and sashimi
By Henry
We can't forget sushi and sashimi. One of the best ways to dip your toe into the range available is at a kaiten bar. At these futuristic-looking restaurants, tiny bowls pass by you on a conveyor belt and you take what you choose, paying for the plates you've cleared before you leave.
In most kaiten bars, you can also order specialty dishes by pressing buttons in front of you — visit Uobei in Tokyo and your food is delivered by miniature bullet train.
Portions are small, so it's a good opportunity to try a range of dishes. Look out for fatty tuna sashimi, raw fish served without rice — the fat marbled through the flesh makes it melt in your mouth. I also suggest trying sushi topped with cod roe. These bright orange orbs add a salty finish to sweeter fish.
The next level in sushi tasting is eating at a counter sushi restaurant, where you sit and watch your food made in front of you. In refinement, they range from Michelin-starred Umi in Tokyo to simple counters in backwater port cities, but the quality is high across the board. From experience, you need an exceptionally sophisticated palate to make spending the money on the higher-end options worthwhile.
Choose the chef's menu and you'll receive a series of about 12 small courses. Each dish is often a single piece of sushi, painstakingly prepared from fish bought from the market that morning. I look forward to tamagoyaki, an egg sushi usually served toward the end of the meal.
A note on eating breakfast in Japan
By Rory
Stepping into the realm of Japanese breakfasts can be a disconcerting part of exploring Japanese cuisine — I sometimes find it a step out of my morning comfort zone.
Yes, you'll find lots of raw, grilled and pickled fish (which is worth a try), but most Japanese start the day with rice and miso soup, and I'd follow suit.
If you're hankering after a break from rice, many cafés offer a Western-influenced morning set menu, usually a slab of thickly cut toast served with a preserve and coffee or tea.
Read more about trips to Japan

Start thinking about your experience. These itineraries are simply suggestions for how you could enjoy some of the same experiences as our specialists. They're just for inspiration, because your trip will be created around your particular tastes.
View All Tours in Japan