By Japan specialist Rachael
You don't need to spend a fortune to experience the idiosyncratic trademarks of the world's second wealthiest country. I discovered that, armed with a Japan Rail Pass, the country has become very accessible, making it better value than it has been.
Japan now has a range of great-value accommodation options, whether you wish to stay in a traditional family-run ryokan (inn) in a small village or be in the heart of the action in Tokyo.
As for food, I've often found that picnicking in the park, devouring local street food and dining in small cafes give me a local experience that you won't find in the luxury hotels and restaurants.
Getting around cost effectively in Japan
Bullet train
Buying a Japan Rail Pass
Watching the countryside flash past from the comfortable seat of a bullet train is, for me, one of Japan's standout experiences. Much of the rail network, including bullet train routes, is run by the Japan Railways Group. Using its Japan Rail Pass, available for 7, 14 or 21 days, is the most economical way to explore the country.
Take a round trip on the bullet train from Tokyo to Kyoto and the pass has paid for itself. The pass also includes unlimited access to the Japan Rail Network, providing you with access to the surrounding towns and villages.
Public buses, metros and trams in Japan
Although taxis are metred and prove relatively reasonable for short journeys, there are buses, metros and trams to help you get around without the need for always hailing a cab.
Generally, using the undergrounds in Tokyo and Kyoto costs less than riding the Tube in London or the New York Subway. The PASMO (we include these as standard in our itineraries) card is a tap-on, tap-off pre-loaded payment card that makes travel on the underground simple.
At first, Japan's transport system may look bewilderingly complicated, but you'll find signs in English and clearly labelled maps. When you travel, we'll provide detailed instructions to help you navigate, such as which exit to take from a train station. The stations usually have a convenience store where you can stock up on snacks for the journey.
Seeing classic Japan reasonably by rail

Shinjuku district, Tokyo
There's so much to appreciate in each Japanese town and city that you don't have to travel across the entire country to take in a variety of temples, landscapes and cultural highlights. Staying on the main island of Honshu won't limit your experiences while avoiding the extra cost of domestic flights and getting to areas not covered by the Japan Rail Pass.
Tokyo
Devote a number of days to Tokyo and you'll have time to recover from the international flight. The city is also a good place to get to grips with the idiosyncrasies of Japan before journeying onwards.
I suggest arranging a half-day guided tour of Tokyo with an experienced guide. Moving around the city on the underground and by bus, your guide will give you a how-to lesson on the workings of the transport system, making it easy for you to explore independently during the rest of your stay. And, if you can tackle Tokyo, you can easily handle the smaller cities and towns.
Once you've explored the city itself, Tokyo becomes an ideal base for visiting the surrounding area — covered on the Japan Rail Pass. Hakone National Park, Mount Fuji's setting, is one and a half hours away by train, and the seaside town of Kamakura just an hour.
Kyoto

Geisha in the Gion district, Kyoto
A two and a half hour bullet train ride from Tokyo takes you straight to Kyoto. The imperial capital of Japan for over 1,000 years, it's left with a legacy of architecture and cultural appreciation that's unrivalled in Japan.
I don't find guides a daily necessity as Japan's logistics are so smooth and English-speaking guides relatively expensive. But, sometimes, guides can add real value to your trip. It's difficult to gain an insight into the secretive world of Kyoto's geisha without experienced help. My guide, Duncan, knew the region well. We walked around some of the exclusive geisha houses, as he briefed me on the history and etiquette of geisha life.
A private tea ceremony is a custom revered by Japanese businesses and wealthy families, so it can cost a small fortune to attend one. If you're happy to share the experience, it becomes an affordable option. The Women's Association of Kyoto runs tea ceremonies for groups up to 10 people; I found the group size small enough to still feel intimate. There was plenty of space to watch the tea master as she performed a series of precise steps to prepare the matcha (powdered green tea).
Finding good-value accommodation in Japan

Hotel Gracery Shinjuku, Tokyo
You don't have to compromise on location to stay in a moderately priced Tokyo hotel as most are in the middle of the city. The rooms may be small — to be expected in a city this full — but the quality is consistently high.
I normally opt for Hotel Gracery Shinjuku, a reasonably priced property a few minutes' walk from Shinjuku Station, one of Tokyo's main hubs. Rooms are designed with convenience and efficiency in mind. At first glance, it's a regular glossy tower block. But, if you look closely, your eyes will meet a giant Godzilla head peeking over the roof of the hotel's observation deck (the hotel is built on the site of the popular 1950's Shinjuku Koma Theater).
Kyoto's townhouses
Residents of Kyoto have begun to turn some of the city's traditional machiya (town houses) into visitor accommodation. An economical choice for families or groups of friends, these 19th-century wooden-fronted houses are usually built over two floors, configured with a number of bedrooms.
You'll have the whole house to yourself, with plenty of space to relax. Amenities include a fully-fitted kitchen to try some home cooking and a washing machine to save on expensive laundry bills
Stay in good-priced traditional Japanese accommodation

Lake Ashi, Hakone National Park
A ryokan is a family-run inn that feels like a guesthouse. On arrival you'll be welcomed with a bow, and provided with a pair of slippers — it's customary to remove your shoes at the entrance. You'll be ushered to your room with tatami-mat flooring and a comfortable futon. Many traditional ryokan are hundreds of years old and come with a character that Western-style hotels fail to compete with.
Kaiseki dining, an elaborate multiple-course dinner of traditional dishes, is an expensive experience in a restaurant or hotel, but stay in a ryokan and it's part of the package. Each dish is a delicately prepared medley of local produce and the menu often includes sushi, soups and meat grilled at the table.
I'd avoid a city ryokan, choosing one with a more historic pedigree in a rural or village location. Hakone National Park has some traditional ryokan with views right across the surrounding countryside. If you choose a moderately priced standard room, you can often rent a private onsen (spring bath), which is particularly satisfying in cooler weather.
Eating out inexpensively in Japan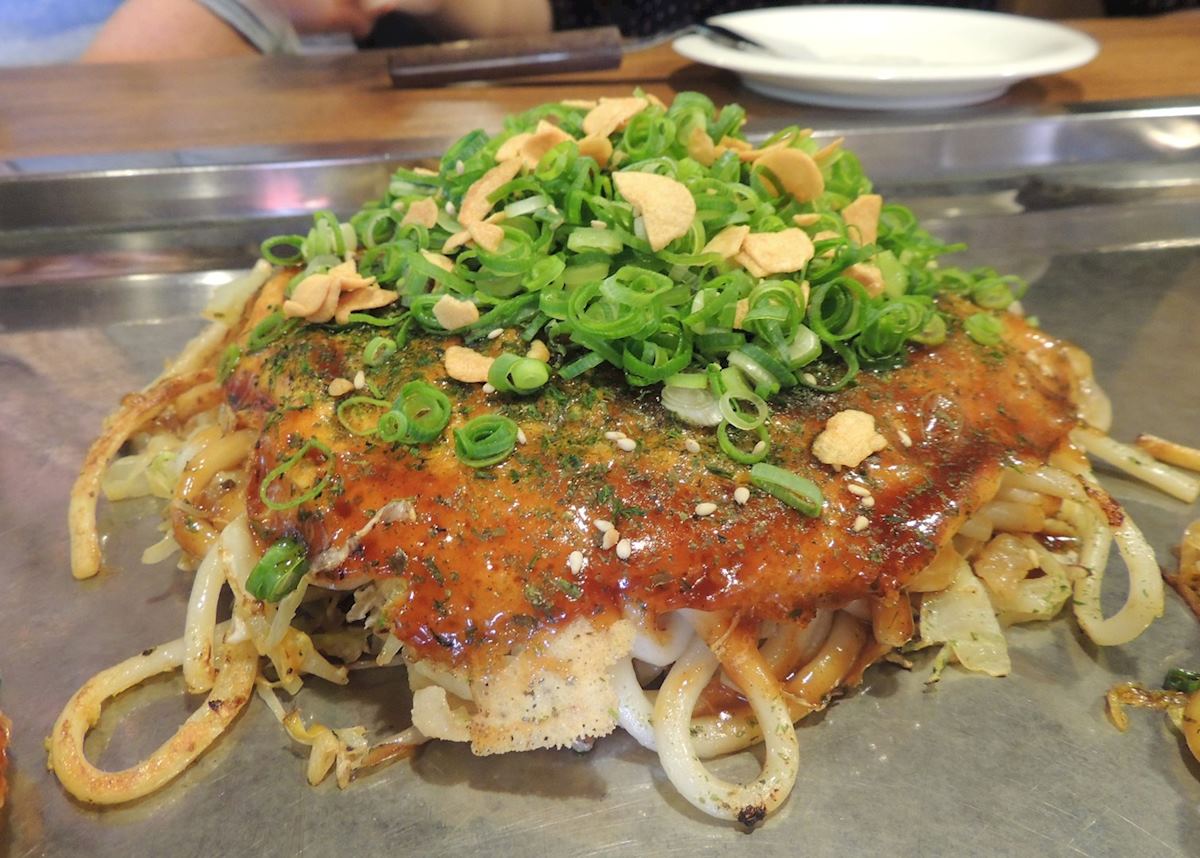 Hiroshima-style okonomiyaki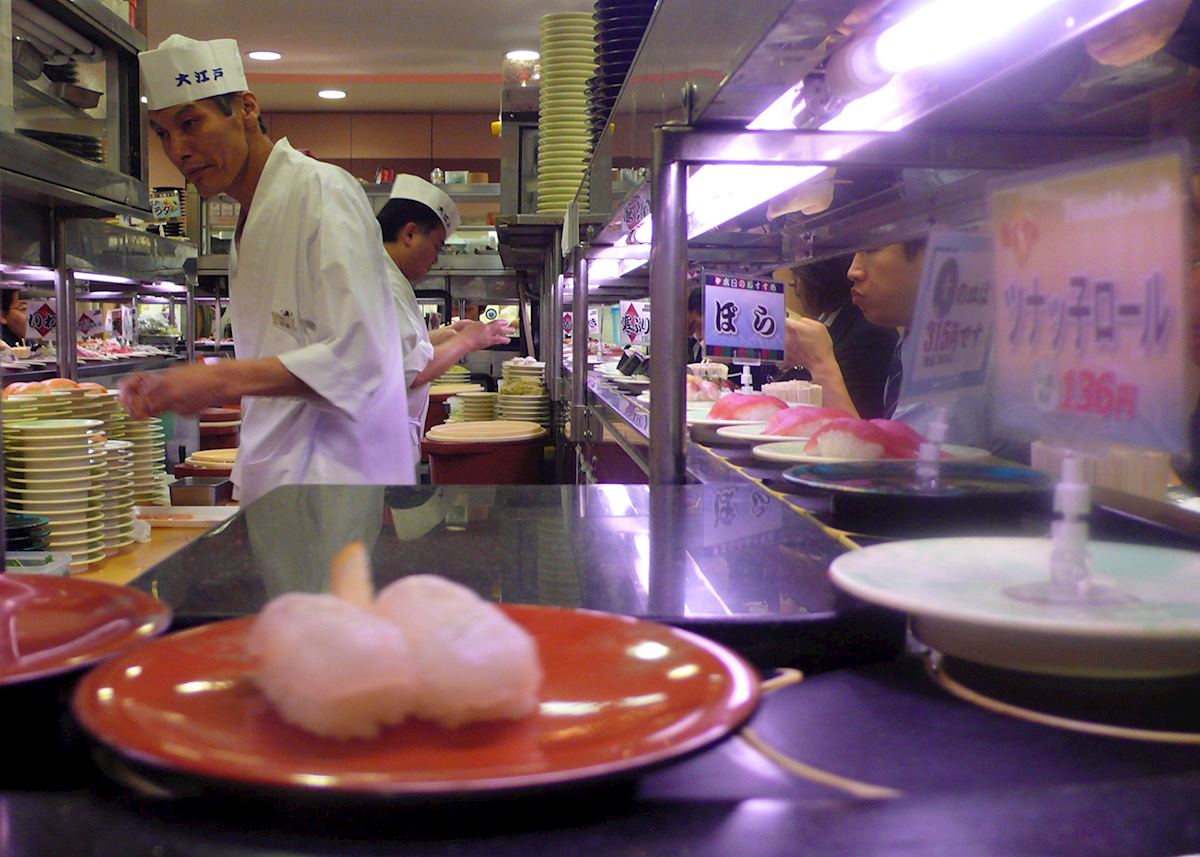 A kaiten sushi bar
When I lived in Japan, my kitchen was in a nook in my corridor, and was rarely used. Most working Japanese treat their kitchen in the same way, and eating out has become an important part of their culture. Some of the most satisfying dishes are to be found in places local people head to for lunch or dinner (you'll find that, for Japan as a nation, breakfast is largely ignored).
Grab lunch at a convenience store
Convenience stores, like the ubiquitous 7-Eleven are great for an on-the-go lunch, sometimes offering better quality food than restaurants, and a reliable source of good coffee. You can pick up onigiri (rice balls) and bento boxes (pre-packed lunchboxes with a mix of snacks) — there's usually a park close by where you can picnic. The packaging often has pictures of the ingredients, so you can work out what's inside.
Peer into the hot-food counter next to the cashier and you can usually find some local delicacies — I recommend a pork-filled steam bun.
Stand with the locals at a street-food stall
Originating from China, ramen noodle soup with pork or vegetables is hearty and satisfying, especially when served with steaming gyoza dumplings. Ramen stalls pop up on almost every street in every city. Most don't have any seating, so you'll stand alongside the locals to eat before moving on.
I also suggest seeking out an okonomiyaki stall. Originally a delicacy of Hiroshima, these savoury pancakes now feature across the country. You sit at a hot-plate counter and choose a filling such as pork, prawn, squid or cheese, which is then mixed together with a thick batter and cabbage.
Dine on conveyor-belt sushi
Kaiten, or conveyor-belt, sushi restaurants are an economical way to experience sushi — you determine how much you eat and how much you pay. Dishes are color coded, depending on the grade of fish, and you simply stack up your plates and pay at the end. Tea and miso soup are usually poured on a free refill basis. You'll find them in most cities and towns.
Best-value time to travel to Japan

Wisteria season in Japan
Spring (March to May) is a popular time to travel to Japan, when it's pleasantly warm and there are few showers. If you're happy with slightly cooler temperatures (an average of 7C (45F) in Tokyo), hotels and flights tend to be very reasonable in February.
Costs spike during cherry blossom season — the buds bloom from around the end of March into the first two weeks of April. As a more economical alternative, consider travel during wisteria season. The hanging lilac blooms can be just as arresting as cherry blossom and are celebrated across Japan with a similar enthusiasm.
Festivals
The Japanese calendar is full of festivals, from large-scale public holidays to smaller, more local events. Aside from the occasional nominal temple fee, they're free to take part in and, I've found, one of the best ways to get a glimpse into Japanese culture.
Start planning your trip to Japan
Start thinking about your experience. These itineraries are simply suggestions for how you could enjoy some of the same experiences as our specialists. They're just for inspiration, because your trip will be created around your particular tastes.