Even the best value trips to Japan allow you to experience the idiosyncratic images of the world's second wealthiest country: bullet trains, sushi, temples and geisha. With a Japan rail pass, the country becomes very accessible, making Japan a better value destination than it has been.
Better value Japan
Japan offers a good range of accommodation and money-saving transport options that can make a trip to the country more affordable than it has been, especially in off-season. Whether you wish to stay in a traditional family-run ryokan in a small village or to be in the heart of the action in Tokyo, there are some great options for every budget.
Start planning your trip to Japan
Explore the main highlights of Japan including Tokyo, Kyoto and Hiroshima. This itinerary offers exceptional value for money.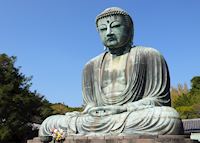 Visit Tokyo and Kyoto - the must sees of any trip to Japan, along with the quiet Kiso Valley. Travel by bullet train throughout, with independent sightseeing and some private excursions.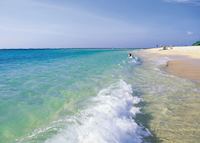 Explore the main highlights of Japan including Tokyo, Kyoto and Hiroshima with time on the beach at Miyakojima to relax and unwind. ** Please note, prices can vary enormously from season to season, especially for Okinawa, therefore this itinerary is based on travelling in low season. **
---
Things to do in Japan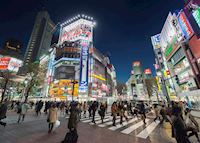 Tokyo
1. The famous Tsukiji fish market is completely free of charge and within walking distance of many of the central hotels.
2. Meiji Jingu in the centre of the city is also free to enter and is one of the most important shrines in the capital.
3. Walk through Harajuku to Shibuya, taking in the atmosphere of Japanese street life as you go.
4. While many visitors flock to Tokyo Tower or the new Skytree Tower for their stunning views over Tokyo, save yourself on entrance fees by heading to the free Metropolitan Government Building in Shinjuku to get a glimpse of Mount Fuji in the west.

Kyoto
1. Kiyomizu-dera, one of the main temples in Kyoto, is just 300 Yen (£2.20) to enter.
2. You can also walk from central hotels to many of the attractions, including Gion and the entire length of the delightful Philosopher's Path. 3. If you are feeling templed out, join a walking tour of Gion with an English speaking guide, costing around 1000 Yen (£7.50) for an hour or so.
3. Take in the super modern building of Kyoto Station designed by famous architect, Hara Hiroshi, and visitors can walk along the Skyway tunnel which spans the length of the station up above.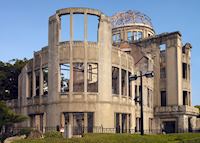 Hiroshima
1. The iconic and must see sights of the Peace Park and Memorial Museum cost 200 Yen (£1.60p) to enter, with the proceeds going toward the upkeep of the museum.
2. Use your Japan Rail pass to travel across to Miyajima Island for free, making use of the JR train and ferry to enjoy the sights of this beautiful island.
Tip and tricks
Top tips for keeping costs down on a trip to Japan
Trips to Japan needn't be too expensive and there are plenty of ways in which to ensure you don't go over your budget. Below our specialists highlight just a few of the ways to achieve this.
Travel using public transport, both within cities and to new destinations rather than private cars which can be expensive and get stuck in traffic.
Seek out small, local restaurants for dinner, often found in train stations or even under the train tracks. These often have picture menus making it easy to pick.
Take advantage of low entrance fees to most temples and shrines.
Eat a packed "bento" box for lunch, available from convenience stores.
Use the free Wi-Fi in Japan available to foreigners, instead of your mobile to call home.
Visit free attractions, such as the Tokyo Metropolitan building.
Buy souvenirs from the plethora of cheap and cheerful 100 Yen shops.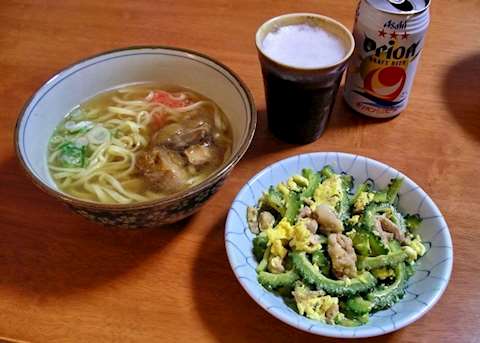 Okinawan food - soba noodles, chanpuru and Orion beer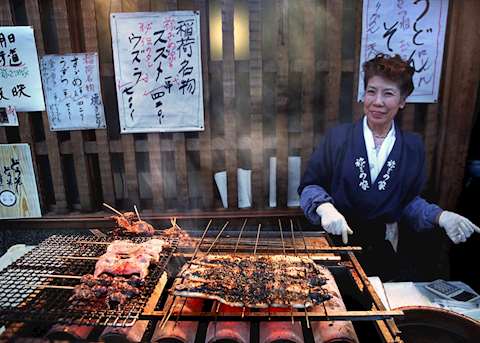 Festival food, Kyoto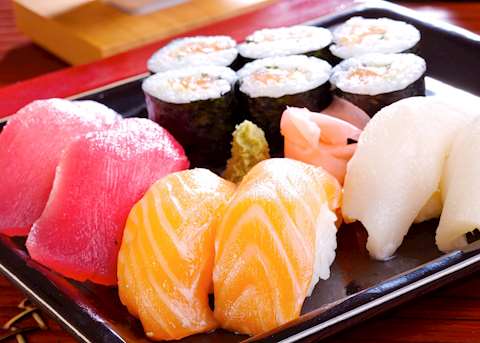 Mixed sushi
Eating out in Japan
Eating out in Japan is very much part of the culture and most Japanese will eat out several times a week as home kitchens in cities are very small.
Some of the most satisfying food and memorable experiences are to be had in these smaller places - the places where locals eat. A bento box for lunch will cost from around 800 Yen (£5-£6) and will fill you up until the evening.
Cheap eats in Japan
Chain Restaurants
Mos Burger, Lotteria and Freshness Burger all serve up the usual selection of burgers and fries, with some Japanese twists such as chicken teriyaki burgers. These can be found throughout the country and a meal will set you back 500 – 1000 Yen (£3.70-£7.50).
Kaiten Sushi
Conveyor belt sushi restaurants are a great way to experience sushi, but on more of a budget – you determine how much you eat and how much you pay. Dishes are colour coded, depending on the grade of fish, and you simply stack up your plates and pay at the end. Tea and miso soup are usually on a free re-fill basis. Plates start from 100 Yen (75p).
Noodles
Soba and udon are the main types of noodles in Japan; soba being thin and udon thick. They are served in a warm broth, with toppings such as tempura, or cold with a dipping sauce. Again, a good lunch option costing around 1000 Yen.
Okonomiyaki
This pancake-like dish, which is particularly famous in Hiroshima, is a very tasty way to fill up. You sit at a hot plate counter and choose from fillings such as pork, prawn, squid or cheese, which is then mixed together with a thick batter, cabbage and toppings to make a delicious pancake dinner. Costs are from around 1000 yen.
Okonomiyaki
This pancake-like dish, which is particularly famous in Hiroshima, is a very tasty way to fill up. You sit at a hot plate counter and choose from fillings such as pork, prawn, squid or cheese, which is then mixed together with a thick batter, cabbage and toppings to make a delicious pancake dinner. Cost from around a few hundred Yen.
Ramen
Originating from China, this dish of noodle soup with pork or vegetables is hearty and satisfying, especially when served with steaming gyoza dumplings. Ramen restaurants are very common.
Teishoku
Teishoku means set menu and is a great lunch option. For around 1000 Yen (£7.50) you will be served grilled or fried fish or meat, rice, side dishes and miso soup.
Where to pick up a tasty meal
The basement of major department stores, such as Hankyu/Daimaru/Mitsukoshi in major cities – you can pick up a selection of foods to eat as a bento box/early evening dinner, all at reasonable prices. Convenience stores such as 7Eleven, Lawson and Family Mart have good food options if you are on the go.
Yakitori (chicken skewers) and cold beer from stalls under the train tracks of Yurakucho train station in central Tokyo, or in Golden Gai in Shinjuku.
Cheap food chains, like Wara Wara, serve good and cheap food including Western and Japanese dishes. A good phrase to remember is "tabe-hodai" meaning all you can eat, where you normally pay about £20-25 for two hours of food ordering.
The izakaya (pub-like restaurants serving an array of food) in the central shopping arcades of any big (or small) city. They are identifiable by the red lantern outside the door. It's very normal in Japan to order a bowl of ramen noodles for £5 after a night of drinks.
Transport in Japan
Shinkansen (Bullet Train) and guards
The public transport network in Japan is world famous for its efficiency and speed, and rightly so.
Trains operate with startling punctuality and can whisk you from one end of the country to the other in a matter of hours.
Japan rail pass
Save for a few private lines dotted around the country, much of the rail network is owned by Japan Rail and JR offers rail passes in durations of 7, 14 and 21 days validities to make this the most economical and easy way to see Japan. These are also valid on the bullet trains. A rail pass can pay for itself in a return Tokyo to Kyoto journey but can give you unlimited access to the JR trains for the duration of its validity.
Public buses, metros and trams in Japan
In addition to the rail passes there are buses, metros and trams to help you get around without the need for taxis, although taxis are metred and for short journeys relatively reasonable.
Generally, the undergrounds in Tokyo and Kyoto are less than the Tube in London and even the buses have English. This, coupled with the information we provide, gives you access to every transport option in Japan and some real savings.
Accommodation in Japan
Whilst also boasting some of the world's finest accommodation, Japan's cities, towns and villages hide a wealth of smaller hotels and ryokan that bring you closer to the local culture and at the same time offer better value for money as board includes breakfast and dinner.
Rooms in Tokyo and Kyoto may be on the small side but quality goes without saying in Japan and when there is so much to see and do they need only be a bed for the night.
Stay in traditional Japanese accommodation
To fully experience Japan, we highly recommend a night or two in traditional ryokan accommodation - inns that offer family-run guesthouse style accommodation through to the height of Japanese hospitality and luxury.
Many ryokan are hundreds of years old and come with a character that all western-style hotels fail to compete with. Evening meals are typically included with a night in a ryokan and are often Japanese haute cuisine.