The best time to visit Japan is during spring (March to May) and autumn (September to November). This is when Japan is at its most vibrant, with delicate cherry blossom or bright red leaves adding contrast to the scenery. Remember, it can also be very crowded at this time.
The summer months (June to August) offer ideal conditions for hikers and lovers of the outdoors, but only in the mountains of the Japanese Alps and Hokkaido's wild national parks. Elsewhere, the weather is hot and humid. Rainy season occurs from the end of May until the middle of June or July.
For a very different experience, head to the north of Japan in winter (December to February). It's snowy, but the people brighten the dark days with a variety of festivals and events.
It's a good idea to take Japan's national holidays into account, too. Shogatsu (Japanese New Year), Obon (in mid-August or mid-July, depending on the area), and the Golden Week (between April 29 and May 5) are busy times for residents.
Creating tailor-made tours for over 25 years
Excellent
TrustScore

4.7 | 3349 reviews
Month-by-month guide for travelling in Japan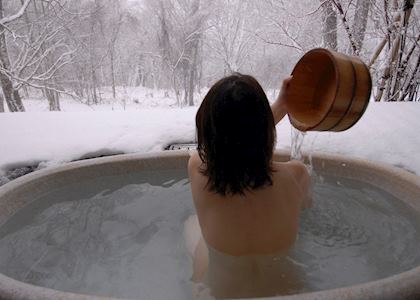 Visiting Japan in January
The weather is usually cool, dry and sunny during January and sites are much less crowded than later in the year. In northern Japan there is heavy snowfall making conditions good for skiing.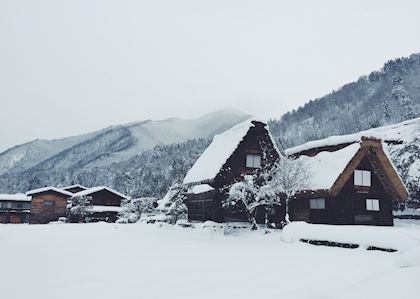 Visiting Japan in February
February is the peak of the ski season in northern Japan. Across the country days are generally cool, dry and sunny and many attractions are less busy than at other times of the year.
Events & Festivals
For one week in early February, Sapporo is overrun with enormous ice and snow sculptures, built in the central Odori Park as part of the Sapporo Snow Festival.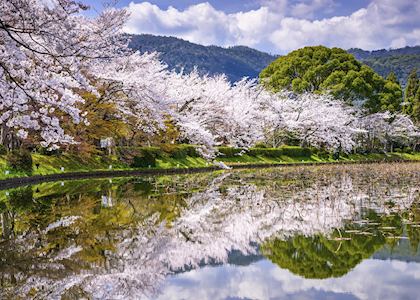 Visiting Japan in March
The weather starts to get milder in March and blossom on the plum trees marks the beginning of spring. Toward the end of March the cherry blossom begins to emerge in the south of the country, which is celebrated by the Japanese with picnics in local parks. As this season is a popular time to visit Japan, the country gets very busy toward the end of the month.
Events & Festivals
The cherry blossom spreads north through mainland Japan.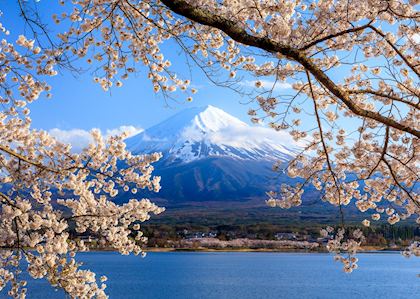 Visiting Japan in April
This is the peak viewing time for the cherry blossom as the trees start to bloom further north. The blossom during this time is beautiful and provides a magical experience, but if you travel during this time you have to expect everywhere to be very busy, and hotel rates escalate too.
Events & Festivals
The cherry blossom spreads north through mainland Japan.
Known as one of Japan's top three most beautiful festivals, the Takayama Matsuri is held in the old town of Takayama where floats and shrines are paraded through the streets.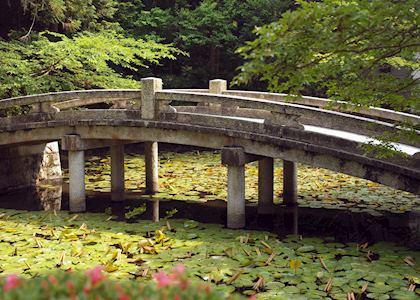 Visiting Japan in May
The weather in May is pleasantly warm and usually dry, and the vegetation is green and vibrant. Cherry blossom only reaches the northern parts of Hokkaido by this month, while in Okinawa, May is the rainy season. The first week of May is Golden Week, a national holiday and one of the busiest weeks of the year for domestic travellers.
Events & Festivals
Asakusa in Tokyo is the centre for the Sanja Matsuri, held on the third full weekend in May. Colourful floats and shrines, accompanied by musicians and dancers in traditional Edo period costumes parade between Sensoji Temple and Asakusa Shrine.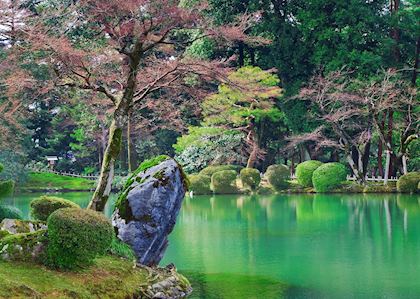 Visiting Japan in June
This time of year is hot and humid and there is typically rain in most parts of Japan. This means that the trees and plants are at their most vibrant, and Japan's gardens are particularly beautiful.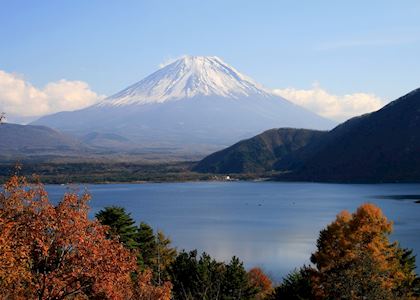 Visiting Japan in July
There are numerous festivals held all over Japan in July, making it a lively time to visit. The rainy season generally ends across most of Japan by the end of the first half of the month, but the humidity continues. July is also one of the best months to climb Mount Fuji, a hike which is only possible during the more favourable conditions of the warmer months. This is the peak season for domestic tourism and also sees the highest levels of rain and threat of high winds in Okinawa.
Events & Festivals
Japan's most famous festival, the Kyoto Matsuri, is held in Kyoto and dates back to the 9th century when it began as a religious ceremony to appease the gods. Enormous floats are marched through the streets throughout the month, although they are most impressive on July 17th.
In the 7th lunar month, as part of the Obon Festival to honour the dead, the Awa Odori is held in Tokushima on Shikoku Island. Musicians and dancers flood the streets in vibrant costumes.
Visiting Japan in August
Festivals continue across Japan during August and this is a busy domestic travel period as it is the school holidays. The weather is generally hot and humid across the country, with Hokkaido being cooler and more comfortable.
Events & Festivals
In the 7th lunar month, as part of the Obon Festival to honour the dead, the Awa Odori is held in Tokushima on Shikoku Island. Musicians and dancers flood the streets in vibrant costumes.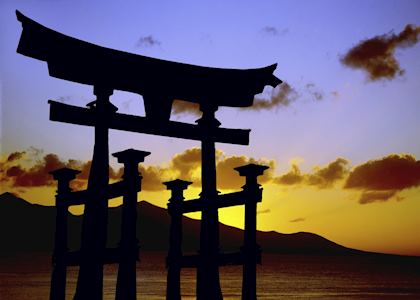 Visiting Japan in September
The domestic crowds associated with August have usually dissipated by September and skies are often clear and blue, although the weather can still be hot and humid. In late September the leaves start to change colour in Hokkaido, a process which makes its way south over the next few weeks. Toward the end of September there is a five-day national holiday known as Silver Week, during which prices increase dramatically as the Japanese travel about the country. Silver Week only occurs every few years.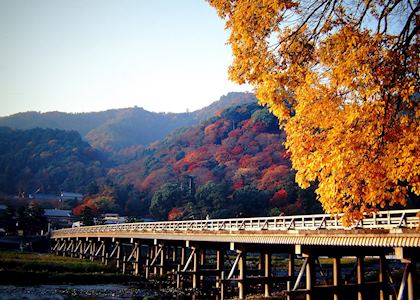 Visiting Japan in October
This is the start of the autumn season for mainland Japan and brings striking red and gold hues to the landscape. The weather begins to cool down from the heat of the summer, making October a pleasant time to visit.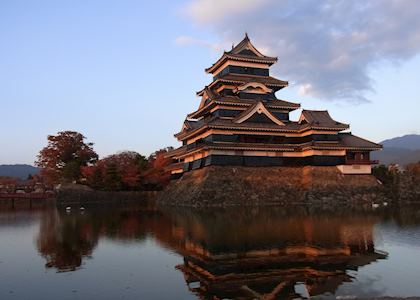 Visiting Japan in November
This is the peak time to see the colourful leaves in mainland Japan. Travelling around tends to be much quieter during this month, and the weather is pleasantly cool and mild.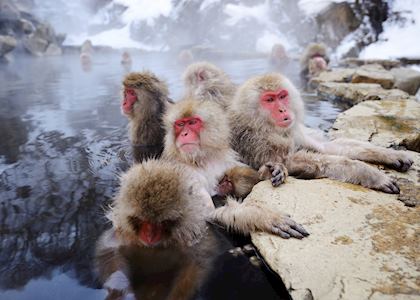 Visiting Japan in December
The weather is cool and typically dry in December, and the country isn't busy for the first couple of weeks which makes it a good time to visit if you don't mind the chilly temperatures. Ryokan properties don't tend to have much in the way of heating so staying here can be cold. However, outdoor onsens can be really special experiences during the winter months, particularly in the north of Japan where you can be bathing in natural thermal hot springs yet surrounded by snow. Toward the end of December it gets busier as the school holidays start, and some attractions close in the run-up to the New Year.
Japan Climate Guide
Destination
Jan
Feb
Mar
Apr
May
Jun
Jul
Aug
Sep
Oct
Nov
Dec
Hiroshima

9°C

56mm

10°C

68mm

13°C

109mm

18°C

158mm

23°C

150mm

26°C

252mm

30°C

237mm

32°C

116mm

28°C

192mm

23°C

105mm

17°C

72mm

12°C

48mm

Kanazawa

6°C

292mm

7°C

193mm

11°C

159mm

17°C

148mm

22°C

149mm

25°C

204mm

29°C

246mm

31°C

173mm

27°C

249mm

21°C

192mm

15°C

235mm

10°C

305mm

Kyoto

8°C

76mm

9°C

81mm

12°C

118mm

19°C

146mm

24°C

159mm

27°C

240mm

31°C

242mm

32°C

179mm

28°C

208mm

22°C

123mm

16°C

86mm

11°C

67mm

Miyajima Island

7°C

66mm

8°C

82mm

12°C

122mm

17°C

170mm

21°C

169mm

25°C

278mm

29°C

259mm

30°C

133mm

26°C

211mm

21°C

109mm

16°C

75mm

10°C

53mm

Okinawa

19°C

109mm

19°C

115mm

21°C

142mm

24°C

168mm

26°C

245mm

29°C

286mm

31°C

192mm

31°C

264mm

30°C

170mm

27°C

142mm

24°C

132mm

21°C

115mm

Osaka

9°C

68mm

9°C

73mm

13°C

105mm

19°C

132mm

23°C

131mm

27°C

197mm

31°C

168mm

32°C

110mm

28°C

185mm

22°C

127mm

17°C

87mm

12°C

66mm

Tokyo

10°C

47mm

10°C

62mm

13°C

101mm

19°C

122mm

23°C

138mm

25°C

184mm

29°C

132mm

31°C

147mm

27°C

185mm

21°C

174mm

16°C

90mm

12°C

50mm

Tsumago

4°C

63mm

6°C

74mm

10°C

127mm

16°C

163mm

21°C

166mm

24°C

268mm

27°C

251mm

29°C

214mm

24°C

244mm

18°C

149mm

13°C

86mm

7°C

63mm
Why travel with Audley?
100% tailor-made tours
Fully protected travel
Established for over 25 years
98% of our clients would recommend us
Request our brochure
Covering all seven continents, The world your way shows you how you can see the world with us. It features trip ideas from our specialists alongside hand-picked stays and experiences, and introduces our approach to creating meaningful travel experiences.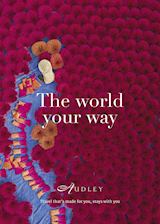 Trip ideas and travel guides for exploring Japan