By Japan specialist Tesia
Sleeping on a futon surrounded by traditional tatami mats, wearing a yukata, enjoying an exquisite kaiseki dinner… for me, staying in a ryokan is one of the best ways to experience Japan. They range from simple family-run affairs to larger, more luxurious options and many offer that quintessential Japanese pastime: hot spring bathing.
A ryokan (pronounced ree-oh-kan) stay is easy to fit into most Japanese itineraries, and I usually suggest one or two nights, depending on the level of luxury you choose. For families, they can feel a bit like a giant sleepover, with everyone snuggling down together in one room. But, there's also a sense of romance in the private baths and elaborate meals.
Choosing your ryokan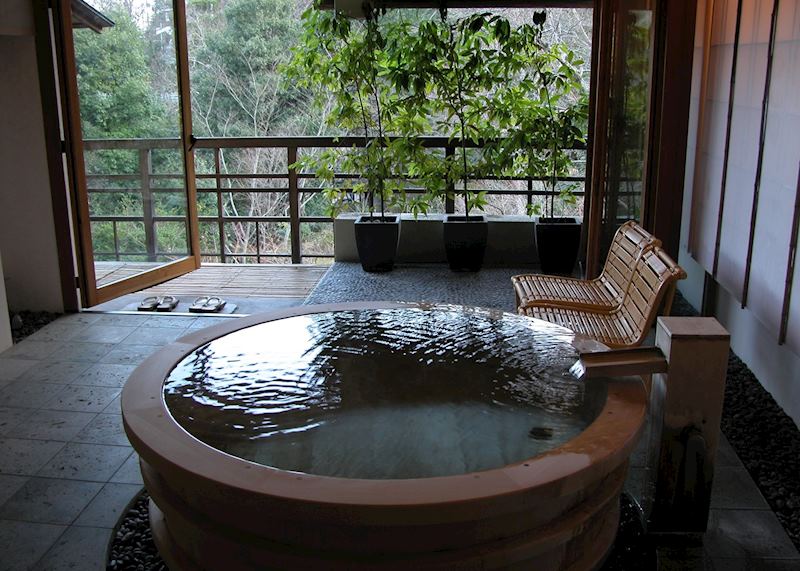 There are ryokan scattered across Japan, but to get the best experience, I recommend opting for one in a rural location. Cities like Kyoto and Tokyo have beautifully historical options, but there's something very special about a remote stay surrounded by the pristine alpine scenery of the Japanese Alps or the pebbled shores of Lake Ashi.
I'm particularly fond of Tsurunoyu Ryokan, a small, traditional stay set in the forested mountains of northern Honshu. Food is cooked over a fire pit called an irori and the building itself is one of the oldest in the region. The surrounding hot spring baths are over 350 years old, fed by mineral spring waters that turn the water a milky white.
You don't have to travel far for your ryokan experience, and Gora Kadan is easily accessible from Tokyo. Set in Hakone National Park, the ryokan is the former retreat of the Kan'in-no-miya imperial family and takes relaxation seriously, with a whirlpool Jacuzzi, open-air hot springs and suites with private stone baths.
Why book your ryokan experience with Audley?
Despite Japan's technological advances, it can be tricky to book a ryokan. Often their websites are also only in Japanese and the information limited, and many of the smaller properties only produce booking documents in Japanese. Often, they can only be booked via fax. I've been lucky enough to visit the ryokans that we work with and can help you pick one to suit your preference.
It's also helpful if you have specific dietary requirements, as ryokan traditionally provide breakfast and dinner as part of their package. The cuisine can be (deliciously) complex, so it can be reassuring to know that they are aware of any dietary needs in advance.
The ryokan experience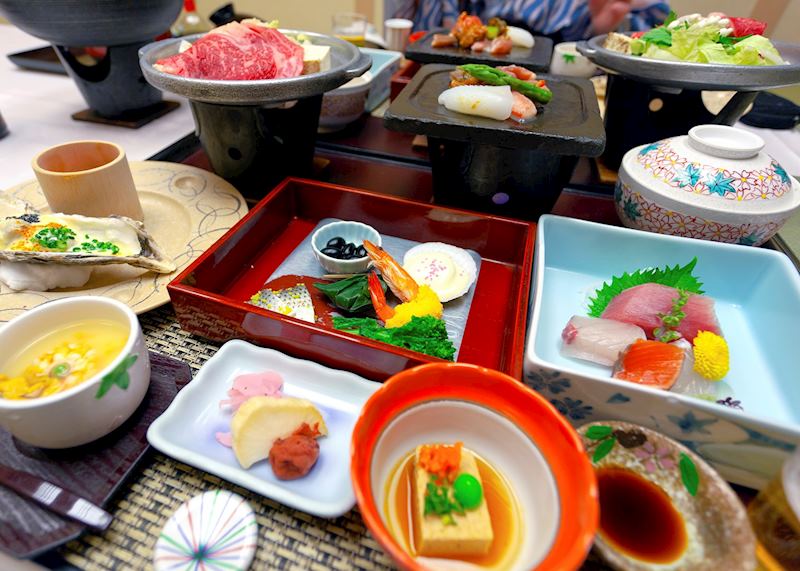 The welcome: when you first step through the doors you'll be greeted with a bow by your host who will take your bags and show you to your room.
Ryokan style: rooms themselves have natural tatami mat flooring, usually with a low table and chairs in the middle.
Sleeping in a ryokan: from a Western perspective, perhaps the most unusual aspect is that there are no beds. Instead, you sleep on plump futons, which are freshly prepared at night for you on the tatami mat floor. They are incredibly comfortable and easy to sleep on, and your room attendant will fold them away during the daytime.
Some ryokans do have Western-style beds, which can be arranged for you if sleeping on a futon doesn't appeal.
The yukata: a yukata (or cotton kimono) is provided in your room and can be worn before and after bathing, when relaxing and eating in your room, and around the ryokan.
Ryokan food: for many guests (Japanese and otherwise) the most appealing element of staying in a ryokan is the opportunity to enjoy delicious Japanese food, from hearty home-cooking to mouth-watering kaiseki masterpieces. Breakfast and dinner are usually included, with dinner often served to you privately in your room.
Meals are prepared using the best seasonal ingredients available, and in accordance with Japanese aesthetics you will commonly be served several delicate courses, to give you a mouthful of each different and complementary taste. The dishes are a celebration of local ingredients, from perfectly grilled beef steak in Honshu to delicate snow crab on the north coast.
Ryokan gardens: many ryokans are cleverly constructed around Japanese gardens, which enhance the feeling of peace and tranquillity that typify a ryokan stay.
Onsen bathing
I lived in northern Japan, in Aomori City — often touted as the snowiest in the world — and found that there's nothing better than soaking in a hot spring while surrounded by snowfall. However, they are enjoyable year-round and often the highlight of the ryokan experience, especially after a day exploring. Not all ryokan have them, particularly in cities, so be sure to check with your specialist.
Bathing etiquette: taking your first Japanese-style bath can be a little bewildering at first, but the principle is always the same, whether you are taking a dip in an onsen or hot bath in your room.
Men and women generally bathe separately, unless using a private bath, and bathing is naked. Before entering the bath, you must wash yourself with the shower or bucket provided. Once you're sure you have rinsed off all the soap you can enter the bath (slowly, it will be hot).
My top tip is that the Japanese often don't bathe after dinner, so an evening soak can be much quieter.
Bathing experiences: different ryokans offer differing experiences, from large therapeutic bathing areas, both indoor and outdoor, to smaller baths that can be used privately or for a family.
For the ultimate in indulgence, request a room with its own individual open-air bath.
Start planning your ryokan stay in Japan

Start thinking about your experience. These itineraries are simply suggestions for how you could enjoy some of the same experiences as our specialists. They're just for inspiration, because your trip will be created around your particular tastes.
View All Tours in Japan