One of Japan's greatest delights is the number of beautiful and fascinating gardens of all shapes, sizes and styles.
To visit a garden in Japan is to take a step away from reality. Many of the gardens are calm oases in the center of busy cities and they offer visitors an opportunity to relax and forget, if just for a moment or two, the hectic pace just beyond the garden walls.
Through the ages
Some of the best Japanese gardens recreate famous vistas in miniature for visitors. Ancient gardens were first designed with local nobility in mind, as an opportunity for them to relive their travels to far-flung Japanese destinations. These journeys were long and difficult, and by visiting a beautiful garden, with hills and lakes and forests, they were reminded of trekking up one of Japan's famous mountains and surveying the beauty below, without having to travel very far from their homes.
Tailor-make your trip
Whole itineraries can be tailored around visiting some of the most famous, more secluded or simply very beautiful gardens. Some gardens offer tea ceremonies within the grounds, while others offer space to sit and reflect on the transient beauty and thought behind the garden's design.
Start planning your trip to Japan
Our favourite gardens in Japan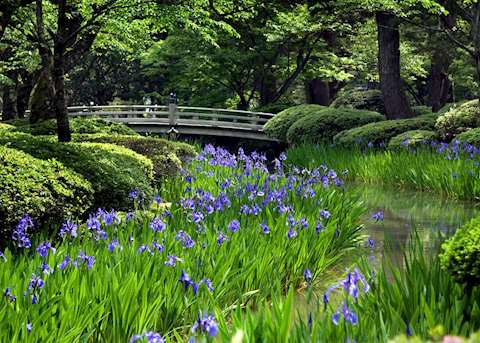 Kenrokuen Garden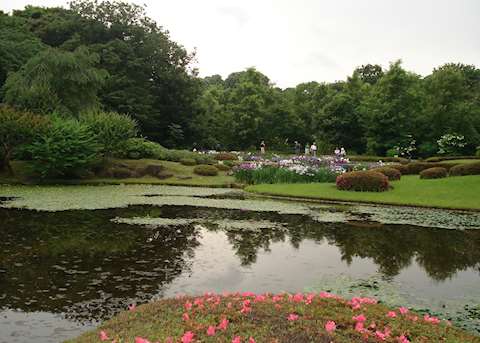 Imperial Palace Gardens, Tokyo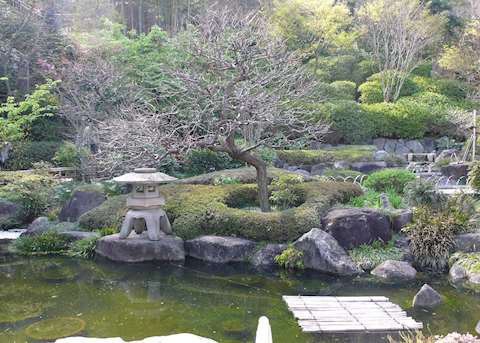 Japanese garden, Kamakura
Tokyo - Imperial Palace East Gardens
The Imperial Palace, home of the Emperor and Empress, is situated in the centre of Tokyo. The Imperial Palace East gardens are the only part of the palace open to the public year round. The palace is surrounded by a water-filled moat and tree-covered grounds –a precious taste of nature within the bustling metropolitan capital city.
Kanazawa – Kenrokuen
Kanazawa's number one attraction, ranked by the Japanese as one of the top three gardens in Japan, is a must-see for any visitor to Kanazawa. It is located right in the middle of town, within easy walking distance of the main shopping district and many of the other tourist sites of interest.
The name Kenroku-en refers to the six attributes traditionally considered vital in the creation of the perfect garden, all of which are said to exist here. One of these, seclusion, may seem a little hard to come by at certain times of year, but the worst of the crowds can be avoided by visiting just after opening or in the early evening. With a bit of luck you'll then be able to enjoy in peace the beautiful combination of ponds, streams, old trees and teahouses that have made the garden justifiably famous.
On one edge of the garden is the Seisonkaku Villa, formerly the residence of the local feudal lord's mother, and now open to the public as a museum.
Kyoto - Saihoji Temple Gardens
Saihoji gardens are often referred to as the 'moss gardens'. The garden consists of upper and lower layers of arranged rockwork, the spring pond garden on the flat ground and the dry landscape on the mountainside, creating a world of 'yugen' (quiet beauty or the subtle and the profound).
Saihoji temple is listed as a UNESCO World Heritage Site in recognition of its age and unique character. A reservation to visit Saihoji is required and must be made in advance. This is a wonderful way to see a really unspoilt part of Japanese history and culture in action.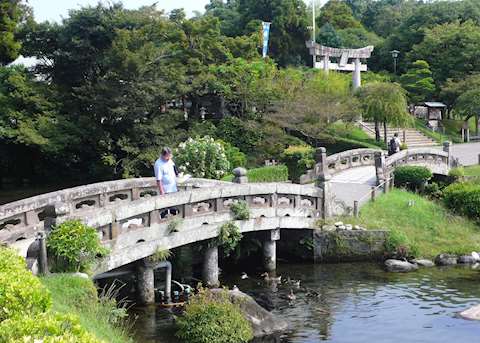 Suizenji garden, Kumamoto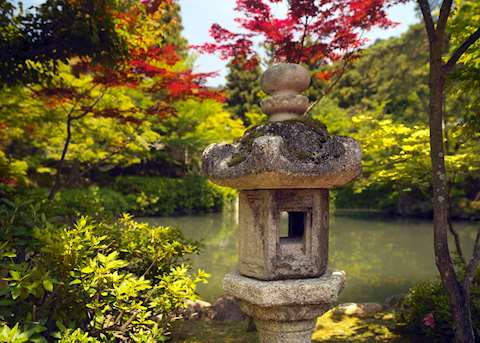 Japanese garden, Kyoto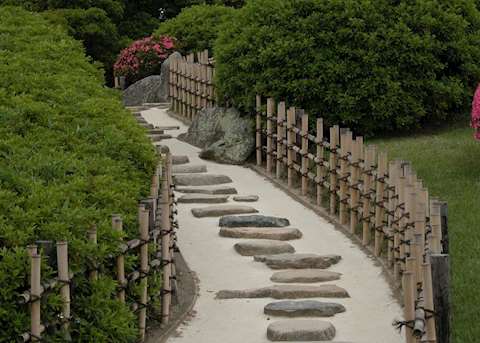 Koraku-en Garden, Okayama
Himeji - Koko-en Gardens
Just across the moat on the western side of Himeji castle, you will find Koko-en, a reconstruction of the former samurai quarters of the castle. There are nine Edostyle gardens, two ponds, a stream, a tea arbour and a restaurant where you can enjoy lunch whilst gazing over the garden.
Okayama - Kourakuen
The name of this garden means 'Garden of Pleasure After', a reference to a famous Confucian quote stating that a wise ruler must attend to his subjects' needs first and only then attend to his own. Spend a couple of hours walking around the garden exploring the various features located around the central garden itself, as well as the wildlife, most notably the cranes located in enclosures to the west of the gardens. Okayama is conveniently located on a bullet train line between Hiroshima and Kyoto, therefore providing a perfect stop over for a couple of hours between the two cities on a journey northwards.
Takamatsu - Ritsurin Koen
At the base of Mount Shuin, in the south part of town lies Takamatsu's most famous attraction, the Ritsurin-koen Garden. At 750,000 square metres this is the largest garden in Japan and ranks amongst the most celebrated in the country. Construction began in the early 17th century and went on for almost a century, producing the magnificent vistas of lakes, pines and tranquil teahouses that visitors can still see today. The park is divided into the Nantei (South Garden) and Hokutei (North Garden), with distinct characteristics in each, the north being more natural in appearance and blooming with irises in early summer.
Kumamoto - Suizenji Koen
Suizenji Koen in Kumamoto is a good example of a hill garden and one of Japan's most beautiful. It encompasses a circular path to lead visitors around the grounds, lakes, manicured trees and even symbolic "Mt Fuji" in miniature. Parts of the garden date back 400 years and were first created by the ruling feudal lord Hosokawa as a tea retreat. You can still stop for a cup of strong green tea in the tea arbour.
The history of Japanese gardens
Early gardens in Japan were strongly influenced by those developed by the imperial courts of China.
Few of these Asuka period (538-710), gardens remain today, but their focus upon expressing Buddhism and Taoism through replicating the mountainous regions in China can still be seen in more modern-day versions.
During the Heian period (794-1185), the rocks, ponds and islands largely lost their religious significance and were used to evoke famous Japanese beauty spots and scenes depicted from literary masterpieces such as the Tales of Genji.
In the early Kamakura period (1185-1336), Zen gardens emerged, designed to provide a contemplative setting in which to meditate and usually intended to be admired from within a building such as a teahouse.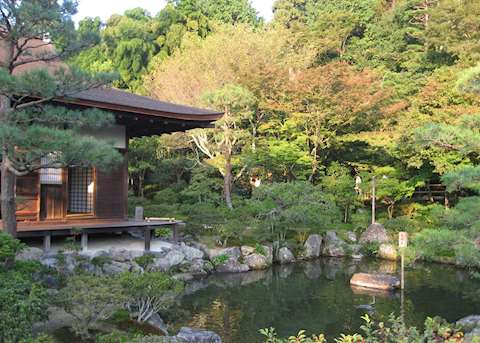 Ginkakuji garden, Kyoto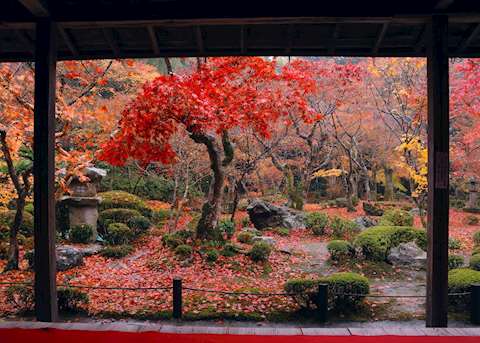 A temple garden in autumn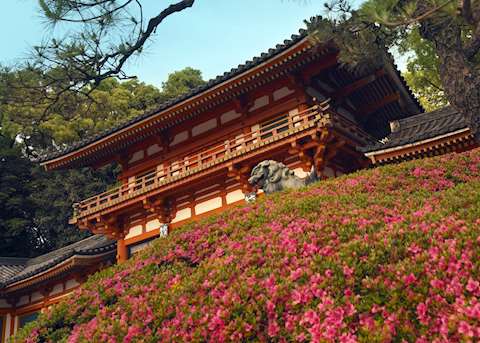 Kyoto shrine and garden
Styles of garden in Japan
Below you will find the numerous types of garden that can be found throughout Japan.
As you might expect, there are a vast number of gardens to explore. The three that the Japanese consider to be the best are Kenrokuen in Kanazawa, Korakuen in Okayama and Kairakuen in Mito. These three are the pond and island style of Japanese garden, characterised by their verdant planes and inclusion of the following elements: rocks, pond and bridges.
Tsukiyama gardens (hill gardens)
Tsukiyama gardens employ artificial hills, water features, meandering paths and a variety of vegetation and flora to recreate famous landscapes in Japan. Suizenji Koen in Kumamoto is a good example of a hill garden and one of Japan's most beautiful. It encompasses a circular path to lead visitors around the grounds, lakes, manicured trees and even symbolic "Mt Fuji" in miniature. Parts of the garden date back 400 years and were first created by the ruling feudal lord Hosokawa as a tea retreat. You can still stop for a cup of strong green tea in the tea arbour.
Karesansui gardens (rock gardens or dry gardens)
Karesansui gardens utilise stones, gravel, sand and moss to represent mountains, islands, boats, seas and rivers. These gardens were influenced by Zen Buddhism and considered ideal spots for meditation. Ryoanji garden in Kyoto is a typical and probably the most famous dry rock garden in Japan. The garden itself consists of raked gravel and fifteen rock boulders covered by moss, 14 of which are visible from any angle. The fifteenth remains hidden and Buddhist teaching states that only through reaching enlightenment can you see the fifteenth boulder. Ryoanji garden was constructed in the 15th century. A UNESCO World Heritage Site, the ultimate beauty of Ryoanji lies in its simple form, removing everything that is unnecessary from the garden, allowing you to experience the calm thoughts of Zen Buddhism.
Chaniwa gardens (tea gardens)
Chaniwa gardens (tea gardens) are gardens specifically built for the tea ceremony and are often very simply designed to reflect the customs of the tea ceremony itself. Stepping stones leading up to a tea house and the use of stone lanterns are common features in Chaniwa gardens. Most Chaniwa gardens are not open to the public, but ideas and influences from them can be seen in lots of larger gardens, such as Happo-en in Tokyo. For example, many gardens have a tsukubai stone basin, which is used to purify guests' mouths and hands before entering the tea room.
Kaiyu-shiki (strolling gardens)
Kaiyu-shiki, or strolling gardens, make the most of the garden path and lead visitors through the garden, unveiling differing views along the way. Kenrokuen Garden is the best example of a stroll garden in Japan. Located in Kanazawa, it is not only an excellent stroll garden, but also one of Japan's top three most celebrated gardens. The garden was developed from the 1620s' to 1840s by the Maeda clan and is known for encompassing the six attributes of spaciousness, seclusion, artifice, antiquity, waterways, and panoramas that make up the perfect garden according to Chinese legend. Kenrokuen has some fabulous panoramic views over Kanazawa city and you should dedicate at least an hour and a half to really explore the gardens properly.