By Japan specialist Amanda
While studying Japanese as a college student, I attended a series of seminars in Japan. The overarching theme was Buddhist visual culture, where gardens play a pivotal role. We visited a quick succession of them and, as I wandered through green strolling gardens and gazed at dry, stone-landscaped Zen gardens, it dawned on me how much of an art there is to Japanese garden design.
Gardens of varying sizes and styles are scattered across Japan, both in the cities and in quieter rural areas. You can plan a trip around seeing a range of gardens, or include a garden visit in a more varied tour of the country. I've visited many wonderful specimens, but the following stand out as particularly special.
Gardens to visit in and around Tokyo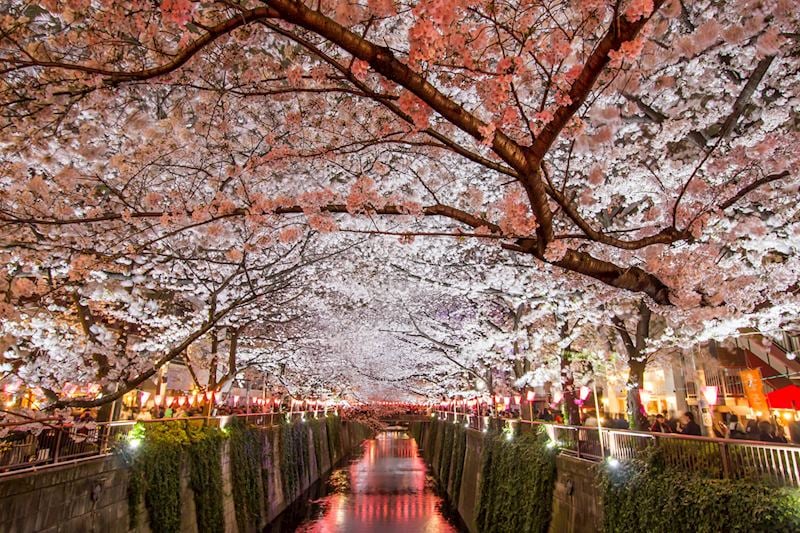 I used to live in Tokyo, where I spent a lot of time relaxing in parks with friends, especially during hanami (cherry blossom viewing). While the parks are well-kept and often planted carefully, the Japanese consider them as places for picnics or for children to play. Their relationship with gardens is much more aesthetic, which they admire with the same hushed reverence you'd see in an art gallery.
In Tokyo, a good starting point is the Imperial Palace East Gardens. The palace is the primary residence of the Emperor of Japan, and the gardens are open year round. Modern Tokyo has grown up around the palace, making it accessible if you're centrally located. Inside, you'll find a maple-fringed pond, an elegant tea house and a woodland grove leading onto large lawns.
Sankeien Garden, Yokohama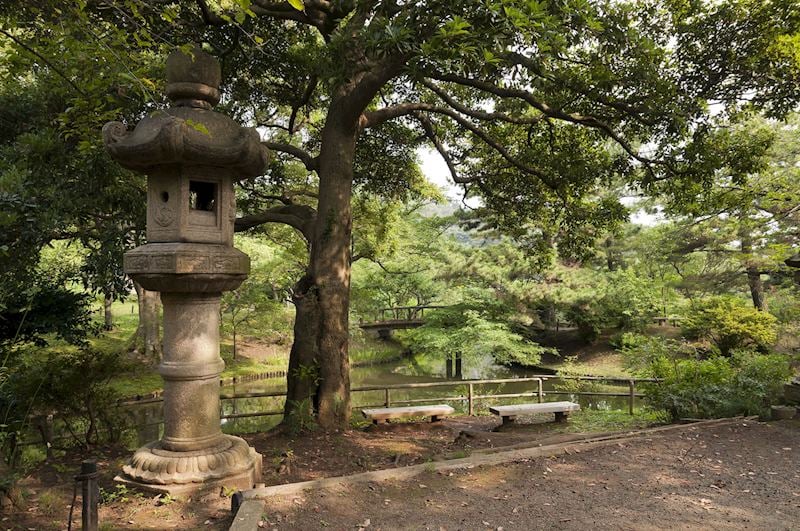 Many Japanese gardens aspire to encompass six key attributes: spaciousness, seclusion, artifice, antiquity, waterways and panorama. In Tokyo, spaciousness and seclusion are a little hard to come by, so I suggest a day trip to Sankeien Garden in Yokohama, a half-hour train ride away.
Sankeien was built by Sankei Hara, a wealthy silk merchant, in 1904. It's an infant compared with other gardens, but it has amassed a collection of architecture that has been acknowledged as culturally significant by the Japanese government. Ponds and lawns are arranged around a series of historic buildings — many saved from being destroyed or disrepair — collected from across Japan.
This is a grand vision with landscaped hills, water features and a traditional tea house. The defining feature is a three-storey pagoda, which was built in Kyoto in the 15th century and relocated to the gardens in 1914. I couldn't see the pagoda when I first walked in: it's slowly revealed as you follow the paths through the garden. I visited Sankeien in the morning then went into Yokohama for lunch. A port city with red-brick buildings influenced by traders, it has the largest Chinatown outside China.
Enjoy your own private garden in Kyoto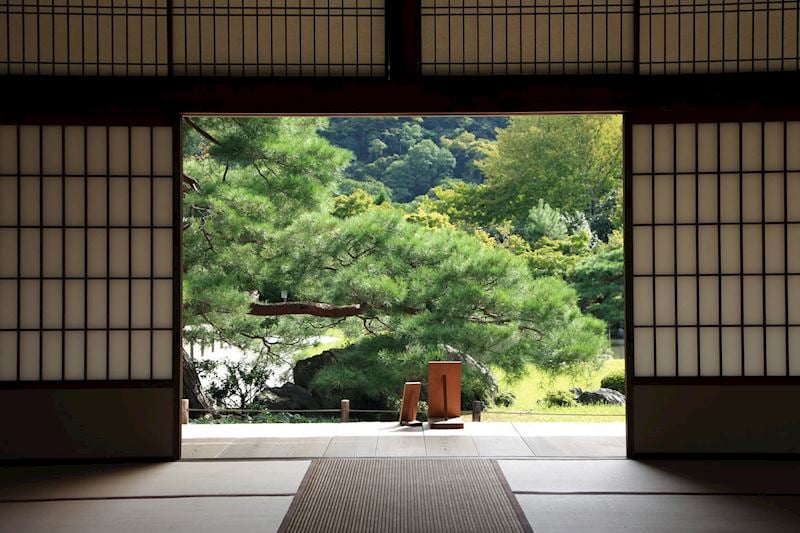 The Japan of period films and ukiyo-e paintings, Kyoto is scattered with more than 1,600 Buddhist temples, hundreds of Shinto shrines and some grand Imperial villas. It also has some of the best examples of machiya, wooden townhouses originally owned by craftspeople and merchants. Many have now been converted into comfortable self-catering places to stay with their own garden.
The faithfully traditional interiors feature exposed wooden beams, sliding shoji doors and tatami mat flooring. The rooms are built around an open courtyard garden, or tsubo niwa: small and simple in design and surrounded by the walls of the house. It's worth noting that you can't usually access these gardens, the idea being to appreciate them from the comfort of your indoor living space.
Gardens to visit in Kyoto
Ryoanji Zen garden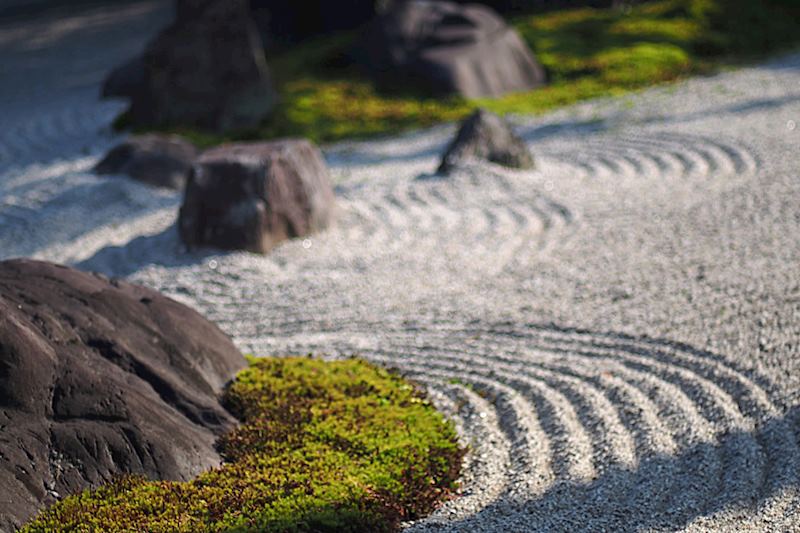 Due to its intense concentration of temples and monasteries, Kyoto boasts a hefty collection of Zen gardens. Designed to imitate the essence of nature and as a place for monks to meditate, these gardens have a distinct minimalist aesthetic. Rather than foliage, the main components are sand and rock.
The Ryoanji Zen garden isn't one of the biggest, but it's considered the pre-eminent Zen garden in Japan today. To the untrained eye, it's 15 rocks in a sea of sand and gravel, but don't be deceived. Ryoanji has been designed to make you think about and interact with the space by walking around it. No matter where you stand, you can't see all the rocks at the same time (I did try).
The bordering grounds were turned into a temple in 1450, but the origin of the garden is a mystery: no one knows who built it or what's behind the arrangement of the rocks.
The garden is a 30-minute bus ride north from Kyoto Station, and I recommend visiting in the early morning to view it in the tranquillity that was intended.
Joruri-ji in Kizugawa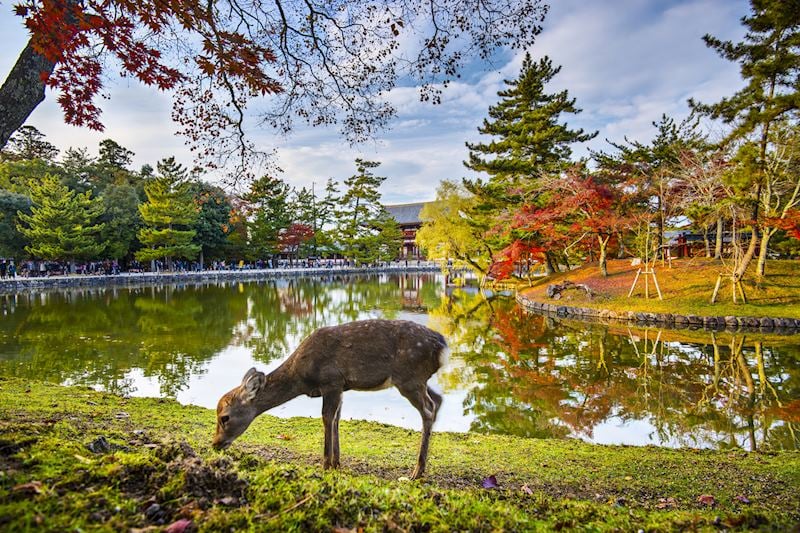 Quite a few of Kyoto's temple gardens are on a well-trodden route and can get busy, so I journeyed out to Joruri-ji. From Kyoto it's a 50 minute train to Nara, then a half-hour bus ride into thickly forested countryside. Aside from a couple of restaurants nearby, the temple stands alone. I was the only visitor, if you discount a couple of cats trying to grab lunch from the koi carp pond.
Dating back to 1047, the temple is widely considered to be one of the best examples of a paradise garden. These gardens are a concept from Pure Land Buddhism, a strand of the religion that became popular in the 11th century. Paradise gardens are focused around a pond that represents the ocean between birth and death, with an island signifying Earth in the middle.
Joruri-ji is one of the few remaining paradise gardens, and the only survivor to still have all nine statues of the Amida Buddha (the nine stages of nirvana) in its hondo (temple hall). It was one of the smaller gardens I've visited but, as it was so quiet, I could really appreciate the tranquil atmosphere. The garden is almost completely taken over by the lake, but you can walk around the outside in the shadow of a three-tiered pagoda.
A guided garden experience
If you want to learn more about the complex symbolism and history behind Japanese gardens, Kyoto-based garden historian and designer Christine Adams, a repeat Audley client, runs bespoke garden tours in October and November. Writing on the subject, she has visited hundreds of gardens across the country and we can arrange for Christine to escort you around a selection of your choice.
Kenrokuen Garden, Kanazawa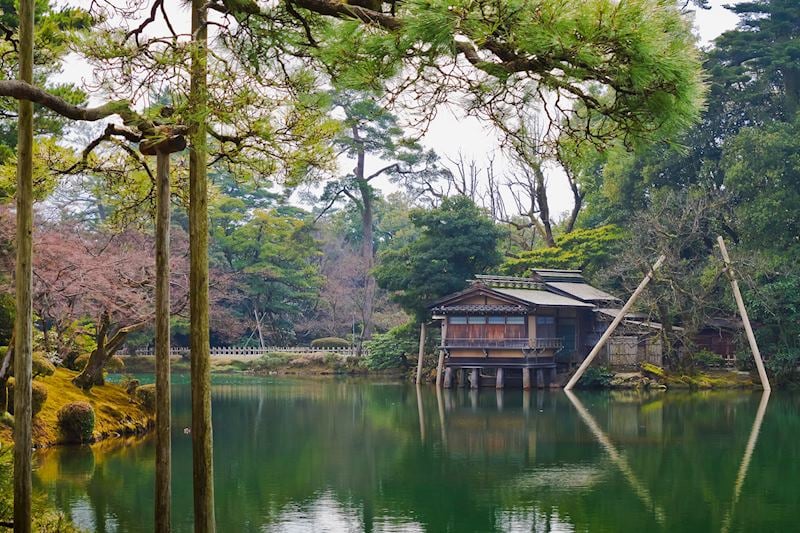 The modern city of Kanazawa is within easy reach of Tokyo or Kyoto and is best known for Kenrokuen Garden. One of the top three gardens in the country the eyes of the Japanese, Kenrokuen is thought to achieve all the six key attributes a garden should have to reach perfection.
As the city is quite compact, the garden lies within walking distance of most hotels. I suggest wandering over in the early morning or late afternoon to avoid the busiest times. I explored with a guide, who explained the intricacies behind the creation of the garden right down to the precise placement of the path-side lanterns.
The tea house at the entrance is slowly being restored and the garden is unassuming at first sight. After passing through a wooded entrance, one of the first things I saw was a sage-green pond with a fountain spurting proudly from the middle. It's considered to be the oldest fountain in Japan, and the water source's higher elevation creates a natural pressure that forces the water skyward.
Making my way up a gentle hill, the garden began to open out below — the best place to take a photograph — to reveal a large pond with a tea house set on a corner. If you turn around from this spot, you can see the Ryōhaku Mountains in the background.
Kenrokuen is a strolling garden. All its elements have been planned with miegakure in mind — a technique to angle visitors toward a particular viewpoint. There's a clear path running through the park, which should be followed in a clockwise direction.
Tea is served in the Shigureitei Teahouse, once a residential villa and one of a number of teahouses dotted around Kenrokuen. You can sip matcha (a finely powdered green tea) and nibble wagashi sweets, a traditional tea accompaniment made from sweetened bean paste.
The garden was originally attached to Kanazawa Castle, which the Maeda clan owned in the 17th century. This rich feudal-lord family remodelled the garden over the years, before they opened it to the public in 1874. The castle burned down a number of times over the centuries, but you can see the remnants at Kanazawa Castle Park, opposite Kenrokuen.
The history of Japanese gardens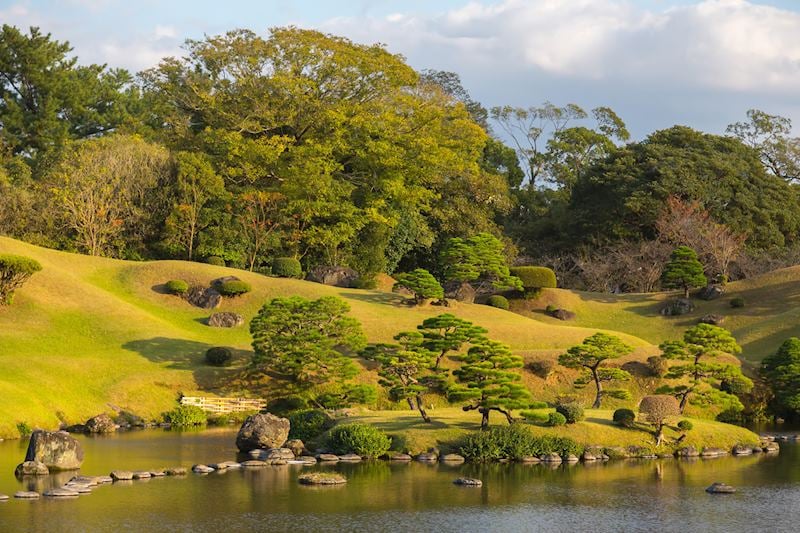 During the Asuka period (538–710), Japanese merchants were inspired by gardens in the imperial courts of China. The first gardens in Japan were created using Chinese building methods and designed to channel Buddhist beliefs through an appreciation of the natural world. Few gardens still exist from this time, but many modern versions echo Buddhist principles.
For a time the gardens lost their religious significance, and there was a shift to replicating Japanese beauty spots in miniature — Suizenji Jojuen Garden in Kumamoto has a miniature Mount Fuji — as well as scenes from literary texts. As Buddhist influences regained importance in the Kamakura period (1185–1336), Zen gardens emerged, designed as a contemplative setting for meditation.
Each following period has influenced garden design in its own way, reflecting the society of that time. Some of the best-known gardens are for strolling, made popular by the nobility of the Edo period (1603–1868), where society's elaborate social structure encouraged a patronage of the arts.
Useful information for visiting Japanese gardens
It sounds like nannyism, but its good advice to keep on the path. The plants and grass have been carefully cut, sometimes by hand, and are easily damaged. Many gardens encourage you to follow the paths in a clockwise direction.
There are no bins so be prepared to take any rubbish home.
Many of the gardens are lit during festivals, so it's worth checking ahead for any local events.
As the gardens change over the seasons, you're able to appreciate spring blooms, late summer flowers or autumn leaves. I visited many of these gardens in winter and still found a lot to admire. Kenrokuen in Kanazawa is a particularly good example of this where rope 'tents' are carefully constructed around the pine trees to protect them from heavy snowfall.
Start planning your trip to Japan

Start thinking about your experience. These itineraries are simply suggestions for how you could enjoy some of the same experiences as our specialists. They're just for inspiration, because your trip will be created around your particular tastes.
View All Tours in Japan