Jo, Japan Specialist
Jo's interest in travel started from an early age on trips with her family, and it was firmly cemented by her own adventures to India, South America and Southeast Asia. Although she started her working life as a lawyer, her passion for travel meant she decided to look at moving into the travel industry and she was very happy to find Audley.
Her first trip to Japan was on honeymoon where she fell in love with the contrast between its ultra-modern cities, tranquil gardens and temples, and its cuisine. Jo has since returned to Japan to discover more of its fascinating culture and eat more of the delicious food.
As an English Literature graduate and lifelong bookworm, Jo has continued to explore Japan through literature, and is always very happy to share recommendations. She is also a keen runner and hopes to combine this with future travel plans, with the ultimate goal of running the Tokyo marathon.
Speak to Jo

Start planning your trip to Japan with Jo by calling 01993 838 144

Japan
Surrounded by rice fields and mountains, Takayama feels a world away from the bright lights of busy Tokyo. A visit to Takayama should always include a trip to its morning market, which takes place next to the crystal-clear river that runs through the town. As well as local handicrafts and vibrant flowers, the market traders sell fruit from the surrounding areas, including peaches in the summer and a huge variety of crisp apples in the autumn.
The old town is very popular for its beautifully preserved streets, but my favourite thing to do in Takayama is to wander up into the surrounding hills and walk through the ancient trees to visit temples that you will likely have all to yourself. There are a number of family-run ryokans within Takayama whose owners are the friendliest I met in Japan. After a day of exploring you'll be greeted with a warm welcome and a traditional Japanese meal, including the region's famous speciality, Hida beef.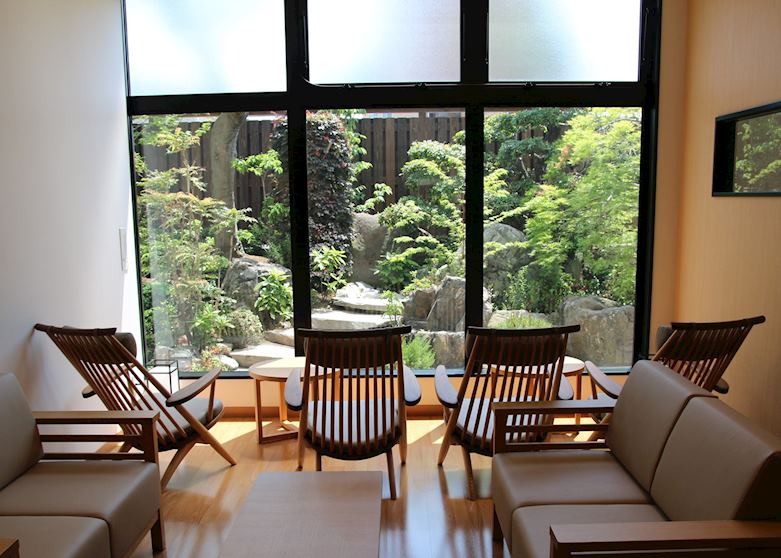 Japan
Tucked away in a quiet area of Kanazawa, the Sai No Niwa mixes Japanese and Western design elements beautifully with spacious rooms, comfortable beds, a peaceful lounge and a public onsen with views of the immaculate gardens. However, it's the service which makes this hotel stand out for me.
Although the hotel is situated away from the main sights Kanazawa has to offer, there's a shuttle bus that runs to and from the main station, and bicycles are also provided free of charge.
I'll never forget when…
One of the iconic images of Japan is the geisha. In reality, their elite status and closed world mean that seeing them is quite rare, and often that sighting can come with the downside of a flock of tourists jostling for a photograph.

On my last trip to Japan with Audley I was fortunate to have a tour of the geisha districts of Kyoto with Peter Macintosh, an internationally respected geisha expert and photographer. While everyone knows about the Gion, Peter first took us to a lesser-known district. After a little wait on the empty street, a door opened and a maiko, a trainee geisha, appeared. She began walking towards us with the distinctive and elegant geisha shuffle that takes many years to perfect, before stopping in the doorway opposite where we stood. I stood there completely mesmerised, and as she entered the teahouse, she flashed us a smile and gave us a little wave, and then she was gone.